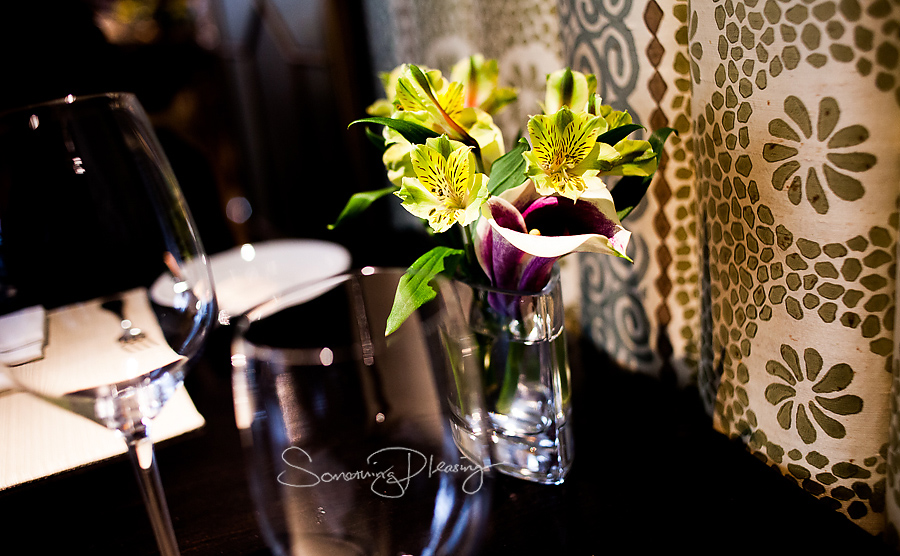 Campton Place is the first restaurant I made a reservation at solely because it was Michelin starred. Although unsure I'd find
amazing
here, at 17.95 a person for SF's
Dine About Town
(restaurant week), I figured it couldn't be too big of a risk. The place was
Yelp
and
Zagat
approved, after all.
The restaurant is very walkable from Union Square, in the Taj Campton Hotel. The hotel and lobby do look somewhat aged, but the restaurant subtly shines its Michelin prized qualities: service, ambiance and food. Only the Dine About Town menu was available for lunch, allowing diners two choices per course. The menu itself was printed on a sheen paper, and the selection, with two guests, was easy to make. We elected to share a third course (dessert) at additional cost.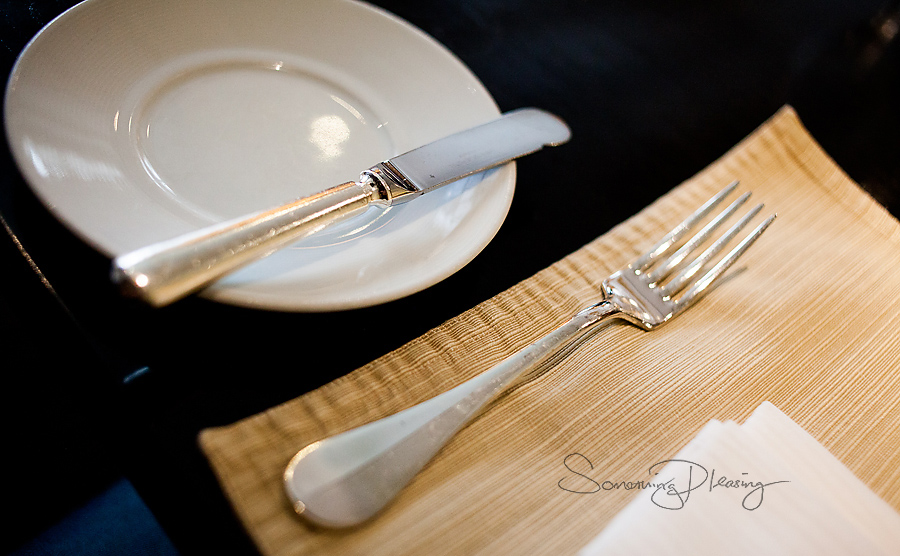 If there is anything that bothered me about Campton Place, it was that despite the wonderful and kind service, I felt like they were unnecessarily asking again and again if i wanted alcohol, making me feel cheap. It may be customary for diners at such an establishment to want recommendations for wines, designer waters, and check out the champagne cart brought around to each table, but I would think disinterest the first few should be enough of a hint. Regular iced water, please.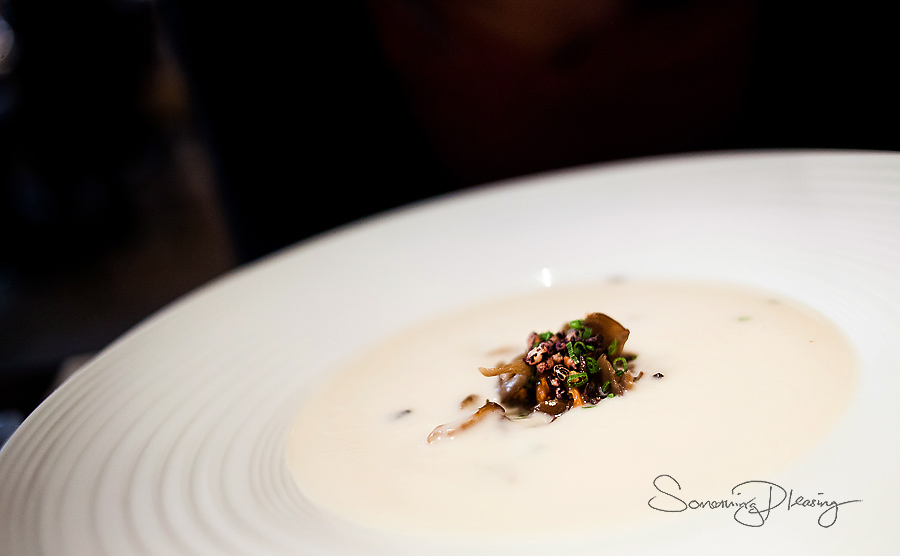 Sunchoke Velouté, Wild Mushroom and Black Rice Crisp
This first course arrived at the table as a small pile of mushrooms and rice in the middle of a rather large plate-bowl, and my immediate reaction was to consider locations for a second lunch, as the portions here were clearly minute. A second server then reminded me, as he poured hot velout
é
into the once nearly empty bowl, that this course was a soup, and a rather smooth and creamy one, at that. It tasted delightful.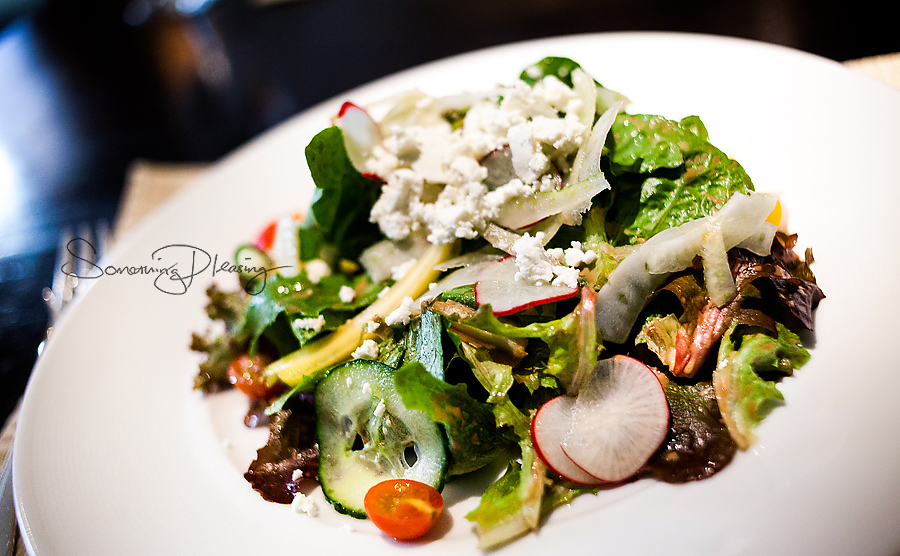 Organic Market Greens, Root Vegetables and Balsamic Walnut Vinaigrette
The salad too was one of the freshest I've ever tasted, and the cheese just creamy. The tomatoes and greens were wonderful, but the cucumbers sliced perhaps slightly too thin. Not that it detracted from a darn good salad. Oh, the cheese...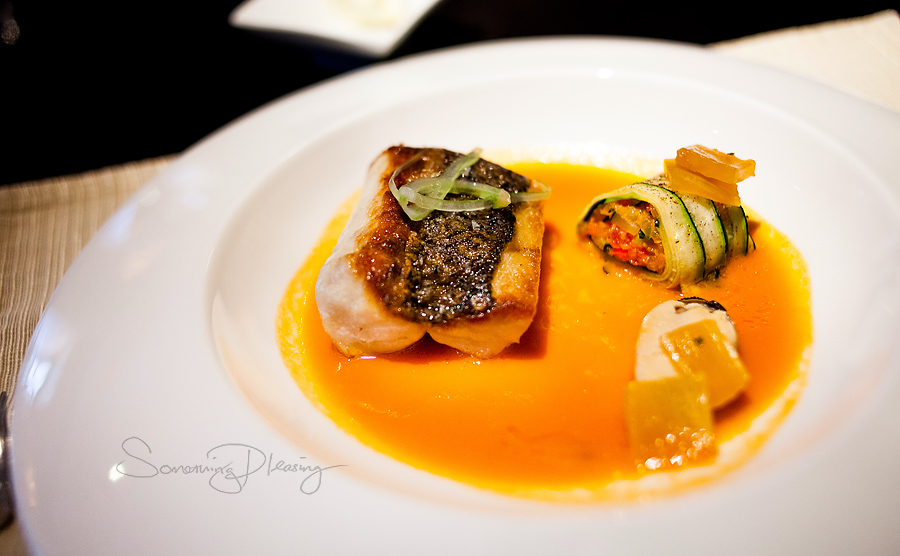 Seared Striped Bass, Mussel Nage and Squash Roulade
One repeated mistake restaurants make during restaurant week, I think, is that they start with strong appetizers but disappoint during the meal. Here, because everyone orders from the same two-choiced menu, you can look around the restaurant and see what you've ordered. Not that that's a bad thing. The striped bass was very well cooked, and the sauce made it even more delicious. The mussel and squash roulade (like good salsa), though, were just good. Not that that would be a bad thing.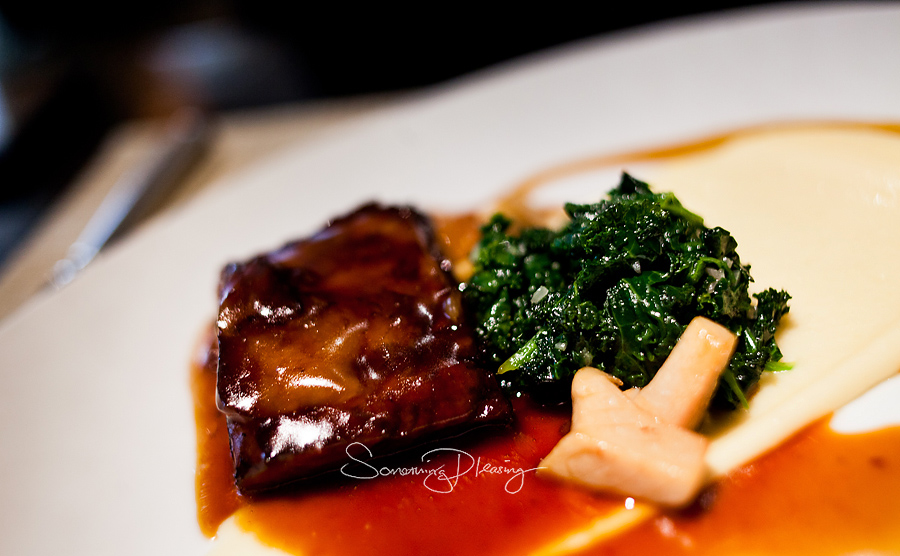 Slow Braised Beef Short Ribs, Tuffle'd Potatoes, Kale, Royal Trumpette and Veal Glaze
The slow braised beef ribs were a bit more interesting. The mashed and truffle'd potatoes were spread across the plate, attempting a non-traditional presentation of mashed potatoes, and the ribs, though cooked to fall apart by the fork, were more heavily sauced and sweet for my taste. The kale, though traditionally disdained by meat-eaters, was wonderful. The entrees certainly didn't disappoint here, but small details could have made them stronger.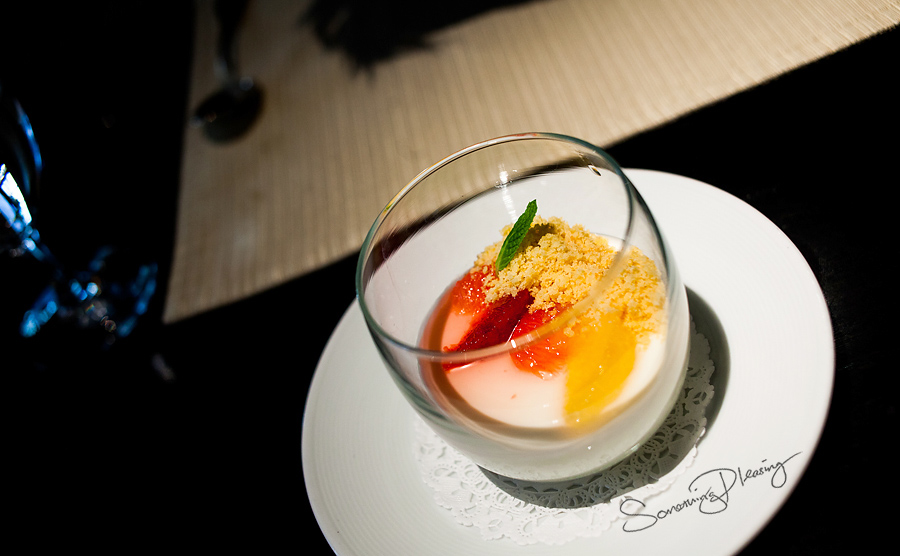 Citrus Pannacotta, Breton Crisp and Seasonal Citrus Confit
The shared dessert, a citrus pannacotta, which was simply delightful. A not too sweet but not too healthy ending to a meal, definitely being a dessert, but not one that stuffs you silly. Like many citrus based winter final courses this year, blood orange makes an appearance. The end result? Delightful, and still let's you easily stand up after the meal.

Service here was generally pleasant, with our particular server apologizing even for minor mistakes, minor delays, or things that other restaurants would likely overlook. Though not to worry, it wasn't overly done, but just enough to seem considerate.
Would I dine here again? I wouldn't be against the idea, but nothing particularly stood out as a 'you just have to eat here' dish, and with so many other acclaimed places in San Francisco, probably not. Considering the Dine About Town price though, I have no regrets coming here for lunch. It was a good meal.