I'll be honest. The only reason I wanted to come here was for the dessert, specifically: white chocolate panna cotta, which, by the way, despite being on their online menu, is unavailable for consumption. Sigh. Fortunately though, the meal itself redeems this tenfold, bringing together an epic meal I never expected from San Diego. The restaurant is in fact a hotel restaurant, a fairly key piece of information, considering how easily you drive by and miss it, even with GPS; you drive into a circular stone valet driveway, free for diners, a very warm looking fireplace sitting by decorating the interior. Without even looking up prices, something tells me that this may be one of the most expensive restaurants in San Diego.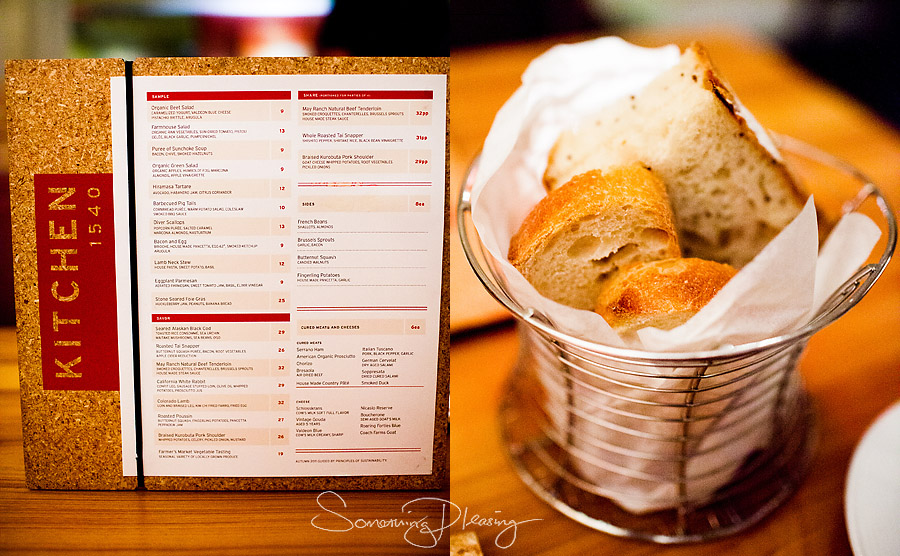 The menu is a loose piece of paper strapped to a solid block of wood, including some ever so French items (pig tails, feet, rabbit). The bread is brought out with the menu, alongside what I recall to be whipped butter. A fun experience, that soft bread - much better than most.
We asked if it were possible to try the hiramasa tartare without avocado, as my companion was allergic. Our waiter then asked the chef for a suitable substitute, to no avail - the ingredient was essential; thus we ordered scallops as an appetizer.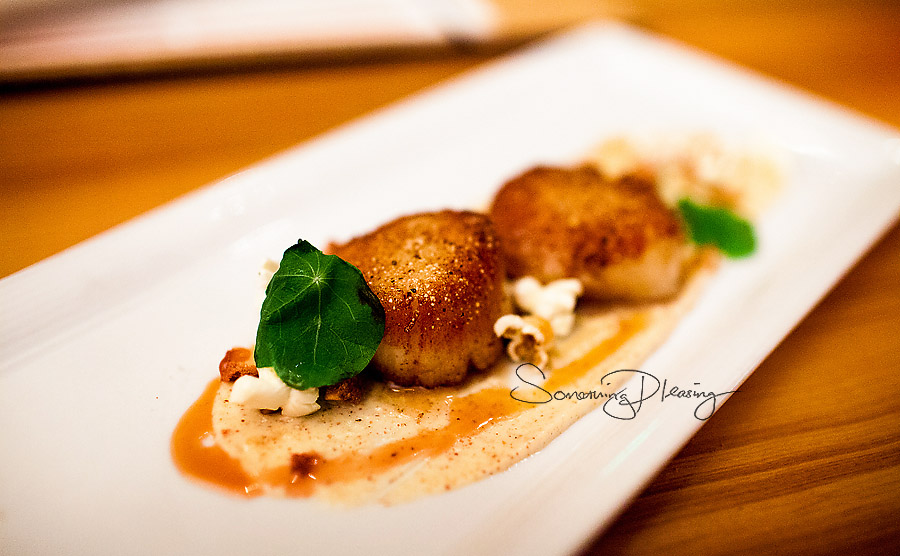 Diver Scallops: Popcorn Purée, Salted Caramel, Marcona Almonds, Nasturtium (13)
In short, the diver scallops were just really well prepared. Though this certainly failed to be the most aesthetically pleasing scallop dish I've ever eaten (look at the rather lopsided jumbo!), they tasted good, carrying a rather unique presentation. Surprise, the popcorn and caramel actually works, as the sauce actually adds to the dish. How? I don't know, and it still sounds like a funky combination to me now, but I loved it.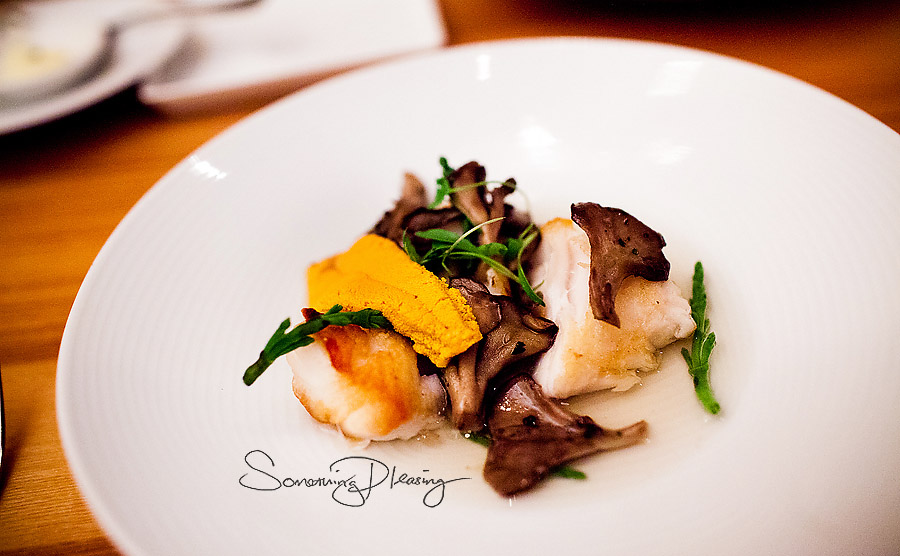 Seared Alaskan Black Cod: Toasted Rice Consommé, Sea Urchin, Maitake Mushrooms, Sea Beans, Ogo (29)
Split-plate portion pictured above
The entrée was actually split onto two dishes for us, free of charge. I don't know if that's a standard practice here, but some restaurants charge for that sort of thing, and the waiter did it preemptively, a sign of some pretty darn good service. The kitchen
(hah!)
handled the splitting extraordinarily well and generously, each plate looking nice, and each plate carrying a piece of fresh melt-in-your-mouth uni. The consumm
é
was poured into each dish-bowl tableside, and the course overall, fantastic. By the way, the sea beans (the thicker green thing left of the uni) are flavorful and delicious.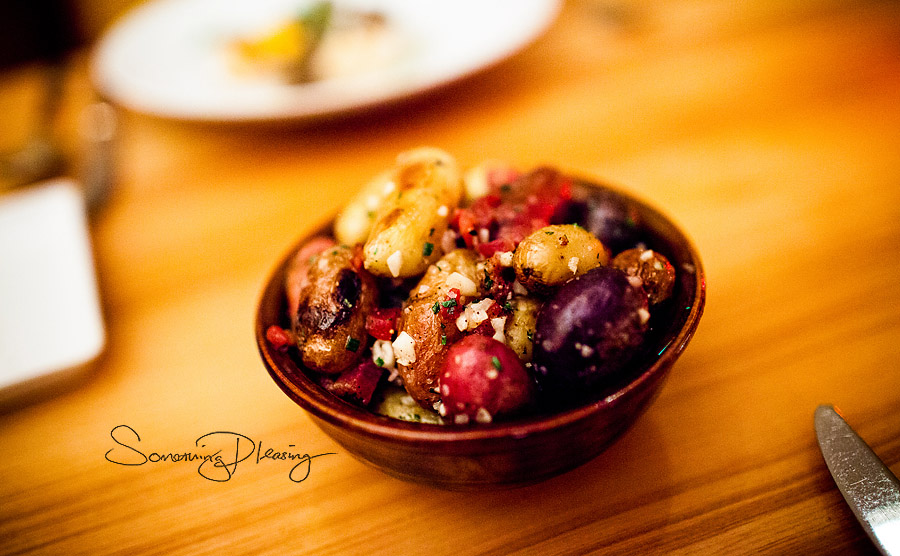 Fingerling Potatoes: House Made Pancetta, Garlic (8)
The fingerling potatoes were good, albeit on the fairly pricey side; though I typically discriminate against bacon, the little pieces did add flavor, and the potatoes were well cooked. I gladly ate them all.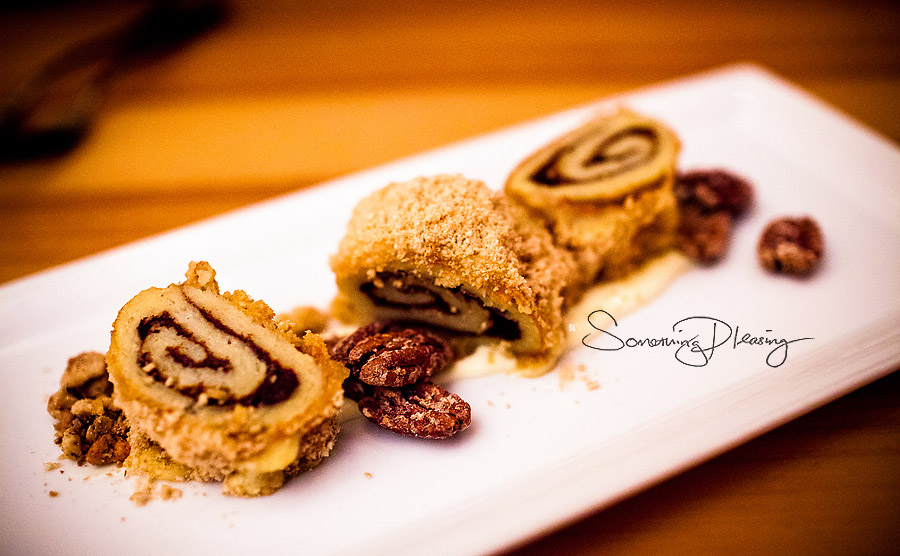 Cinnamon Roll Gnocchi: No further description =[
With the arrival of the dessert menu, we were disappointed to learn that the winter White Chocolate Panna Cotta
(compressed Crenshaw, honeydew soup, melon snow, candied prosciutto)
was off the menu, replaced by some new spring items. We settled on the cinnamon roll gnocchi, reassured by our waiter that this was now the most popular dessert.
I don't have any strikingly negative things to say, other than it was an anti-climatic end to the meal: it was a bit dough-y, a bit lacking in the magic of Kitchen1540. To be fair, the dish did grow on me with each bite, and I'm not a particular fan of gnocchi anyway - I just thought that the dessert form would be different. Our waiter did notice the lack of enthusiasm and kindly offered ways to fix it somehow, but we felt that unnecessary, as we had gotten exactly what we had ordered, the dissatisfaction being our own fault.
Overall, Kitchen1540 is a restaurant that I have no trouble recommending, due to its relaxed upscale atmosphere, good and unique ingredient pairing, and the tasteful sense of class - it is one of the very few upscale San Diego restaurants actually worth its high price.