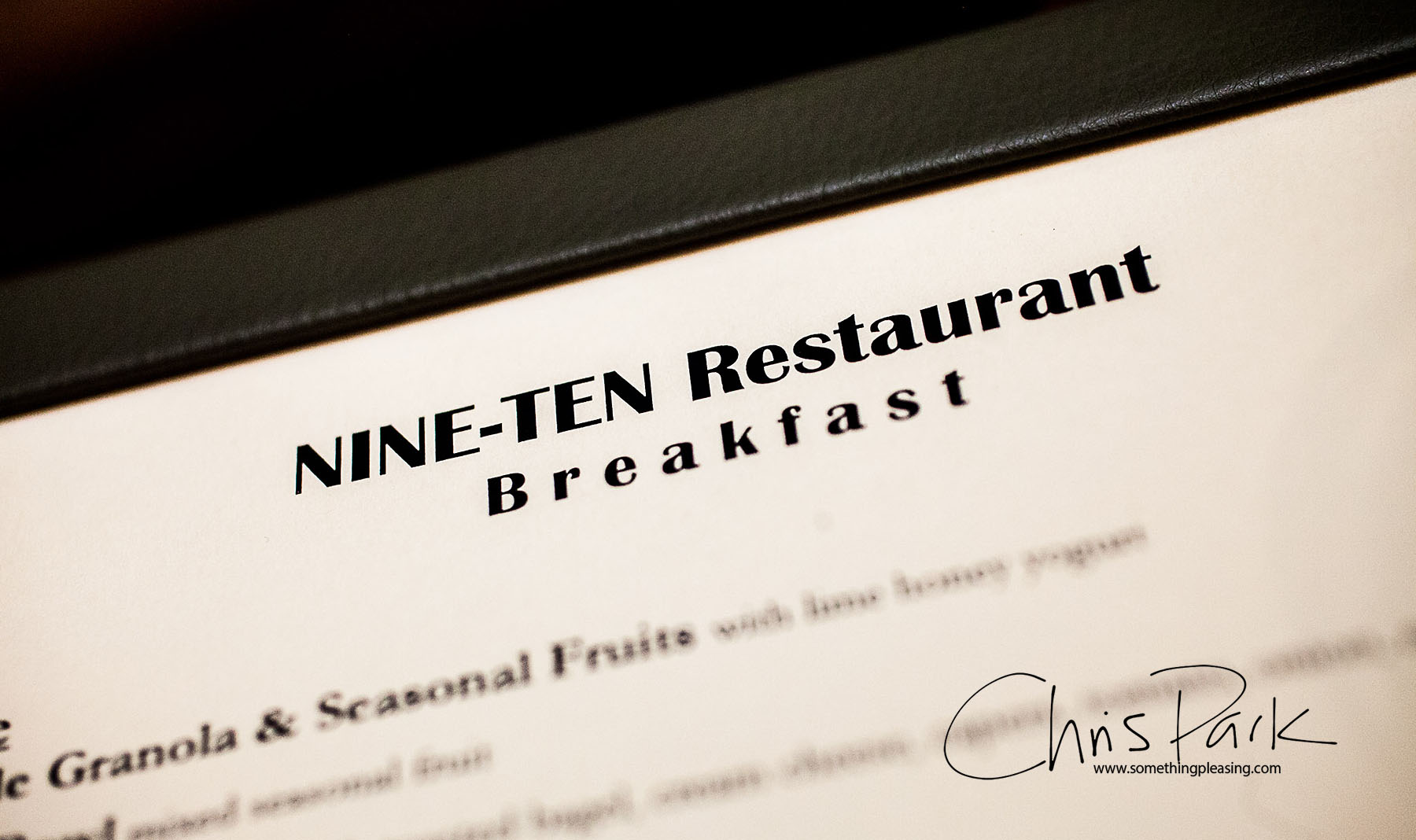 After reading the reviews of Naomi Wise, I confess I sorely longed to experience what she considered San Diego's culinary crown jewel, a five-star experience at Nine-Ten. Armed with perhaps too high of an expectation, the restaurant in many ways fell just slightly short, but in such meaningful ways that I wouldn't hope to agree with a five, especially at these prices.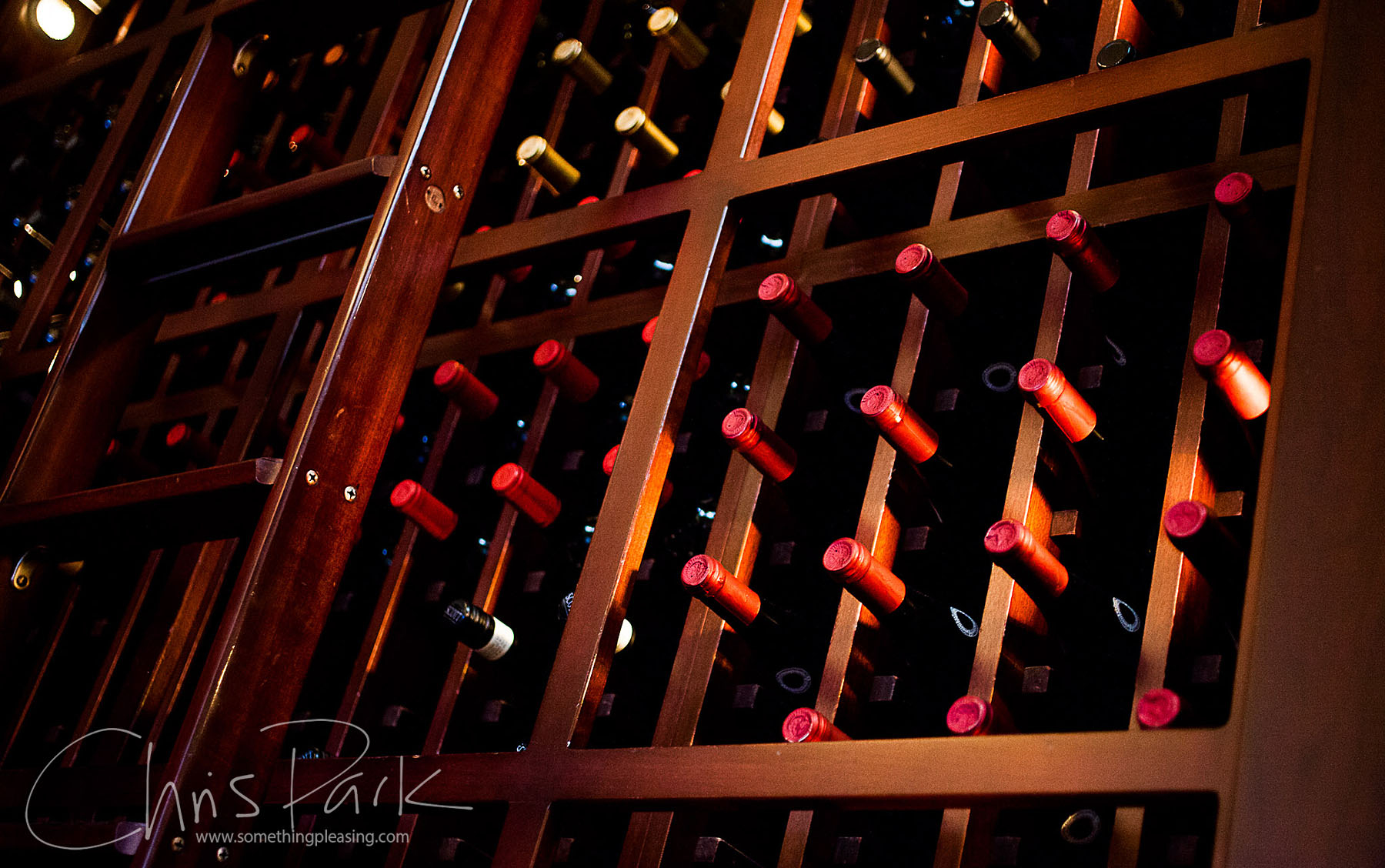 I came here for breakfast, ready to order the French toast, salmon benedict and steak omelette; we were seated and given ample time to re-read the menu while admiring the surroundings. The tiny jars of preserves (Knott's strawberry, honey, orange marmalade, sealed and meant for one-time use) were adorable, and the attention to detail otherwise was pleasing - the wine rack, cloths underneath the cups, and smiles as we walked in. It wasn't quite the pretentious air of elegance that I expected from this rather expensive hotel, not that it bothered me too much. We fit in more this way, t-shirts at breakfast not completely out of place.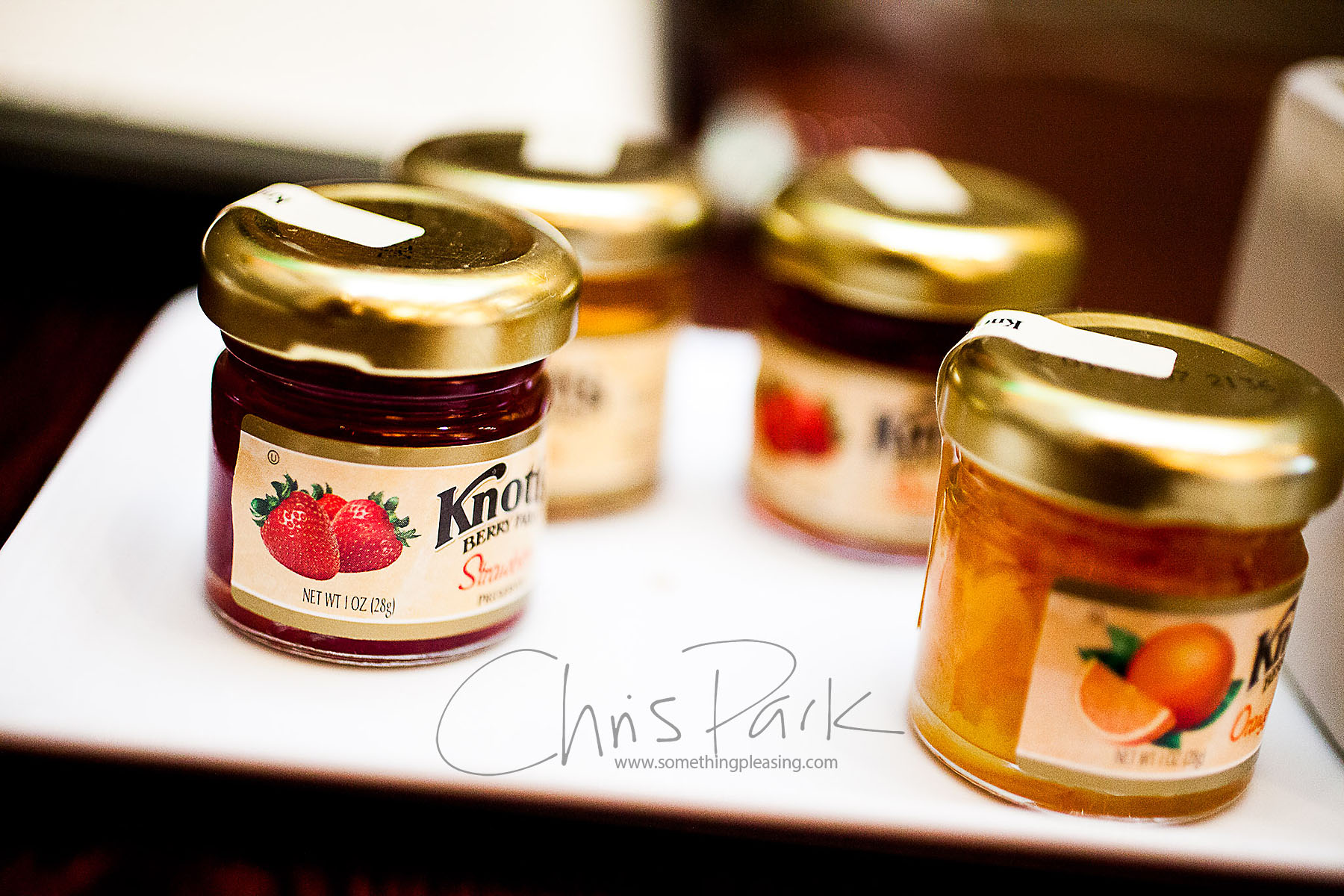 Service as a whole seemed to be a tad slow: receiving the menus, ordering food and attention throughout the meal, it seemed as if the two Asian kids sitting in the corner of the restaurant couldn't be paid much attention. I tried signaling the waiter shortly after ordering to modify the French toast order (the online menu indicated an apple compote rather than the bananas and whole wheat), but by the time he would talk to me, the food was being brought to the table. Sigh...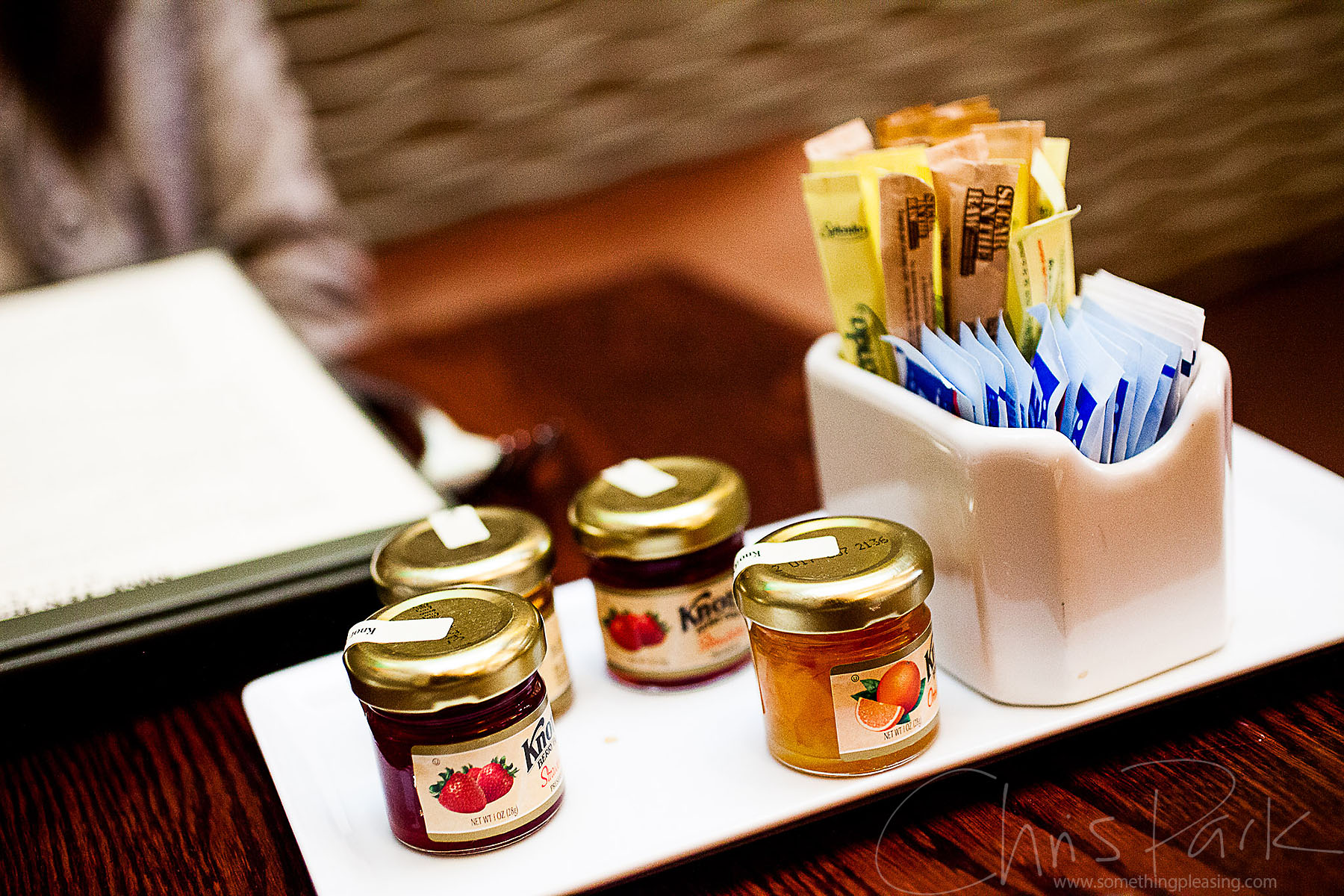 This isn't to say that things took ridiculously long - we received our food fairly quickly after ordering, perhaps a bit too quickly, leading me to question the freshness of the food. The food didn't come hot, nor did it come out all at once, leaving a slightly awkward gap that higher-end restaurants usually make sure to avoid, and I couldn't get a refill of water if my life depended on it. Not that it completely matters - I came here to experience some Iron Chef quality food.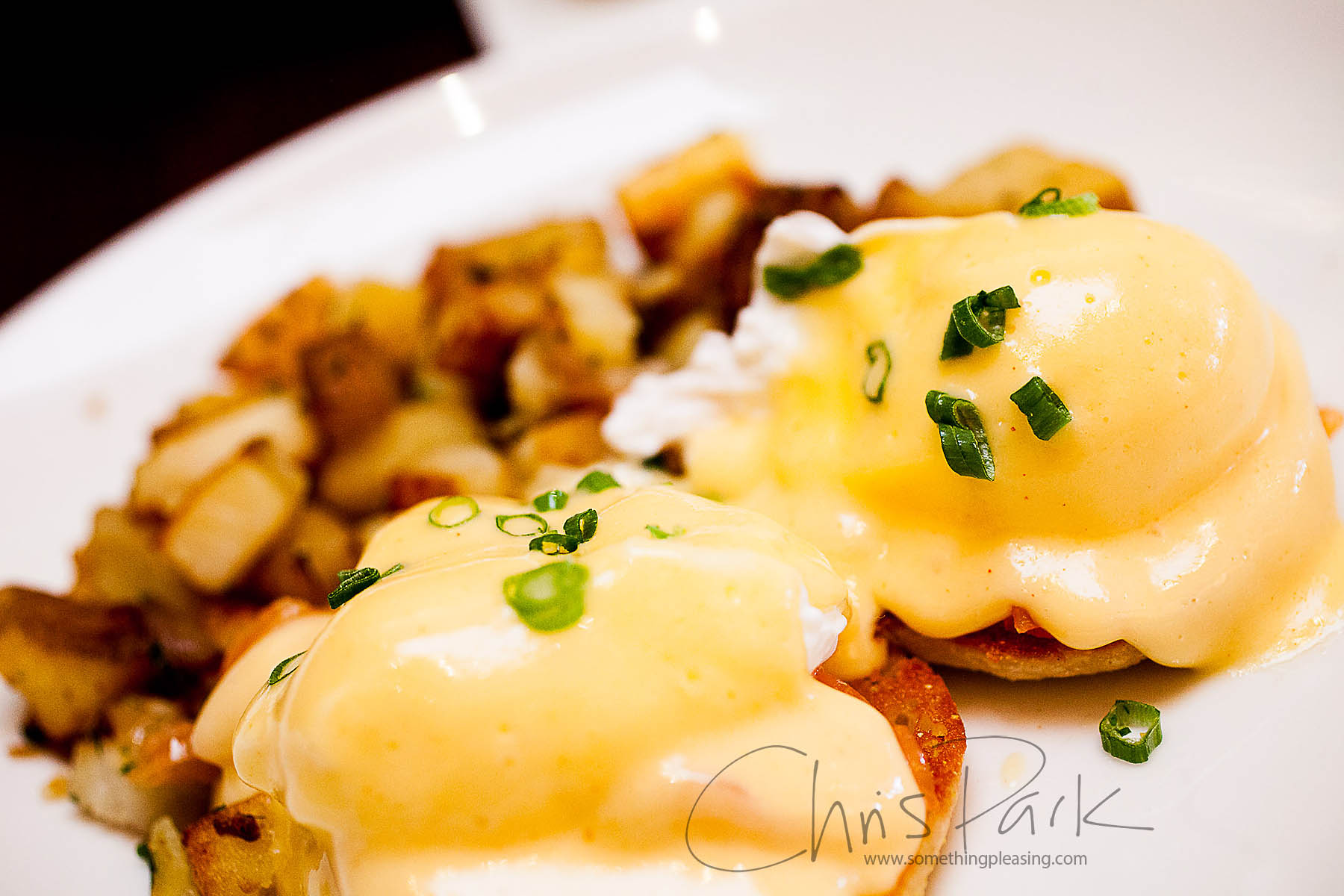 Salmon Benedict with house-smoked salmon. served with potatoes - 13
What is there to say about this dish?
Try it
. Easily the best plate at the table, and in the running for the best breakfast piece I've ever tasted. Definitely something I wouldn't have liked as a kid, my companion described this dish as 're-defining what she thinks of breakfast' - this Benedict alone made the trip worthwhile. Oh, and the potatoes are cooked pretty damn well, too. Noms.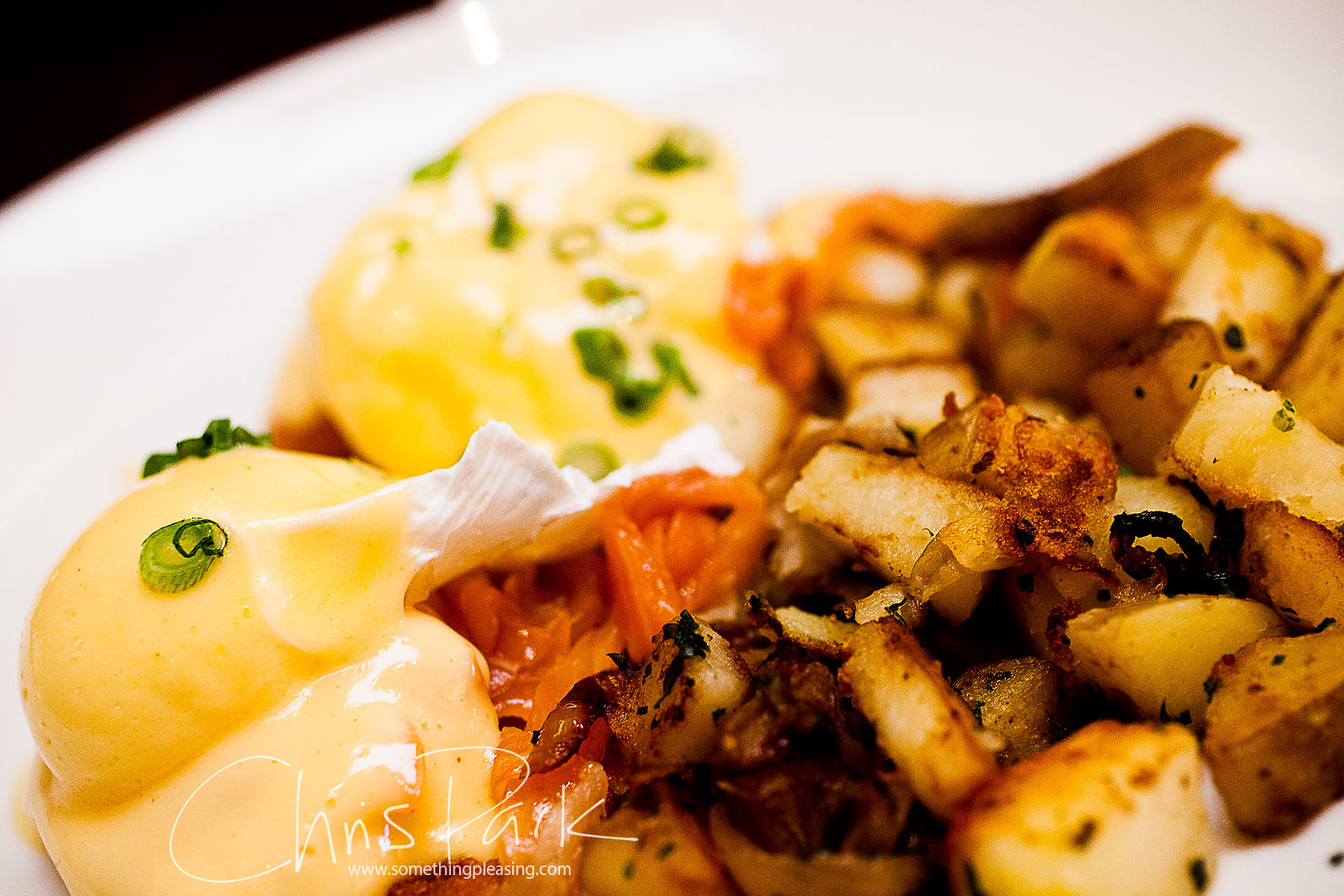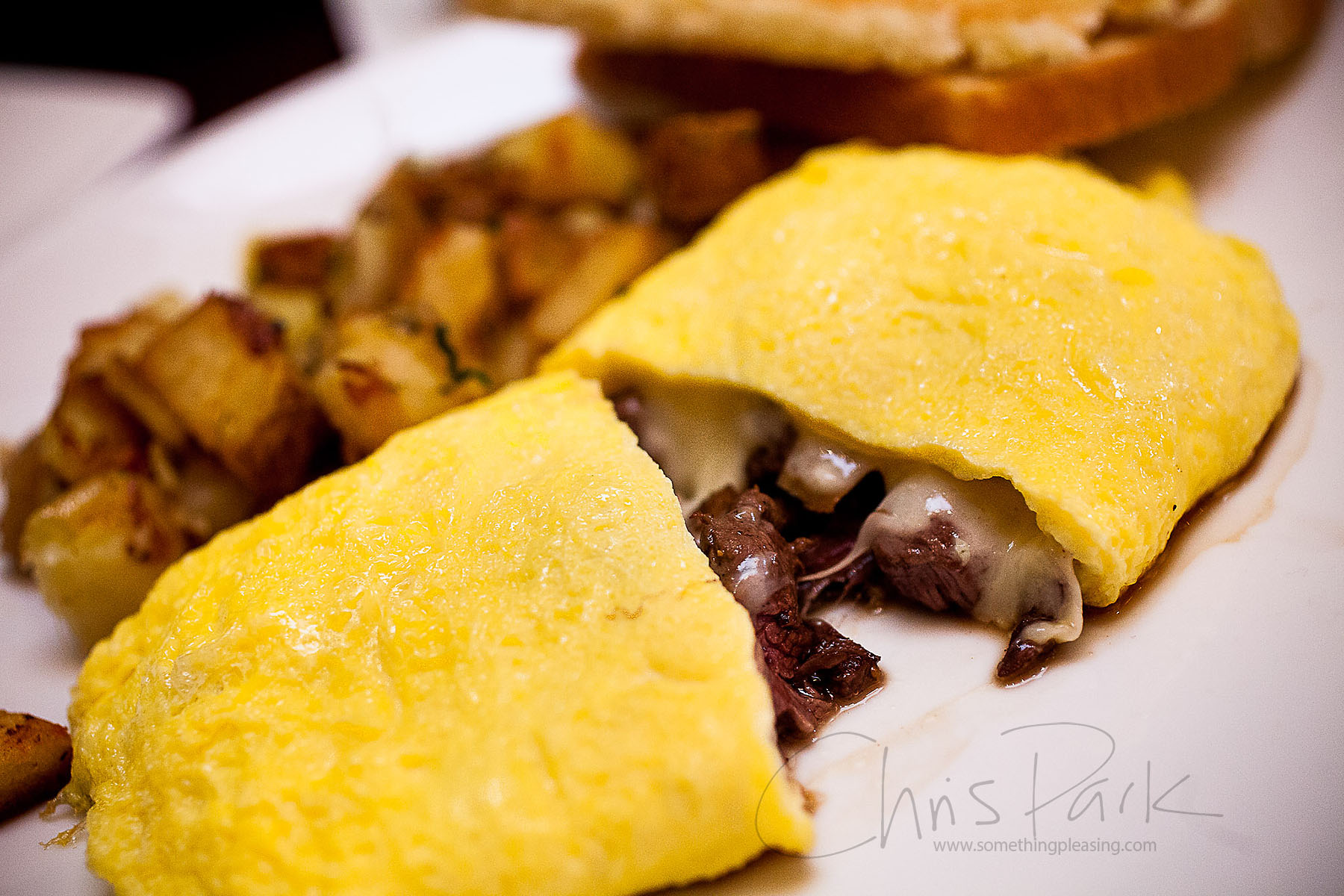 Steak & Mushroom Omelette hanger steak, caramelized onions, crimini mushrooms, jack cheese, served with toast and potatoes - 12
As for the steak and mushroom omelette, it was good, though lacking the perfection and dazzle of the benedict. The steak was juicy but a tad tough, unexpected for a restaurant of this caliber. I'll throw in here that I chose this dish for the mushrooms, of which I'm a sucker for, rather than the steak, of which I am not; whether or not that influences my thoughts, I am doubtful. Overall though, I will admit that I happily scarfed down the dish, no complaints to the otherwise.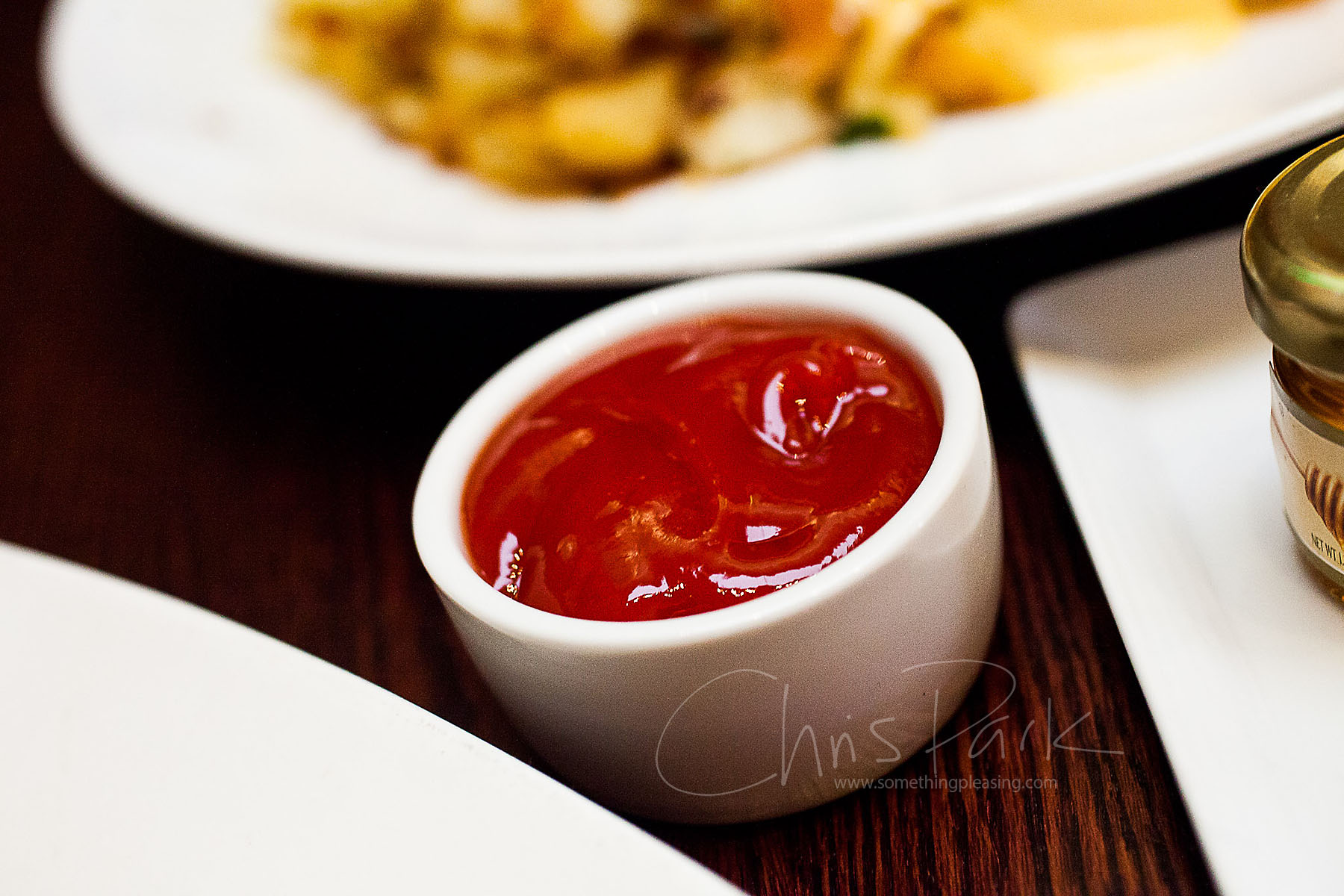 ketchup, house-made (I don't know)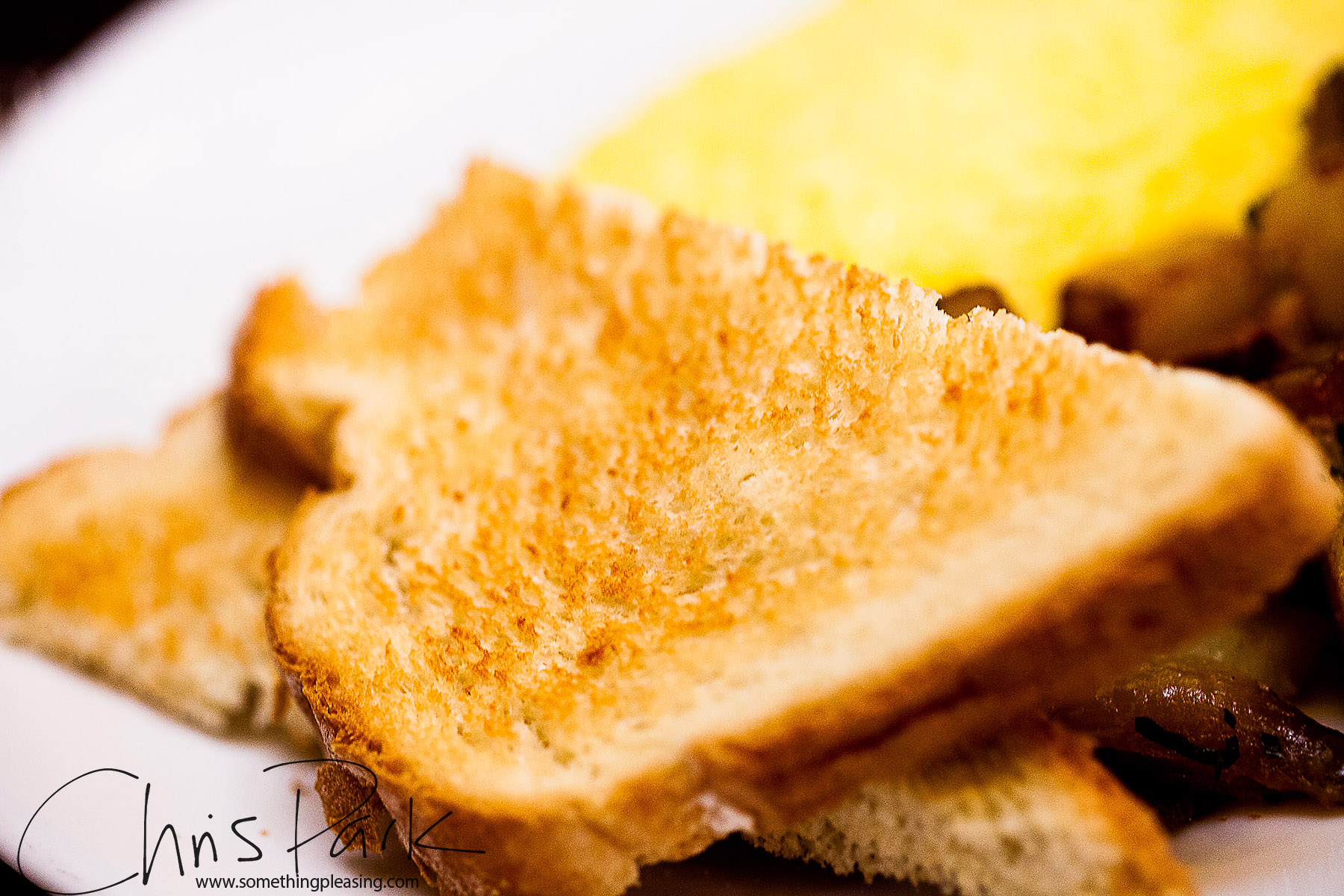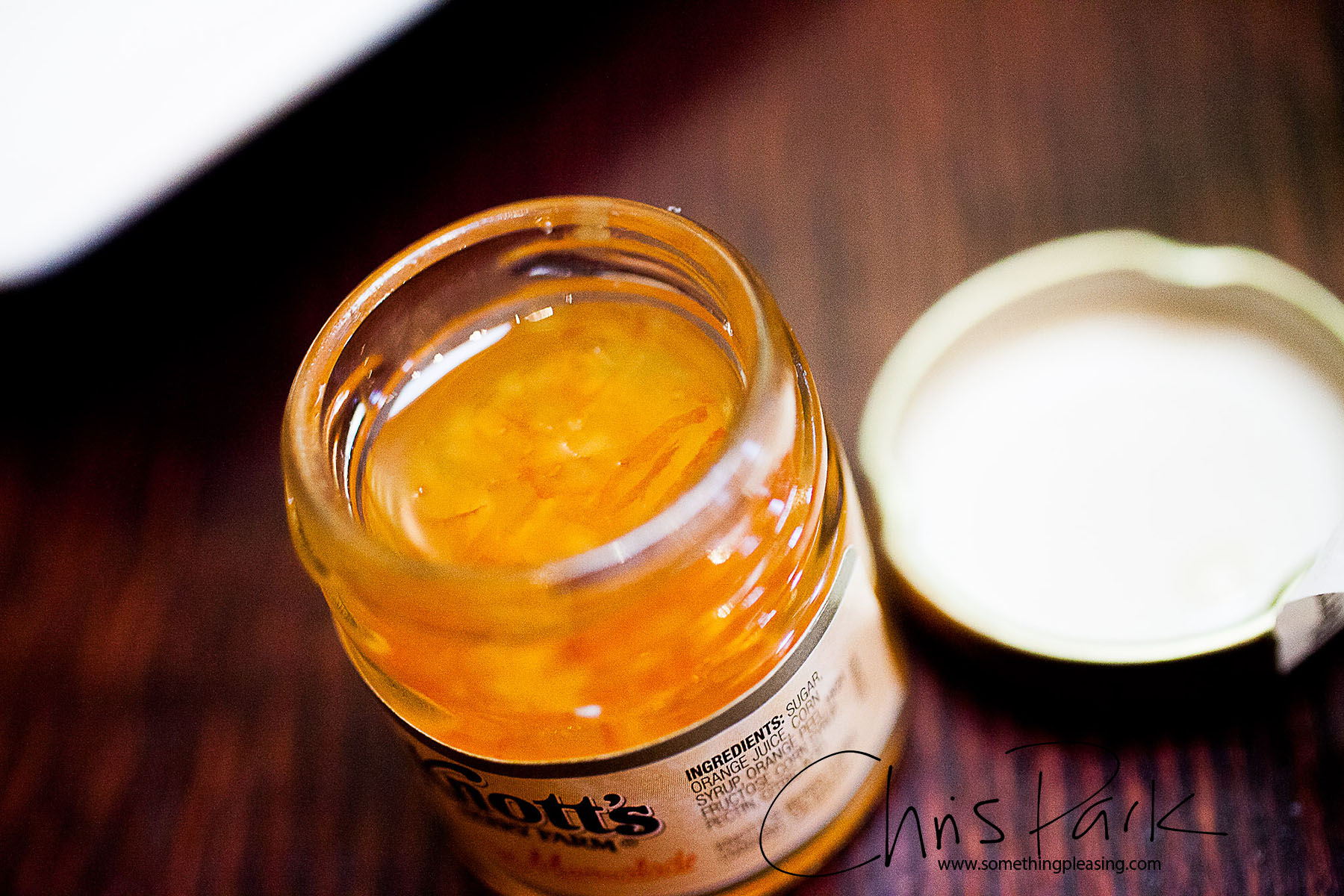 Knott's Orange Marmalade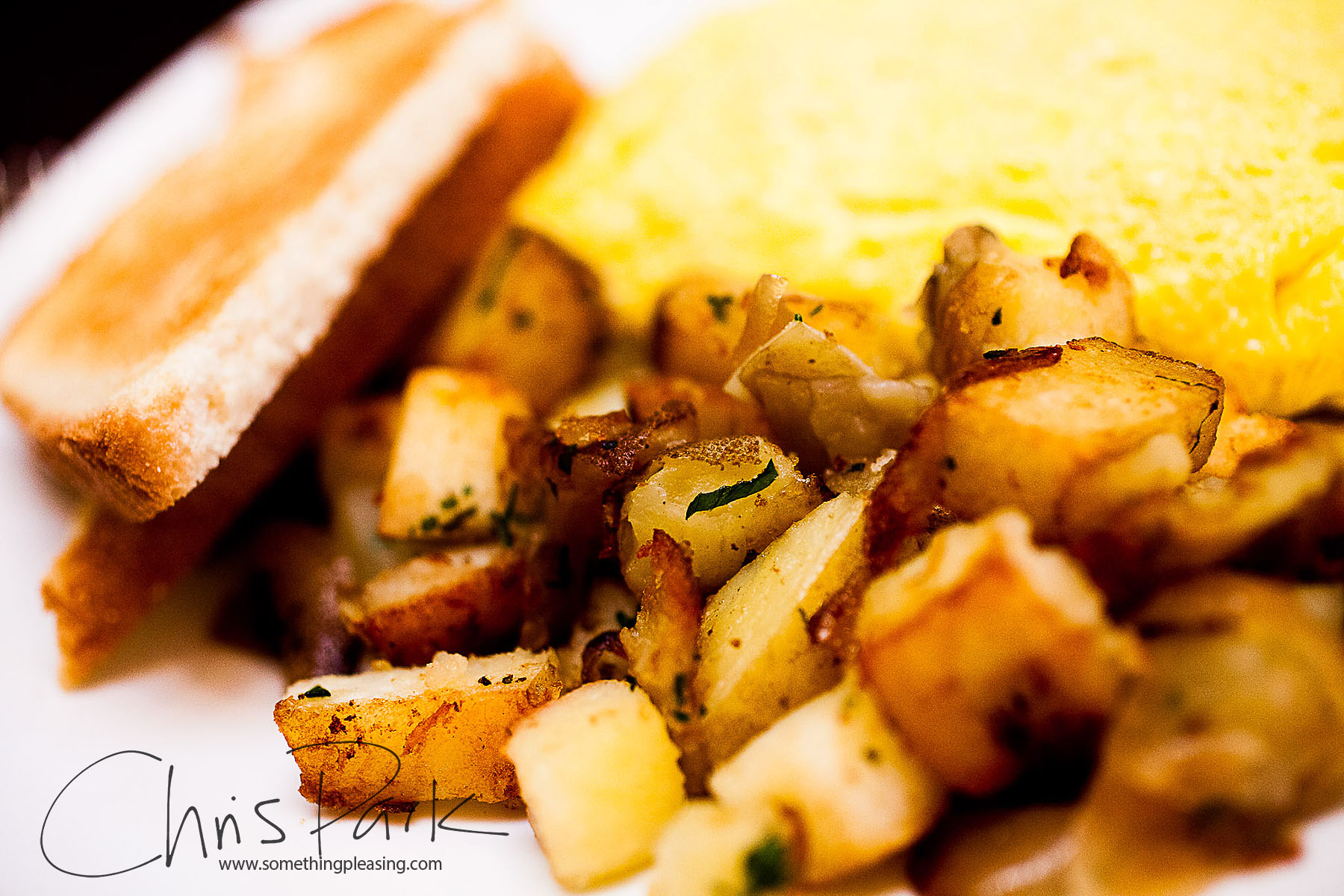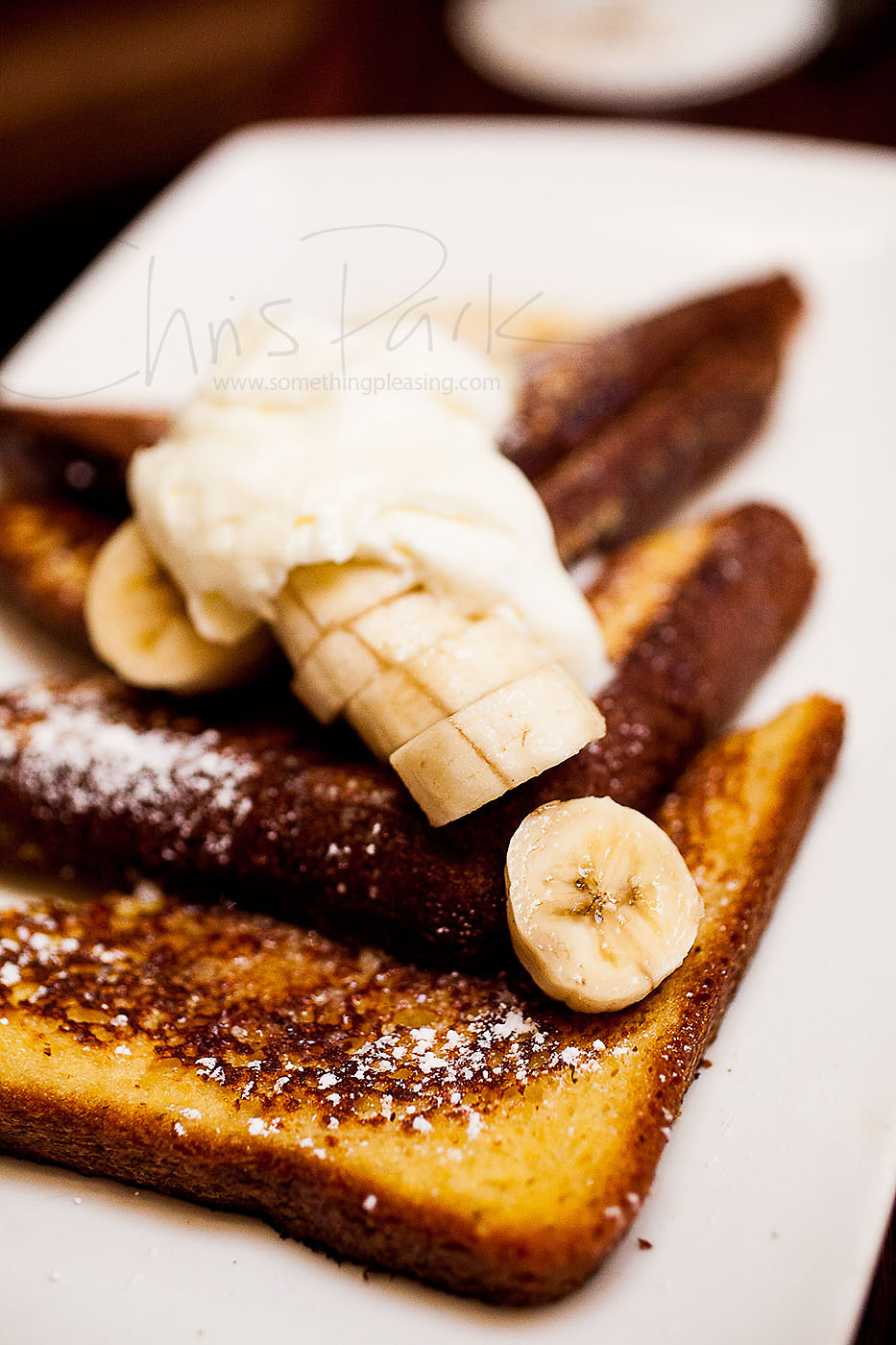 Whole Wheat Brioche French Toast with brown butter bananas, whipped mascarpone - 10
The only dish that garners me mixed review is the this one, and not because it lacked the apple compote. Alone, the toast was mediocre at best, not that it was meant to be eaten that way - the whipped marscapone and sliced bananas excellently complement the bread, giving it a much better taste in my mouth and stomach.
And for the record, I came to Nine-Ten expecting to order this instead: Brioche French Toast with whipped mascarpone cream, local apple compote $10. A slight but meaningful difference!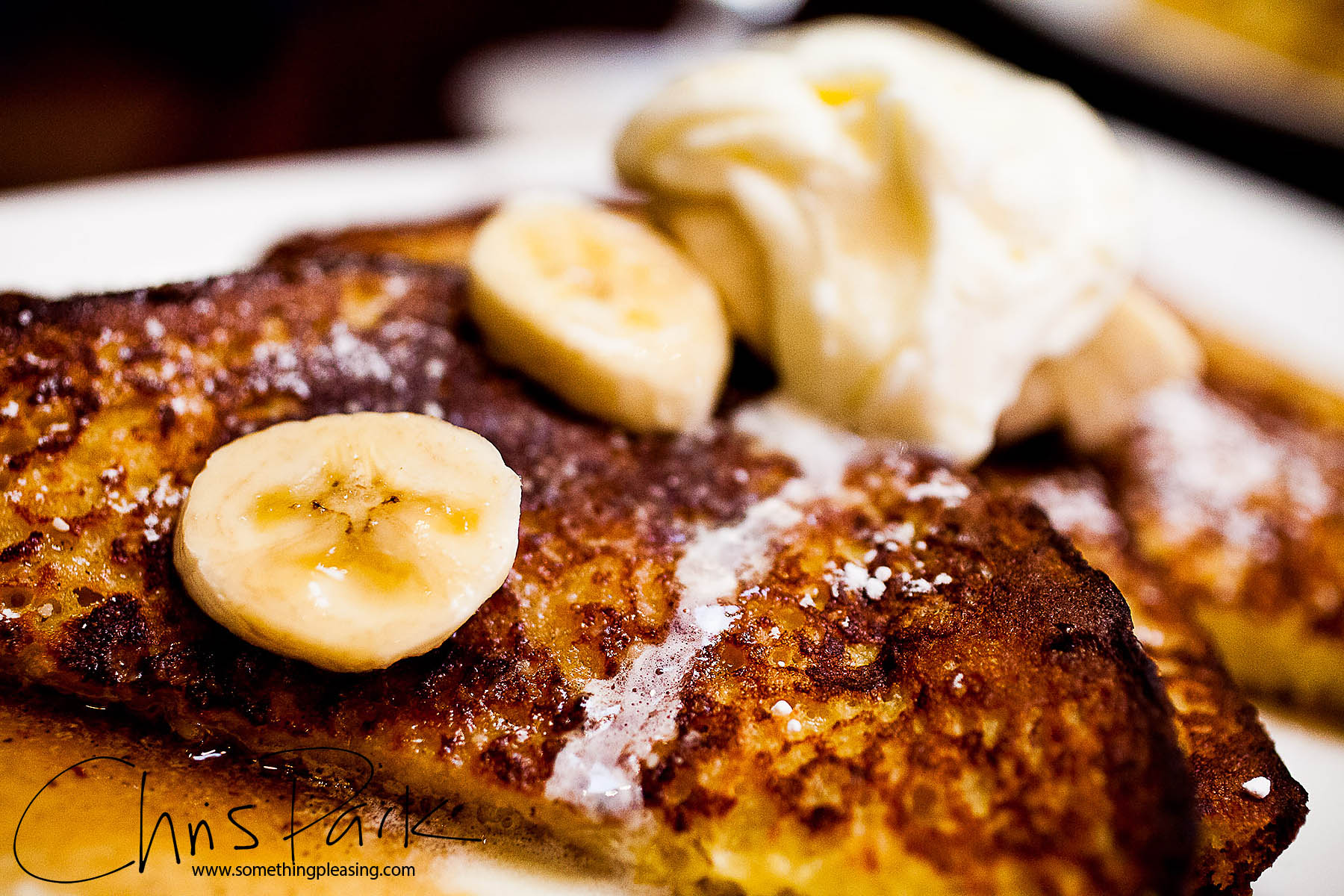 Nine-Ten overall was great: the food, the atmosphere, and the attention to detail all were nice, but the service lacked a bit (perhaps a breakfast thing, but still not what I expected). Though the food made my tongue and stomach jump in joy, I left with the nagging feeling that the chef, though clearly skilled and talented, wasn't giving his best foot forward here; even so, I'll probably be back - I'm falling in love, flaws and all.