My smile while making my reservation at Market alone should tell me that I expected a lot from the restaurant. It's Yelp score was high enough, and the reviews suggested that the chef actually cared about the food and experience, changing the menu every so often and experimenting for the hell of it. Free valet parking, different amuse bouché's: Chef Carl Schroeder wanted you to have a pleasant experience. One concern was the issue of the dress code (I didn't exactly know what was appropriate). But if you're wondering the same, don't worry your head, as this is after all San Diego. The waiters walk around in jeans (though not distasteful, as they're covered by aprons), and the crowd ranges from the visually Lamborghini-driving rich, businessmen in suits, and a family with a kid wearing a t-shirt and sweats in the table next to me (the sweats look out of place).
The menu changes day to day, changing courses slightly by rotating in and out dishes that work, a slight surprise but not a bad thing. Don't get disappointed if you read the menu and nothing pops out: though the wording is a bit dry, everything I ordered was delicious. Notes about the chef: he's clearly an experimenter and surprisingly great with potatoes.
Our meal started with a basket of bread, including a homemade cornbread, which got the cornbread hater in to confess that it was 'good'. Impressive in itself.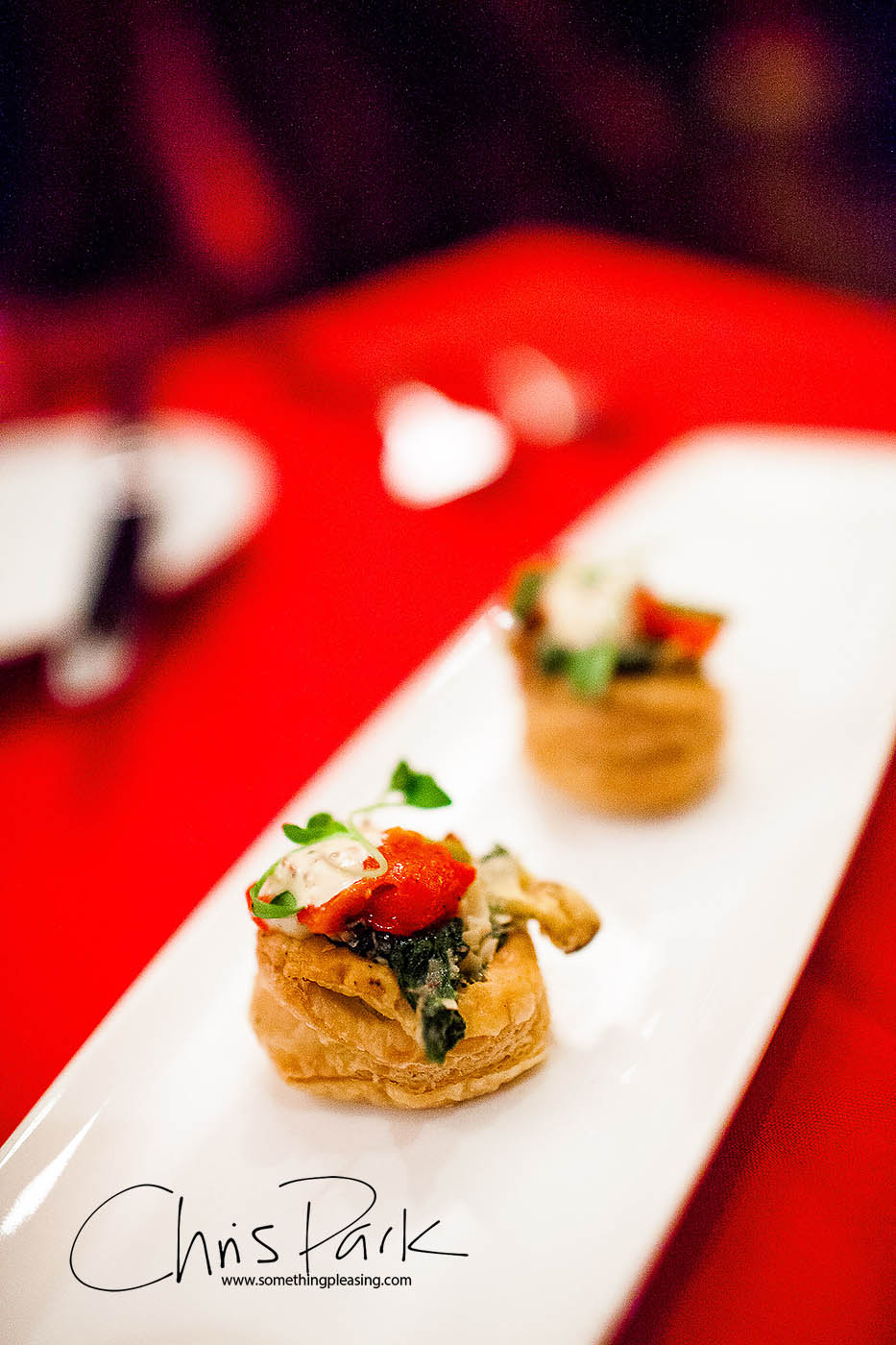 Amuse bouché: Artichoke Tart with Olive Relish and Cremé Fraiche
The amuse bouché was in one word, wonderful. It set the bar for the meal in general, showing considerable skill: the pastry was somehow perfectly cooked, and the combination of flavors mixed in the mouth to provide one delightful and fresh bite. Personally, I would be hard pressed to think of a better amuse from memory.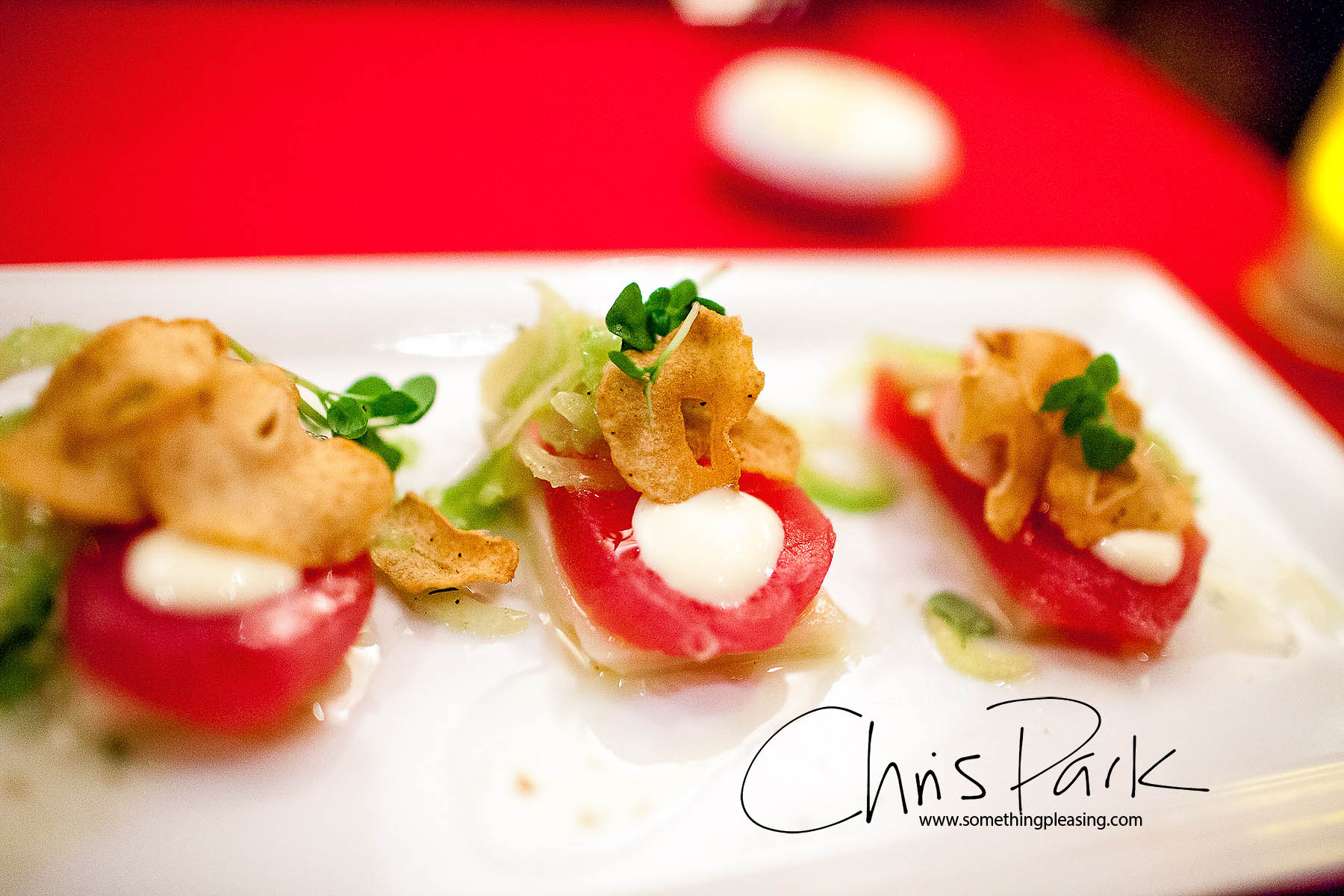 Hawaiian Yellowfin Tuna Sashimi & Crispy Garlic 16.60
Shaved Celery Heart-Radish Salad, Olive Oil Braised Potatoes, Meyer Lemon Aioli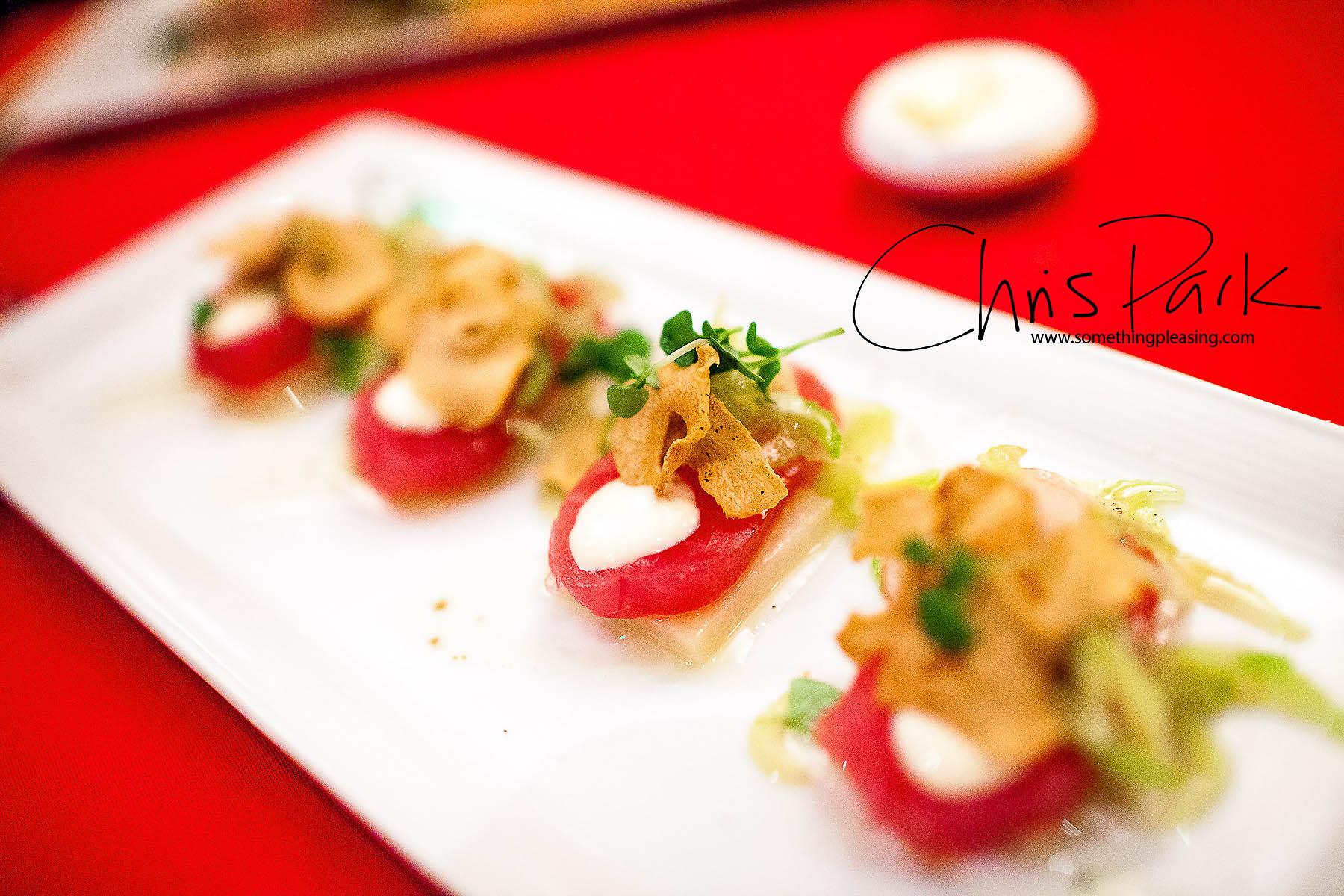 I mainly chose this dish for my love of hamachi sashimi, leading me to a pleasing surprise. I didn't know the appetizer would be combining the flavors of braised potato, tuna, lemon and garlic in a way that
actually
made the entire dish better; to my added delight, the portions were larger than that would be expected of an appetizer. Oh, the potatoes...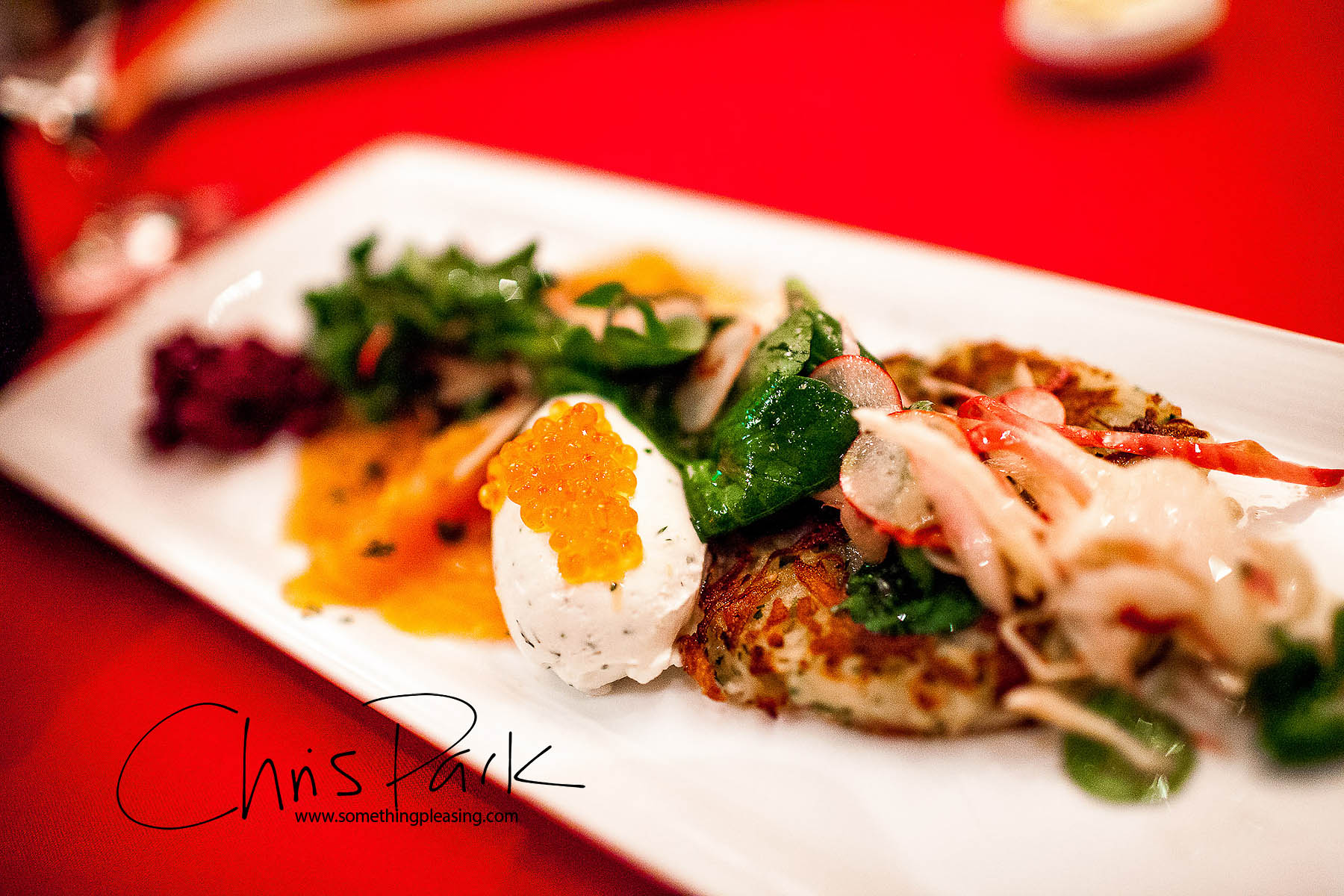 Alderwood Smoked King Salmon & Scallion-Potato Cake 15.60
Caviar Duet, Chive Crème Fraiche, Local Field Lettuce, Pickled Beet Vinaigrette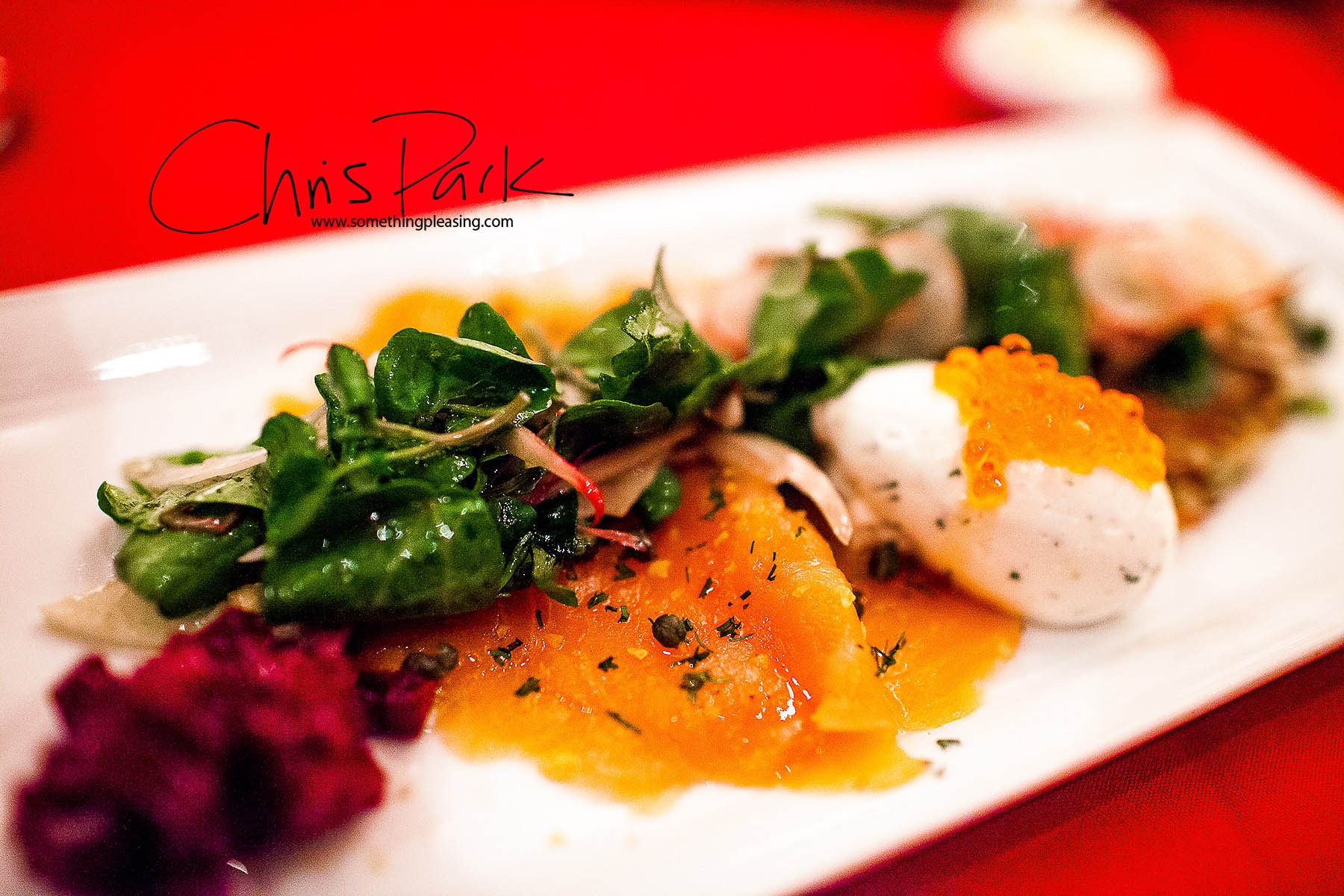 In-house smoked salmon, served in slices slightly thicker than typically found at a market, each part of this dish, varied as it was, was fresh and pleasing. The spinach and crabcake in particular stood out to me, along with the crème fraiche. And despite how the pictures might suggest, the salmon and roe were truly very delightful shades, only to be butchered by the strong yellow lighting.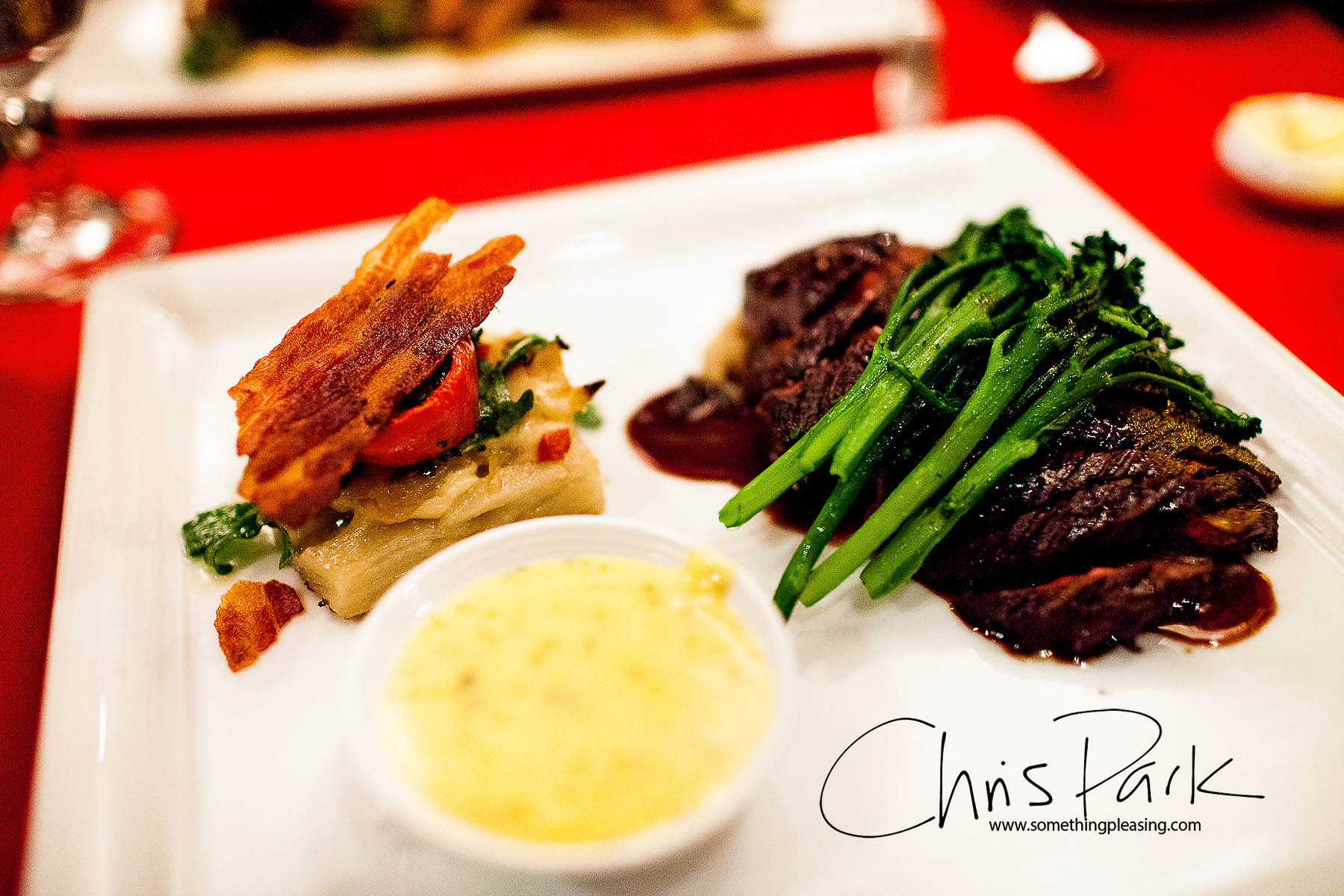 Domestic Wagyu Skirt Steak 32.60
Aged White Cheddar Braised Potatoes, Broccolini, Roasted Romato, Crispy Bacon
The wagyu steak was well cooked, a good medium-rare, slightly less bloody than I would have thought though not at all an issue, very nice to eat with lovely flavor. What stood out to me were the vegetables laying on top - delicious! The little bundle of potatoes were particularly intriguingly cooked, the tomato on top incredibly fresh and well prepared, leaving a flavor that I...just never expected to taste from a tomato. The potato and cheese combination was layered and quite savory, good but a tad heavy. Though I'm not a fan of bacon in general, this bacon was surely crispy – enough that it shattered at the tap of a fork. As always, meats aren't my favorite foods, but this dish was nice.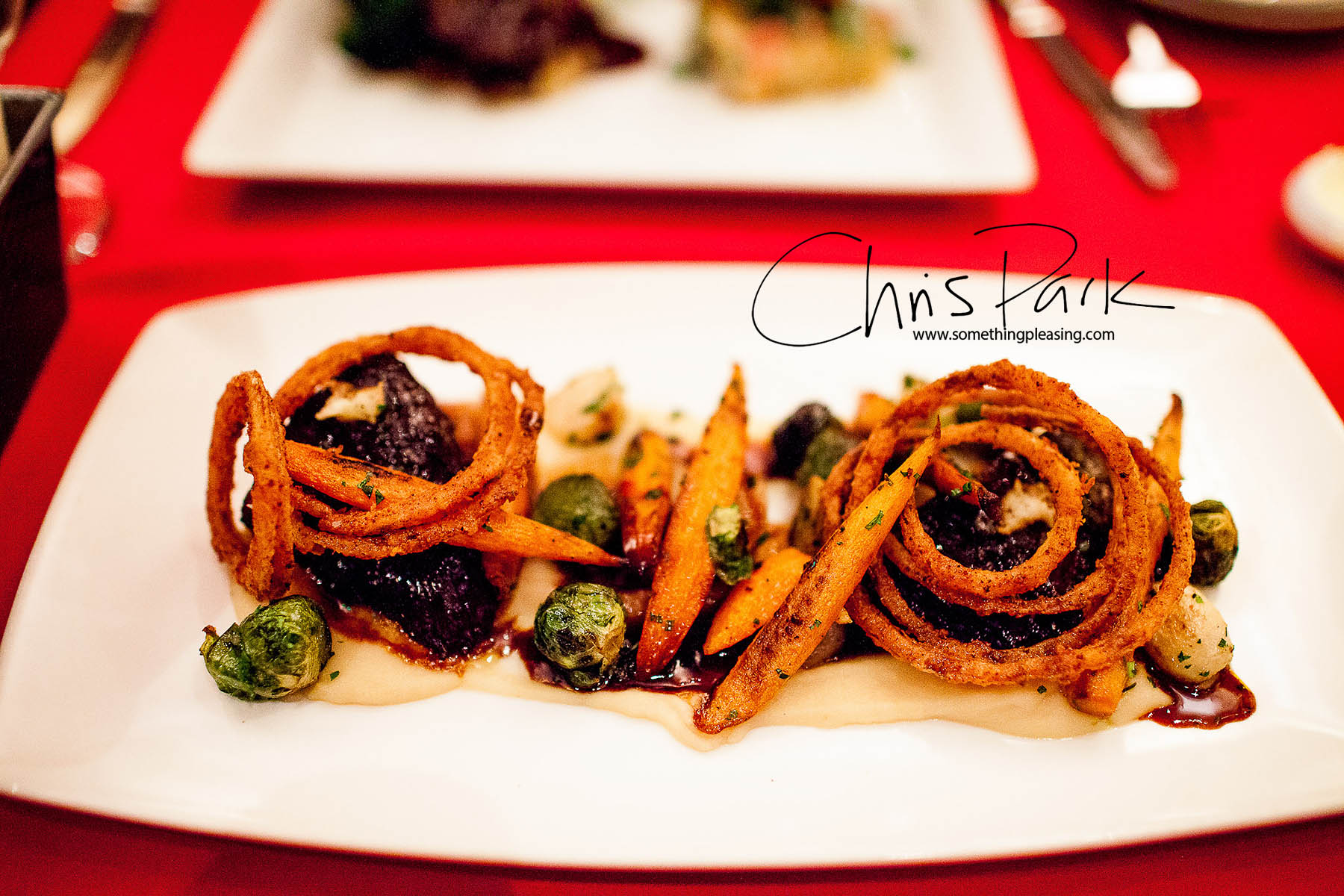 Cabernet Briased Prime Beef Shortribs 34.95
Buttermilk Fried Onions, Vegetable Roast, Horseradish, Sweet Onion-Potato Purèe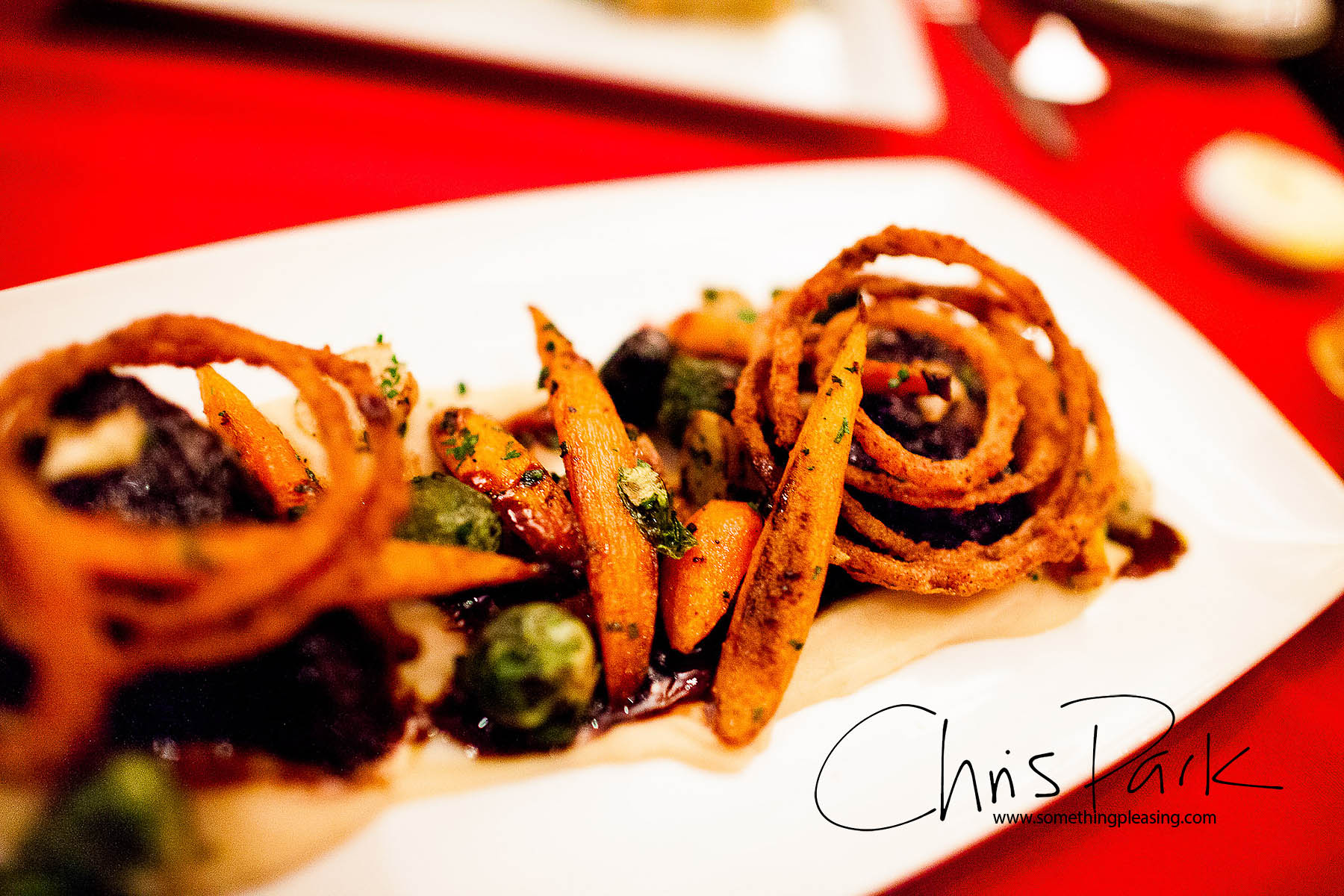 The braised beef had a slightly more messy (or fun?) presentation, depending on your taste. Whatever it was, it certainly carried its own weight in surprises - the brussel sprouts were prepared in a way that it lacked any sour taste, and the onion rings onions were sliced so thin that the ring would actually break apart in your mouth – not just the batter! To our surprise, this dish was served with a butter knife rather than a steak knife, but with good reason: the meat fell apart by the fork. Though both of the meat dishes were somewhat heavy (what you'd expect of sauced American meats), this was certainly the more filling of the two, even despite the smaller portions.
After being filled yet leaving leftovers, a waiter came to offer dessert menus when we told him that we'd like our leftovers to go. A busboy then came to clear the table, and the waiter handing him the one plate to be boxed. To the selection of desserts: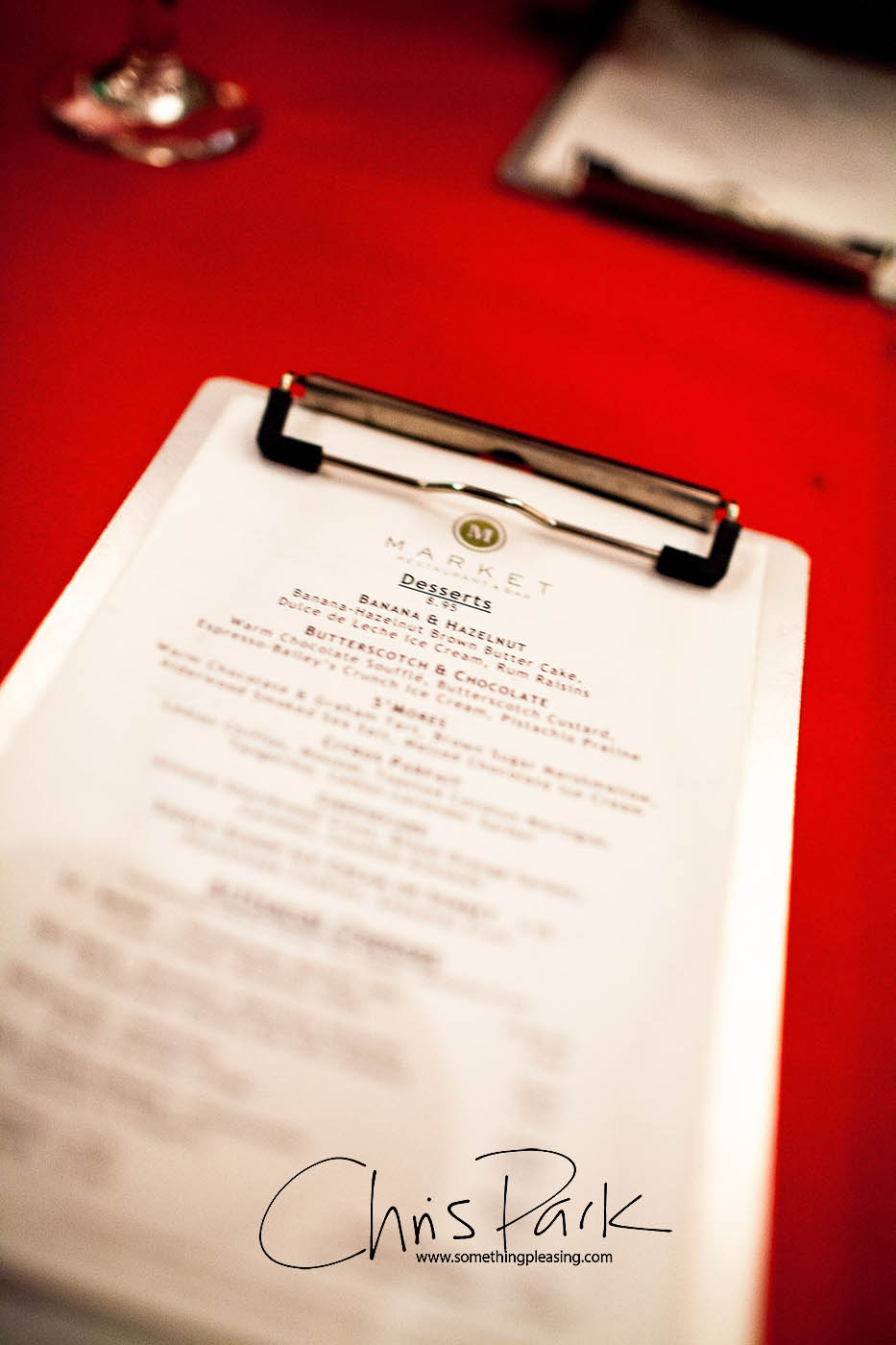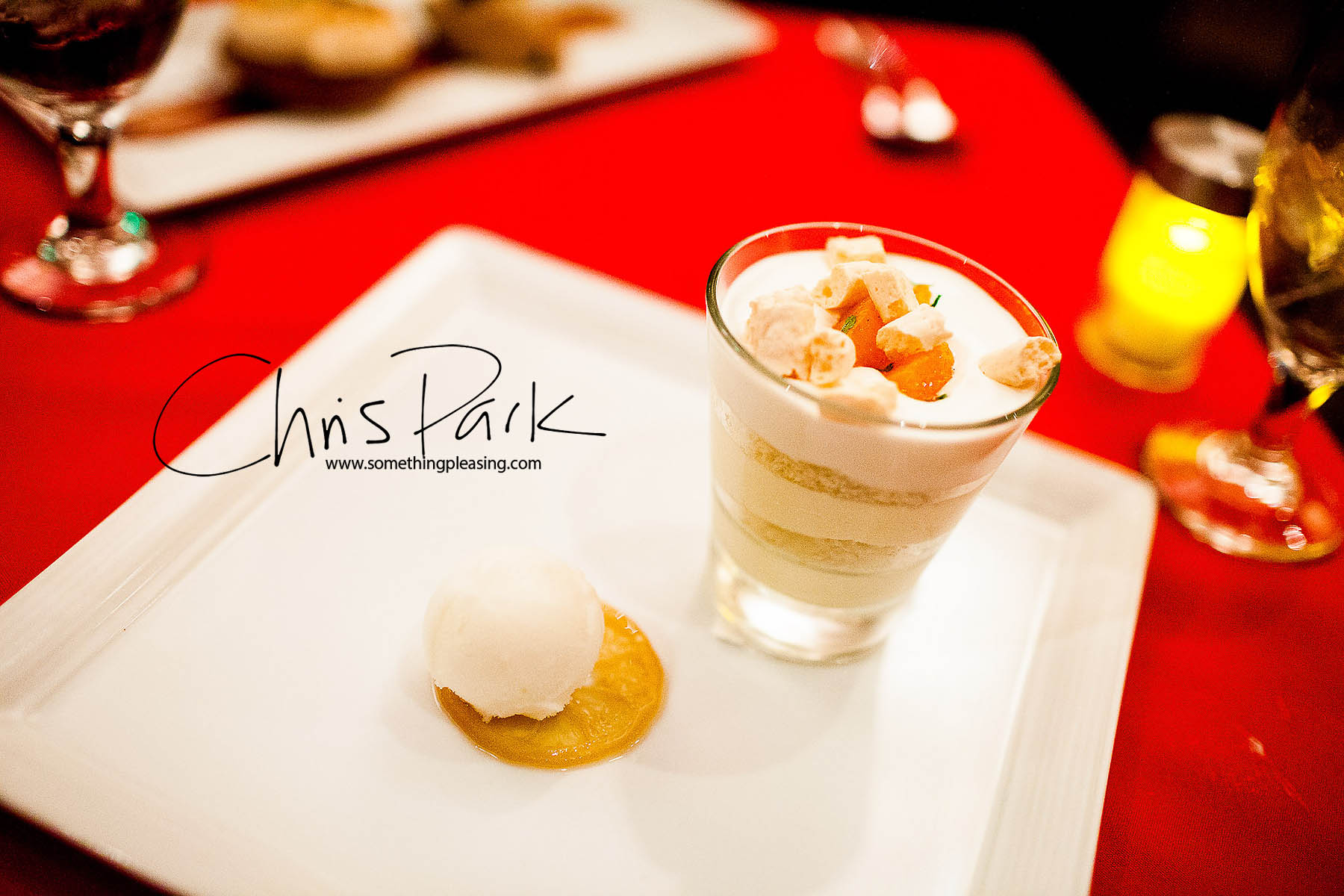 Citrus Parfait 8.95
Lemon Chiffon, Mousse, Toasted Coconut Meringue, Tangerine, Lemon-Lavender Sorbet
The yogurt parfait was chosen because it was a light finish to a rather heavy meal. It was good and well made, but I wanted more of a kick out of dessert, the fruit-pastry-sorbet type combination that I've been appreciating as of late. My fault, completely, though the other desserts sounded a bit too heavy. The little toppings on the top of the parfait were delicious.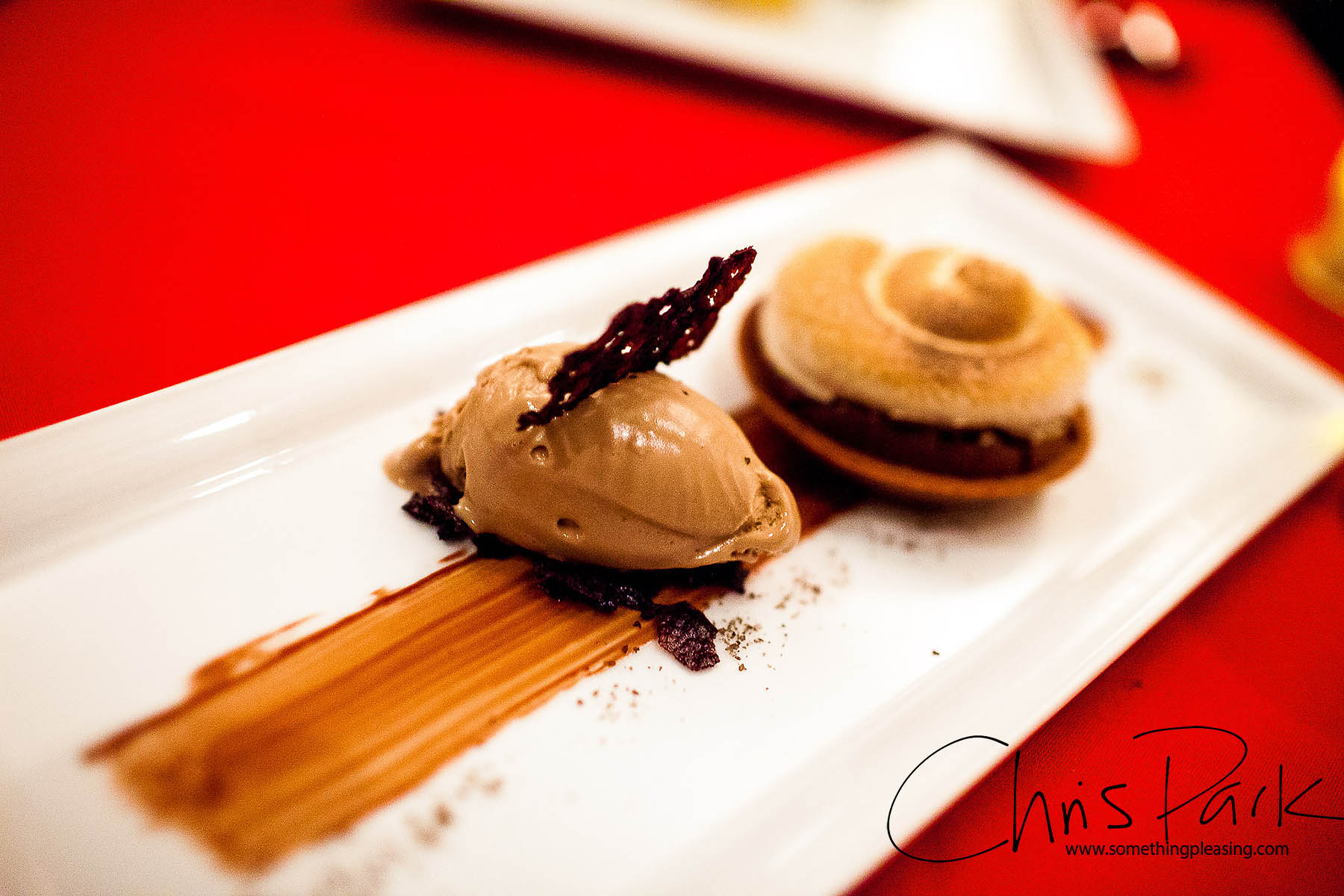 Warm Chocolate & Graham Tart, Brown Sugar Marshmallow, Alderwood Smoked Sea Salt, Malted Chocolate Ice Cream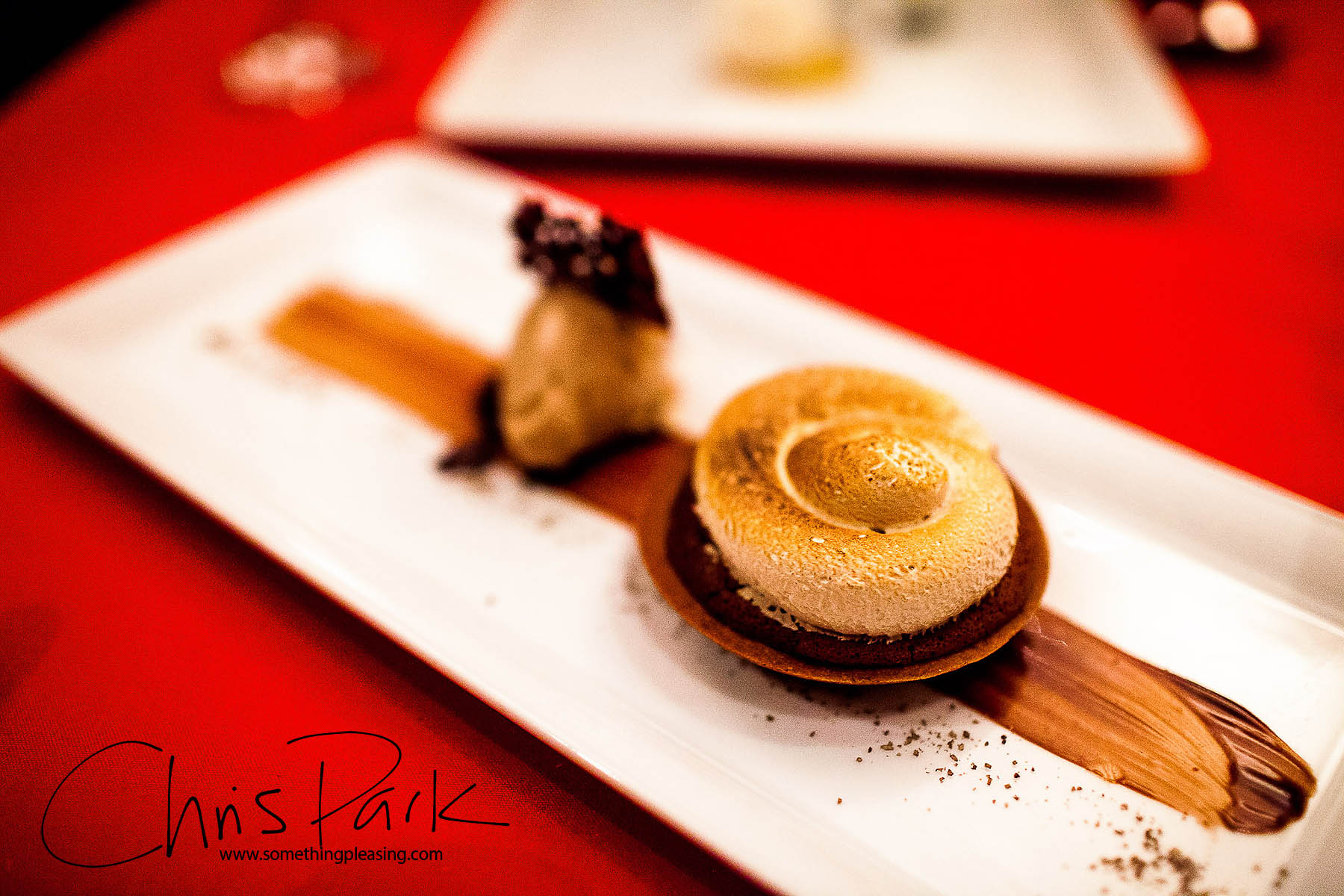 We chose the smore's before we got to the restaurant, and I was only delighted that it presented itself on the day's rotational menu. The toasted marshmallow was perfectly cooked, and the sea salt provided a great hint of the ocean, as if this had been prepared at the shores (...if only that was possible!). All of my seaside attempts at making this dessert never tasted quite like a child's imagination, but this was just perfection. If only ice cream didn't melt.
The bill and the to-go portions of my wagyu steak were brought out with the mignardise, though I'm not sure whether they're house-made. A simple toffee, wrapped in plastic, nothing particularly noteworthy. I think the valet tries to bring your car to you as you leave the restaurant but before you bring your ticket (how do they know?), though in our case, this didn't happen - two groups were in front of us. But truly, in my imagination I was impressed all the same.
Market that strives to be the best in San Diego and thus drives in traffic despite its odd location. I mentioned to my companion once that I was thirsty, and the passing by waiter signaled to a server to bring water, without something I only caught out of the corner of my eye. The food is also particularly well done, at least by San Diego standards - interestingly enough, the bar half of the restaurant serves sushi and sashimi, so the next time I come, I may just indulge in that instead.