Ah, Nine-Ten, a name I can say with a smile. I'd been here a few times before this dinner, for happy hour and breakfast/brunch, always fairly pleased with what I was being given, enough to interest me in coming back for dinner. It is interesting that a small hotel can hold such a culinary treasure, though perhaps quite fitting. Before we get too wordy though, would you care to chance into the meal?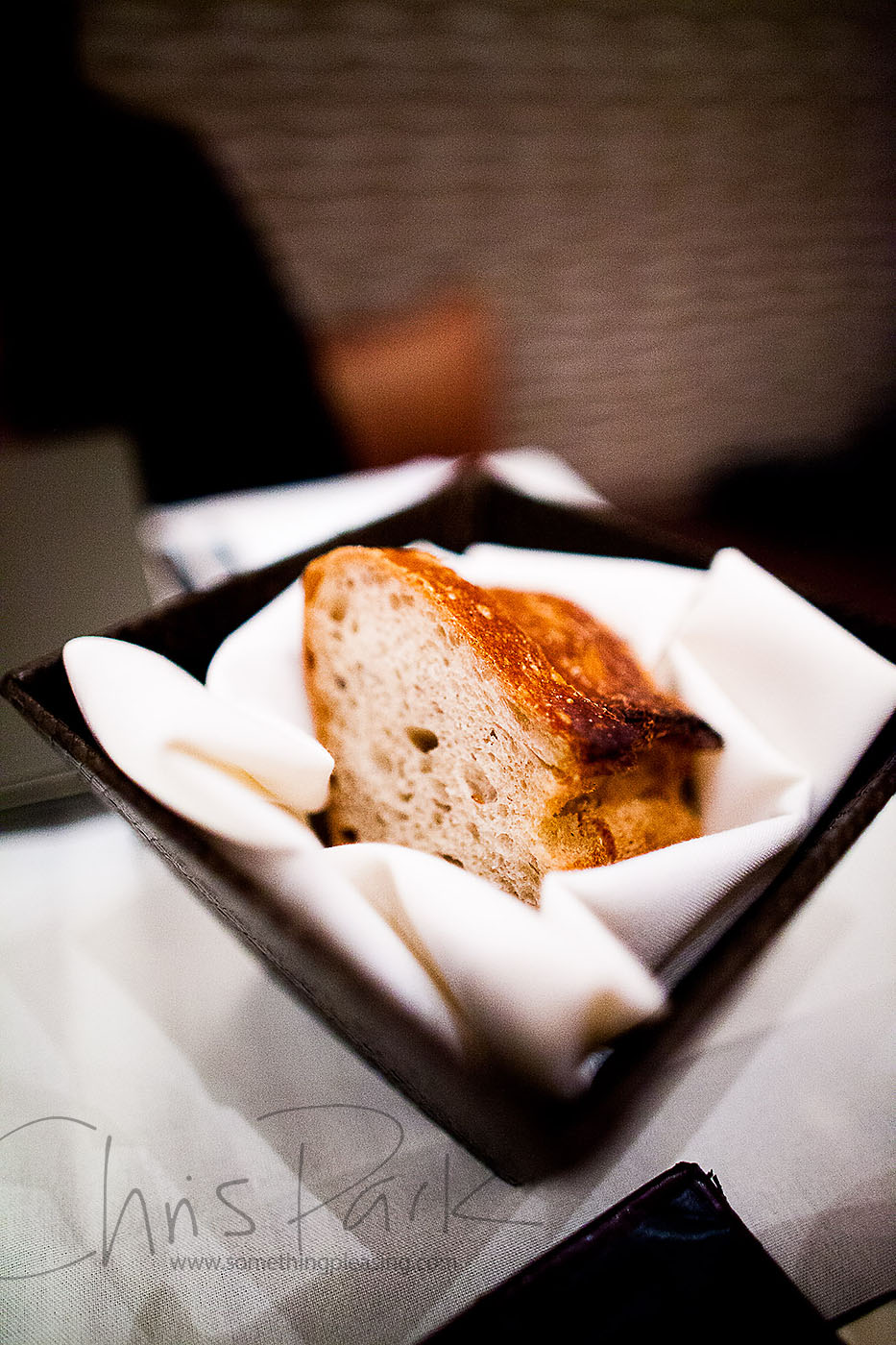 Complementary
bread, of course, how was it? Well my notes say "really good bread", if that suffice.
I also want to note that at about this time when I was getting seated, I bumped into our very small table and knocked a glass over on the table and onto the ground, accompanying predictable shatter. The staff made no fuss about this, cleaning it up immediately and efficiently, with only the comment to not worry - this happened frequently (it didn't to anyone else that night).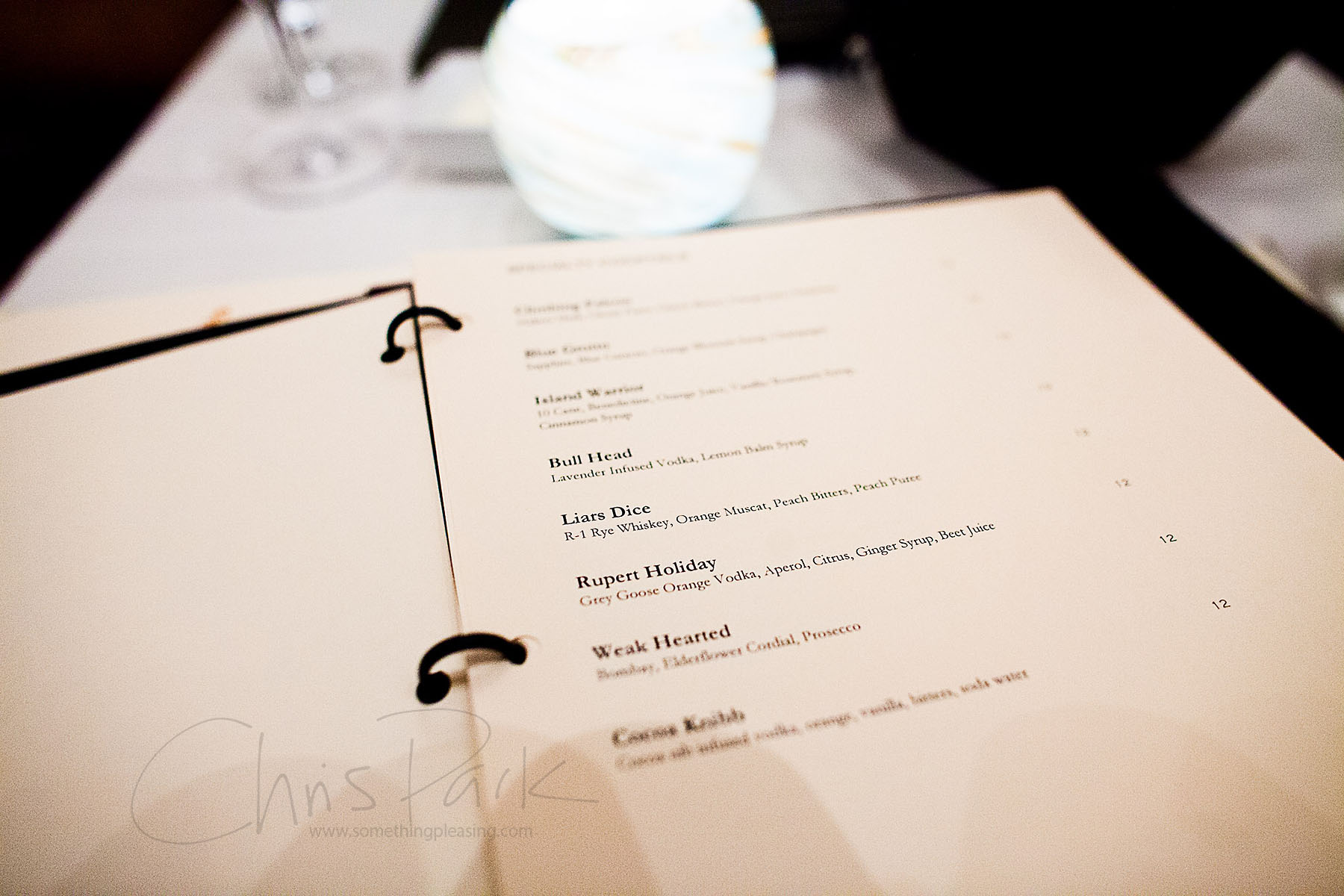 Drinks menu. Always warming to the heart, but only if you let it be.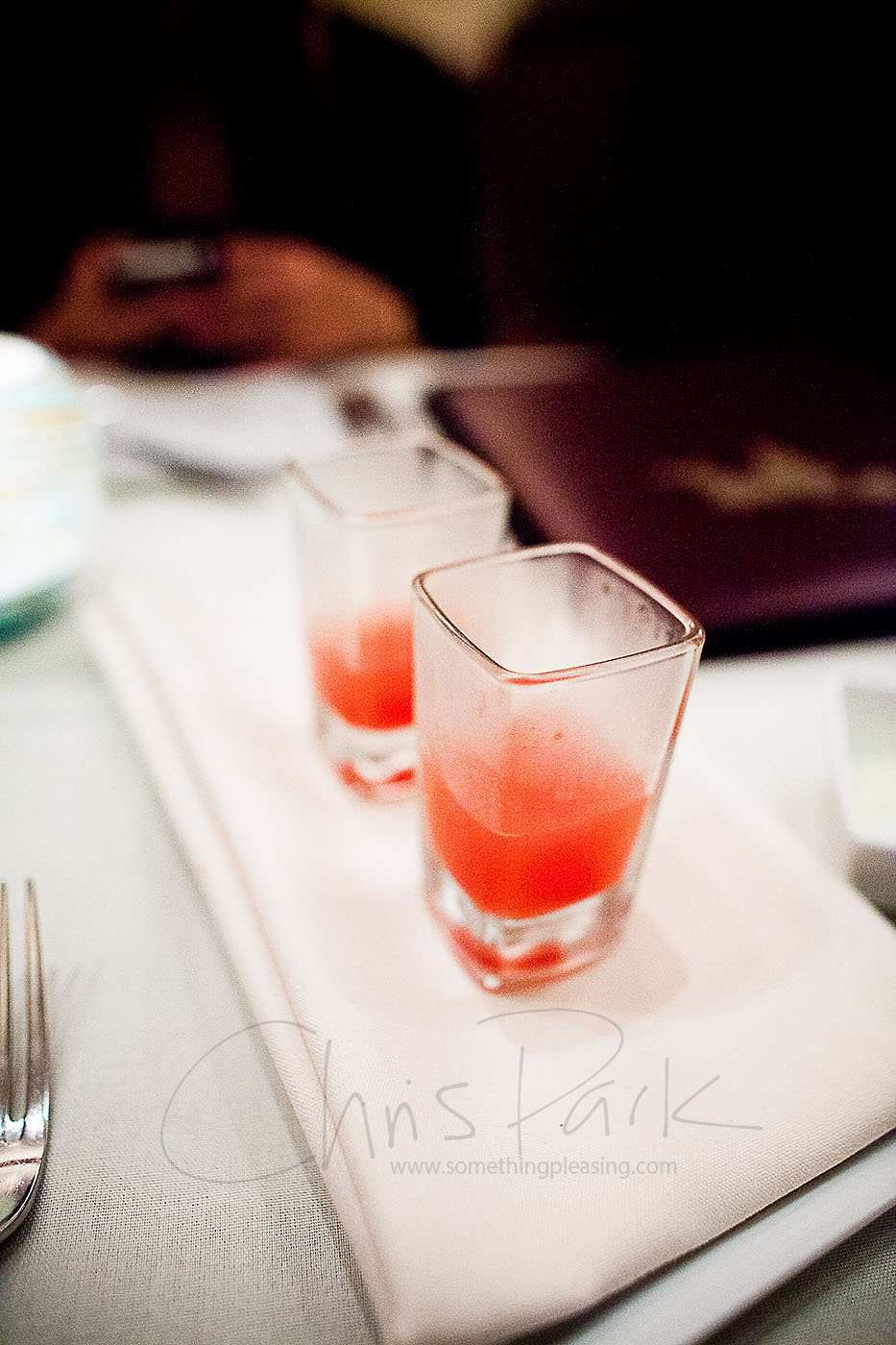 Cool and refreshing, interesting flavor. If its purpose is to simply get my appetite going for the real meal, it did its purpose exceedingly well; not that I have much to complain about, but I do usually wish for a little more substance in an amuse bouche.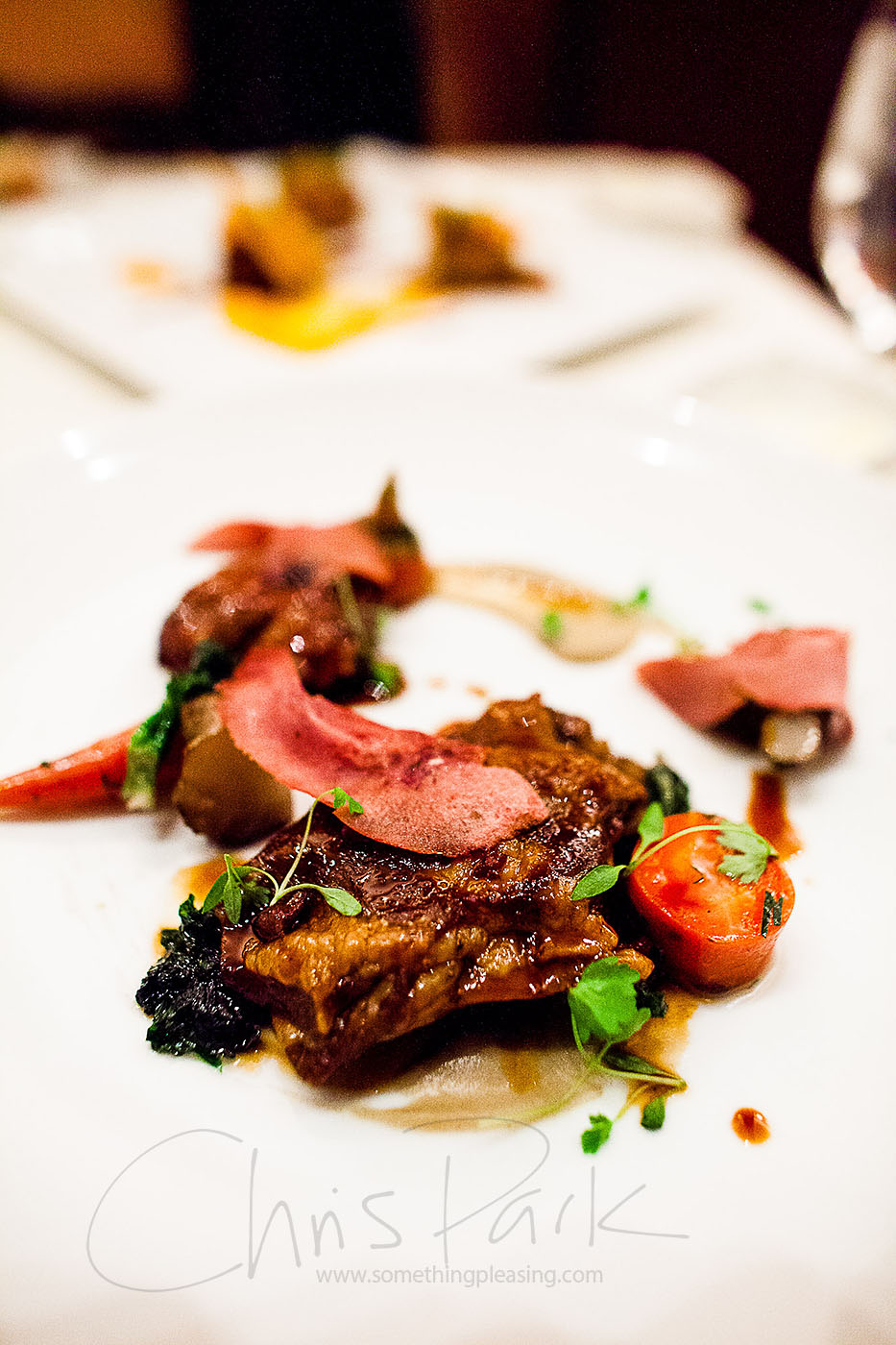 Braised lamb (neck) served with roasted carrots, sun chokes, kaleidoscope
(brussel sprout family), garnished with
a pickled lambs tongue

I've been to a few restaurants serving lamb before, none of which I particularly enjoyed; the difference here is that it's actually damn good, nearly a gateway dish into alternative meats depending on your ethnicity. Delicious all around, great carrots, and clear balanced flavors (including that pickled tongue).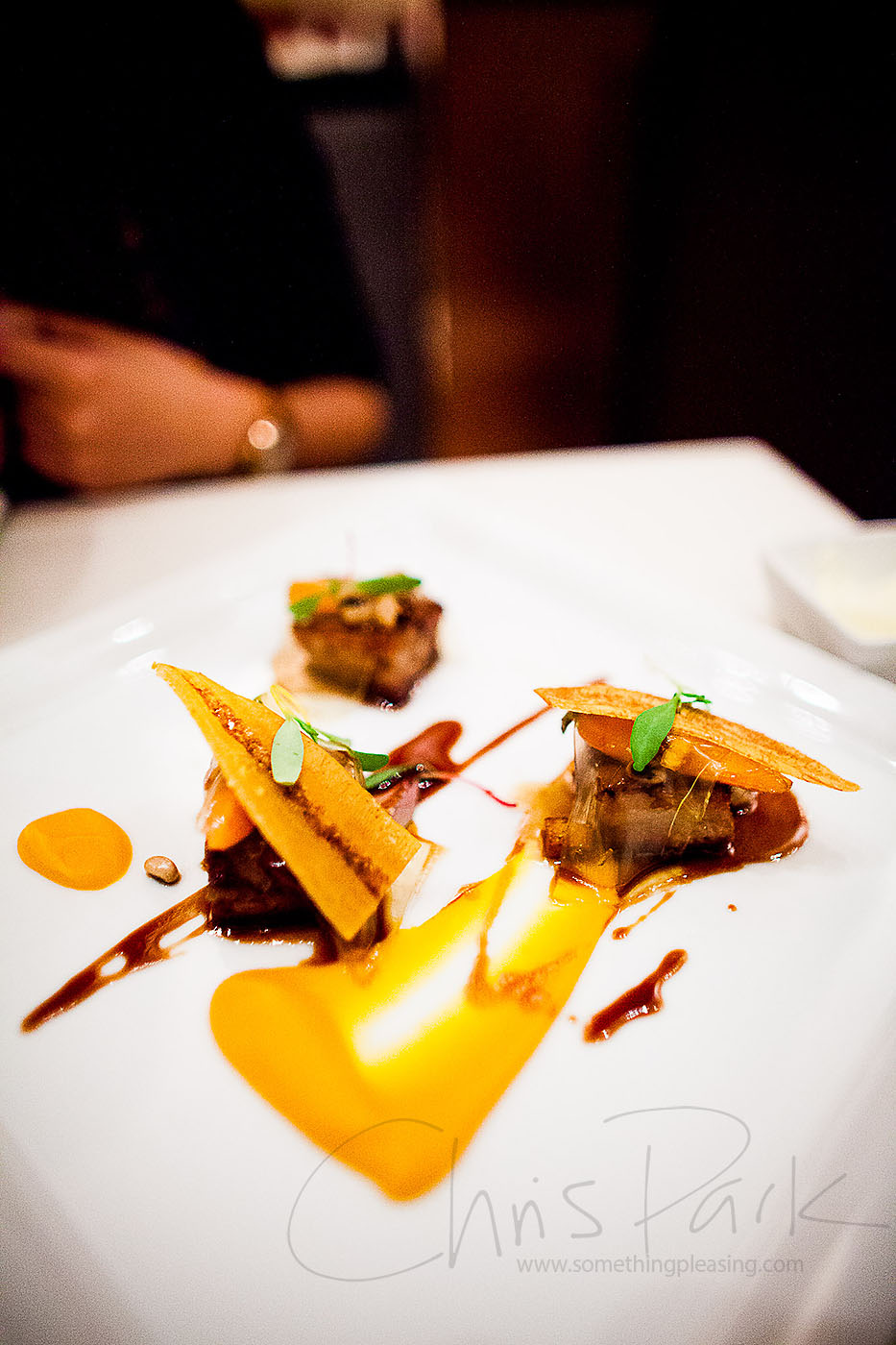 baby carrots, swiss chard, plantains, black-eyed peas, spicy jellies & sweet potato purée
A classic dish at this restaurant, and the biggest show of molecular gastronomy I've probably seen in San Diego in some while. Solid appetizer if a tad heavy, but everything was flavored and cooked perfectly, displaying an excellent use of ingredients not quite local yet fresh.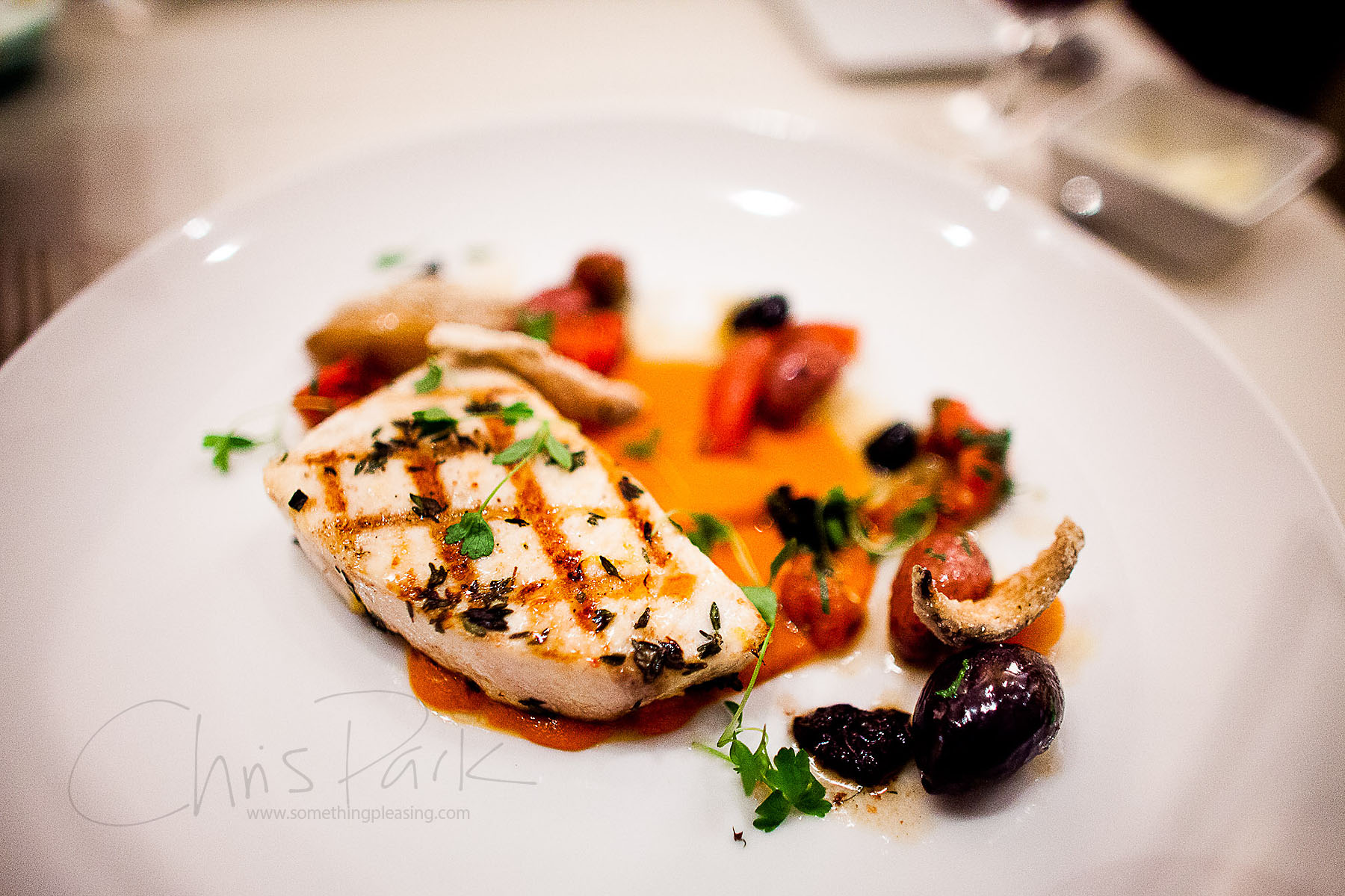 confit tomato, black olive, preserve lemon, peewee potatoes, fried white anchovies,
romesco sauce
This one was interesting - I'm not particularly fond of swordfish, and probably wouldn't have ordered this dish at any other restaurant, perhaps showing my trust for Chef Jason Knibb. Though I wouldn't say this was
the
best dish I could have ordered at Nine-Ten, I am quite willing to concede that it may be my best swordfish yet. Excellent potatoes.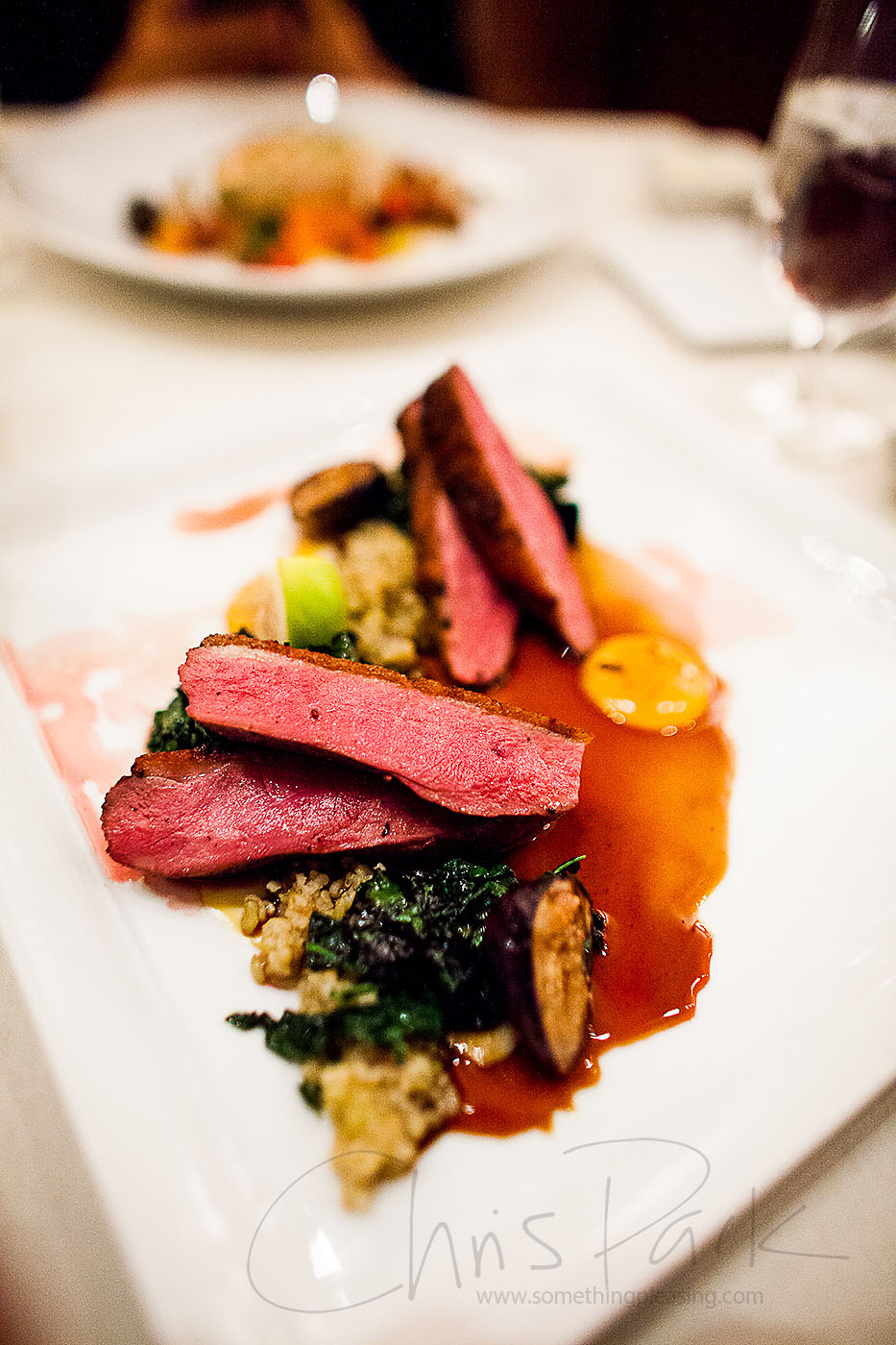 LaBelle Farms Duck Breast
grilled figs, sautéed kale, green farro, orange & ginger puree, juniper duck emulsion
Have you ever had rare duck breast? Medium-rare duck breast? Because I sure haven't before, meaning that this must be only ridiculously fresh. That yellow-orange circle isn't egg, but rather the orange and ginger puree, the figs as you would expect and of high quality, and the kale was delicious, the trendy food that it is now. Now how do they do that last one?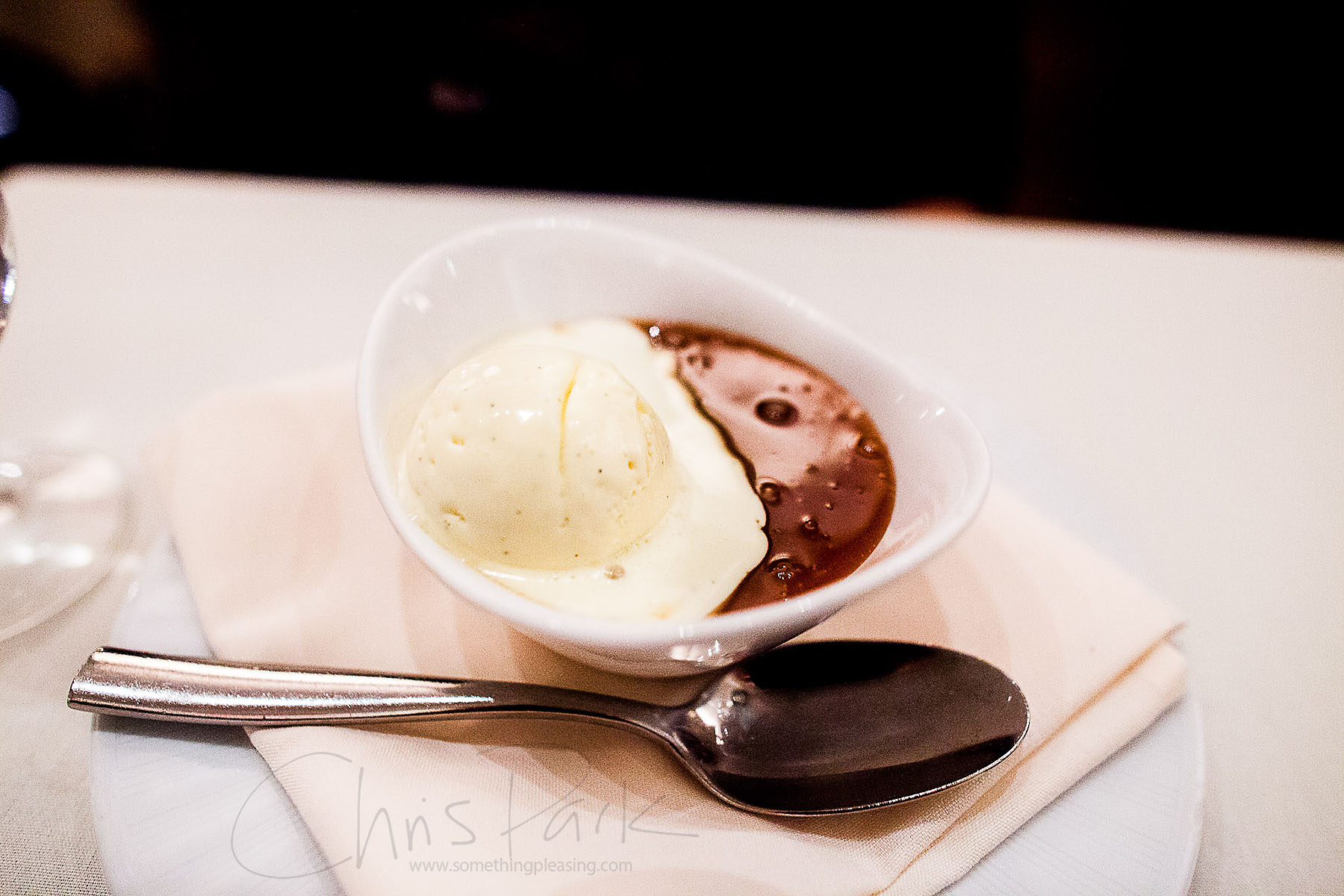 Half Baked Chocolate Cake
caramel sauce, whipped cream or vanilla ice cream
A long time ago on the very start of my culinary journey, I experienced a birthday cake slice that changed my conception of dessert overall - it was at a restaurant, and free, just so well made and ridiculously rich that my table walked out utterly wowed with the dish (and restaurant). Since then, I've not had the same reaction to a dessert until this - this being perhaps even better. Rich, delicious, difficult to finish on your own, but that's all the better - it's delightful to share.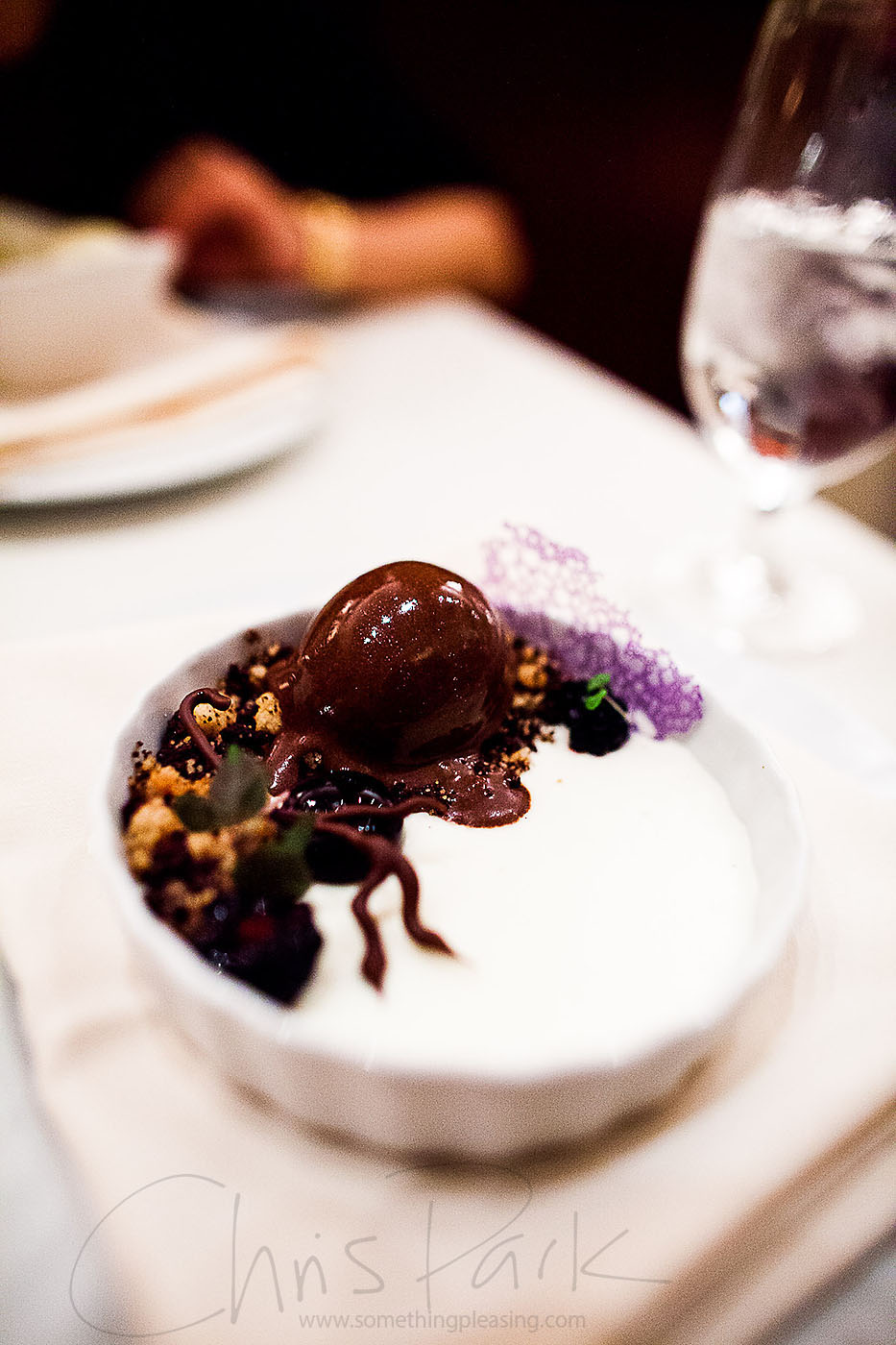 Vanilla Bean Panna Cotta
bittersweet chocolate sorbet, blackberries, mixed butter-chocolate crumb
As pretty as almost everything here is, I really should be posting another picture of this course. The purple lattice is sugar, the branches chocolate, the crumbs forming an almost dirt look, the dessert become almost like an edible and delicious picture of nature. As famous as the Jamaican Jerk Pork Belly might be, this is the one that easily stands out in my mind, me hoping to experience it again and again. Greatness.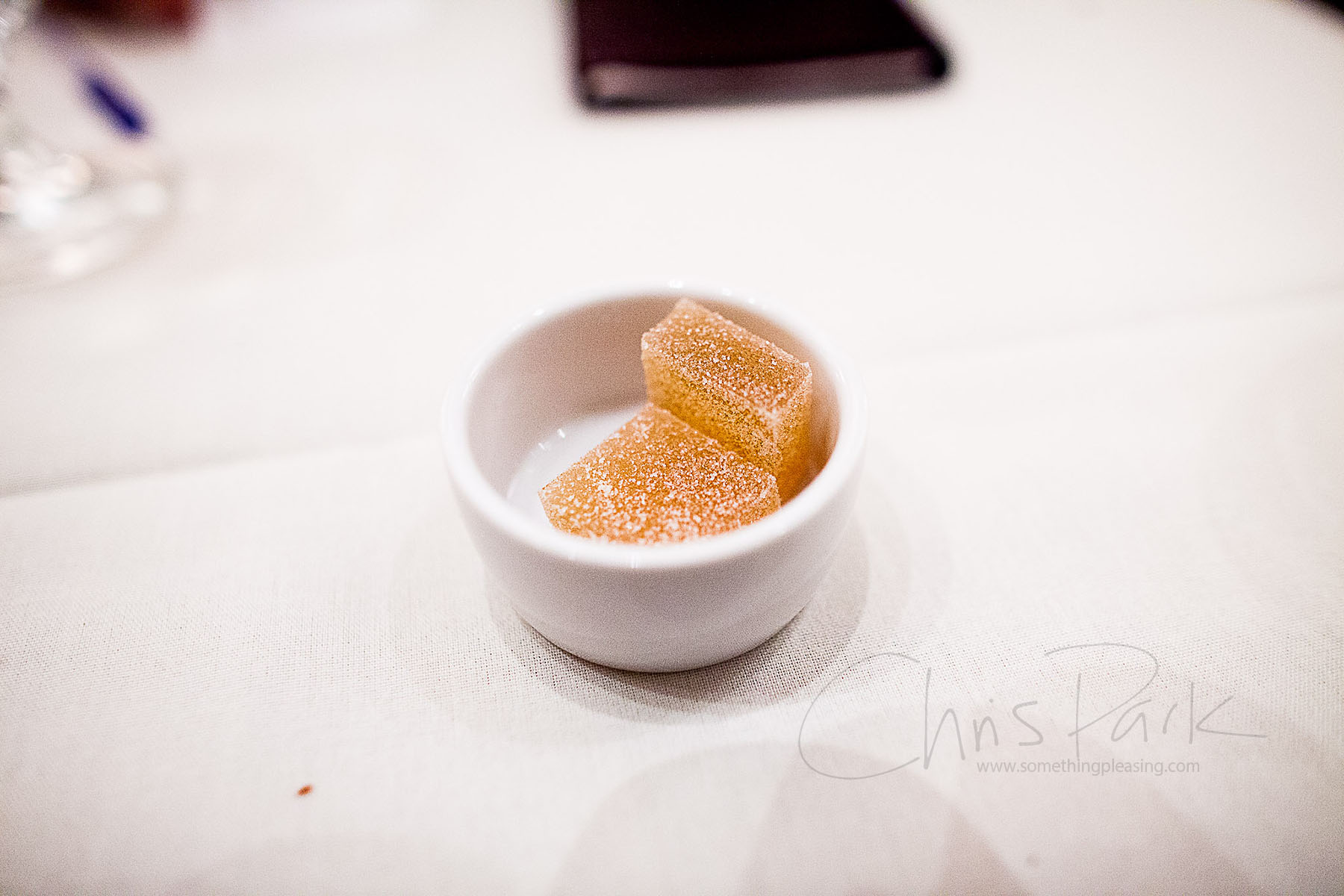 Mignardise. Fresh, fruit juices cutting through and forming the flavors. Soft.
So there it is, amazing, isn't it? Each course was different, well made, and amazing in its own right, each course performed perfectly. Each plate was a balanced of color, food types, flavors, temperatures, and spacing, with the bonus that they were quite the delight to look at, too.
As much as I loved this experience, this is the first restaurant that made me feel I needed to post these reviews more punctually - the flavors, though wonderful, are clearly of fall, an odd clash to the near-summer skies I see just outside my glass-door window. But I can happily confirm that the late Naomi Wise was right: this just may be the most pleasant meal in San Diego, if I could only afford to regularly visit.