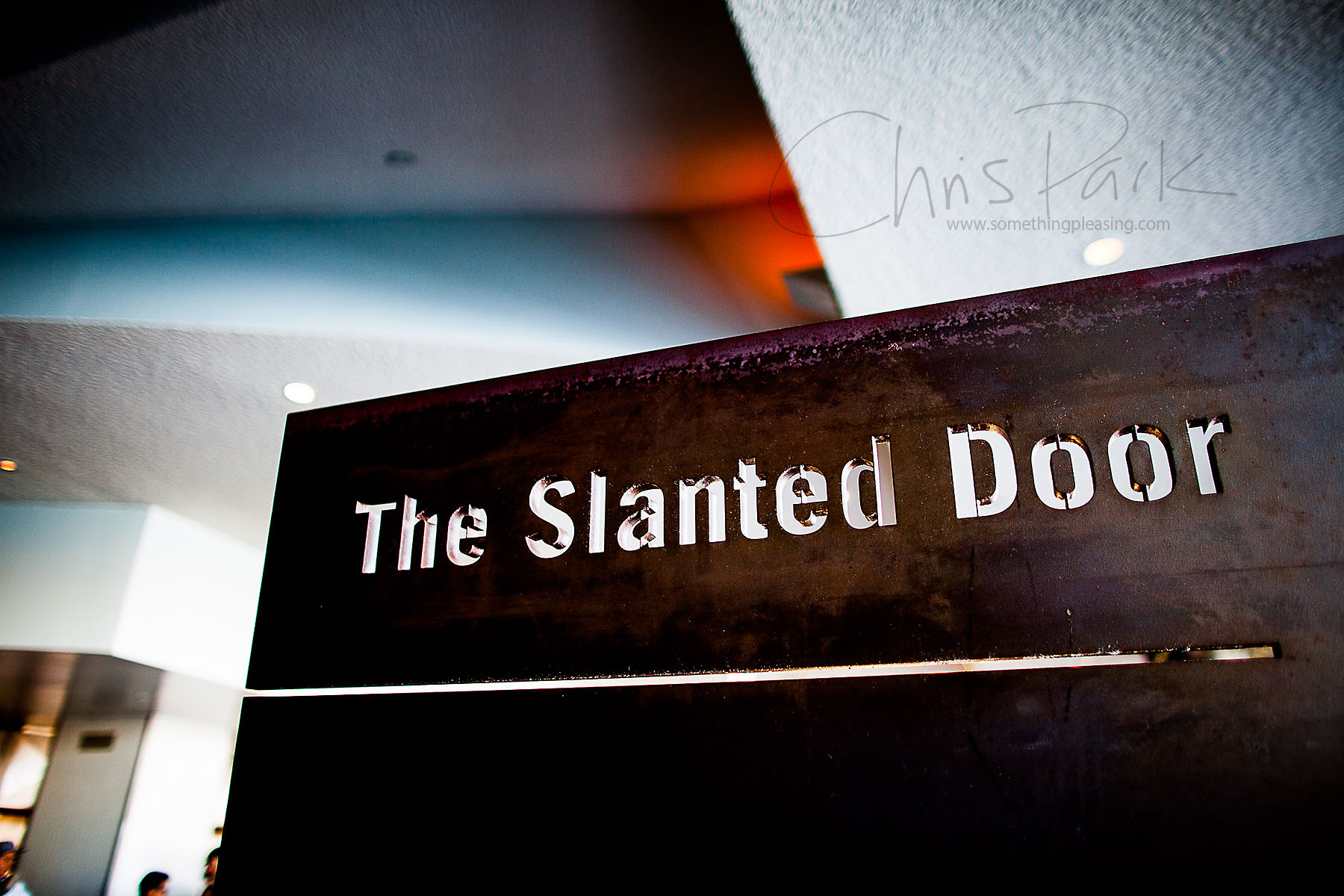 Much to my immediate dismay, the Slanted Door does not in fact have a slanted entrance (one of the biggest letdowns of the night). If you can get over that, and are interested in experiencing what is likely a new food combination (Californian-French-Vietnamese) and style, you might be in for a good time provided that the wallet too is interested - for what you get, the food is a bit pricey, though the view and location are surely a factor. It can get crowded though, so if you can snag one, go for the reservation.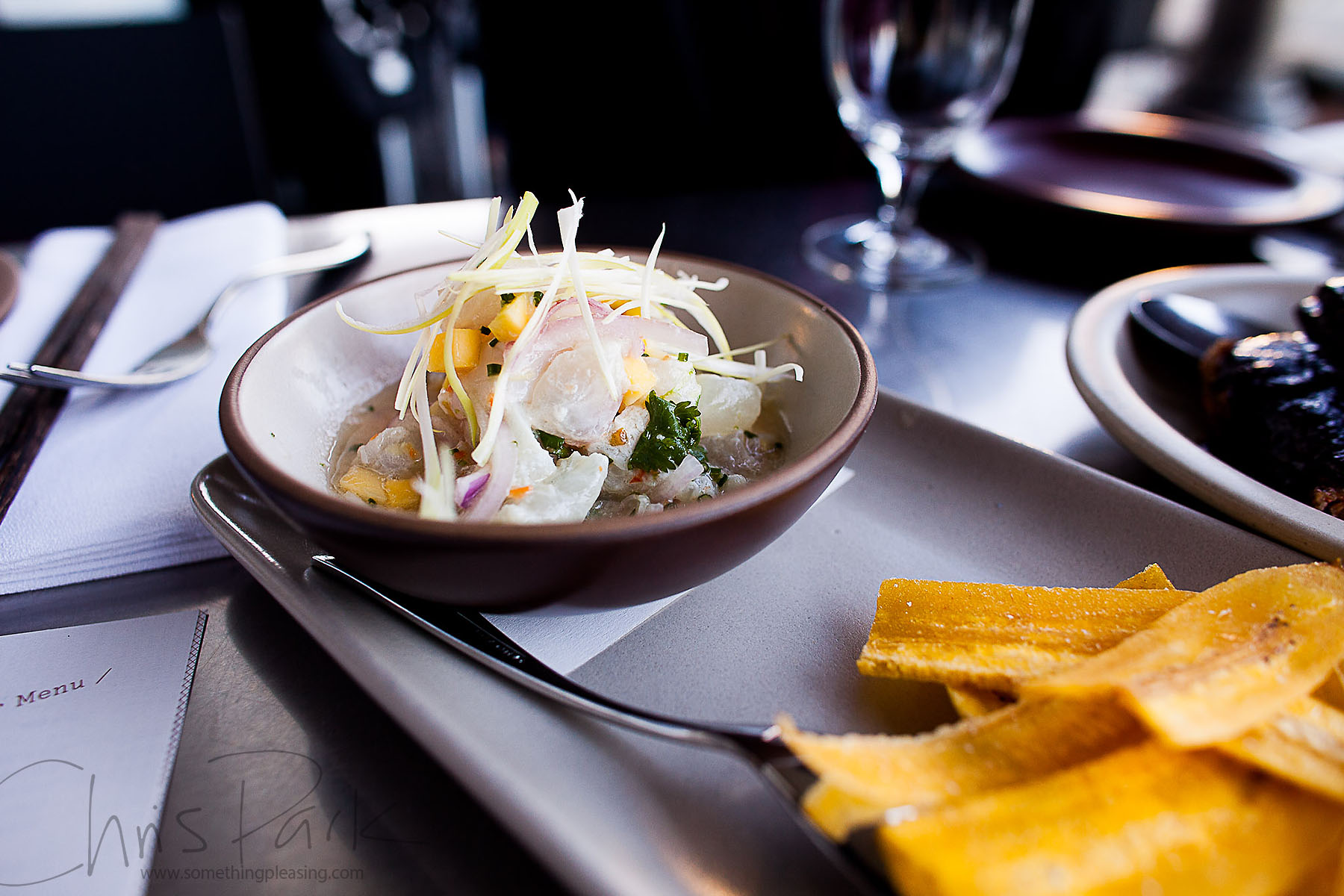 california halibut & scallop ceviché, cilantro, habañero, mango, young coconut, crispy plantain 16

This is one of the better ceviches I've ordered at a restaurant, though perhaps that doesn't say too much - I don't seem to particularly like them in general. Strange, right? Because I love them at conventions and food gatherings...anyhow. The fish is chunky and the flavors combine in a quality way, maybe the whole better than each of the pieces, at least to me, which is the goal. The plantains? Just vessels on which to carry the goodness, nothing special in themselves. Good dish.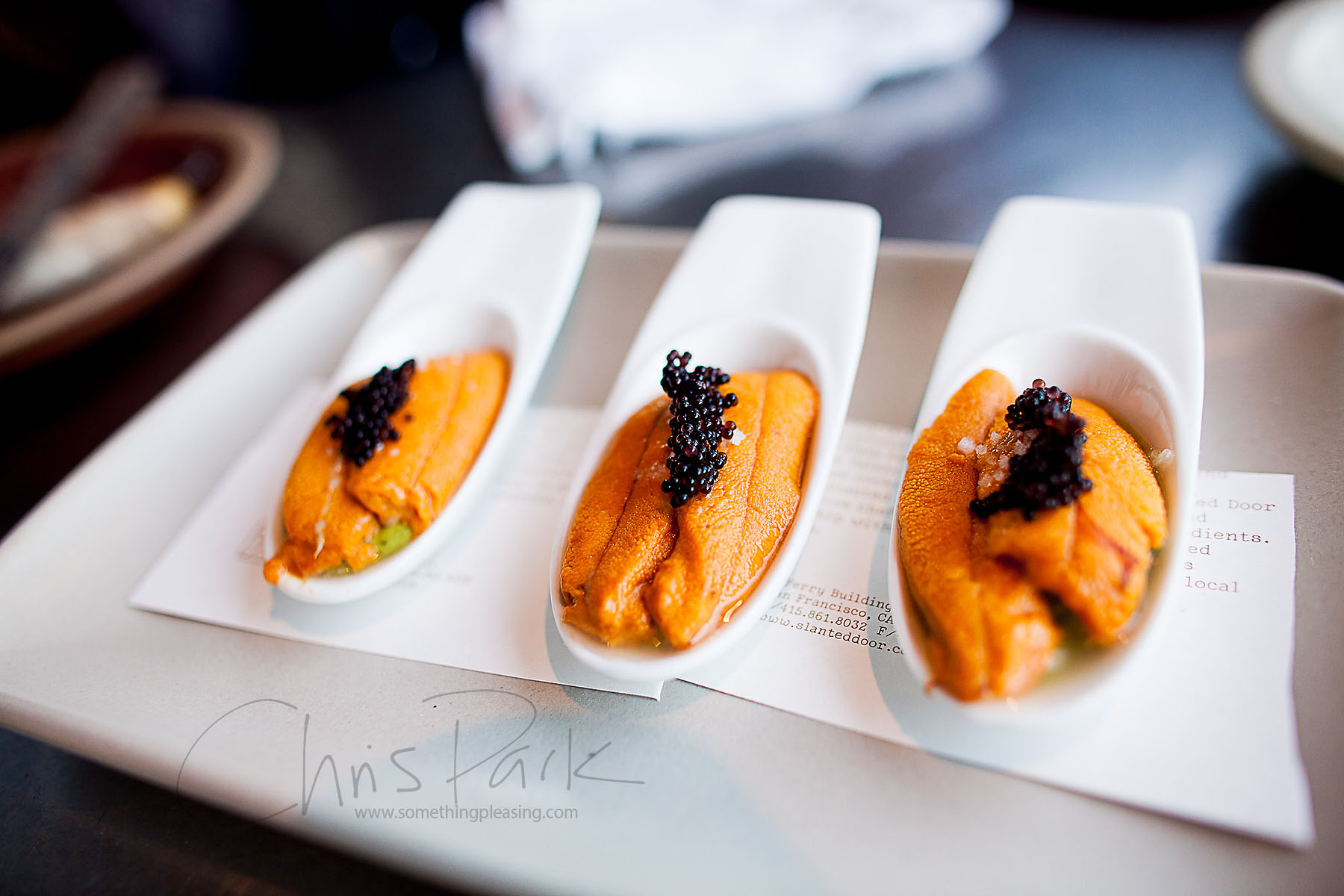 wild california uni, black tobiko, avocado, cucumber 17

This dish instantly caught our eye as we walked in, waitress carrying it to another table - it pretty much stopped conversation for all of ten seconds as we had to close our hanging-open mouths shut. Interestingly, it also offers possibly the best deal on the menu, provided the uni is fresh at time of order. Tastes like it looks, I'd order it again if the quality is consistent. Delicious, but might be a bit much for those who haven't had uni before.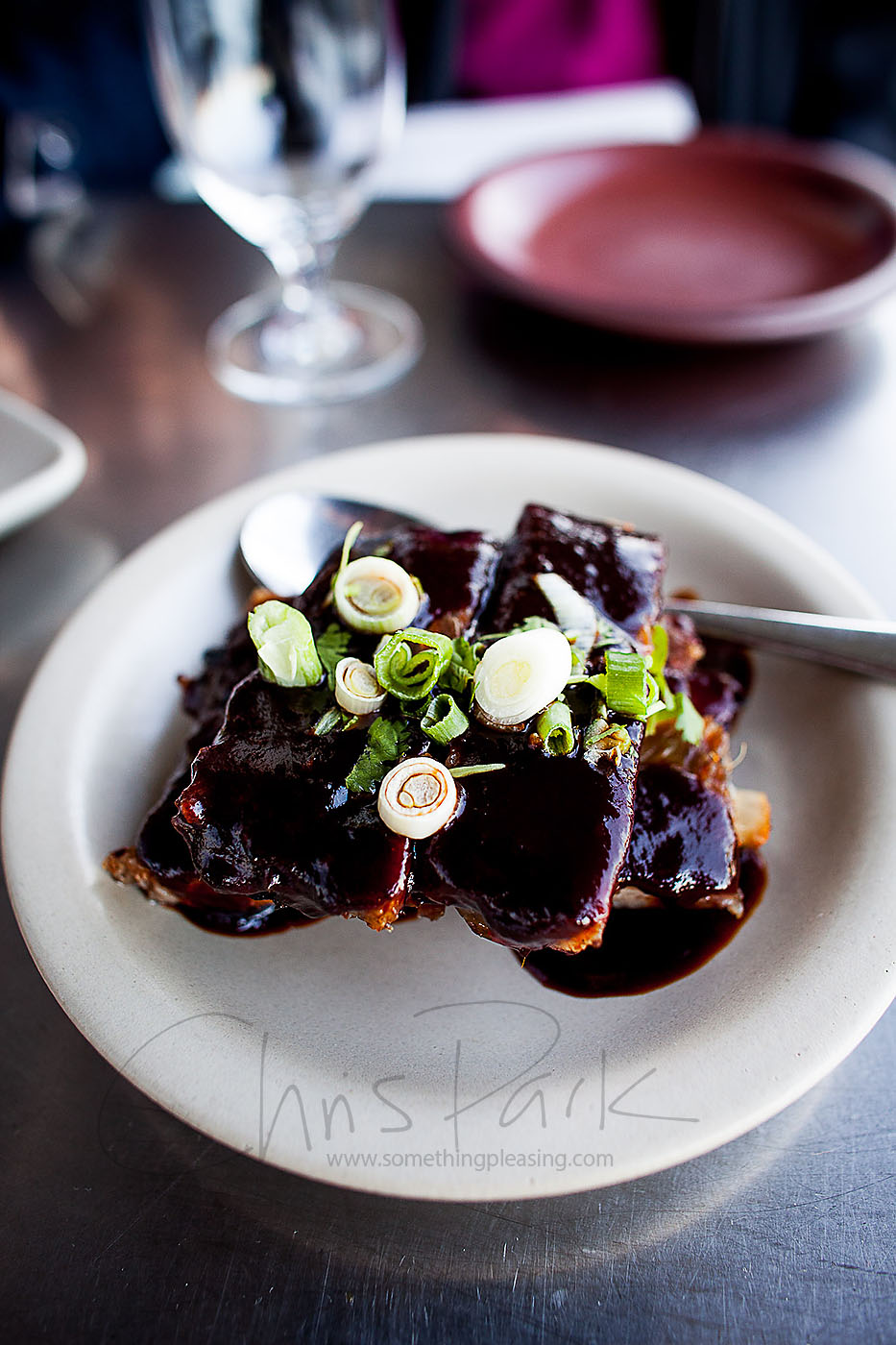 barbecued willis ranch pork spareribs, scallion, cilantro, honey-hoisin sauce 17

Easily the least memorable portion of the meal, don't bother. I say this a lot, but it tastes how it looks, which in this case is not a good thing; it's also pretty darn overpriced as the plate is tiny.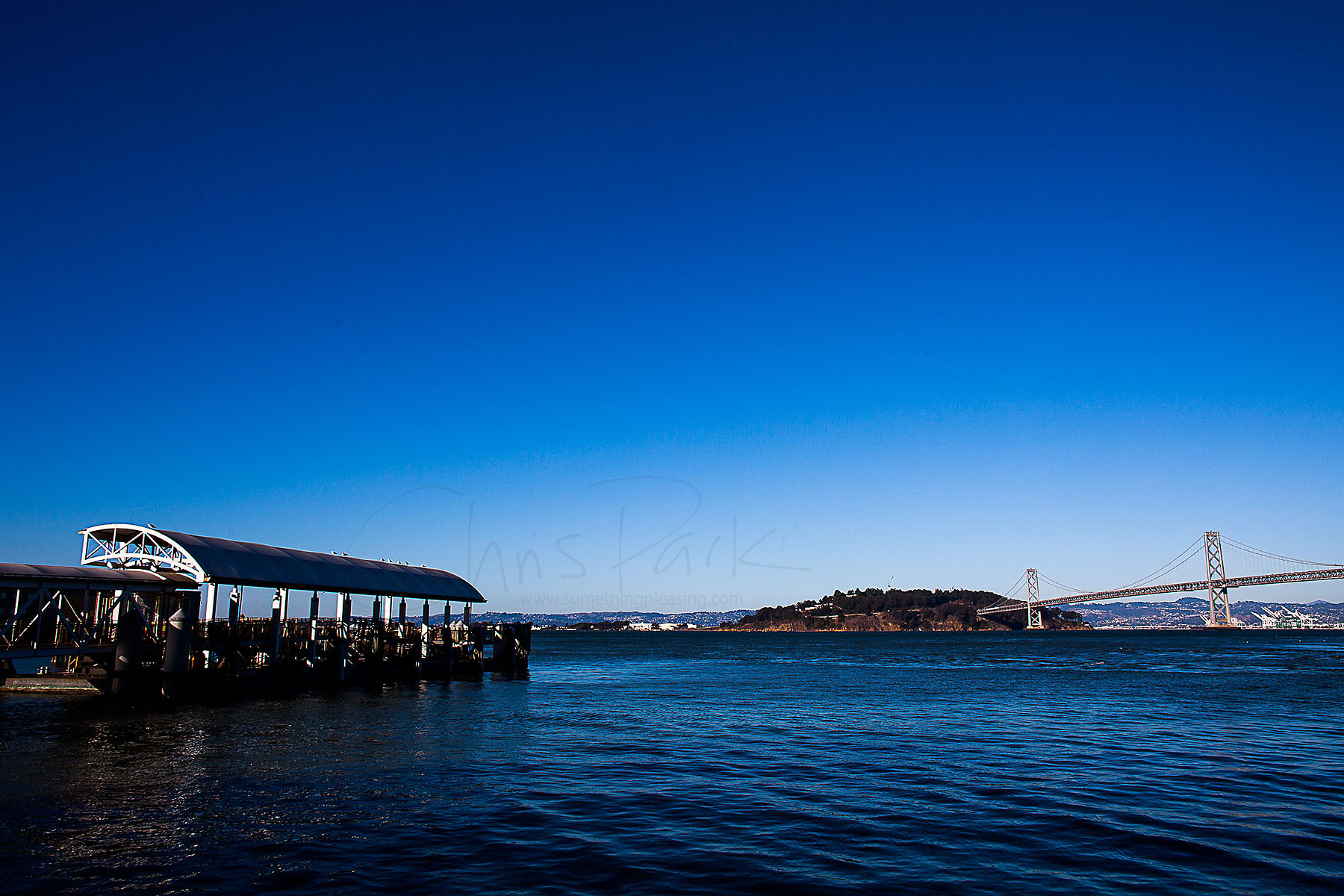 For what it is, the Slanted Door makes no promises it doesn't keep - except for it's title. It's not authentic of any single culture, but makes no pretense of being so; many its guests likely come from cross-cultured backgrounds anyhow. And despite the lack of the actual slanted door, it is easy to understand why this plate remains popular: the view, unique food combination, location, and trendy atmosphere all allow people to dine and indulge, prices withstanding. But to me, I see little reason to return - as San Francisco simply contains too many fun and intriguing eateries at a variety of price ranges, and in the end, this one just isn't worth it.