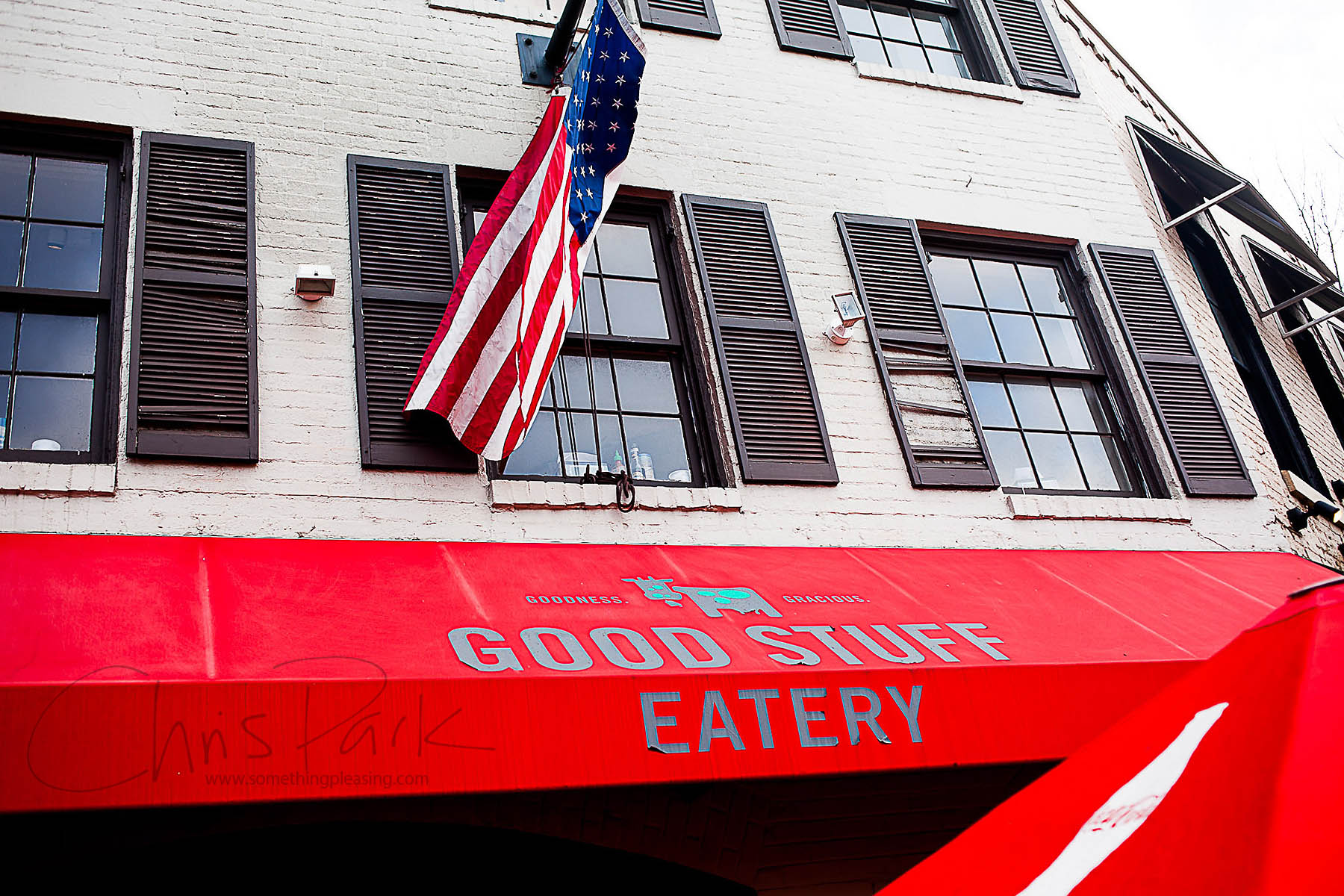 If the District of Columbia had to reign itself national champion over one type of food, burgers would likely be in the running - President Obama himself seems to be a rather big fan, many of the online photographs of him eating displaying this preference. And after sampling a few meals in the city, I can't quite blame him either - they have a unique character you don't quite get around California.
This chain in particular was founded apparently by a Top Chef contestant (Spike?); I found it crowded even in the rather late-afternoon (3pm?). There's seating both down and upstairs, tables large and small, lines out the door, and the wait, well, fairly long for fast food, both in line and after ordering.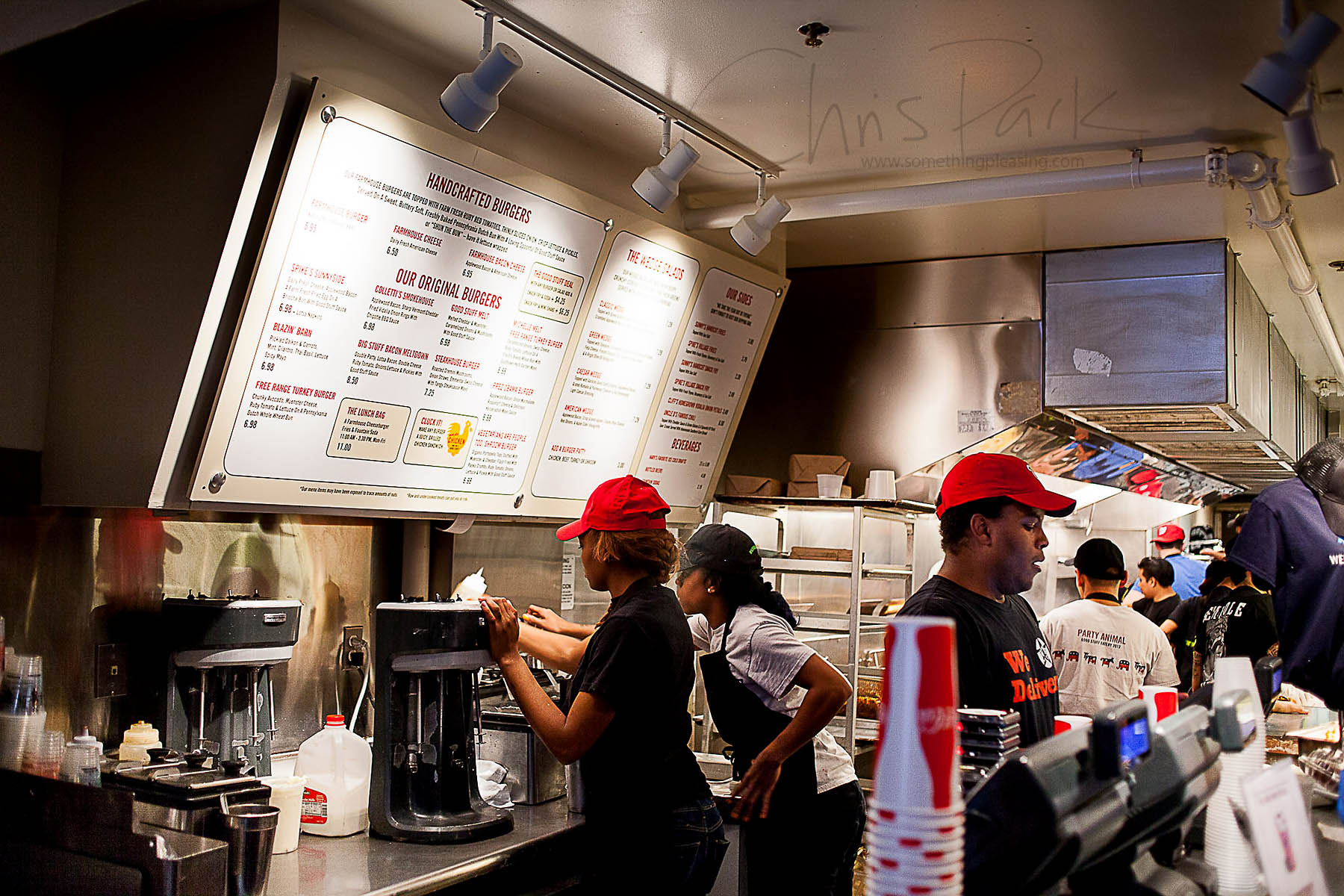 A look at the menu and the kitchen - part fast-food, part gourmet burger, rolled into one tidy package. I had no idea what to choose from their menu, and thus narrowed it down to two items I figured were more appropriate to the journey:
PREZ OBAMA BURGER Applewood Bacon, Onion Marmalade, Roquefort Cheese & Delicious Horseradish Mayo Sauce 6.98
MICHELLE MELT Free Range Turkey Burger Caramelized Onions, Swiss Cheese, Ruby Tomato, Lettuce, Wheat Bun With Southlawn Herb Garden Mayo 6.98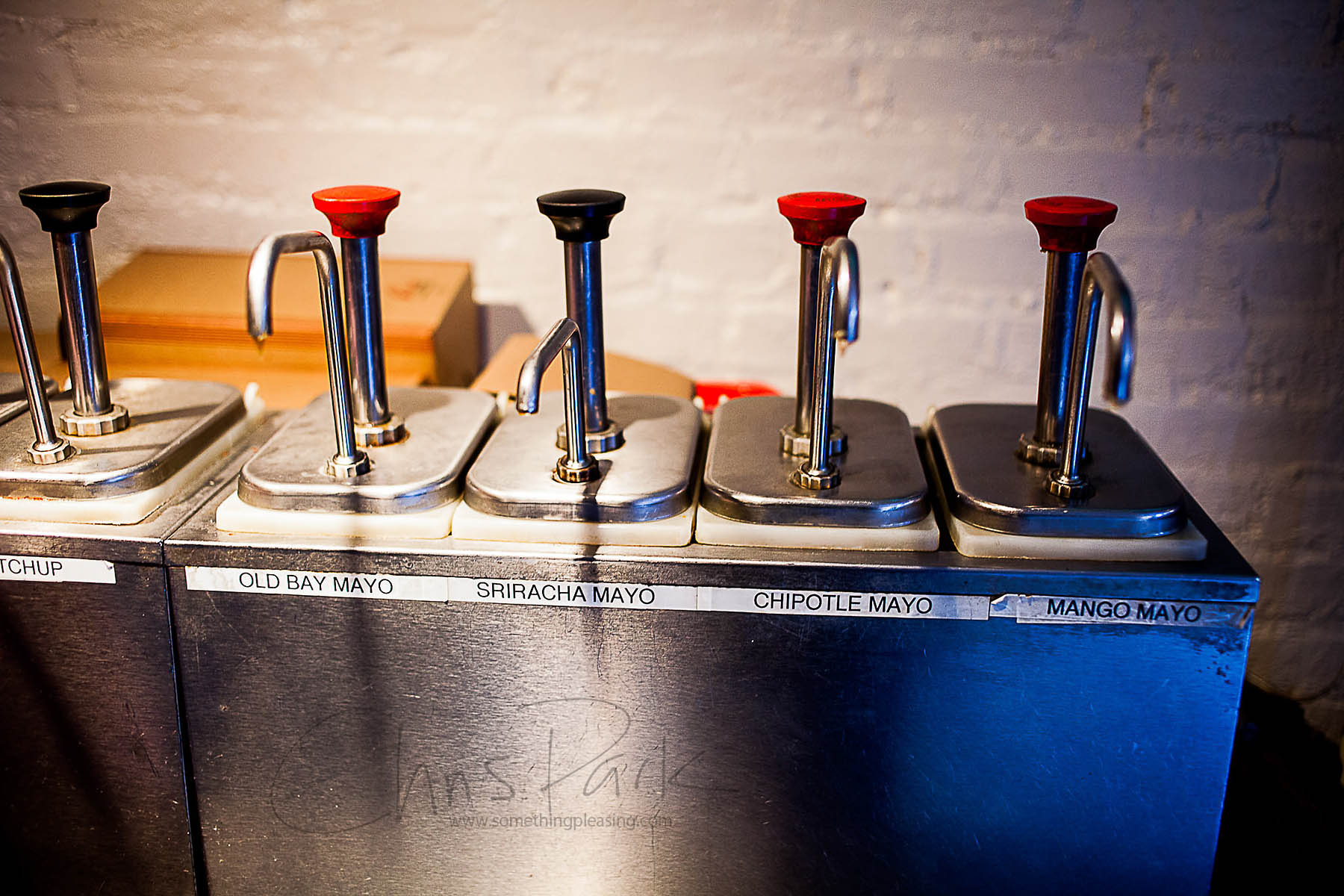 At first, I considered getting some ketchup (left, alongside basic condiments), but with a variety of interesting options to the right, I just couldn't get myself to bother. These actually aren't even all the options, as some rather secret ones were available by special request, such as a horseradish mayo that I saw one customer obtain during my 15-20 minute wait for food post-ordering.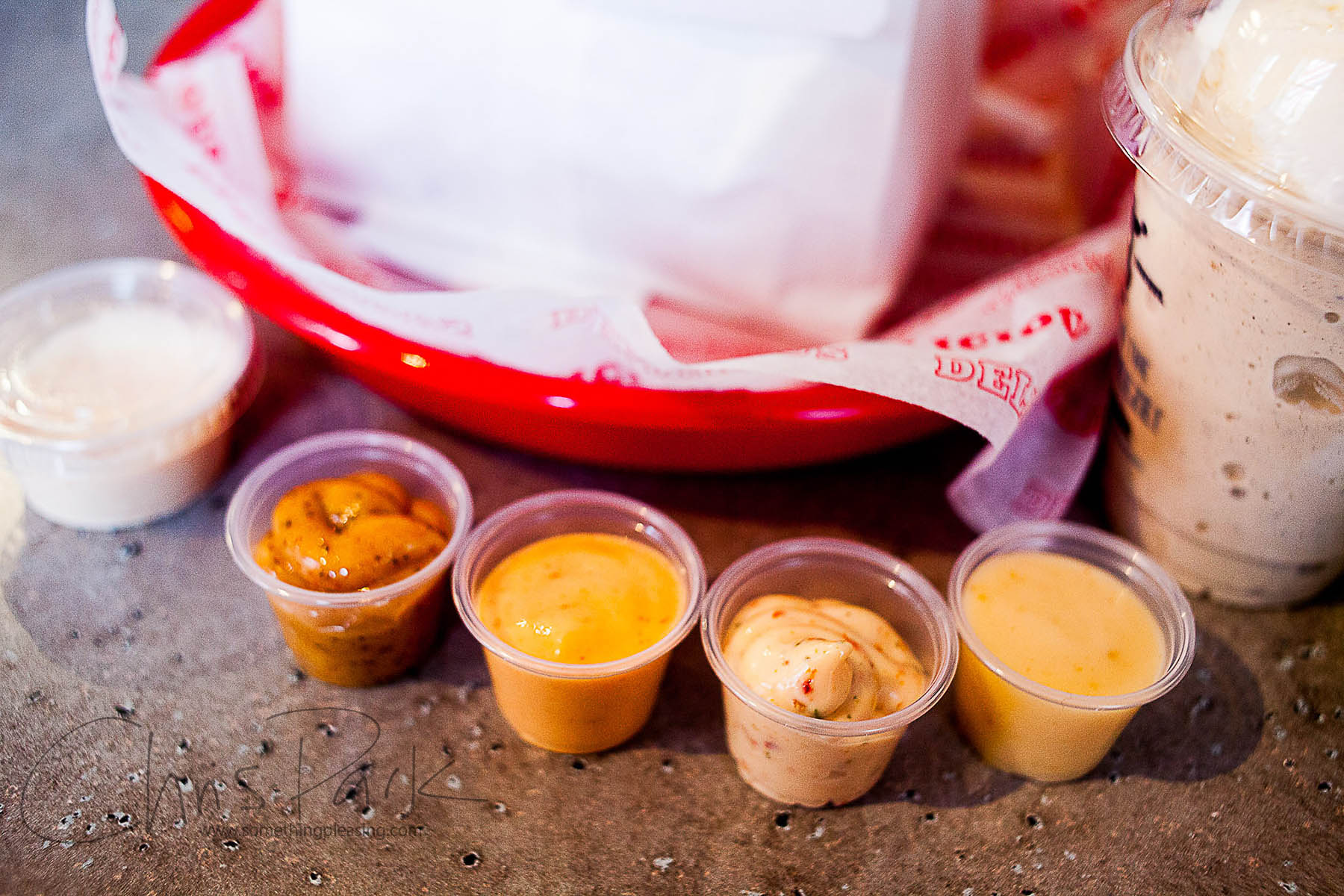 In order, left to right: horseradish mayo, old bay mayo, sriracha mayo, chipotle mayo, mango mayo. One does wonder how wise using mango at this time of the year (late November) and in this part of the country can be; these flavors sound like they'd fit right at home in San Diego. I especially liked the sriracha and chipotle flavors.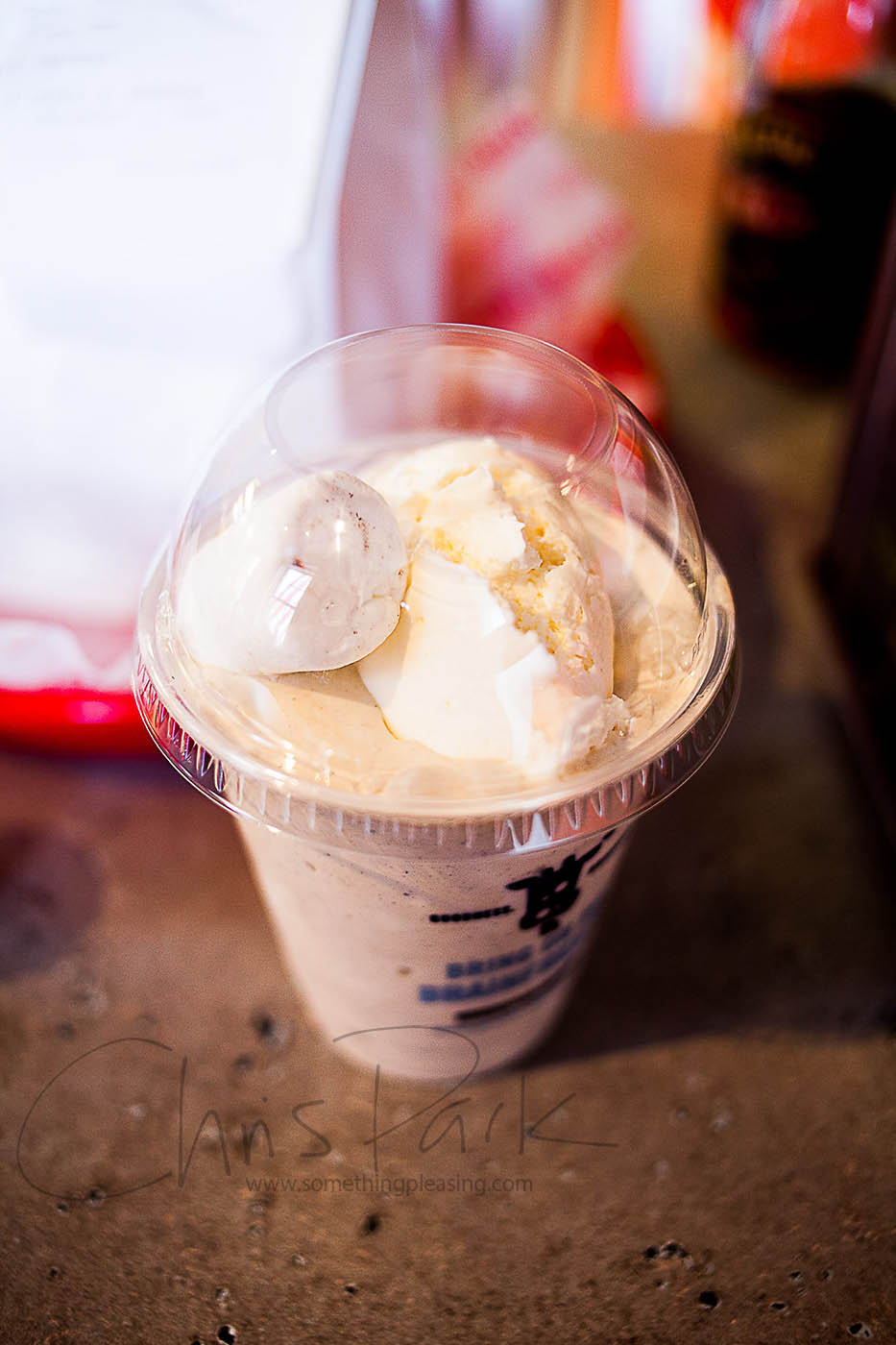 HAND SPUN SHAKES Toasted Marshmallow
Tasted how the flavor sounds, which wasn't quite as magnificent as hearsay, and I do like marshmallow. I ordered it to hopefully get the full "experience" (oh, it's unique, too!).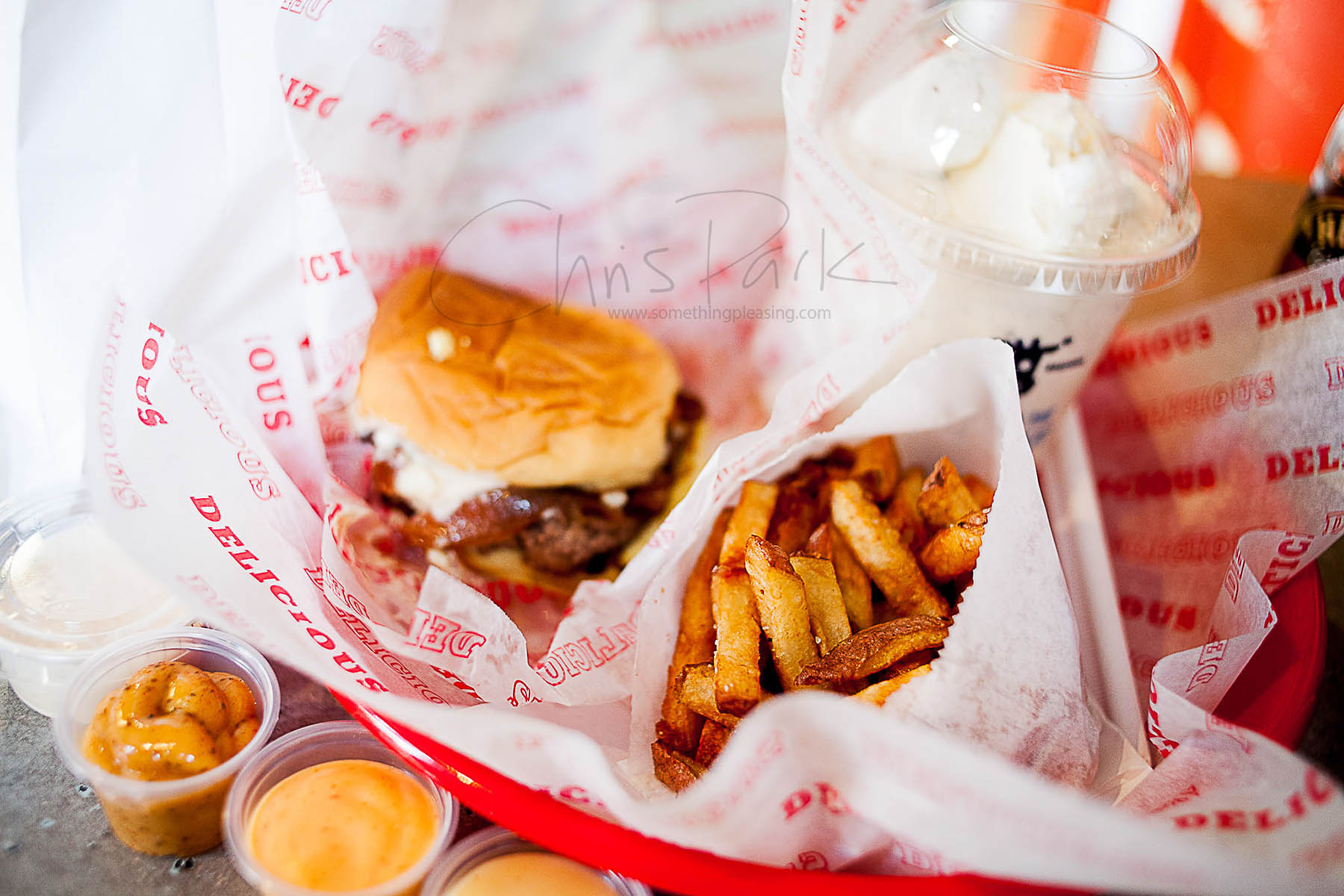 I ordered a combo adding a mini shake and mini fries for $6.95 added onto the bill - now a $14 meal!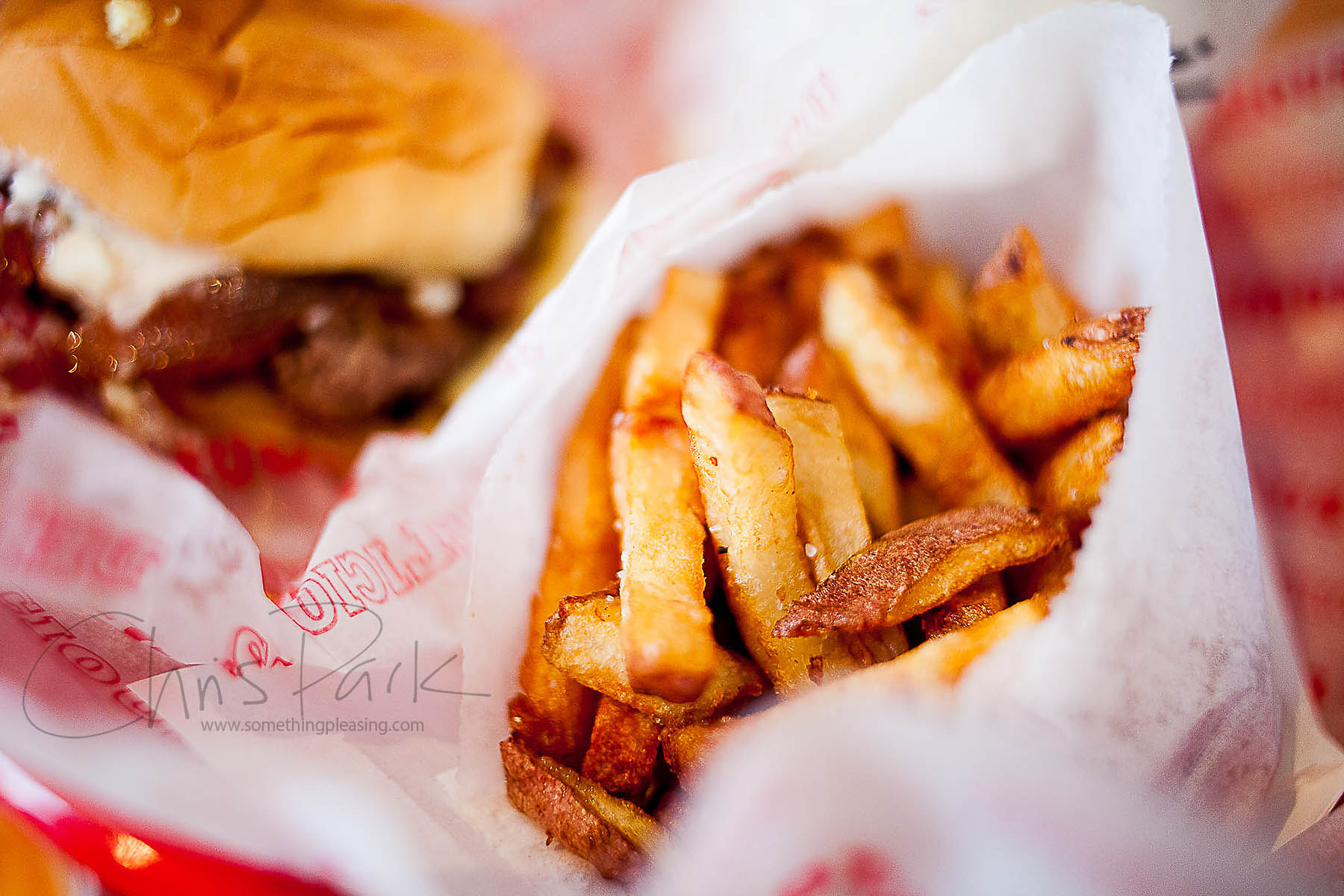 Sunny's Handcut Fries - Topped with Sea Salt
Decent, a bit on the greasy side, soggy but tasty. I could do without them for the price/size/cooking. They've been compared to Five Guys' fries.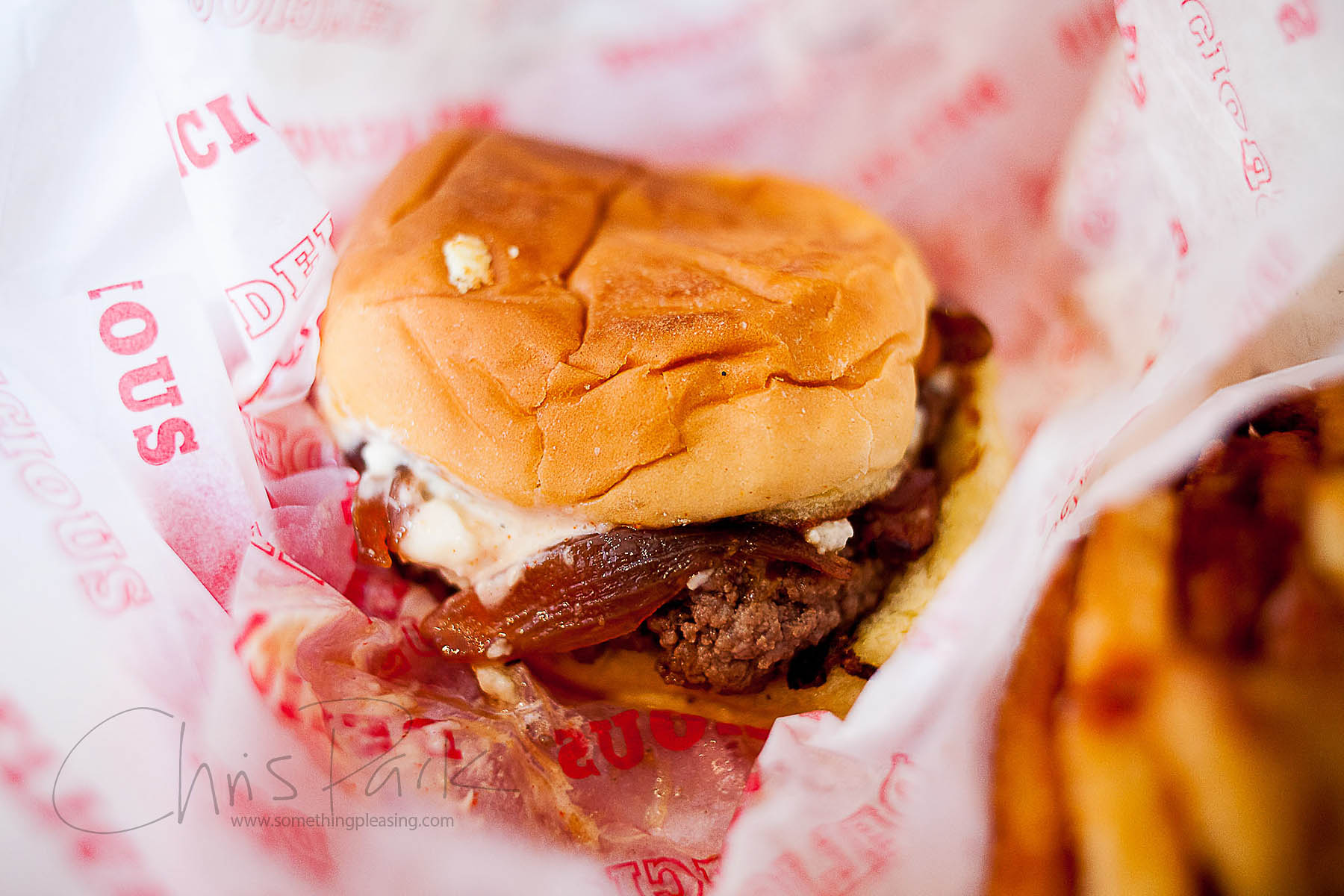 PREZ OBAMA BURGER Applewood Bacon, Onion Marmalade, Roquefort Cheese & Delicious Horseradish Mayo Sauce 6.98
The burger did come out quite a bit more squished than expected (wasn't it freshly made for all that wait?), and a tad smaller too, considering the meal cost $14. But! I must say the burger was pretty good - its onion marmalade and cheese made it sweet and a bit heavy (filling) for its size; I wish though it flavored itself more balanced.
In fact in retrospect, the meal overall was on the heavy side with a thick shake, greasy fries, sweet cheesy burger, and not many menu options to lighten the load other than perhaps water - some fresh veggies in a burger would be a very welcome option here.
I don't have many regrets visiting, as it's a bit of a local 'thing',
and
it carries a freaking Obama burger; it too was a rather interesting culinary adventure, but just a bit too heavy and a tad expensive. If I were to return, I'd probably try something lighter and a bit more balanced, like the farmhouse burger they offer...wait, who am I kidding - I'd try
Michelle's
.