My first post on an LA restaurant, which I thought I'd kick off since I've moved here. Ladies and gentlemen, MILK!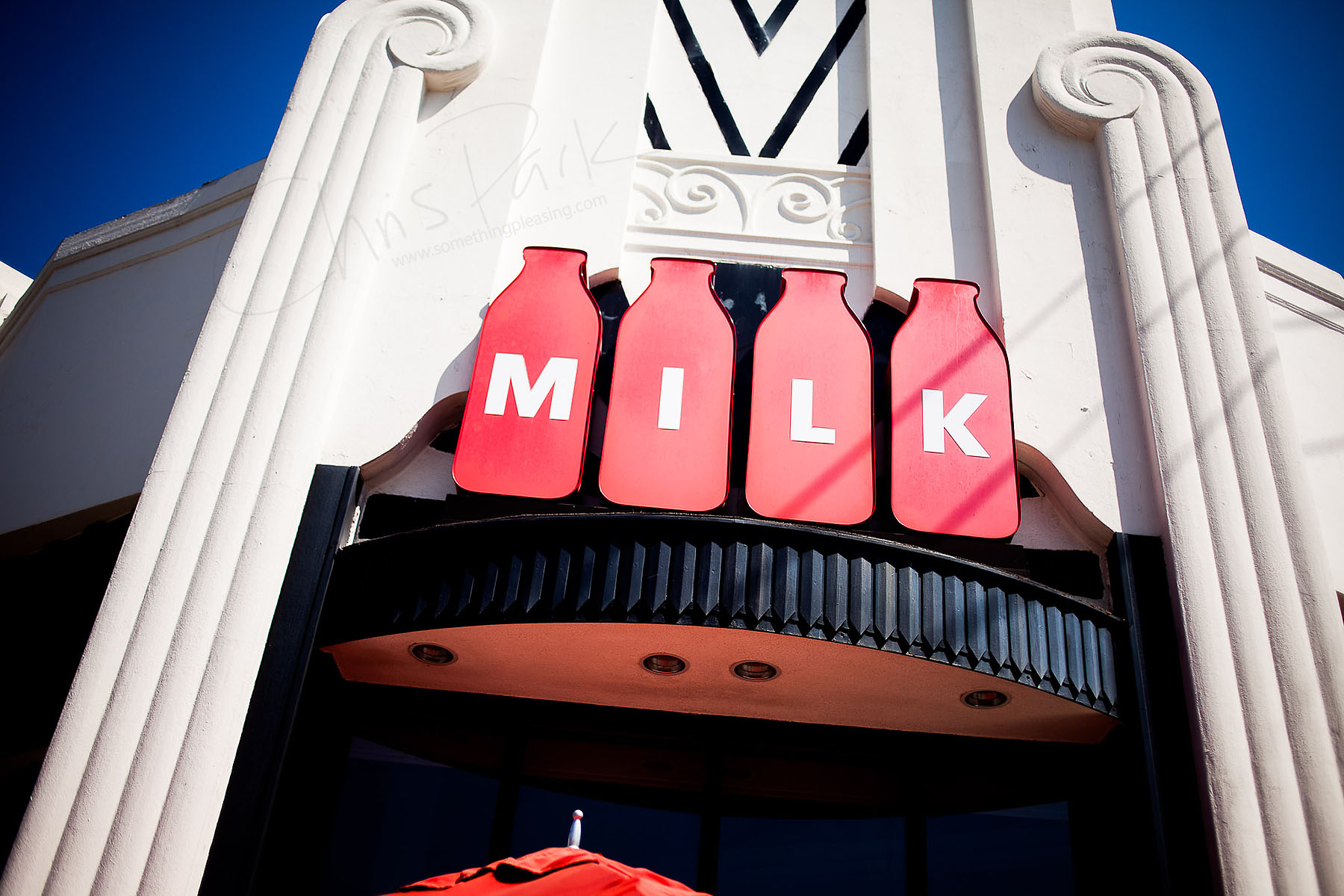 This is Milk, located Mid-City Los Angeles on Beverly, and expect parking to be somewhat of an adventure. I've found parking several times at the meters next to the door (already paid for); other times I have driven down the street and parked residential, like most patrons. There's a parking lot across the street, but it's double parked - who'd want to deal with that?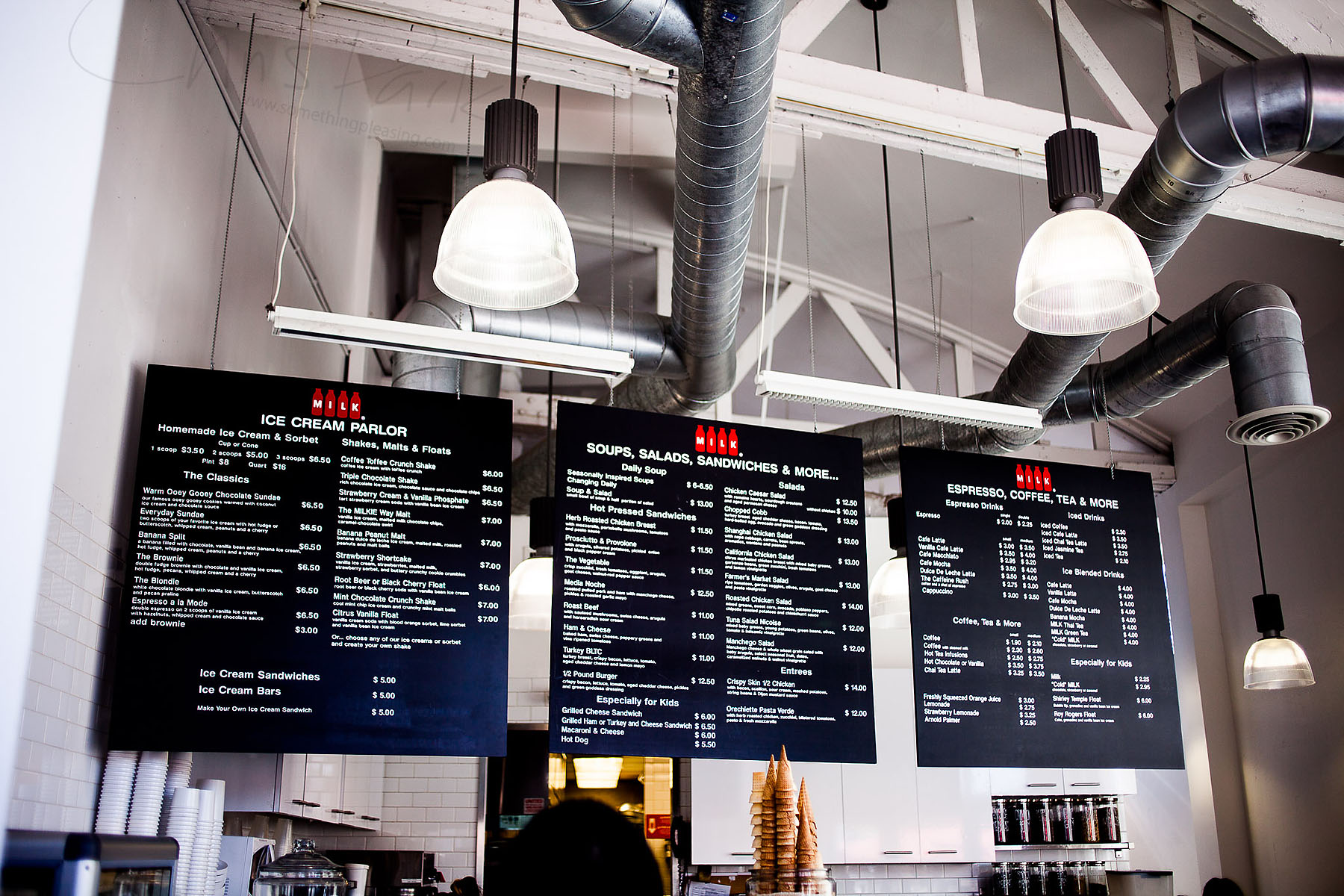 The menu. The only thing I've tried, seem posted on Instagram, or would recommend are the macaron ice cream sandwiches, though sampling the ice cream flavors can be fun too; macaron ice cream sandwiches here go for a cool $5.
Before you enter through the door and find yourself looking at these signs, prepare to wait in a line - it moves relatively quickly, but can easily cost you 15 minutes in the heat.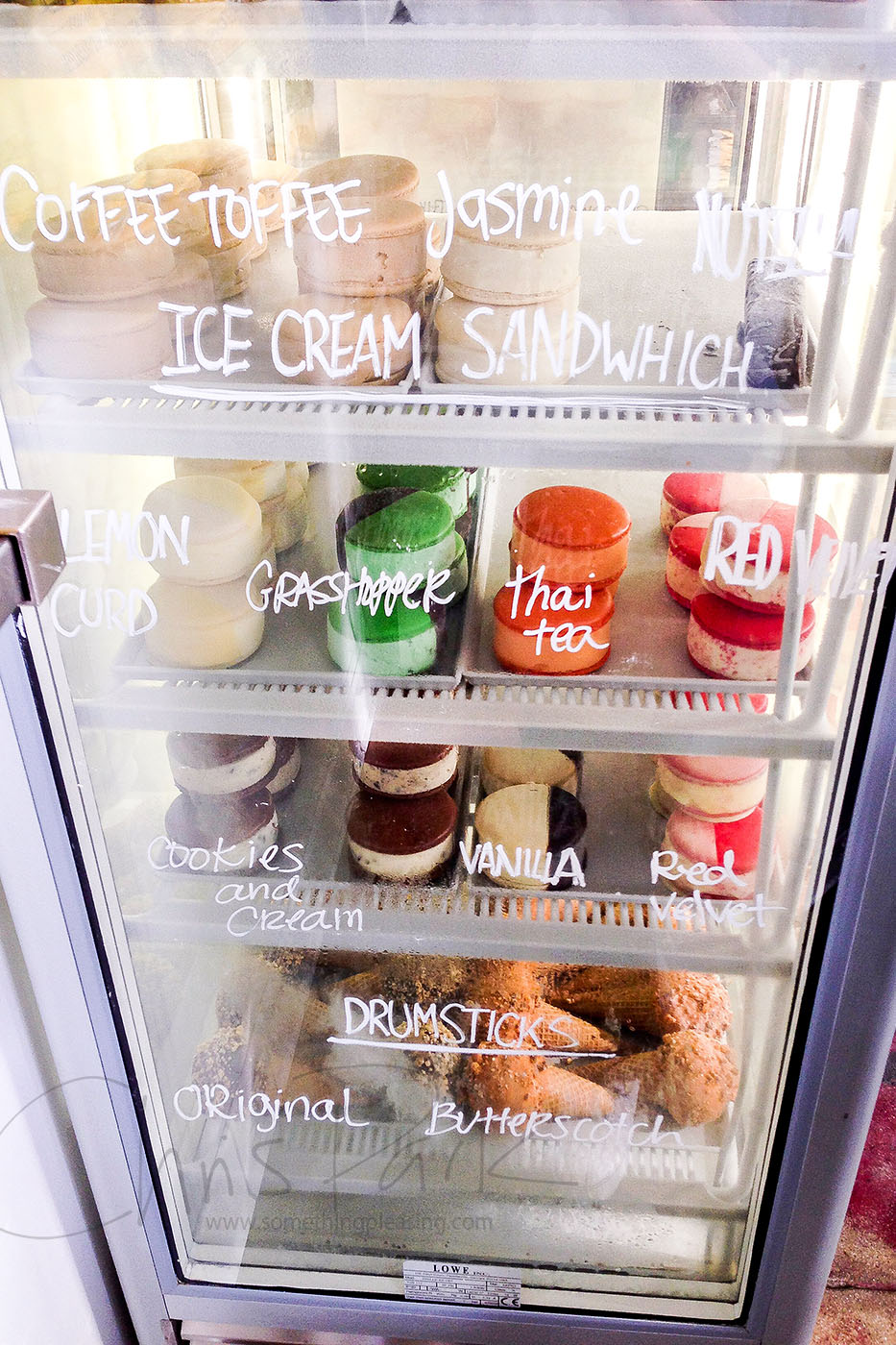 The list of flavors (not comprehensive) includes: lemon curd, watermelon, jasmine tea, thai tea, vanilla, blueberry crumble, grasshopper, red velvet, cookies n' cream, coffee, toffee. The flavors have been slightly different with each visitation, and my favorite flavor only available the first time.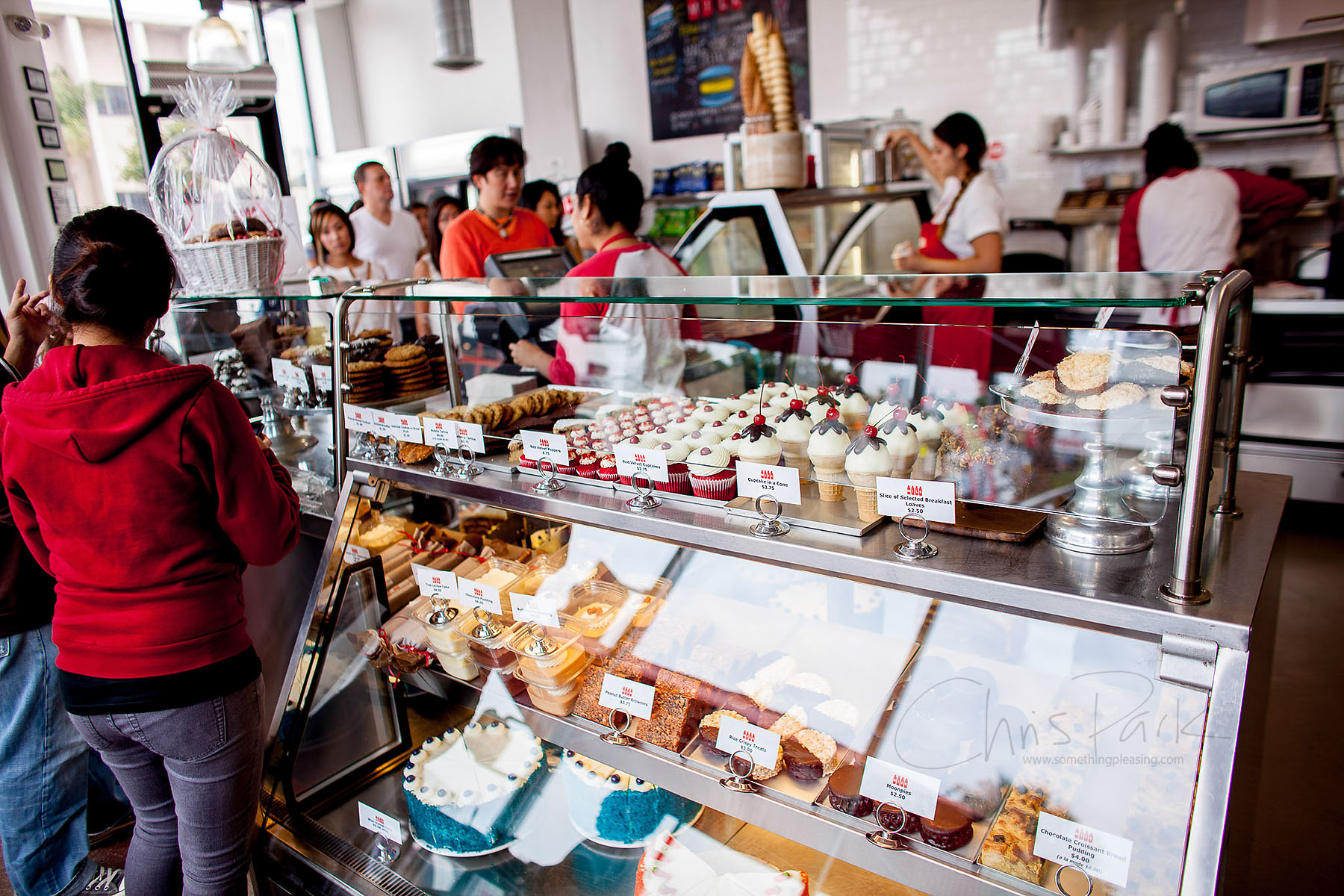 Other things sold at Milk. Or as I view it, picture items.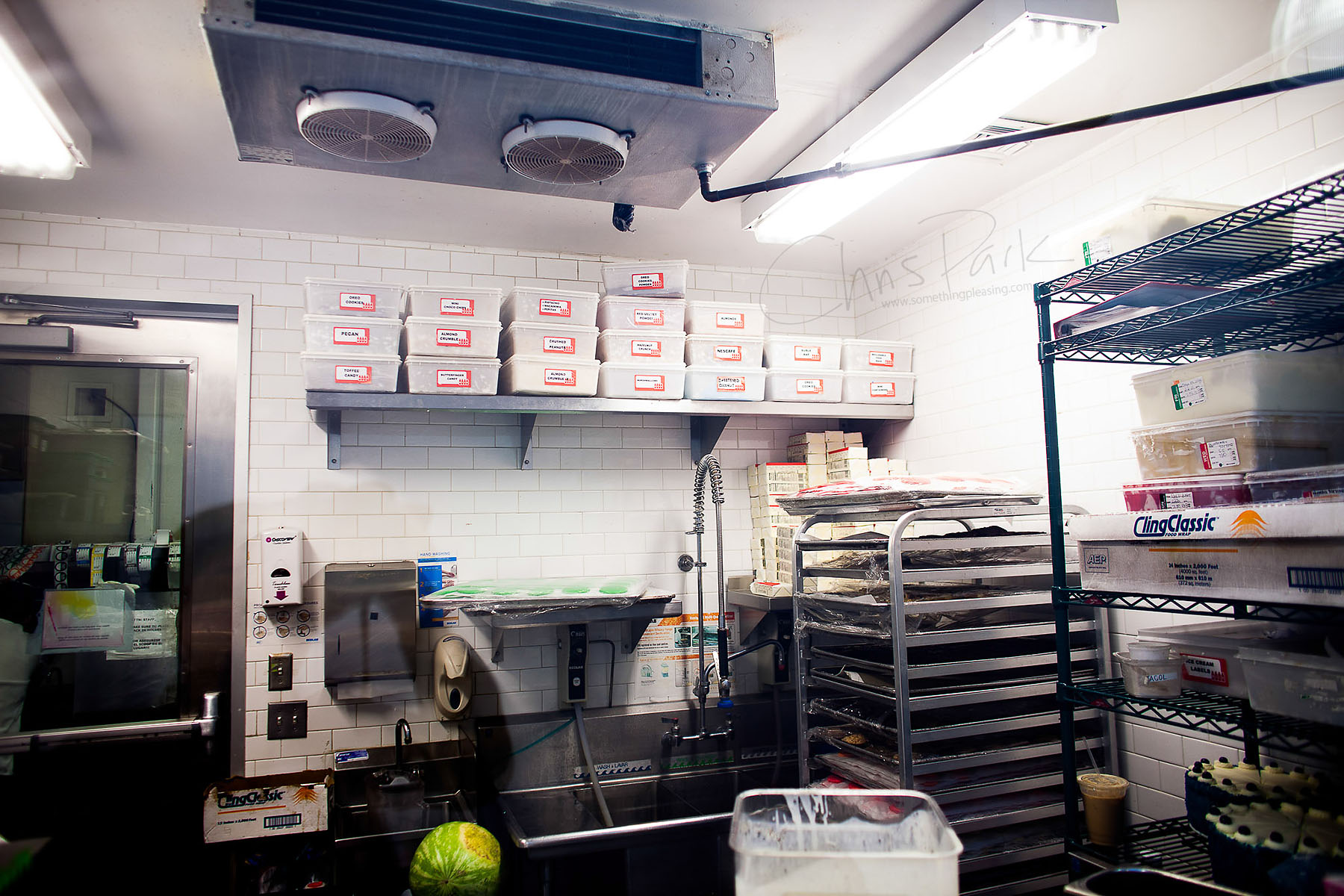 A peek into the kitchens - this window is near the bathrooms in the back. Due to their size, I knew the macarons were house-made, and I wanted to see the making of. And...wait. Is that a watermelon?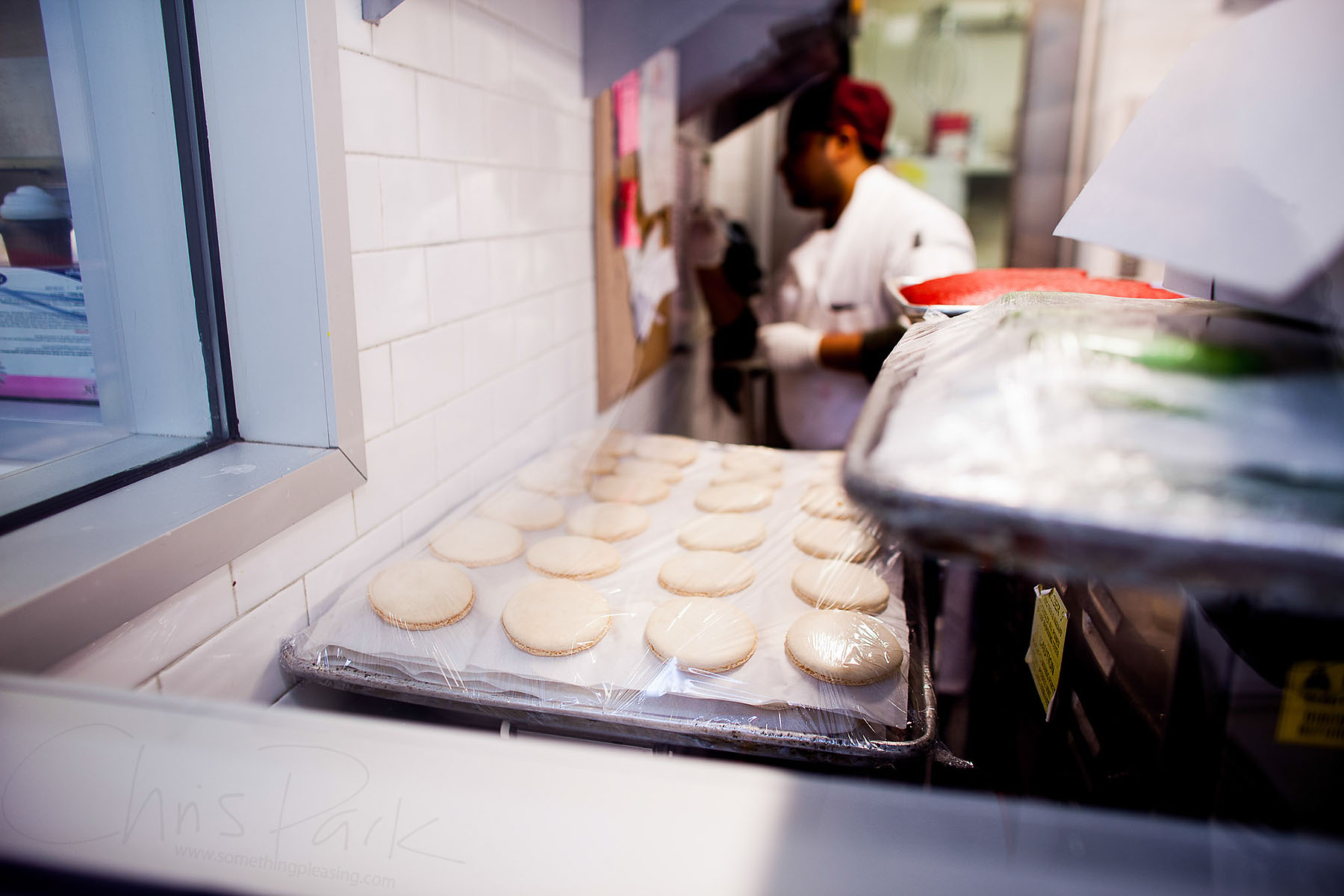 Like these! There were quite a few trays of different colors =]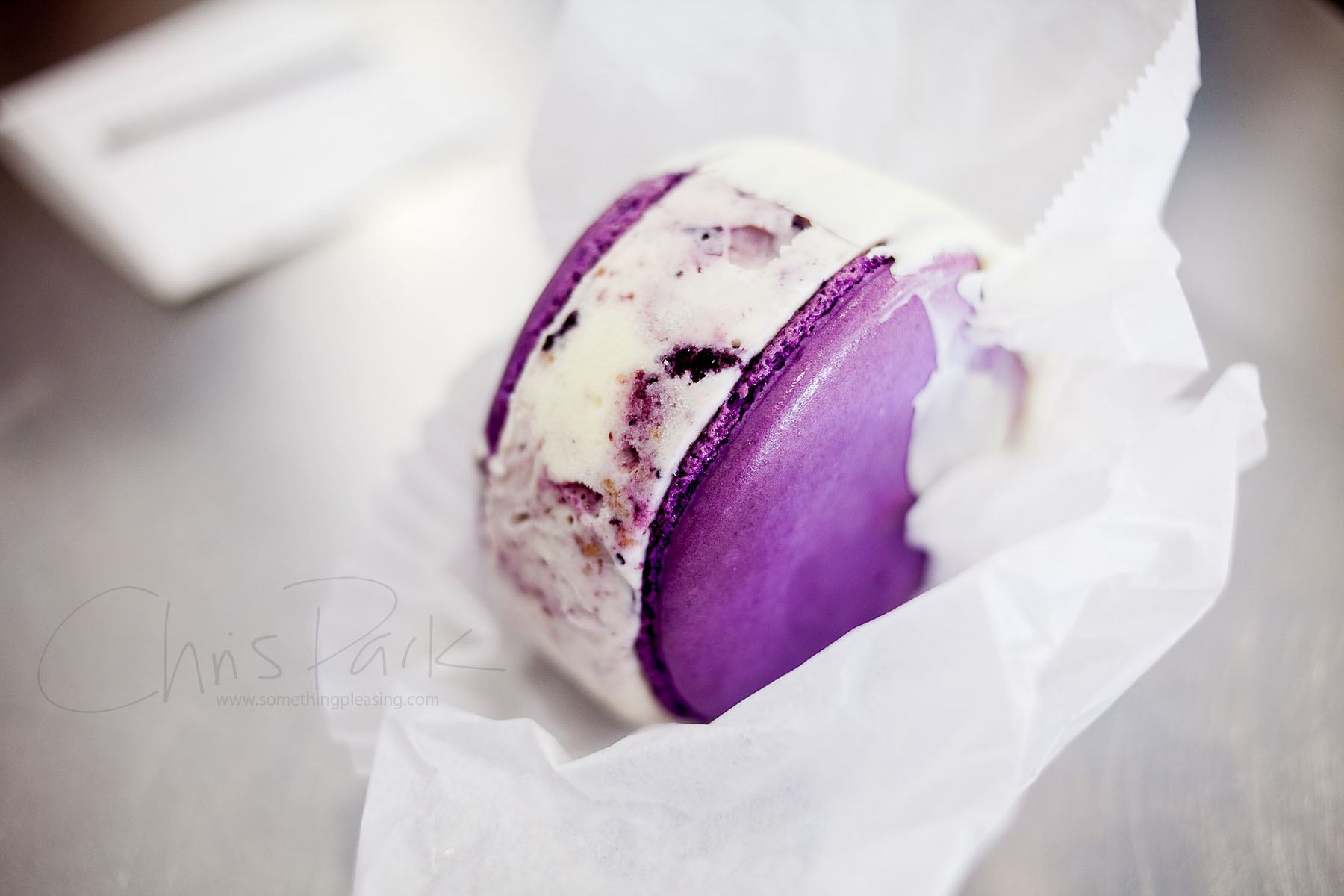 Blueberry Crumble
This is my first and favorite, the blueberry crumble. The macaron is delightfully chewy, and the ice cream filling makes for a good combination. The ice cream, despite it being summer, doesn't melt too quickly, allowing for a pleasurable consumption at a responsible speed.
There's an option to "make your own" sandwiches, using any of the many ice cream flavors available in the store, but those cookies are actual cookies from the counter, rather than macarons - a switch not worth the customizability, in my opinion.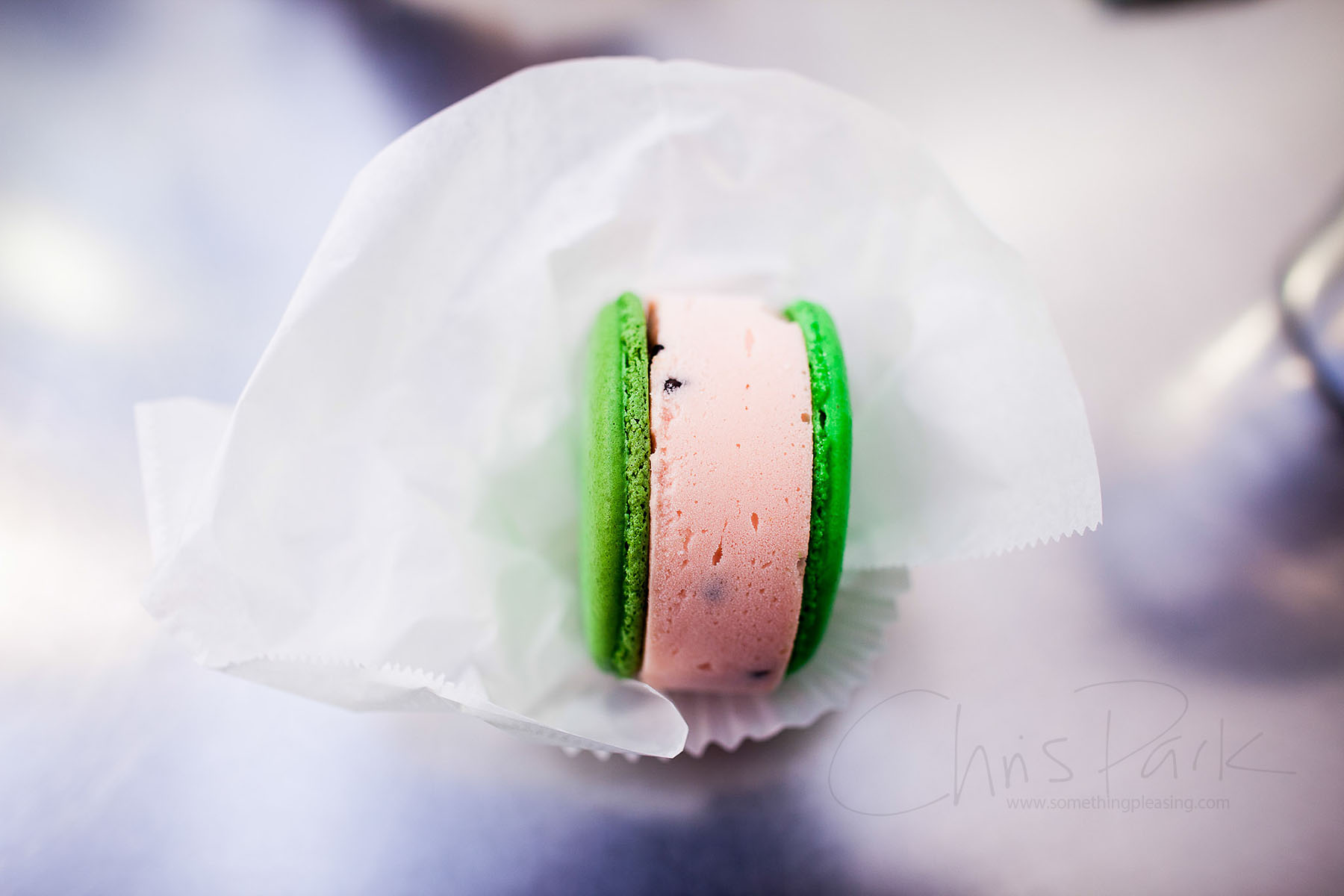 Watermelon - the black things acting as edible seeds! It reminds me of Korean ice cream =]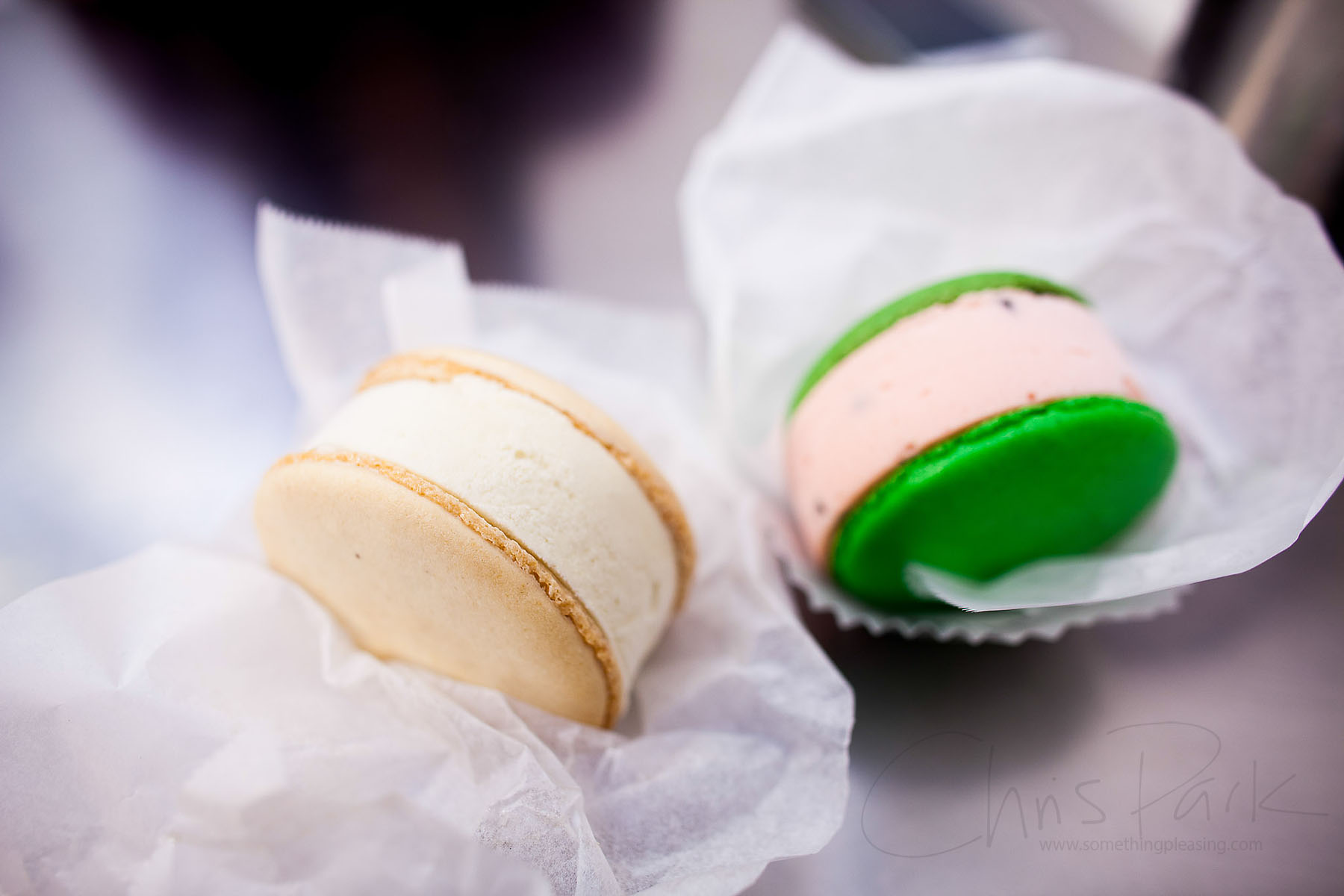 Jasmine Tea & Watermelon - I'm not a fan of teas in general, and found the jasmine to be quite unappetizing. But the watermelon, enjoyable. Not as good as the blueberry, but still, enjoyable.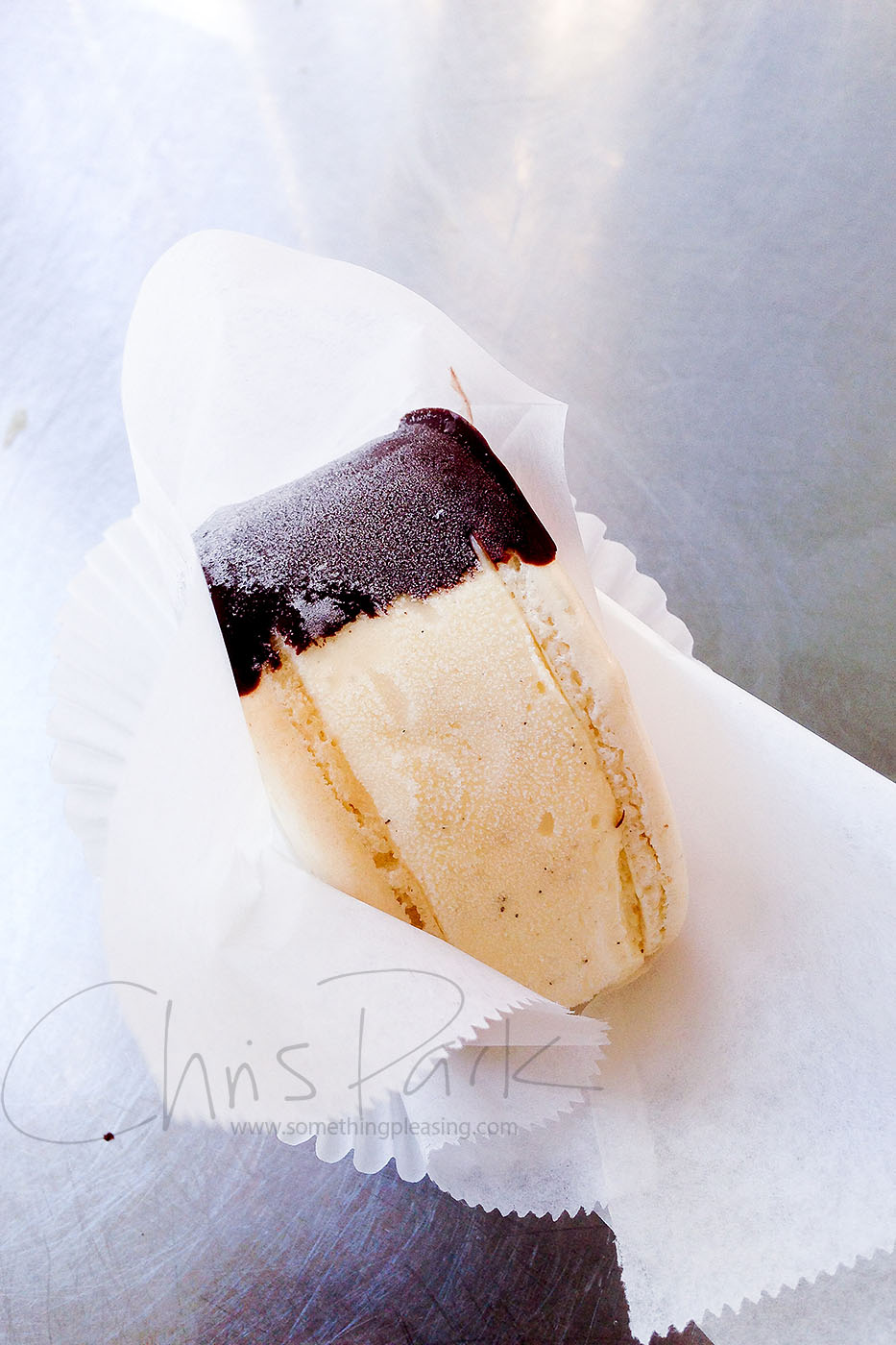 Vanilla. As a side note, I'd LOVE it if these huge macarons were sold separately.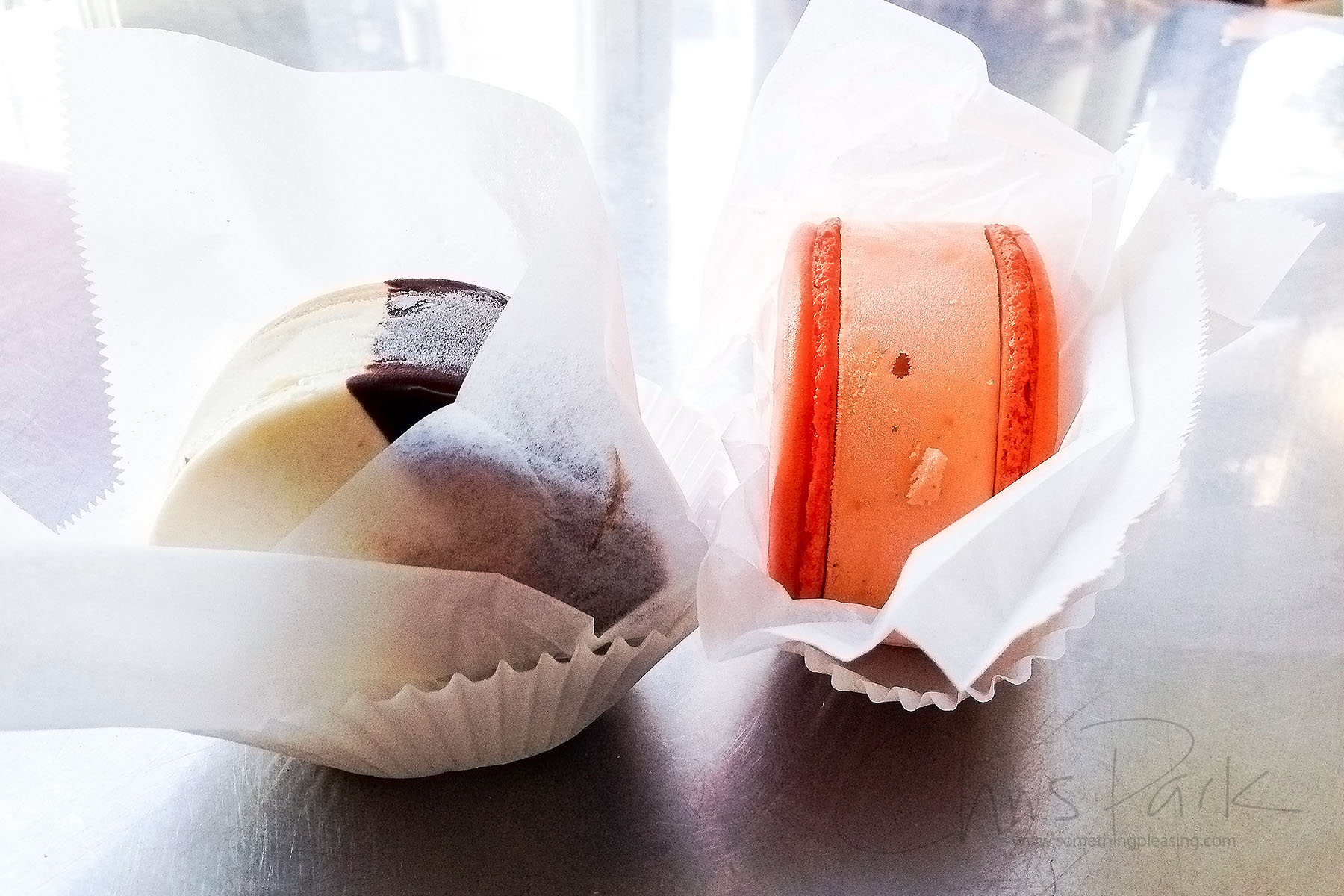 Vanilla & Thai Tea. I still don't think the tea ones are any good. To their credit, almost all of my friends find that these taste considerably better than I think they do.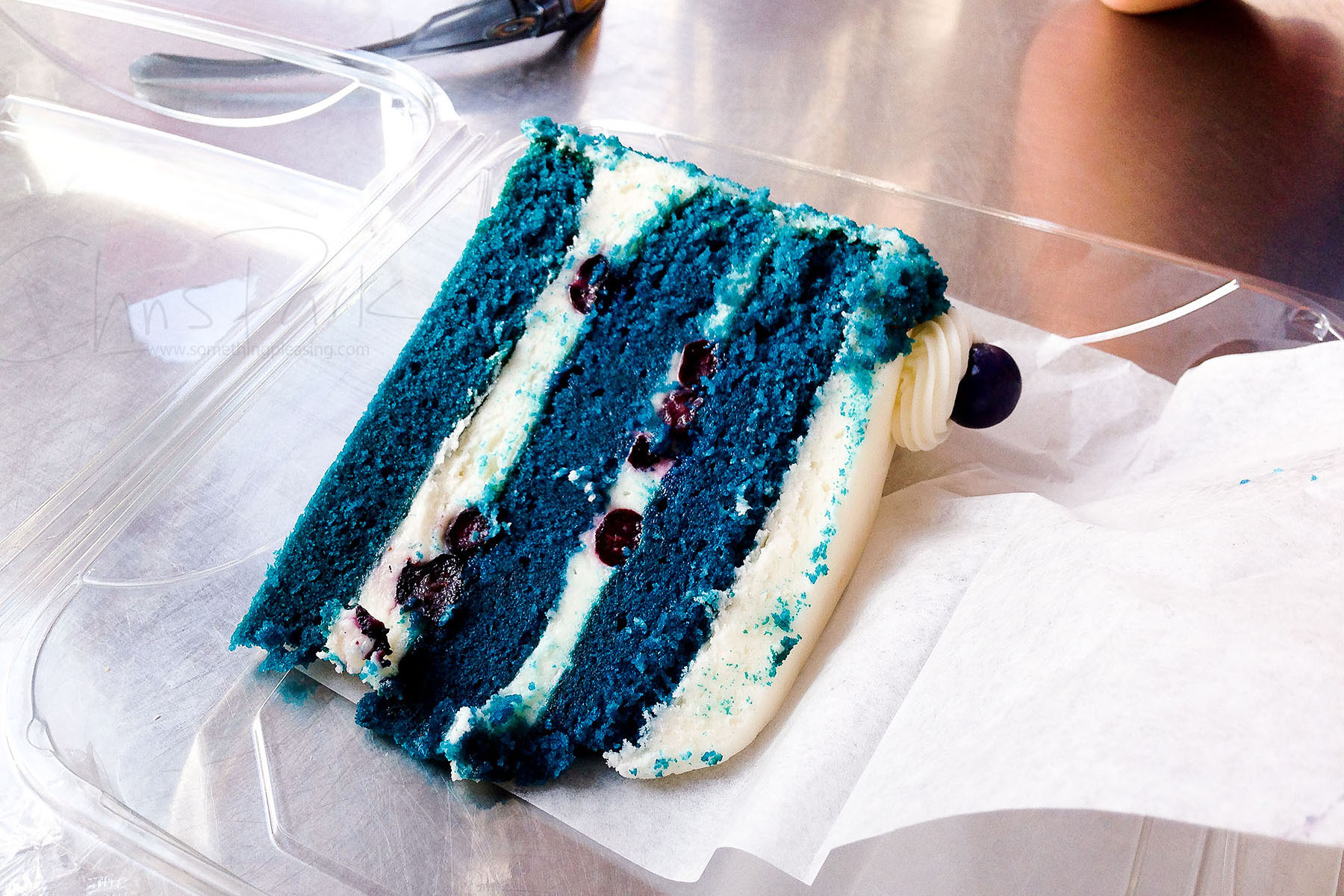 Blue Velvet Cake - with real blueberries! Isn't it always a tad strange that the word 'real' is used nowadays as if it makes it better? Anyway, it tastes good and reminds me of Cookie Monster.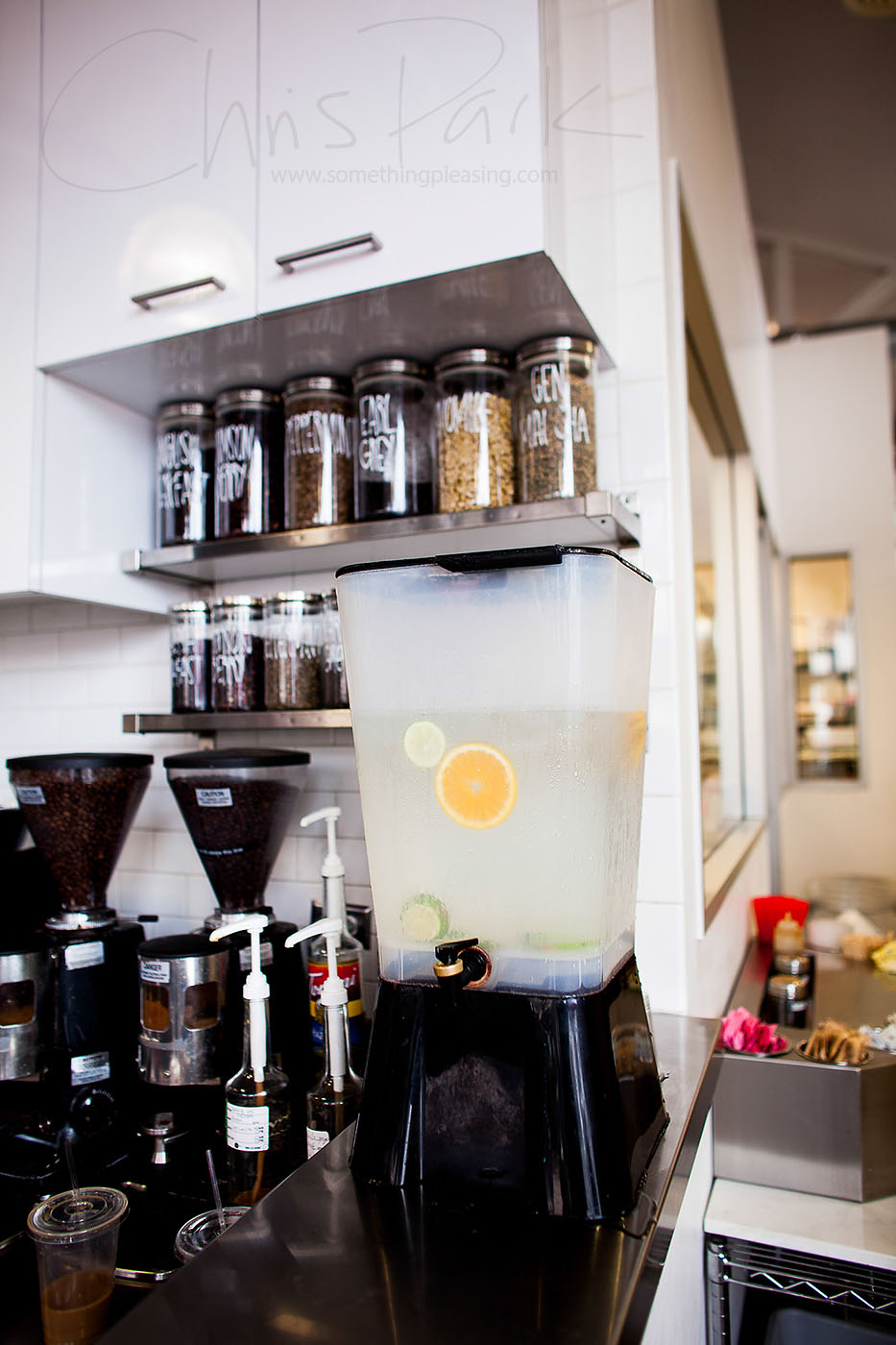 Water for a post-sugar meltdown. With fresh citrus to clean up!
Milk, somewhere I've spent perhaps a little too much money in the recent month or so, the store that gave me a ice cream badge on Yelp just a little too quickly. I REALLY do wish they sold the giant macarons alone, perhaps in time for the days that might be slightly colder (...winter?), but otherwise can find little complaint. It's an ice cream shop, after all.
Oh, MILK. Hello again =]
P.S.: in light of the recent photography post, feel free to guess which picture(s) in this post were taken with a DSLR or smartphone camera.