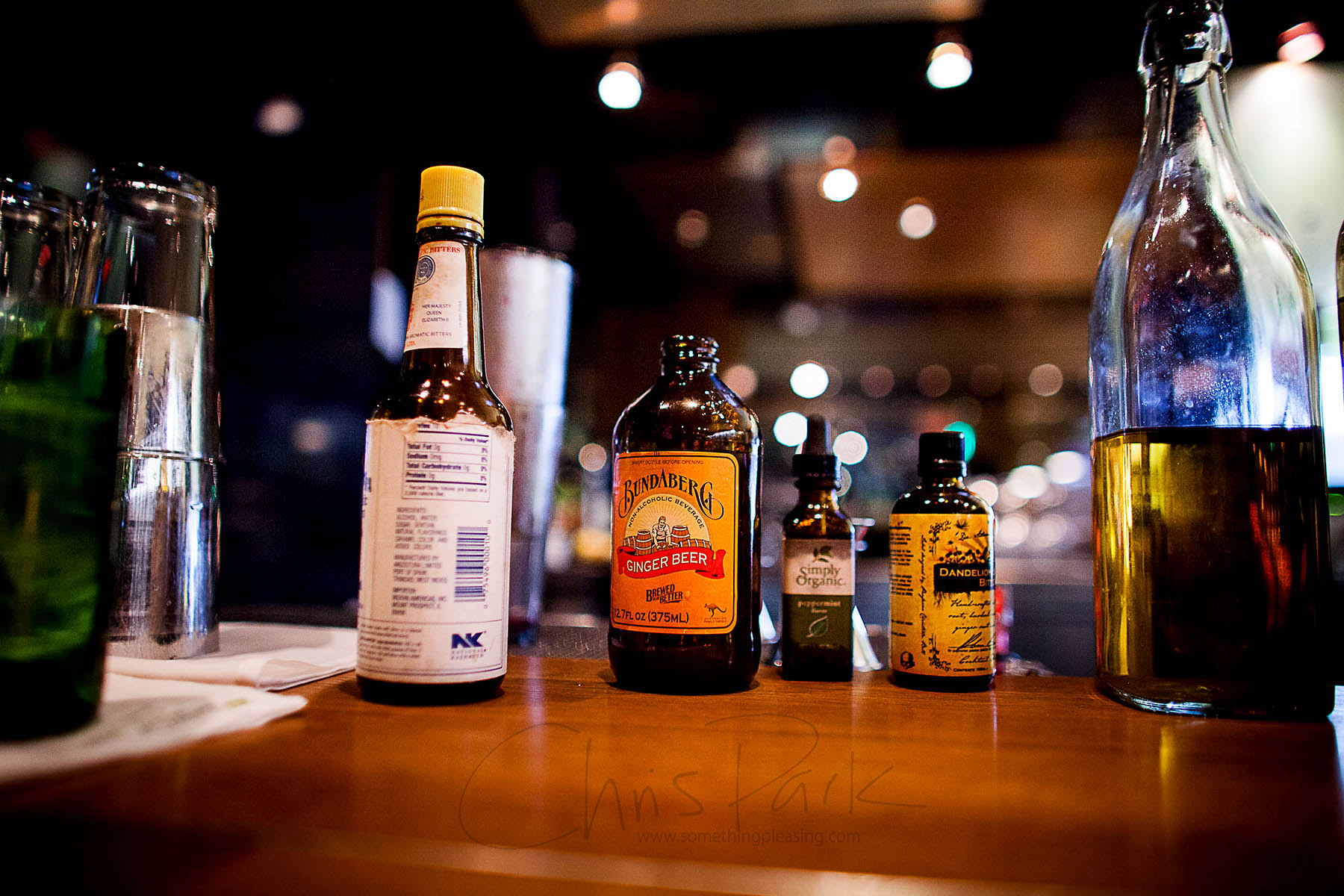 Recycled aircraft aluminum decorates the walls. There are three levels of restaurant, the bottom being California Modern, George's most formal. The night view out the windows is...black. And the guy's bathroom is on a different level of the restaurant.
Walk-in dining was tough but we were given the option to sit at the bar for dinner at 7:30pm (and to some decent service we stayed). As the bar area filled up and more people came around wanting drinks, the bartenders became busier and the bar louder. Glasses at George's tend to be large and modern, more of a 16oz variety than 8; the bar fruit doesn't appaer fresh, as even the lemon slice stack sitting in front of us carried dents and discoloration, expected of that neighborhood bar but not of fine dining. The bar is modern and shiny yet woody and classy, and a tad crowded - the narrow hallways were often filled with servers, waiters, guests and patrons going back and forth, and people simply waiting.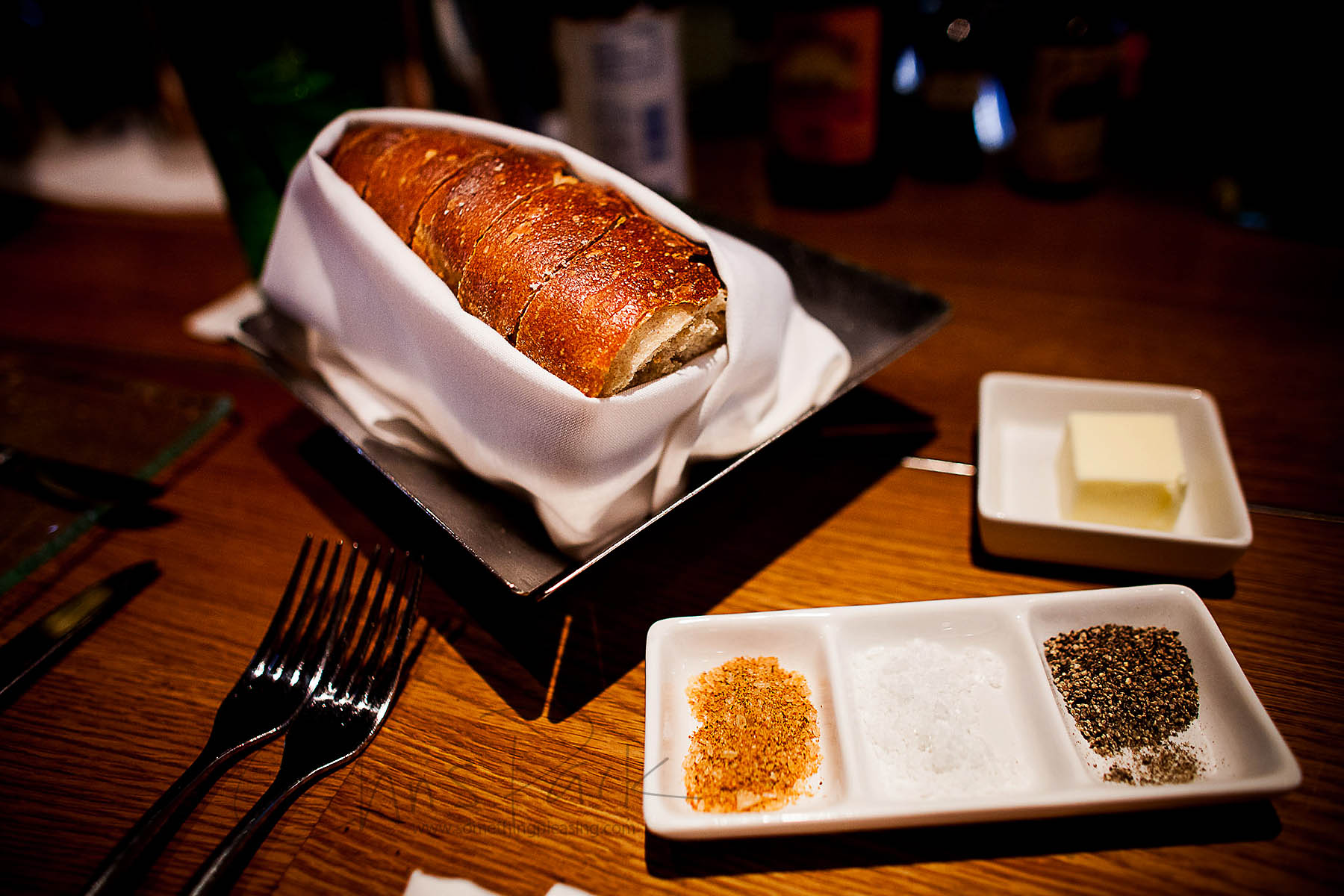 The bread, served with house spiced sea salt, sea salt, ground pepper, and a good ol' chunk o butter. It was underwhelming at best, even while the bread was warm - a rare instance where I elected not to gobble up carbs. The assortment of spices were confusing and didn't add too much to the bread, rather clashing, instead; I mostly used the spiced sea salt simply out of the habit of being Korean.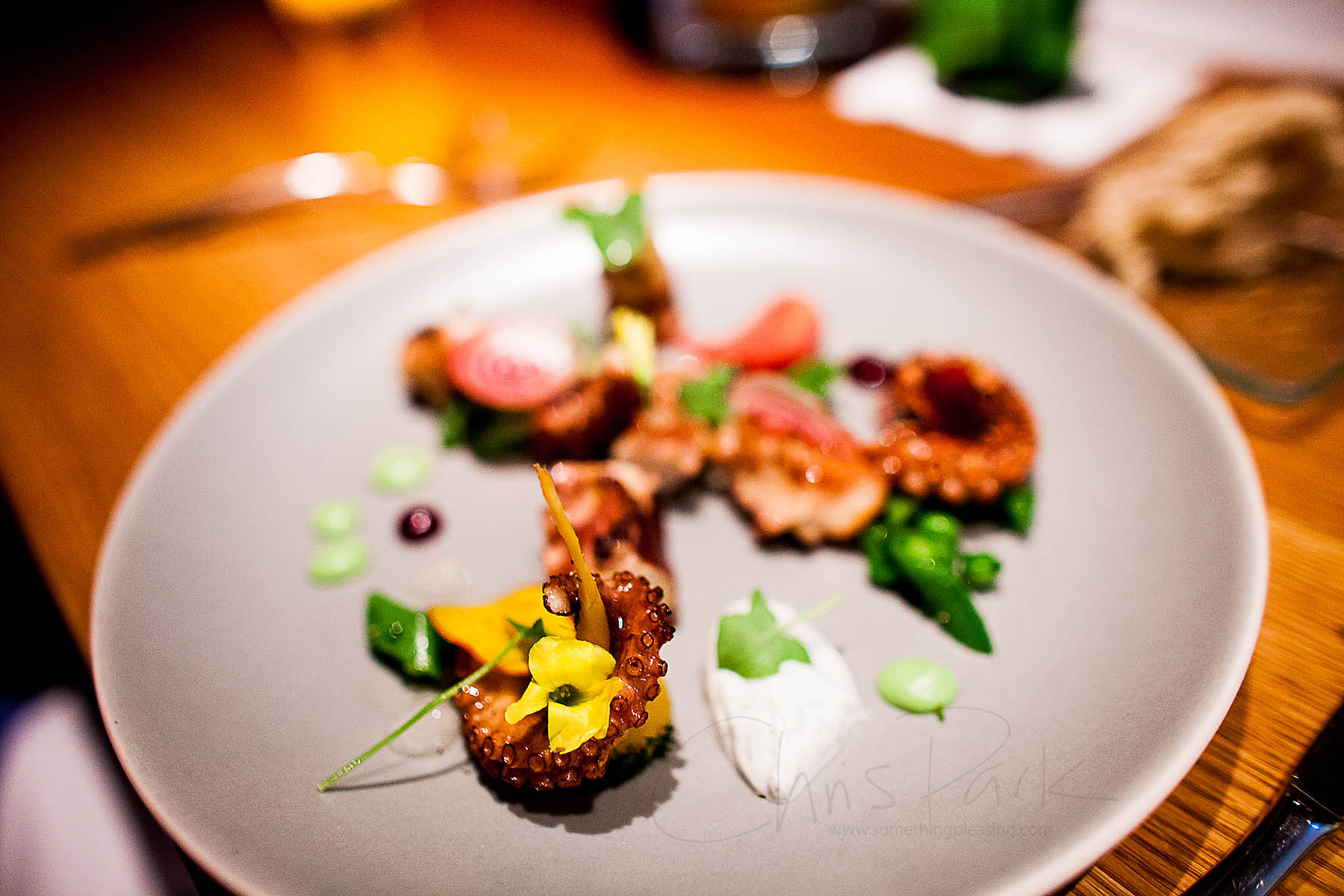 beet, yogurt, nori, lime, peas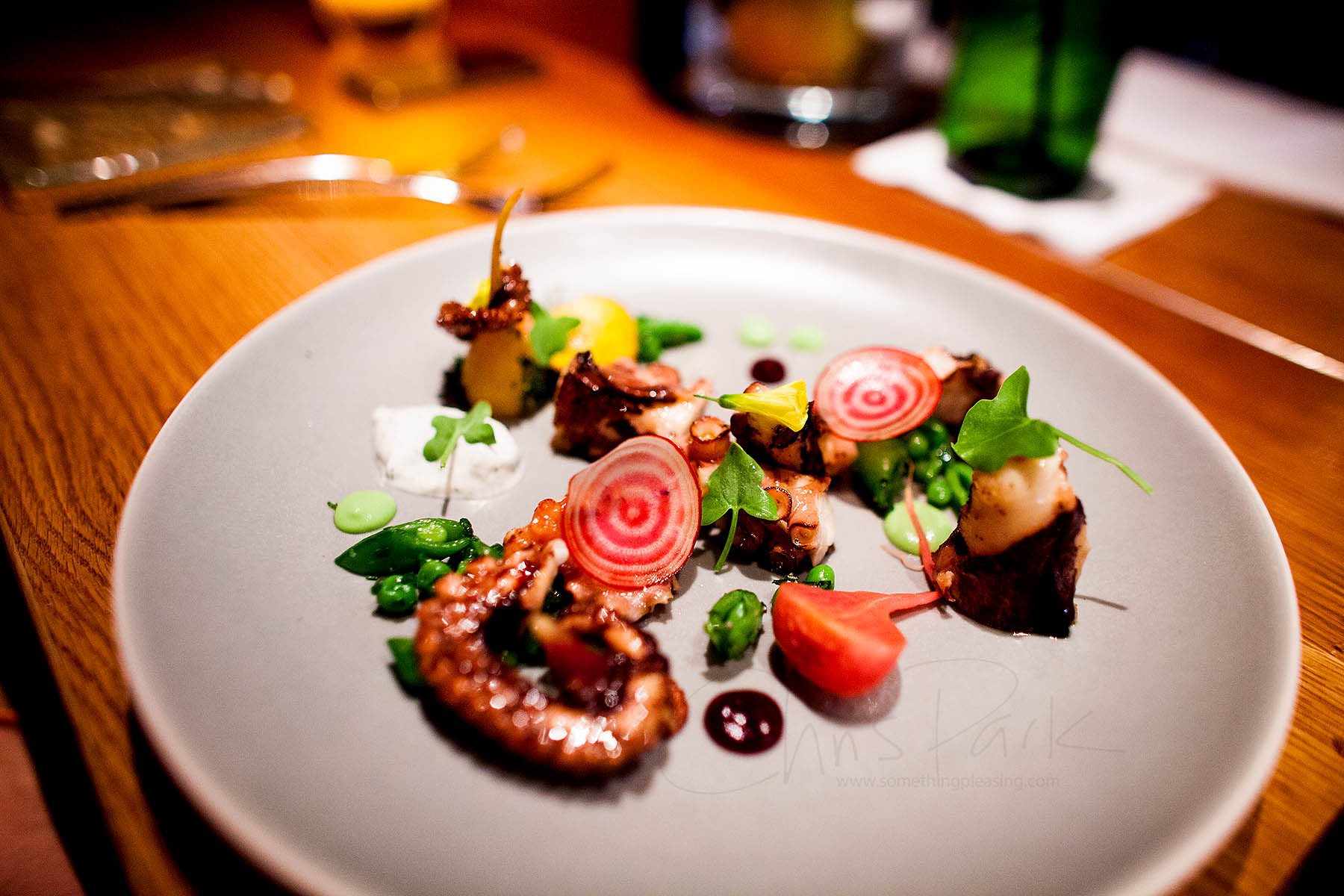 Incredible. The octopus has no hint of a seafood taste, and no rubbery-chewy texture at all - all you taste is the grilled, soft, and surely somehow octopus - the taste of quality any fresh seafood fan knows. The legs are fairly thick (though octopi can grow significantly larger) - something like this is
especially
amazing the first time. Though the assorted vegetables too were pretty good, octopus of this quality always steals the show.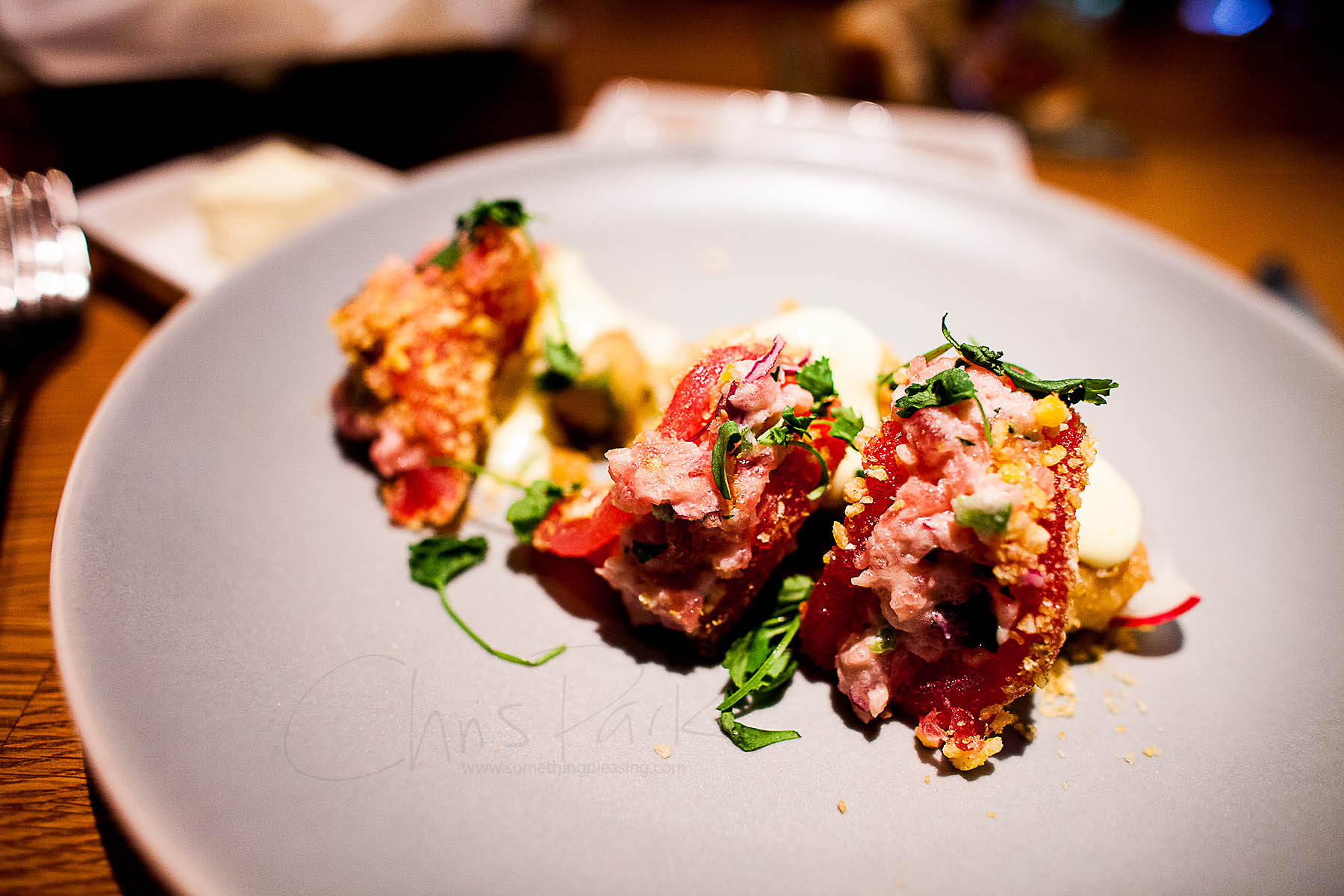 hard to explain, just try it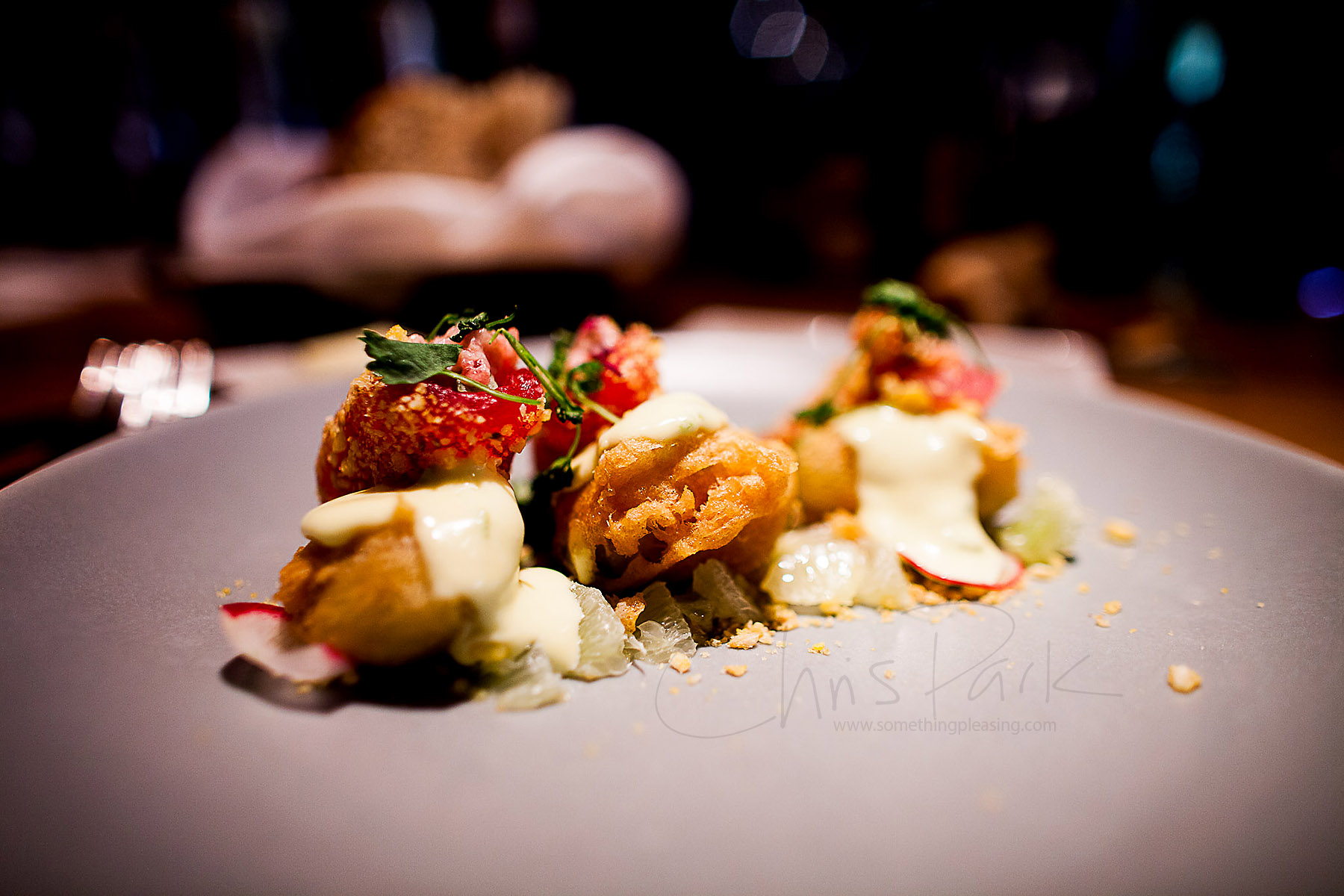 If you've ever ordered tacos from the other levels of
George's
, expect something quite different here. Largely sashimi-based, tuna here forms a sort of "shell" for the taco, a mixed sashimi tartare filling the inside. Deep-fried avocado site just below ,with a dash of grapefruit contrast. Overall, the dish is a delicate balance of sweet, sour, citrus, fresh, and oil. Perhaps a tad expensive for what you get, but nonetheless an excellent, fun, unique, and delicious dish altogether.
Based on the appetizers, I admit I was impressed, and thought the restaurant was a sure winner. But after they were taken away, it was another 45 minutes to see food on our table again, and perhaps another fifteen after our entrees just to see a dessert menu. While it wasn't by far the worst customer experience had dining out (hello
The Cottage
,
D Bar
) it sure runs contrary to one's expectations of San Diego's best in fine dining.
And a word about the pricing, restaurant week menus start at $40 per person, with some courses costing extra as noted.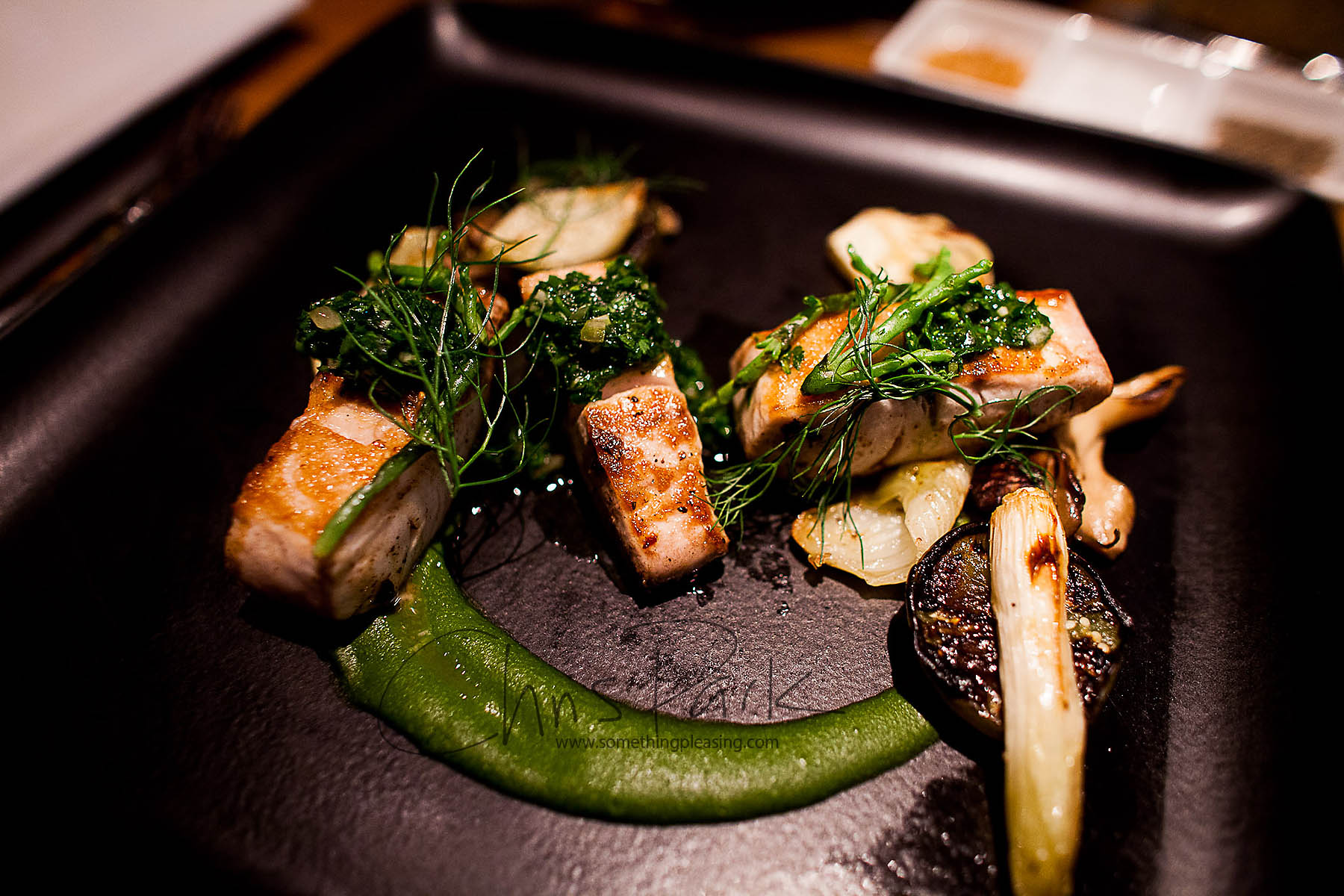 Local Mahi-Mahi a la Plancha
smoked tomatillo, roasted fennel,
chimichurri, maitakes mushrooms
Though the menu listed yellowtail, our waiter explained the last minute substitution due to low yellowtail quantity, now a lower grade of fish and honestly a bit of a letdown (no compensation offered). It was though interesting, served seared, different for this type of fish and perhaps speaking to its own freshness; also interesting was seeing how the fish tears apart, different from most sashimi. The mushrooms of course tasted excellent, and I loved the green sauce spread across the plate, though the particular taste remains difficult to place? The chimichurri added some salt to the dish, and the roasted round things were odd but edible; the highlight here was probably the onions and mushrooms, which for a mahi-mahi dish speaks volumes good and bad.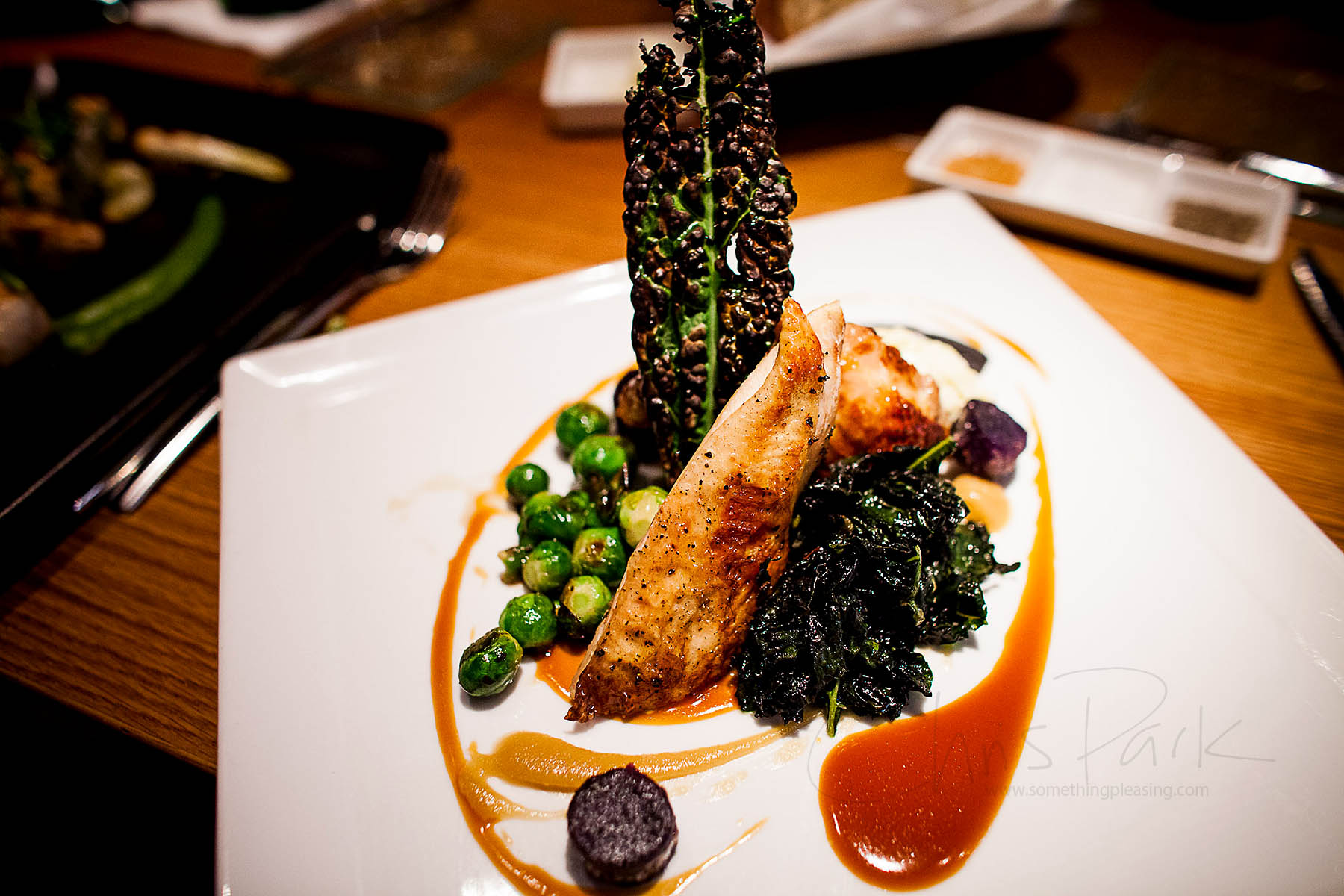 brassicas, truffle, purple sweet potato,
onion jam, chicken dashi
As this was my first time trying Jidori, I was quite excited - I'd read about its exquisite freshness for some time now. The chicken came indeed clearly fresher and different from others, showing in the way that it fell apart - layering when cut rather like sashimi as opposed to stringing. The meat itself was unfortunately extremely dry, instantly killing my love of the dish - it had probably found itself under a heat lamp for way too long, or something or the sort. As a result, my favorite part of the dish was actually the white blob of onion jam in the back; the brussel sprouts tasted as you'd expect them to be when roasted, and the truffle had little impact at all on the dish.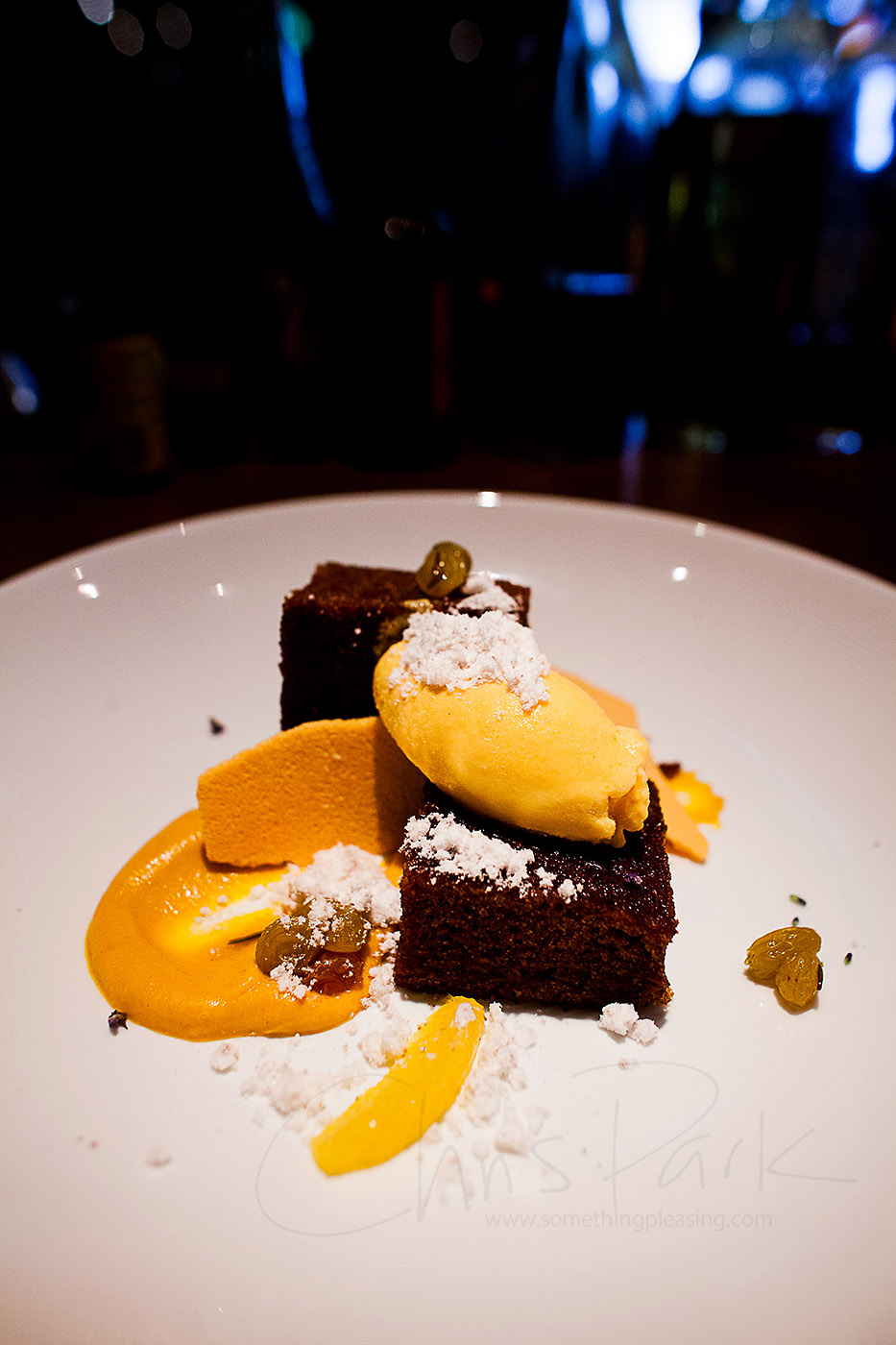 citrus, brown butter, lavender raisins,
carrot ice cream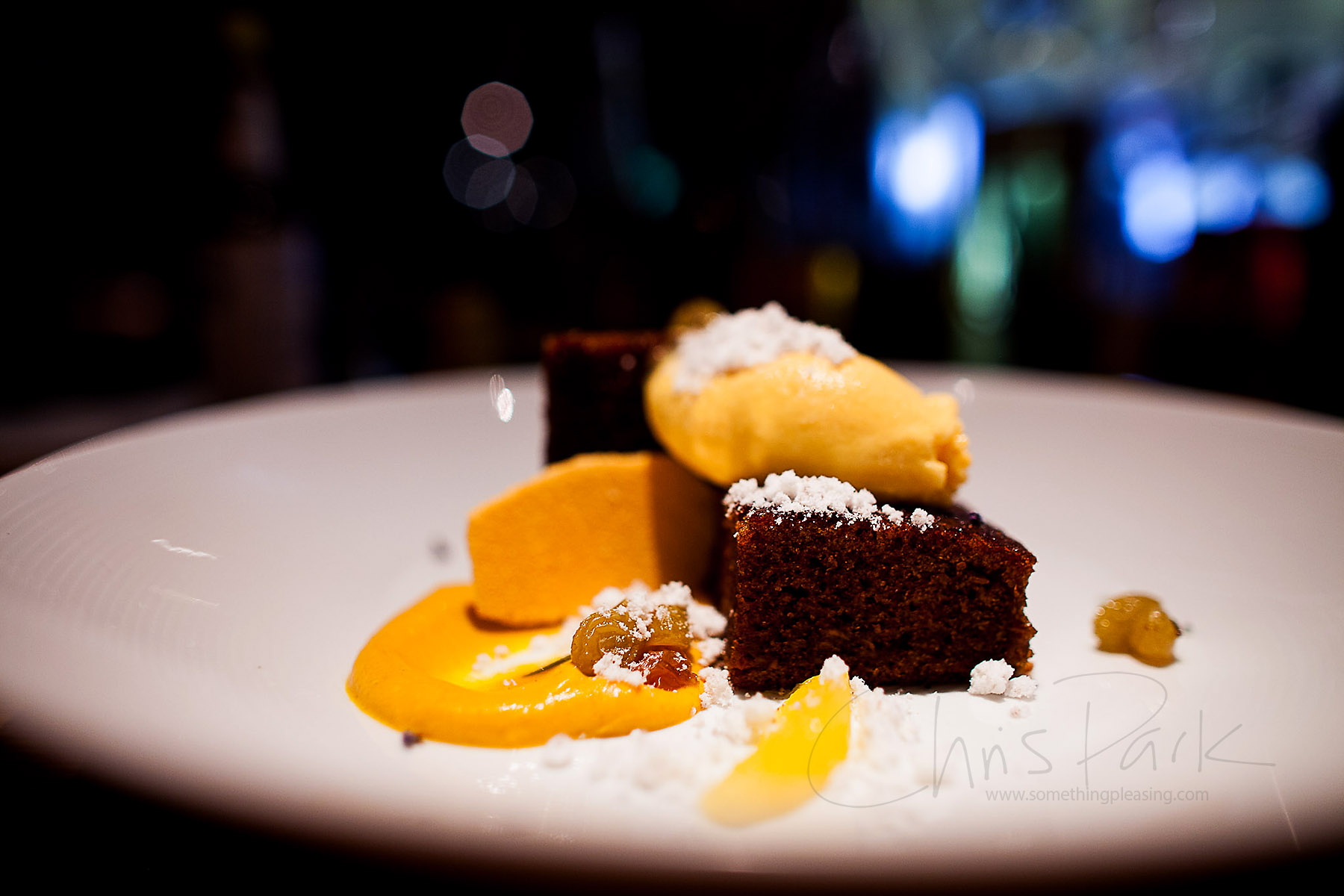 This dessert was absolute sold to us by our server/bartender, claiming it was an entirely different take on carrot cake. And though the carrot cake in itself though was very standard, the surprise came in the form of a carrot ice cream: amazing, sweet, delicious. The ice cream and puree were sweet to the point - if I hadn't known better, I'd have thought I were eating a squash or pumpkin based fall dessert! The lavender raisins tasted dipped in alcohol, and the white powder was extra-fine, making people cough when fluttering around. And oh, whatever the marshmallow textured thing was, it was pretty good too, and rather fun to eat.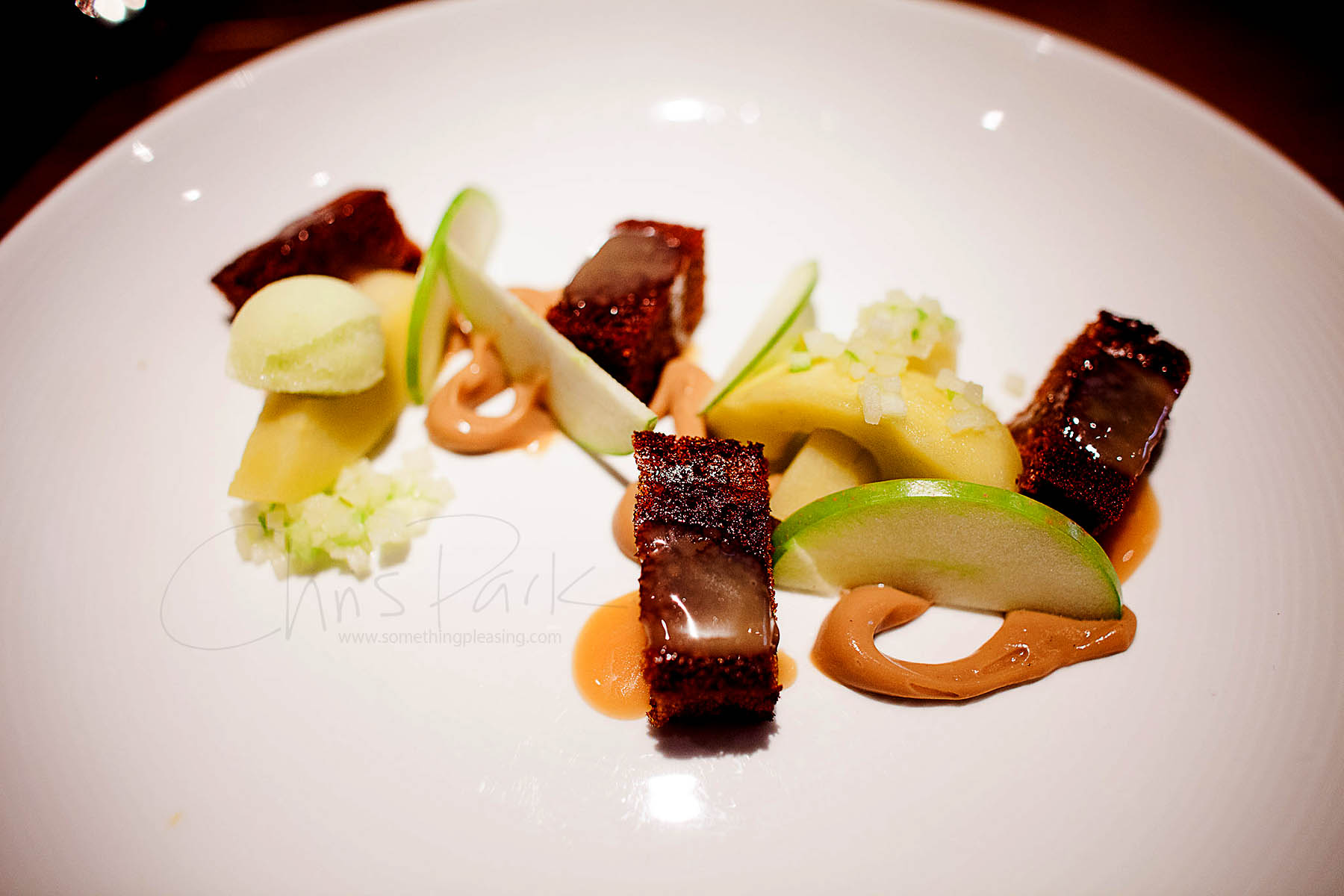 honey cake, black tea custard,
honey caramel, green apple sorbet
Ah, this dessert. A great concept in writing, but in present form, unexpected and probably prettier than tasty. Fresh green apple, an overpoweringly sweet honey caramel, and a too sour green apple sorbet. And while the cider poached apples were okay, I wouldn't hesitate to say I've had better at Whole Foods. My favorite part of the dish? Probably the dicing of the apples; for something called "cider poached apples", the main flavor sure was a lot of honey cake.
So, George's. I'll admit to having been disappointed, especially considering the excellent start to the meal (and the strong fanfare George's receives). But the service just wasn't there the whole night (regular 45 minute chunks of time we were sure they had forgotten us completely) and separate from that, the exceptions in food were too many - substitutions for lower quality fish and a dried-out Jidori, really? Perhaps we're at fault for choosing to dine there under such circumstances, largely ignored right under the noses of the staff, but wait.
Our
fault?
Now, there was one woman who sat herself down right next to us and proceeded to order her "usual", off menu. She made small talk, asking me where I lived (she lives down the street) and what I did. On reflection, this is the type of clientele that normally graces George's, and
we
just didn't fit in. Or maybe I just like to tell myself that, as it explains the food and service we received.
My recommendation? Only come here if you're one of
those
faces, like a celebrity or chef or millionaire or something - and maybe then you'll eat some good food.