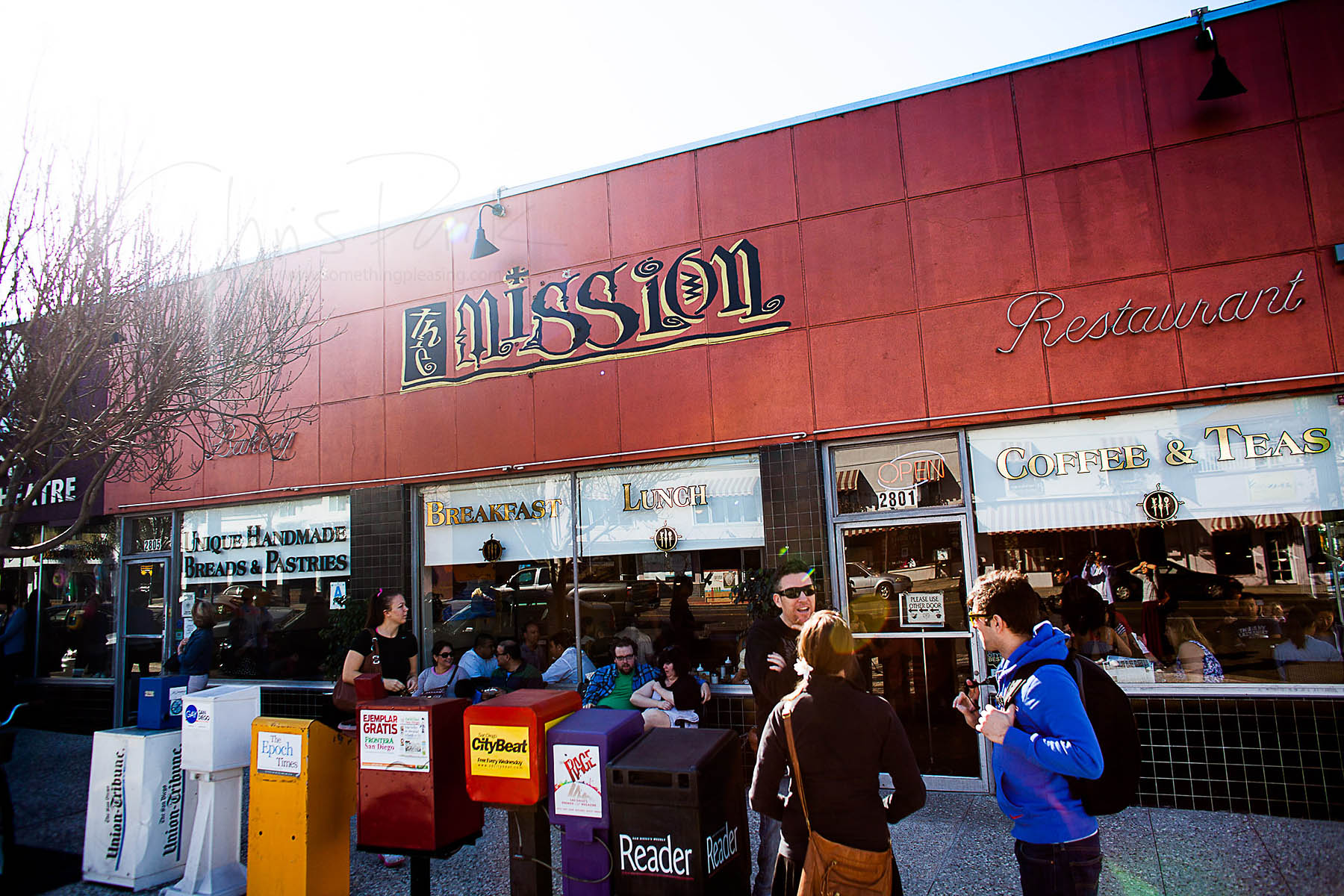 Yelp claims the Mission Beach location reigns supreme, but one friend of mine just prefers being in North Park, meaning a trip taken here instead. I indulged knowing that Mission Beach was a decent amount of fun, tasty and friendly to the wallet, and this would be hopefully a bit easier on the parking - in mornings, at least.
Upon arriving, there were two things I noticed:
1. Parking was indeed significantly simpler. I accidentally grabbed a spot a ten step walk to the front door with plenty more spots to go around, 9:30am. Fantastic.
2. The location was less homey. Fewer smiles, more industrial, more packed, equally loud. Even though the tables were a bit further and there were even booths here, it felt less hearty.
But whatever. A twenty minute wait later we were seated, us looking now down on the menus. I had a strange desire to order pancakes again despite not finding them delightful at Mission Beach, a mistake possibly of my own - I'm a French toast kind of guy.
But the food came out a decent amount of time later, not an exaggerated or prolonged wait by any means but longer than I've come to expect of a San Diego breakfastery. The food of course is pretty, the plates big and full, and oh, delight!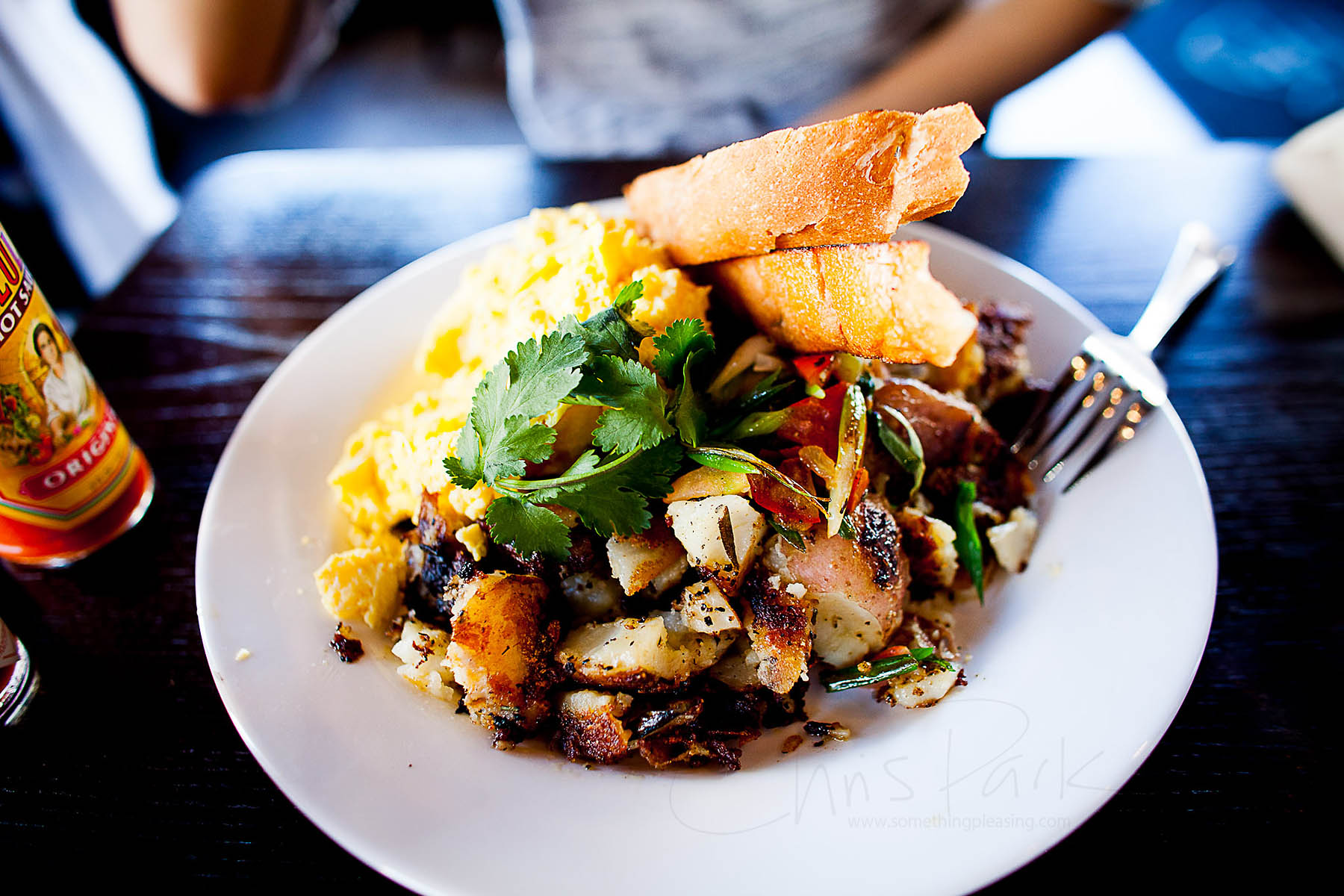 Crispy rosemary potatoes, scrambled eggs, tomato & onion garnish with rosemary bread
To be honest I was a tad disappointed, my prior experience with Mission bursting in my mind. I could see nothing particularly worthwhile about this dish next to the Roast Beef Hash & Eggs unless perhaps you had craved a, well, non-meaty meal. Again, I found the potatoes to be good, crispily fried to a very nice degree, and the rosemary bread was again rather bland by itself; the eggs were scrambled, good but hardly special, and lacking in any significant flavor. It's a classic and nothing more.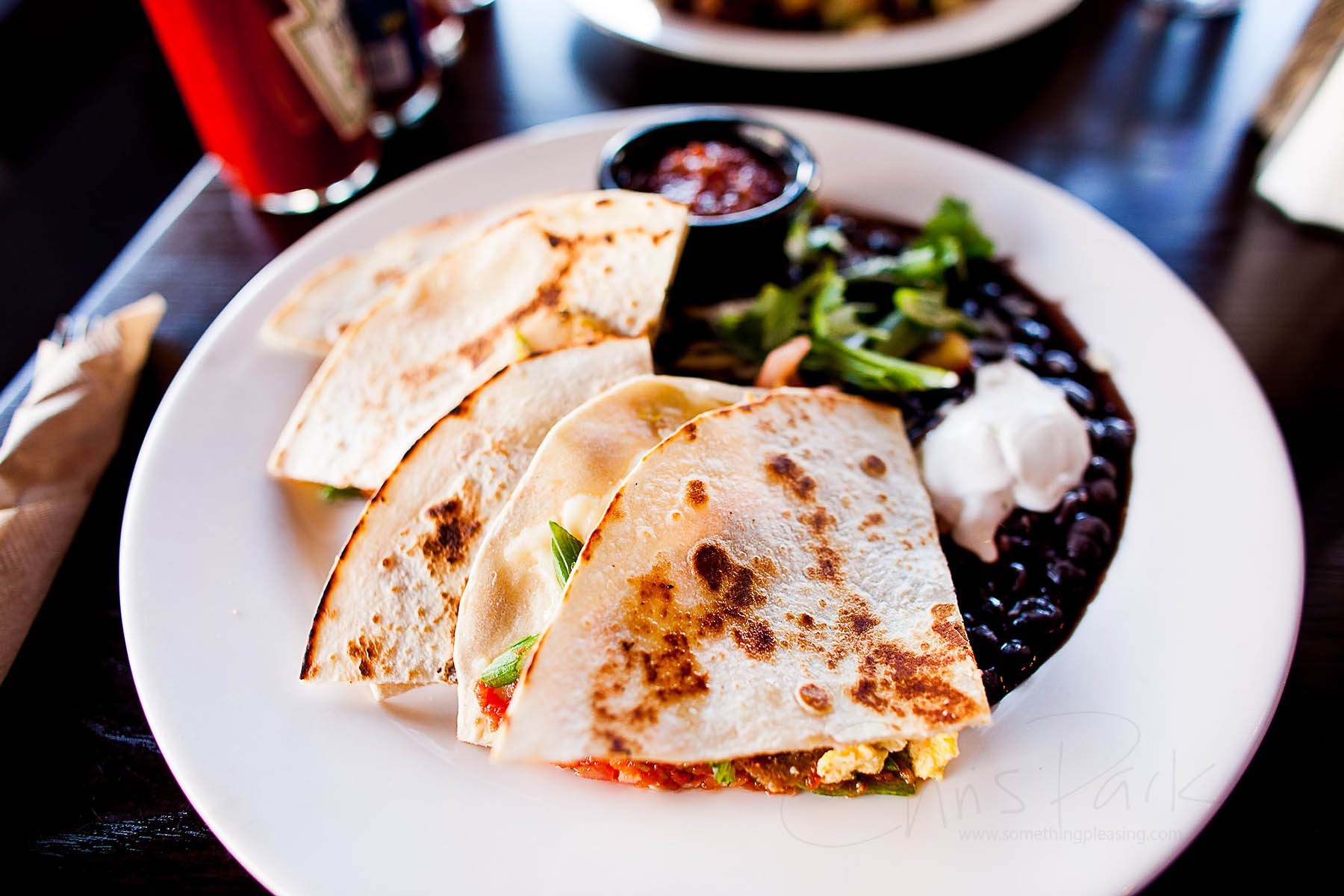 Breakfast Quesadilla 7.95
Layered with cheese, crispy bacon, cilantro, scallions, tomatoes and fresh salsa
With scrambled eggs Add 1.75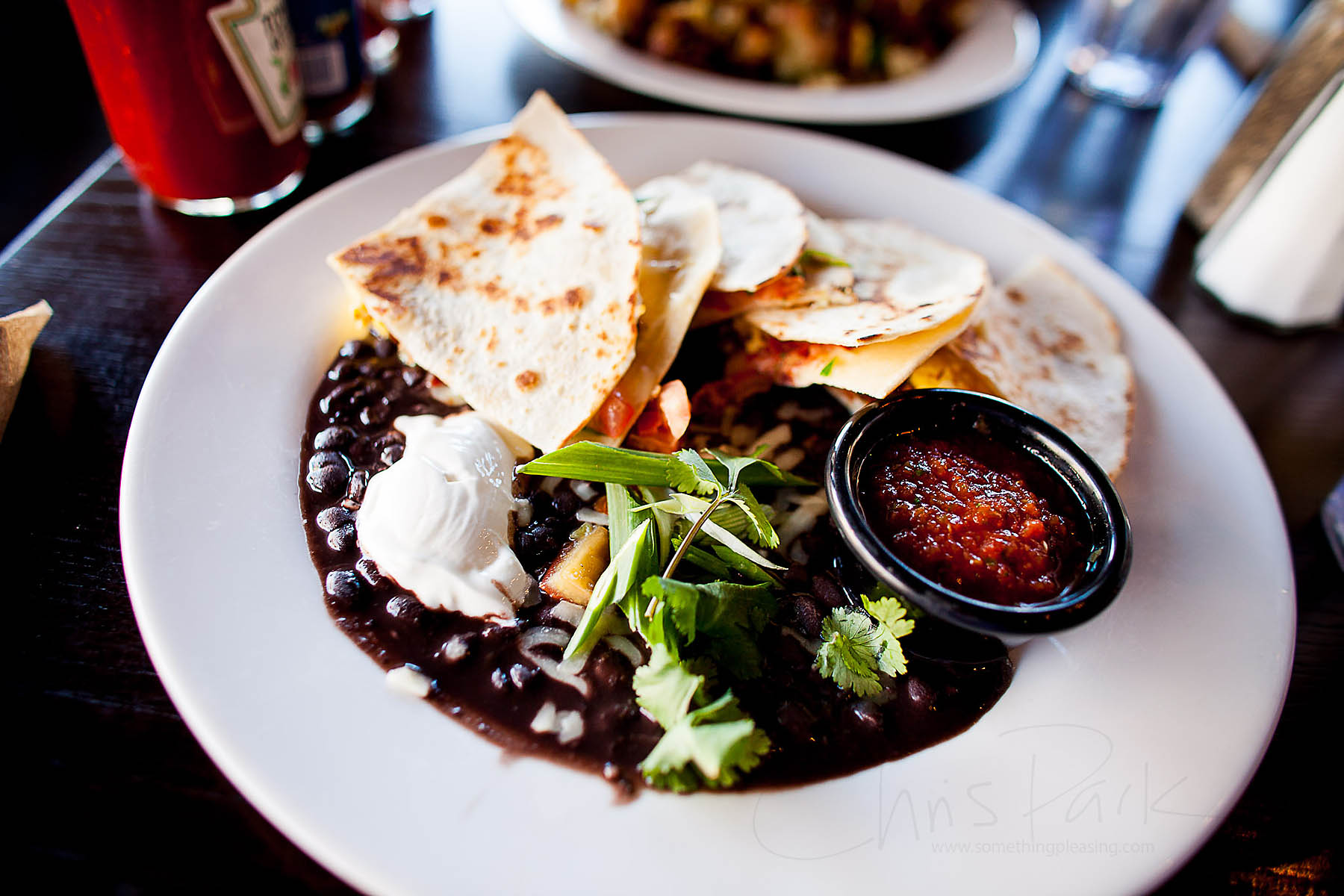 This was a particularly perplexing dish - I added scrambled eggs because why not, and though the dish came out pretty, it had a side marsh of black beans, a detail I wish someone would mentioned somewhere, considering it's not in the description at all.
The quesadilla was decent, sliced in a way slightly difficult to eat, and the fillings weren't particularly great. I did like the way the scallions were cut, and the fresh salsa had a balance and portioning I appreciated; I wouldn't order the quesadilla again though, as I easily finished the dish without feeling full - a far cry from my other Mission visit. It was also possibly worse than what one could easily cook up at home, never a fun feeling when paying restaurant dollar.
My companion tried desperately to finish her plate, one of the busboys playfully whining it hadn't been licked clean. The environment here is friendly if not overly busy, with the waitress proactively offering water refills, extra napkins, and the like. In the end, my stomach walked out satiated, and my head knew I could easily eat lunch in just two or three hours if needed or desired. Hm.