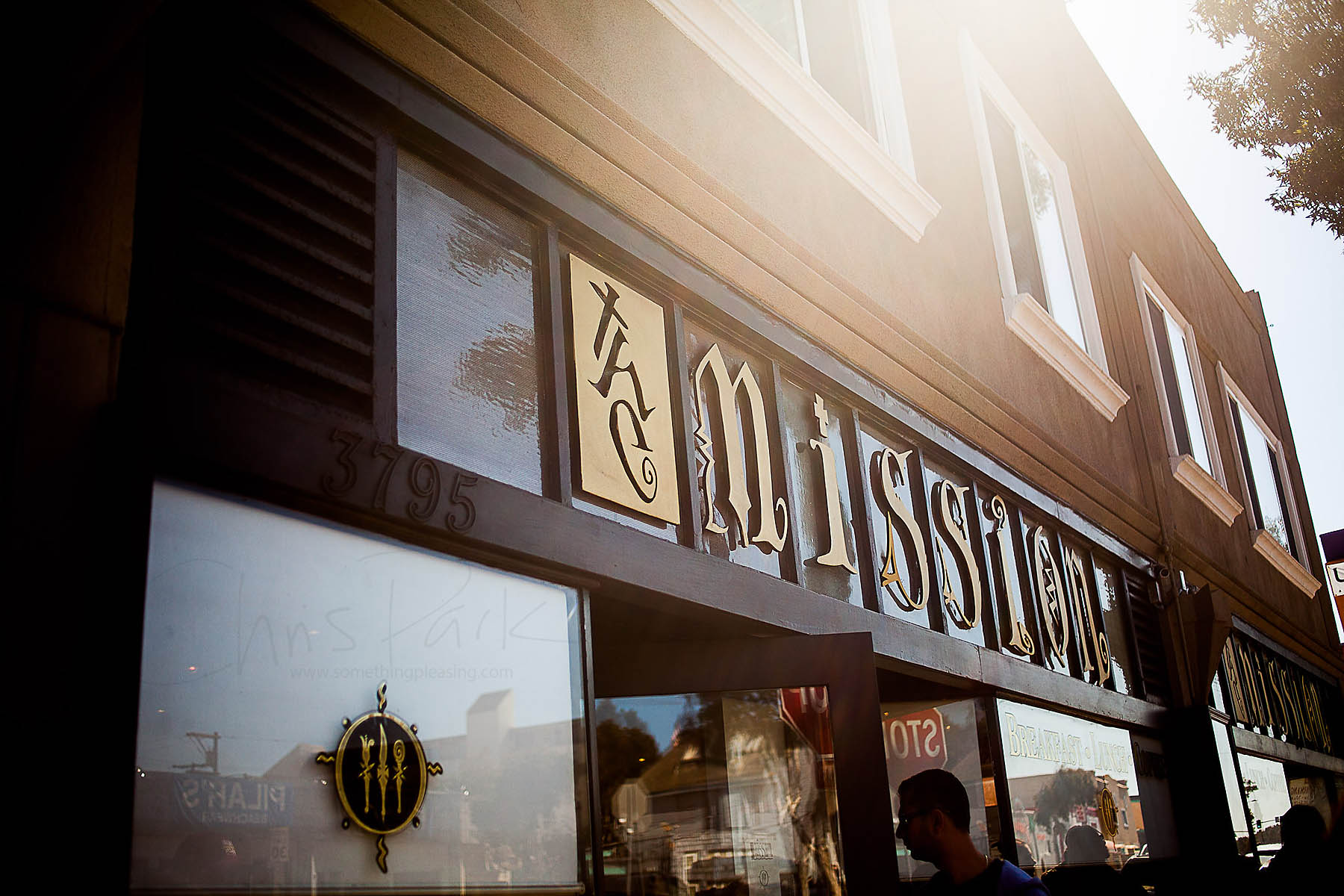 The line outside is fairly long, though that's just nothing in comparison to finding parking in this part of town. But it is a 25 minute wait once your name is on the list, a very mixed racial crowd waiting outside, and very loud inside.

Once you've made it though, you're greeted with a menu that's a bit harder to choose from than the average brunchery. My standard choice, the mushroom/spinach omelette, was glaringly omitted; no matter though since a peek around the room gives you a sparkling of an idea.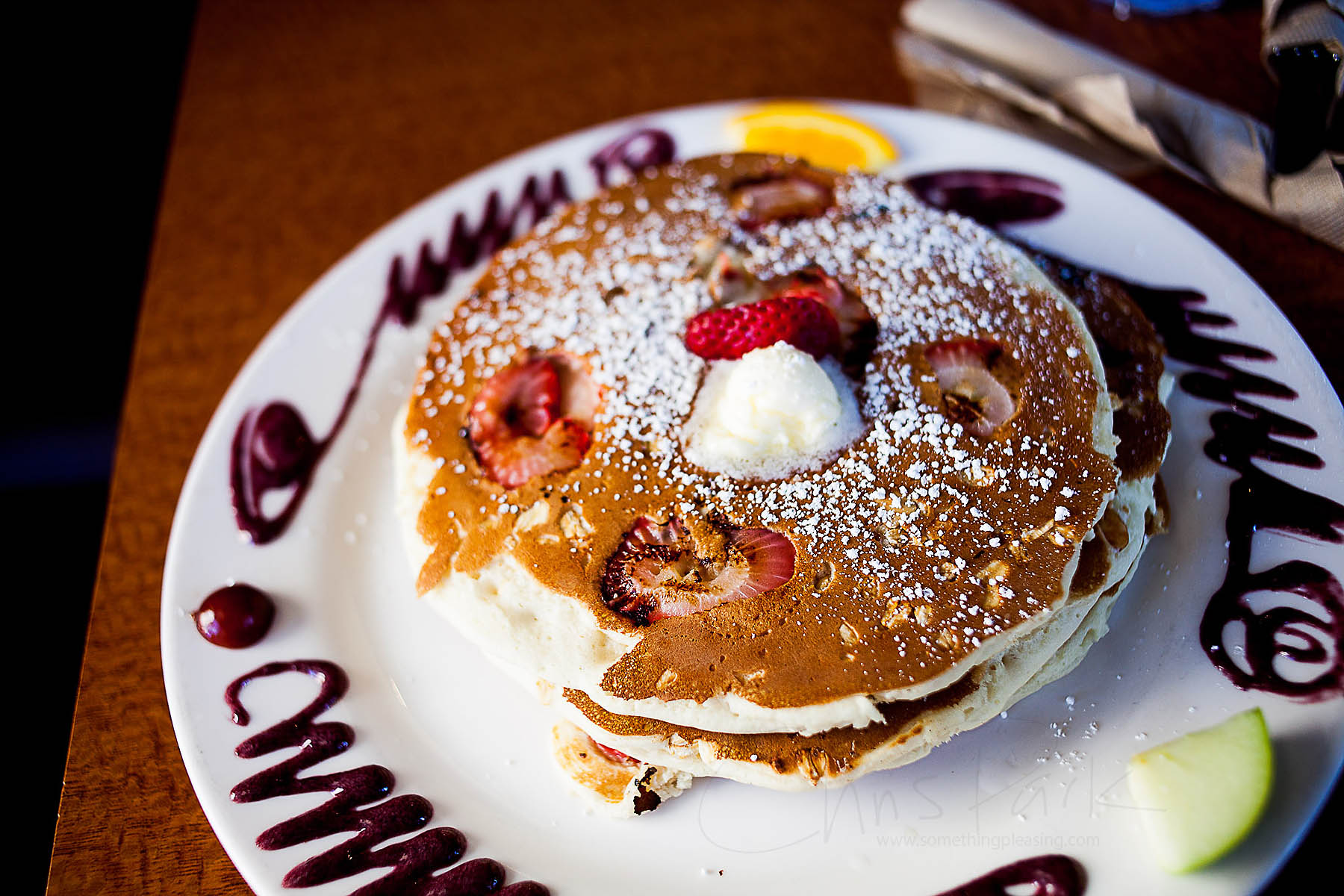 Strawberry Granola Pancakes 7.25
Three pancakes with fresh strawberries and grain cereal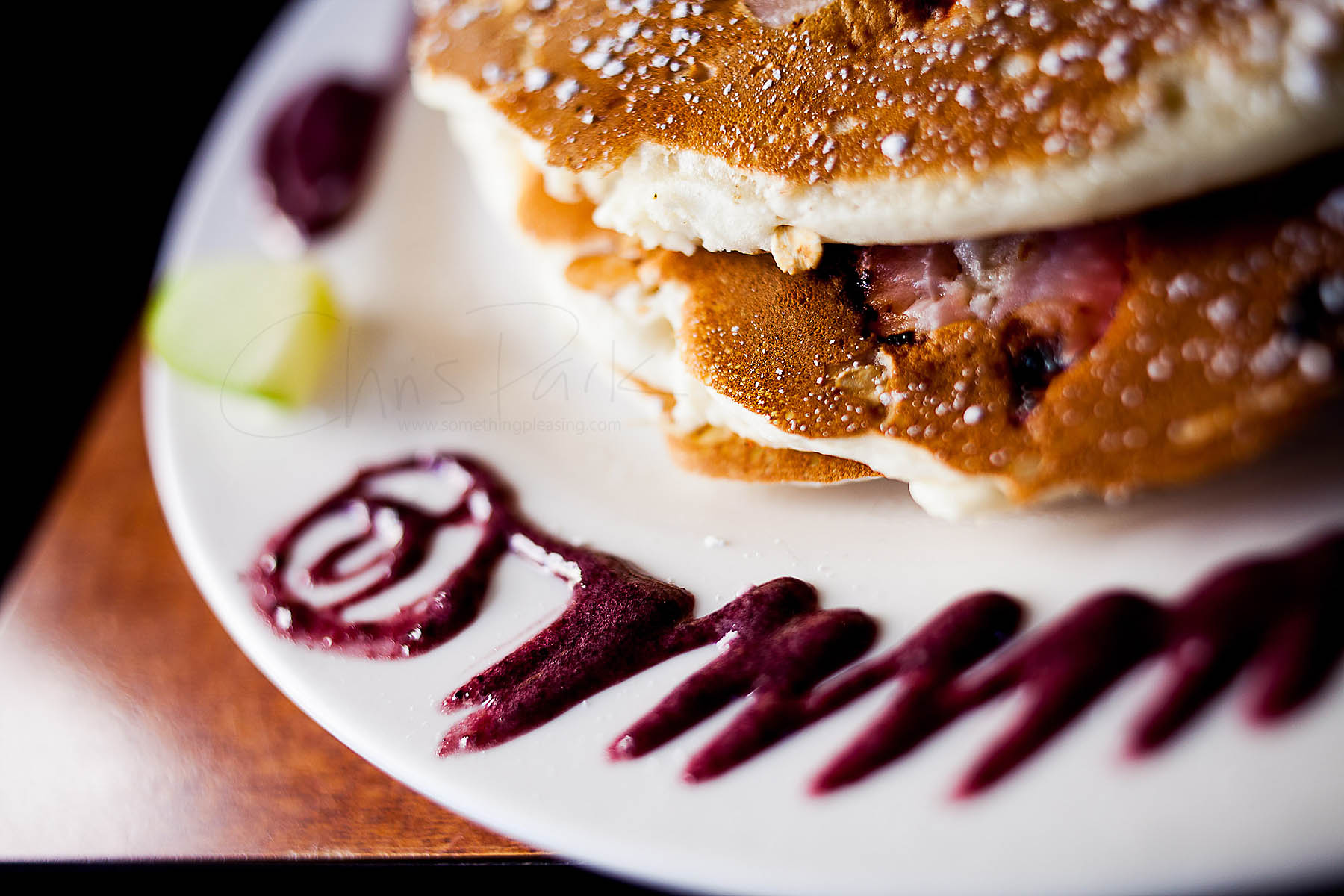 I'm not sure why granola in pancakes isn't more of a thing - it adds a decent amount of texture, and granola is simply wonderful in general. The strawberries were also interestingly incorporated into the dish, though they hardly added any flavor or juices, and worse, formed collection wells for syrup.
Adding the most flavor and design was probably the raspberry sauce drizzled on the sides, the stacks looking pretty but imperfect in a way, perhaps in that almost quaint homemade feel. I wish I liked pancakes more.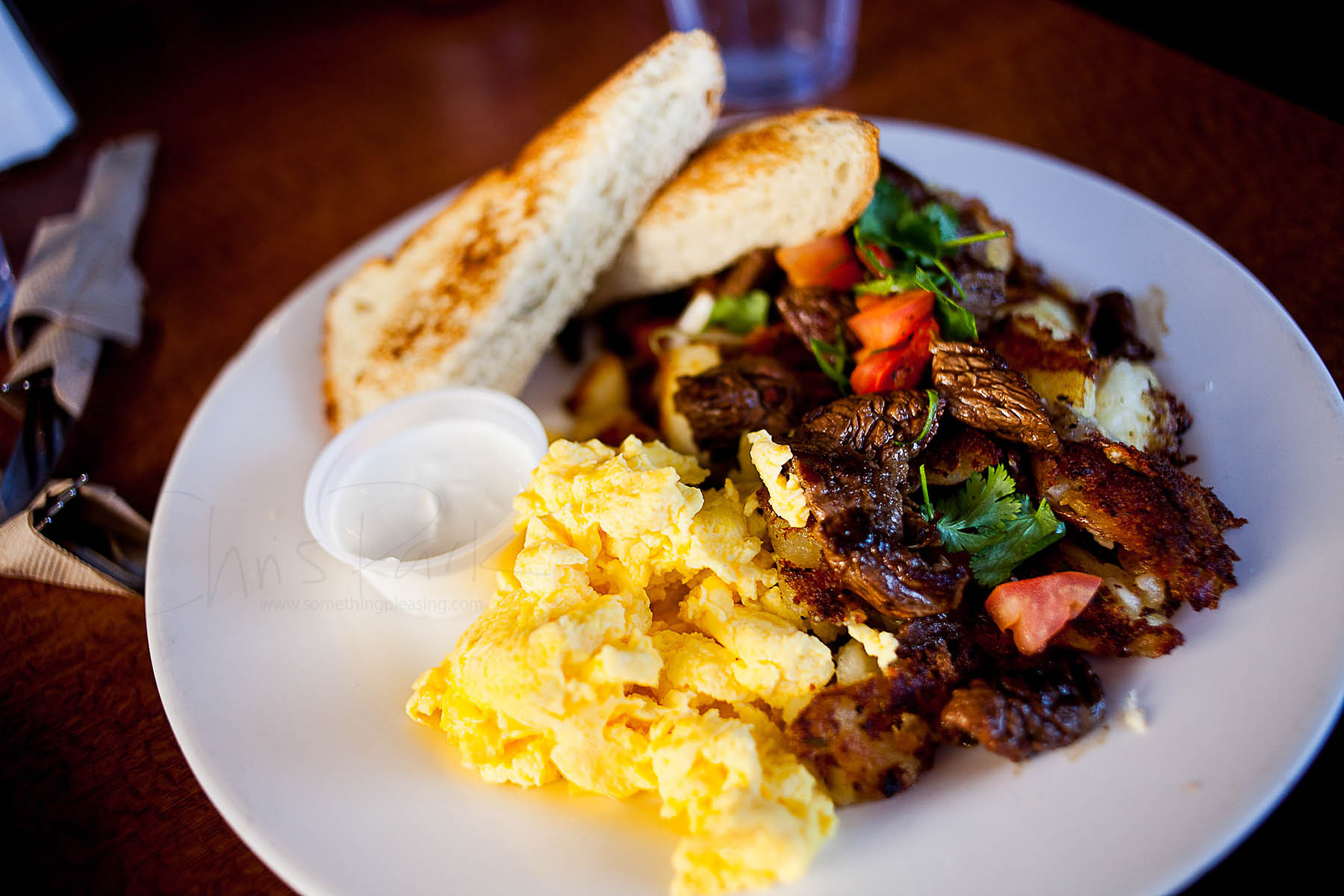 Roast Beef Hash & Eggs 9.95
Grilled Angus beef, horseradish cream, rosemary potatoes and scrambled eggs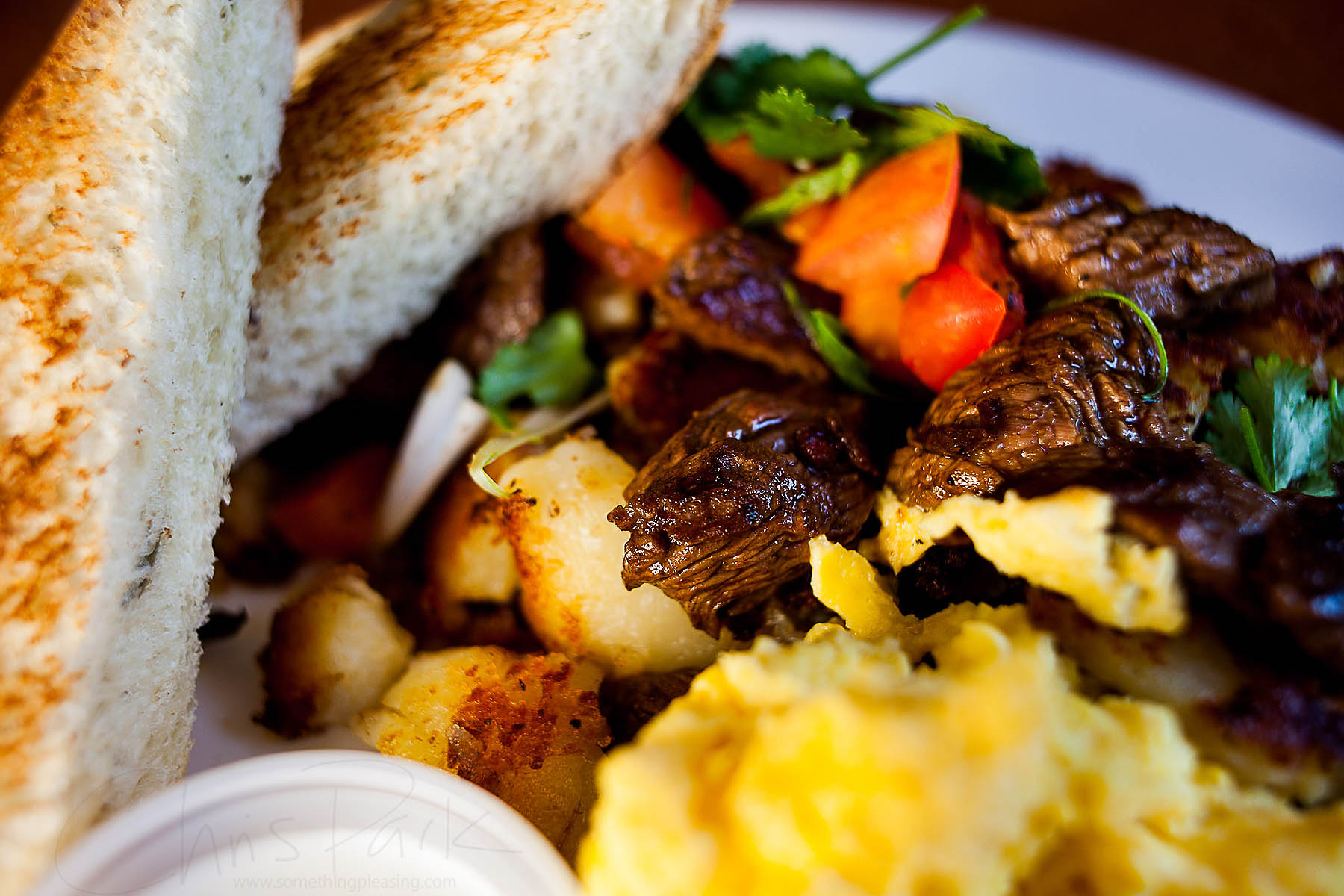 The beef was juicier and of higher quality than you'd expect at most breakfast locations, a pleasant surprise. The horseradish cream too was a welcome guest, normally reserved for dinnertime, and the rosemary potatoes cooked to a nice crisp but not burnt, giving it just the sear to add a pleasant texture and flavor.
On the flipside, the scrambled eggs screamed 'whatever' and the rosemary bread really sat too far on the plain side with nothing available to spread or eat it with. The tomatoes were just average - nothing to complain about, but nothing to share with delight over the complex nature of its flavoring.
Commentary on the restaurant as a whole - the portions are much more generous than one expects, and looking around, many did have leftovers. Regarding staff attentiveness, I can't really speak about service too well as I didn't empty my water glass as often as I usually do, meaning less opportunities to test, though I can say we were hardly checked up upon. But I hardly expect the La Jolla or Del Mar standard here.
In any case, what we have here is a small restaurant chain and perhaps a Yelp darling local favorite. Hip neighborhoods, large prices, long waits - ah.