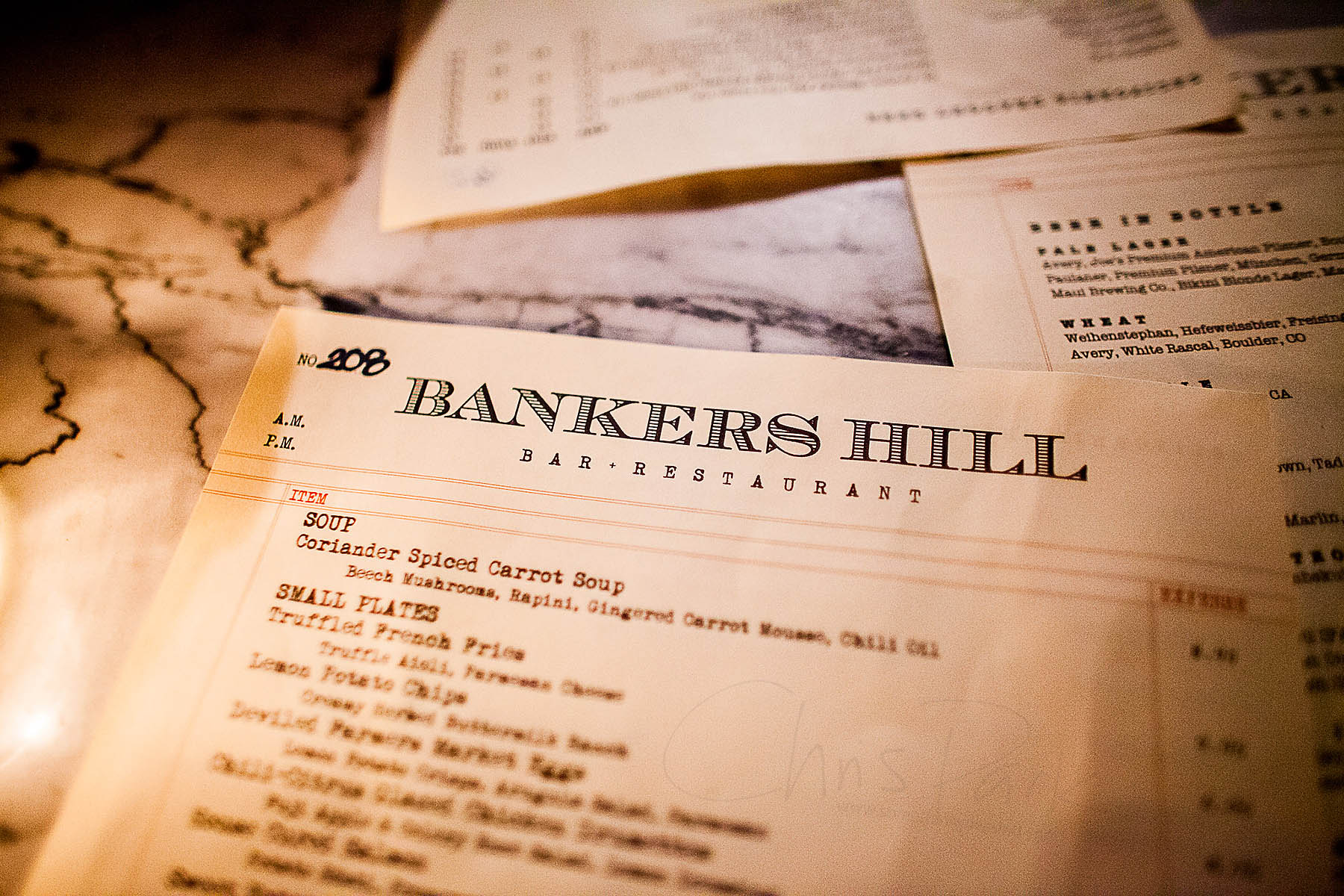 Banker's Hill is a small fun row at night, a few restaurants in the area such as Bertrand at Mister A's and Hane Sushi making it a notable hip food attraction. Banker's Hill Bar+Restaurant might be a tad difficult to find, or at the least difficult to find the entrace of if the doors aren't widely open.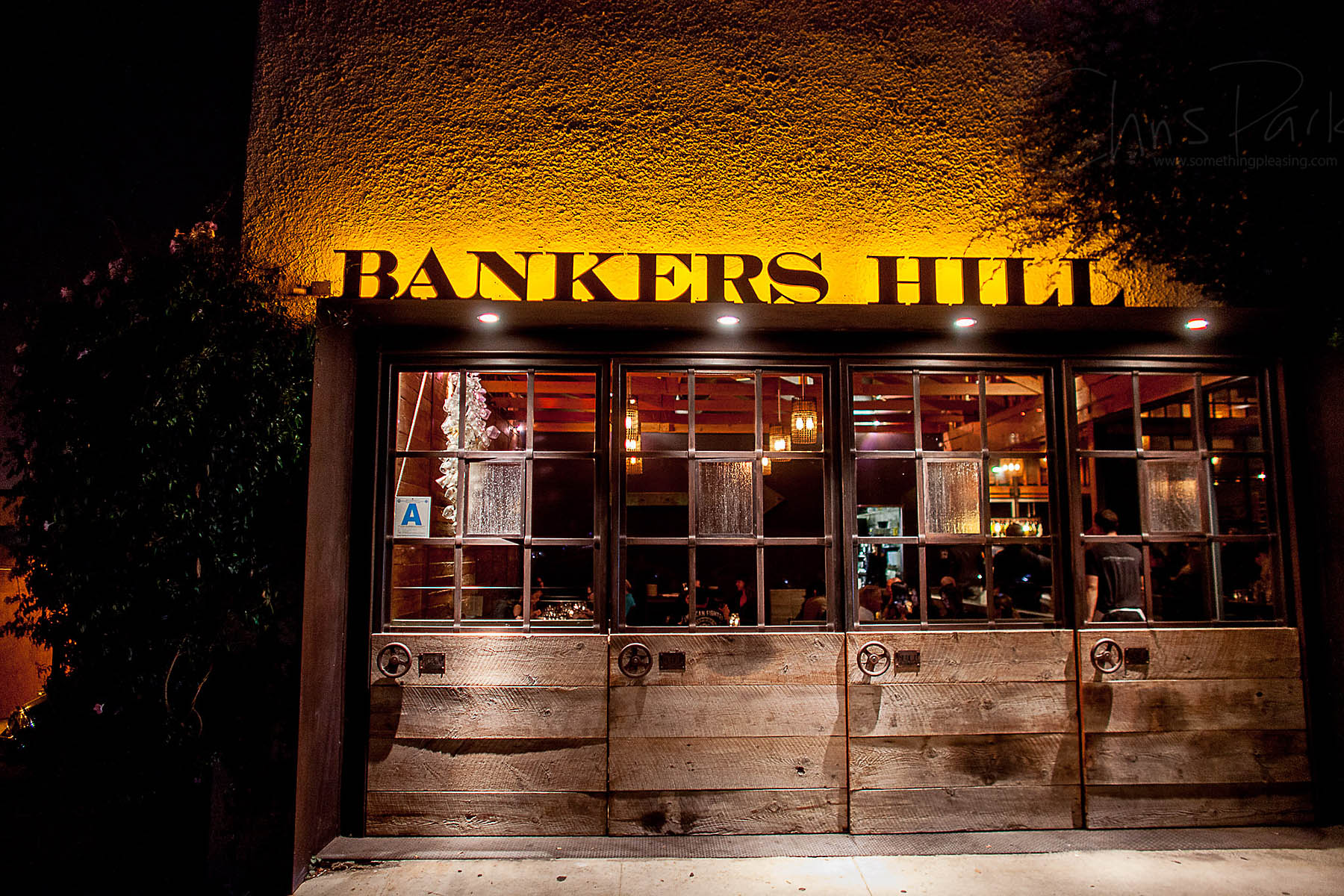 Though they may look like a wall, those doors each swing wide open.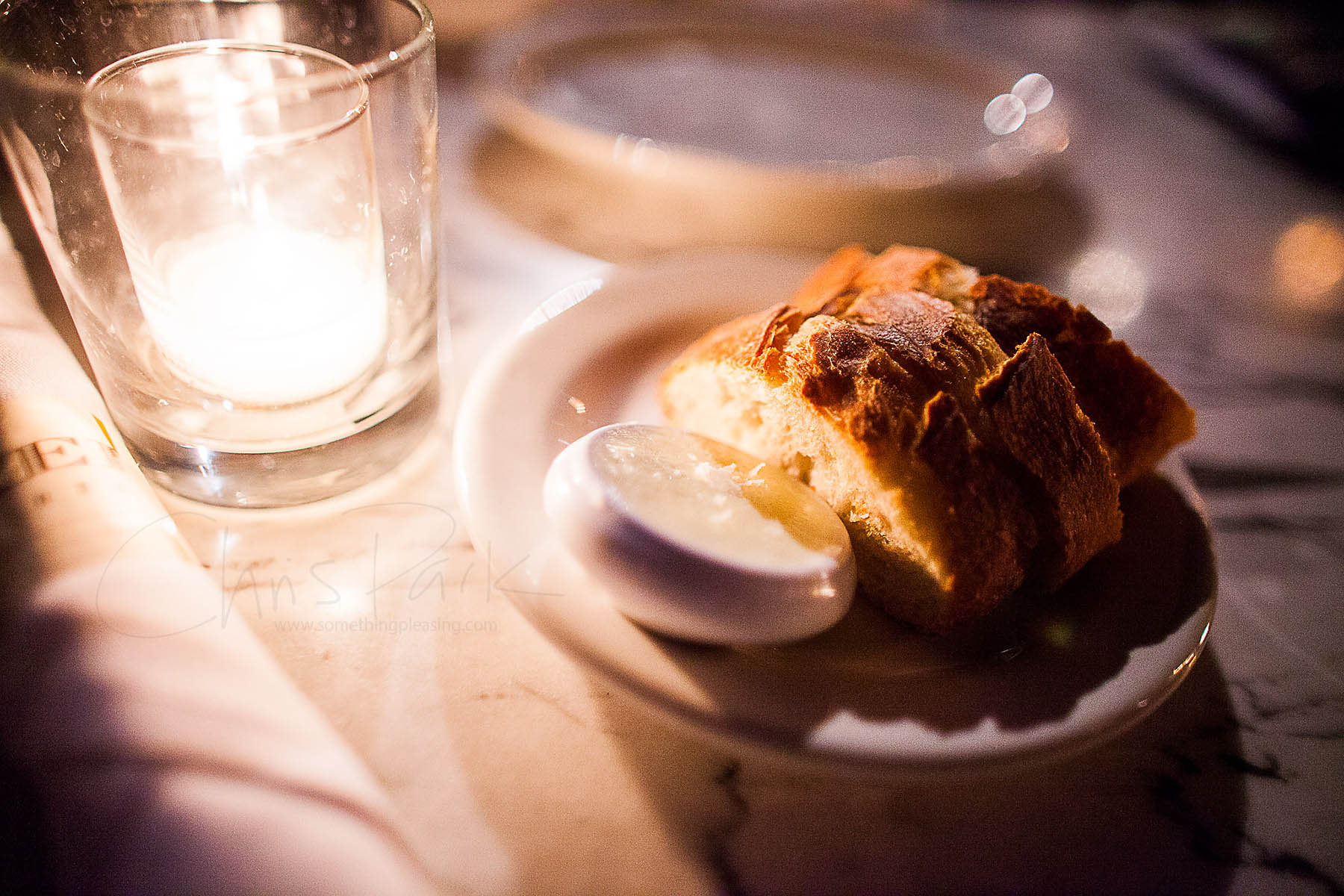 breadddddddddd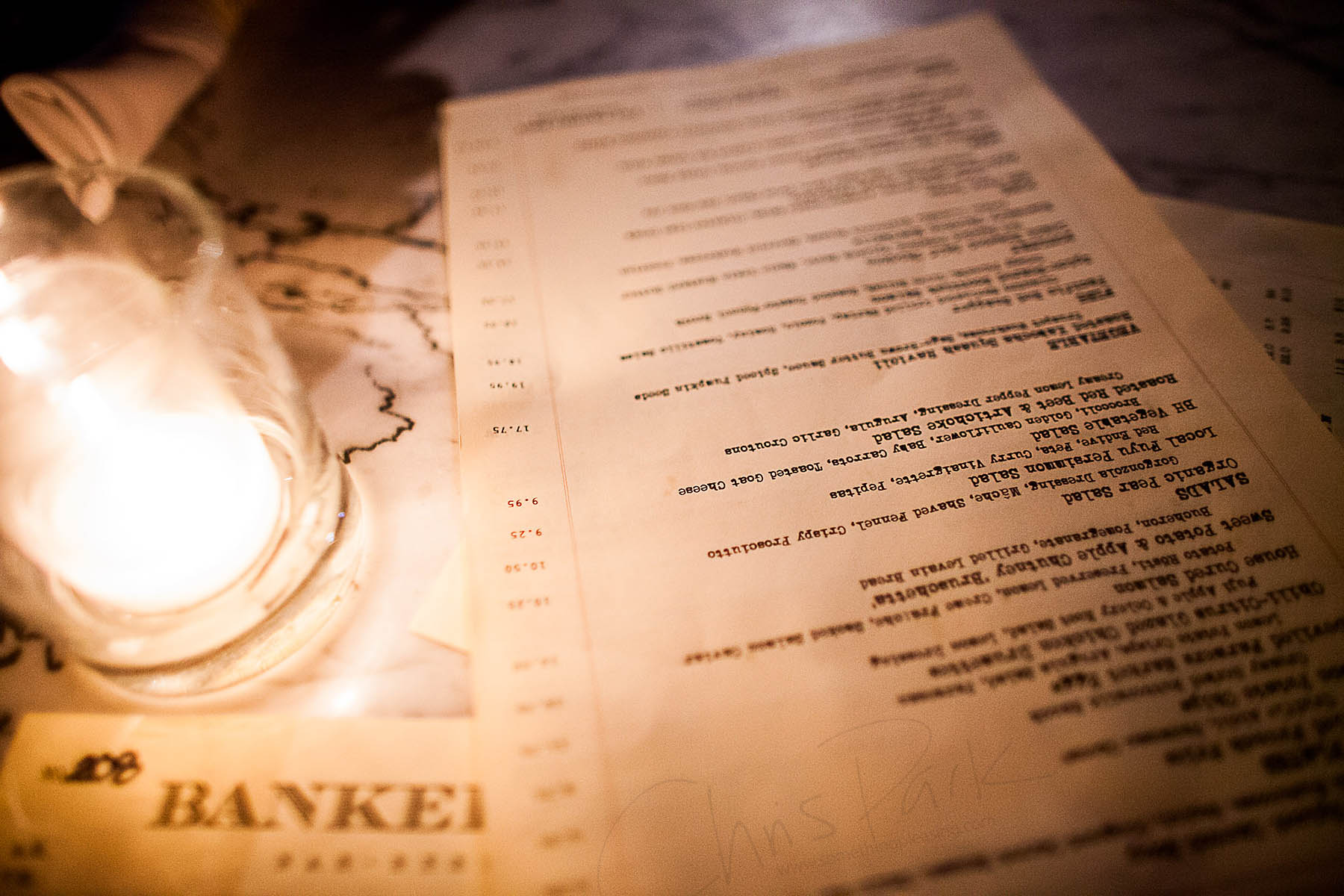 Our waiter was one of those that literally described every single item on the menu when asked for recommendations, thus being both helpful and not at the very same time.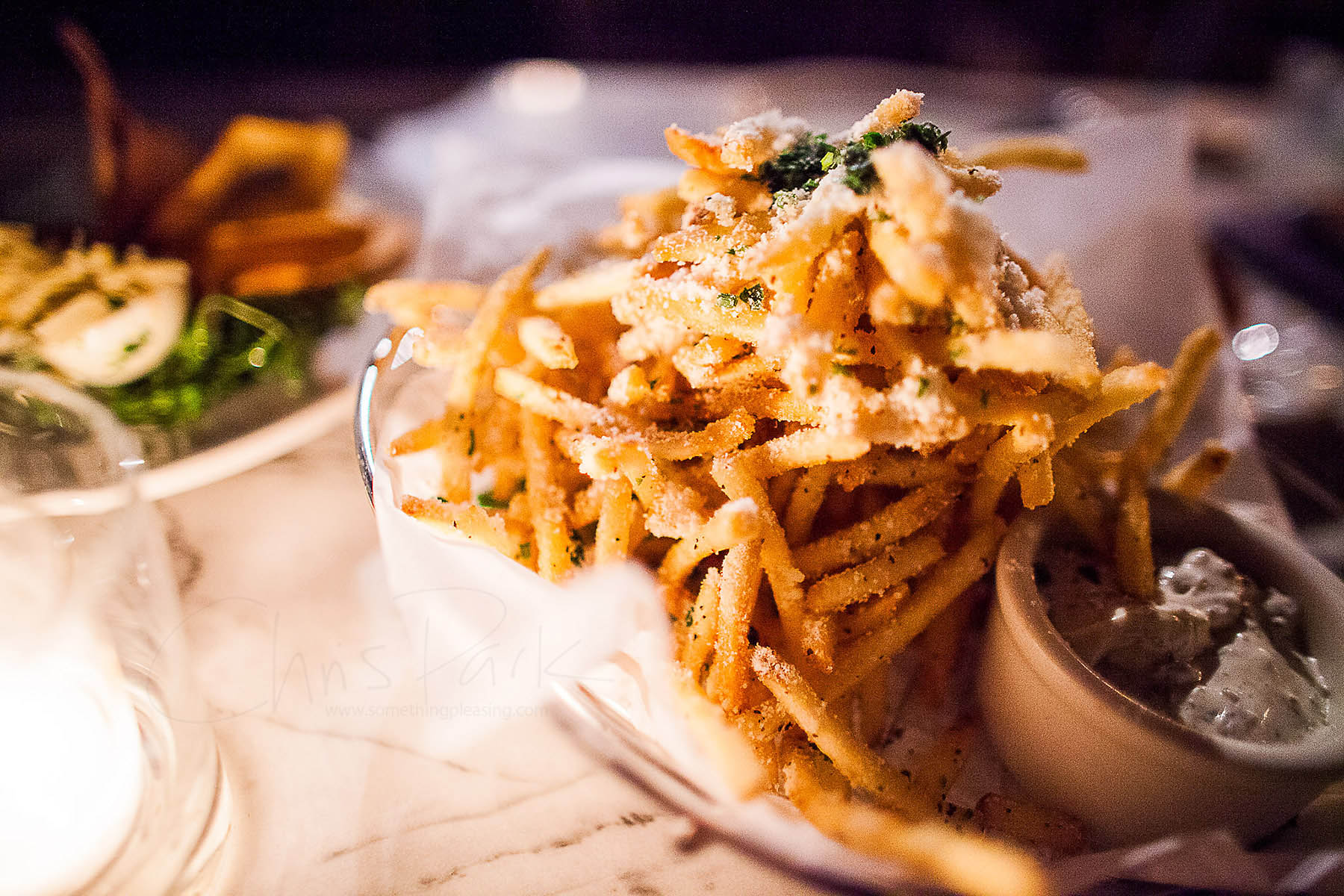 Truffle Aioli, Parmesan Cheese
9.95
An essential. A decent amount of truffle flavoring, a delicious truffle aioli (though ketchup was partly desired as well), and parm. It comes in a rather large basket size, addictive enough to be enjoyed by yourself but large enough to be shared in a group, it's a great asset and works as an appetizer or side. Or heck, a meal on its own.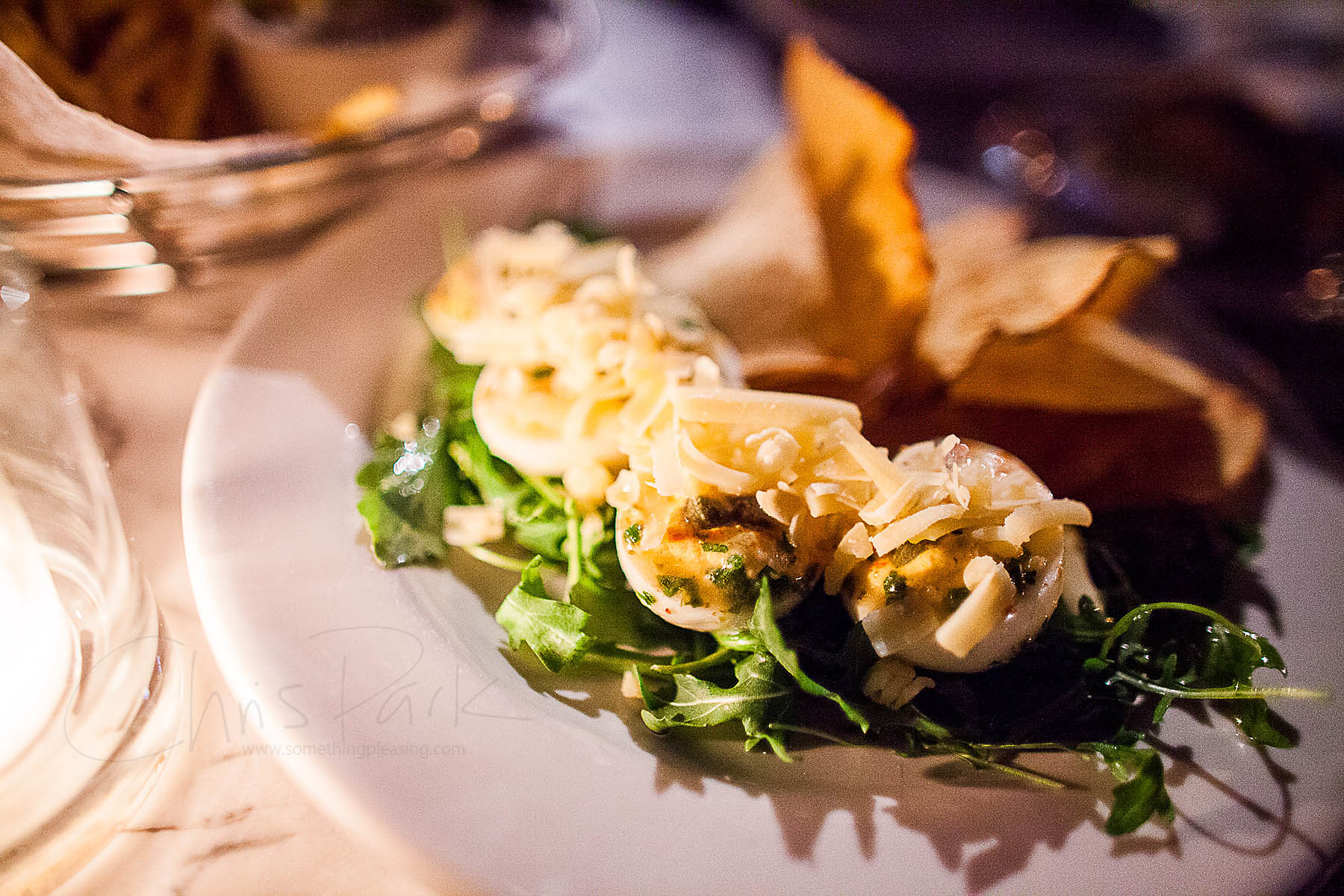 Deviled Farmers Market Eggs
Lemon Potato Crisps, Arugula Salad, Parmesan
8.75
Really not that great of a dish, the eggs whites were a bit too squishy, falling apart upon grabbing, and the flavors and textures just a little lacking. It was smooth and creamy but just missing something, perhaps a high bright note and something crunchy or plant-y to give the dish some interest. The chips were decent and large, though I guess it was up to you how to eat it - perhaps with the arugula "salad" on top?
Either way, by the time we got to the entrees, we were half full, likely from eating too many fries.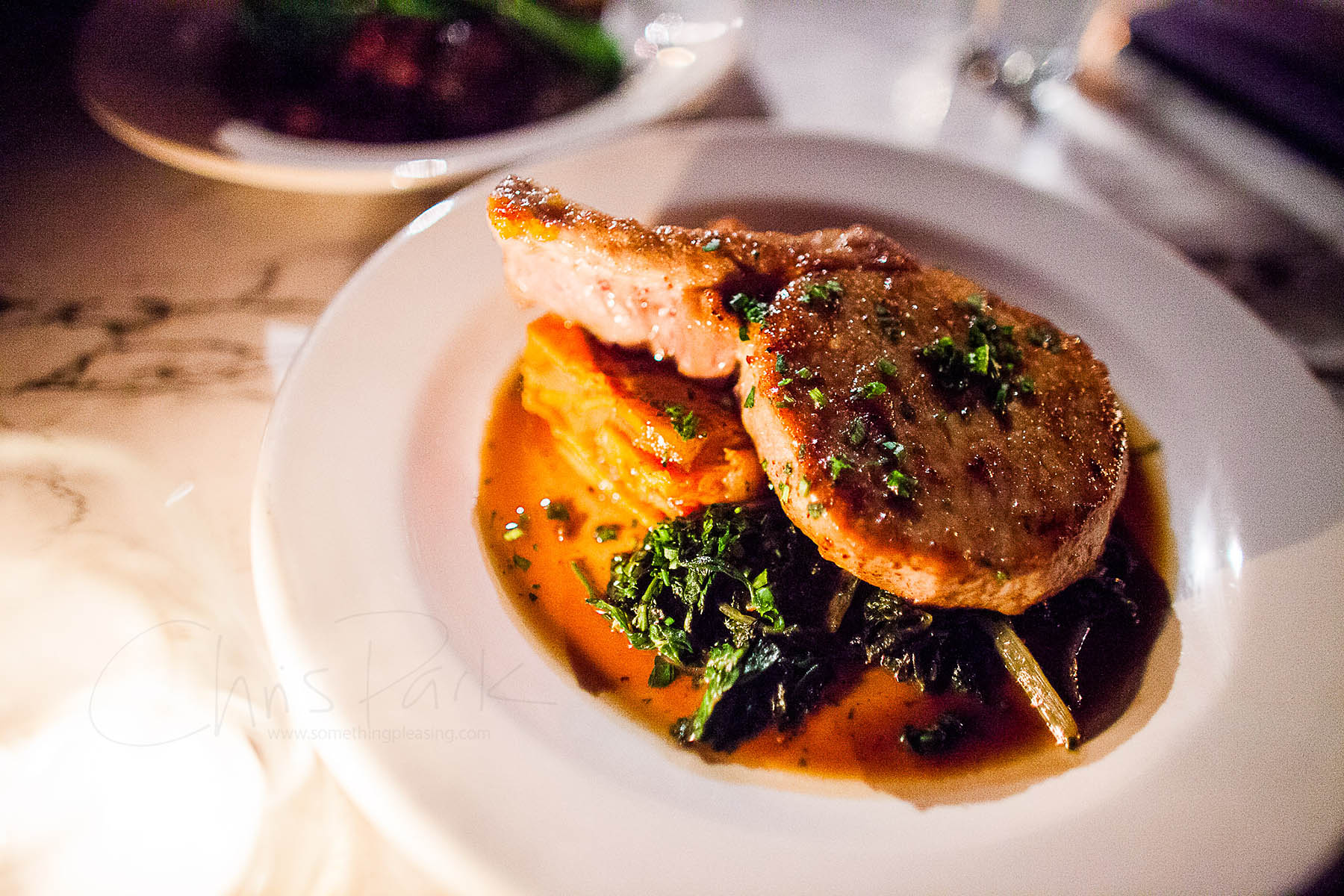 Applewood Smoked Duroc Porkchop
Brandied Jewel Yam-Apple Pavé, Swiss Chard, Ham-Hock Jus
19.50
The better of the two entrees, the pork chop was decent, tender and soft, cooked okay though not overwhelming in flavor. The swiss chard on the other hand, almost merely there.
Instead, the star of the dish would really be this yam side, a distinct apple cinnamon flavoring running through it and accenting the dish's sweetness, in a favorable way. This may have single-handedly been the best cooked part of the meal; it combines decently with the pork chop, though really I'd take it with anything.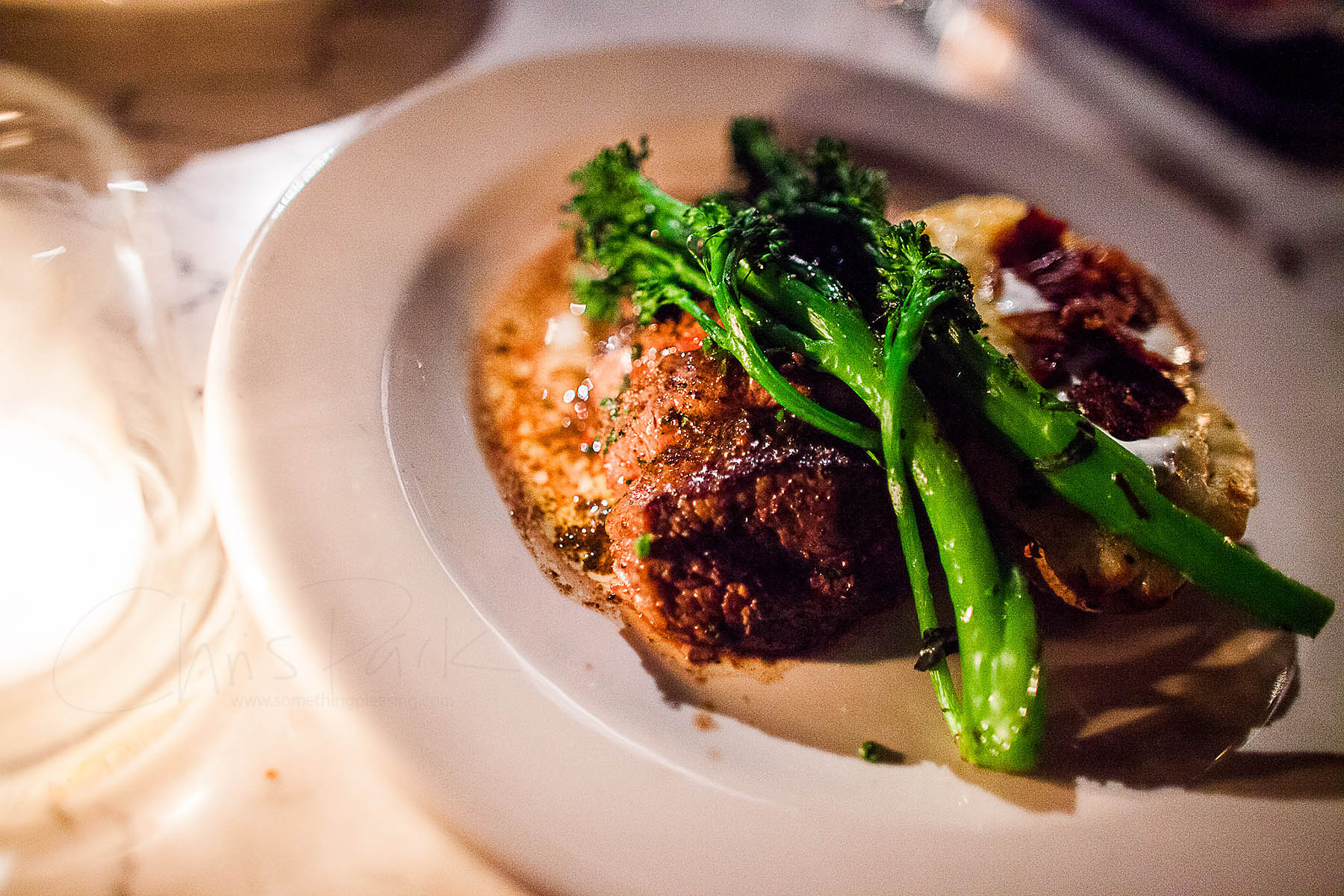 Black Angus Bistro Tender
Bacon & Cheddar Twice-Baked Potato, Broccolini, Peppercorn Butter
19.95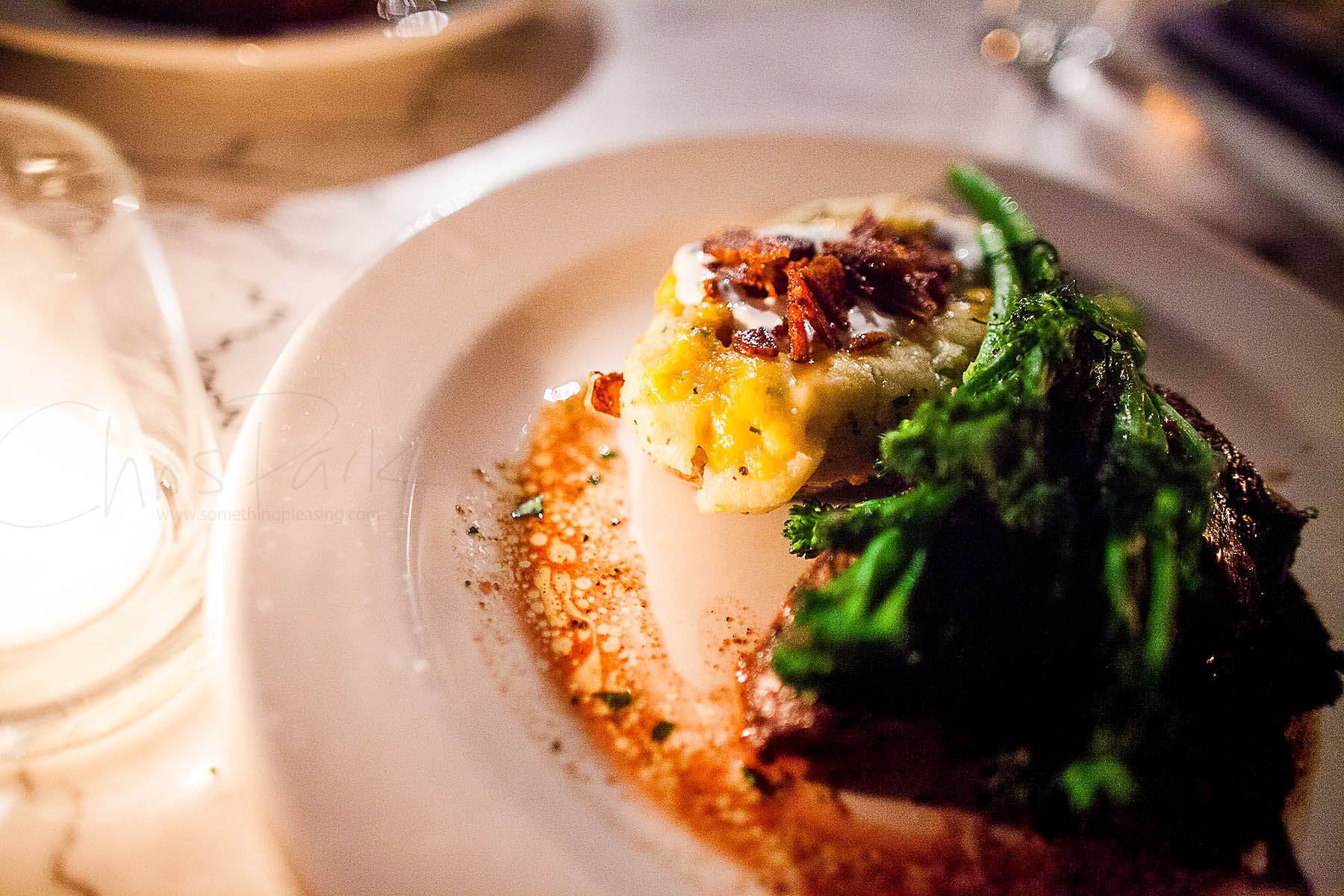 It's a shoulder cut, and as our waiter described, cooked in a way that you basically don't need a knife to eat it. Except it wasn't true. Sure, the meat is precut, but a steak knife is definitely required unless you want to masticate through pieces whole, a far cry from advertisement. In fact, the pork chop was the more tender of the two, easier to cut through and chew. The brocolini was unmemorable in any way whatsoever. The shining jewel may be the twice baked potato - it had cubes of cheese and bacon, making it fun, unhealthy, and delicious.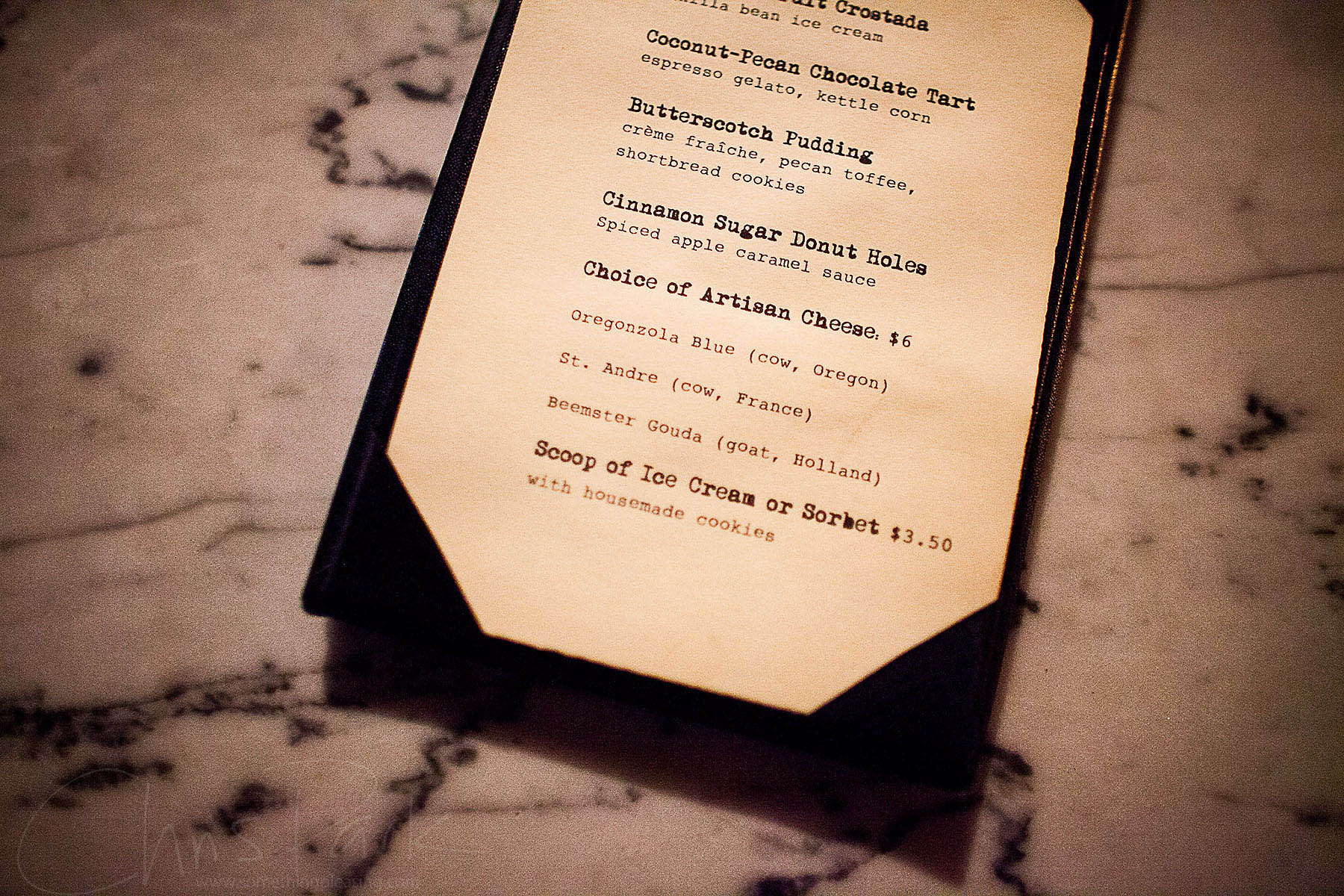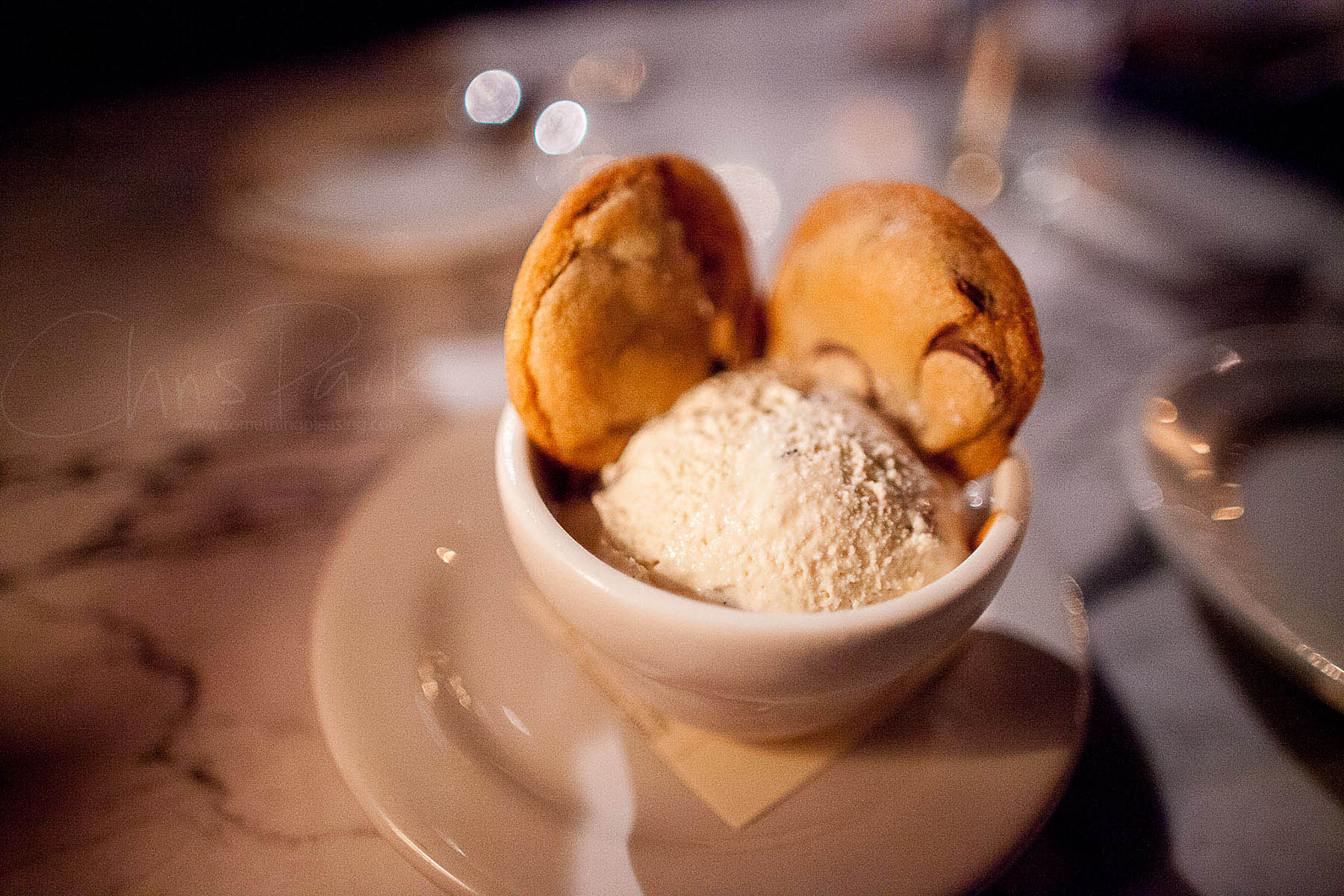 cookies + rum raisin ice cream $3.5
No matter how full you are, there's always room for dessert, right? The philosophy of my companion who elected the cookies and ice cream, saying excitedly "they're cookies!"
Yes indeed. There were a few choices for the ice cream including one flavor of sorbet, rum raisen taken in our case. The cookies were a soft chocolate chip, the ice cream delicious, real raisins in the mix. The bottom had a thin layer of some type of crumble, and around the top rim was some type of caramel. Simple and clean.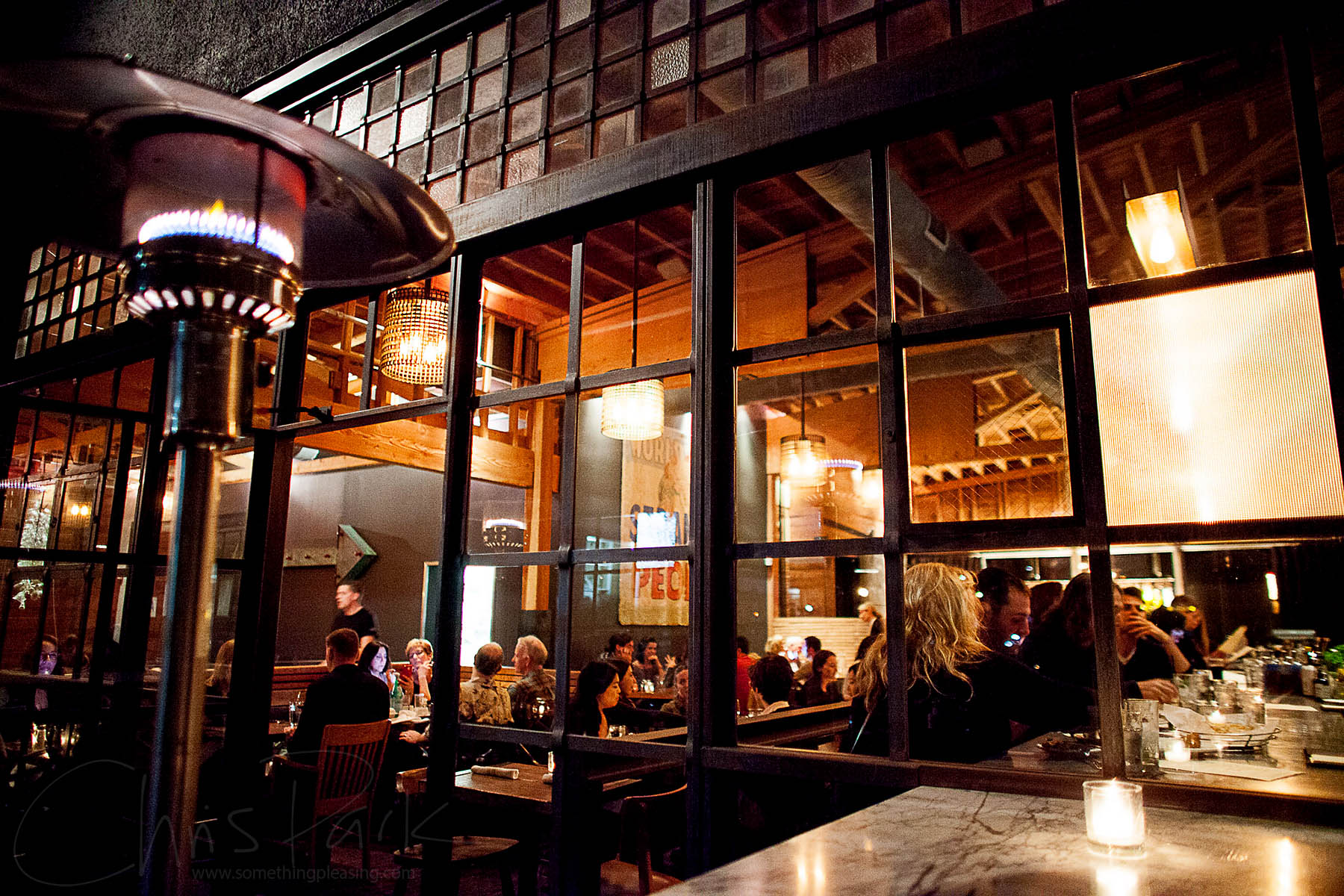 A couples of niggles about the service: the main waiter assigned to our table didn't seem at all too attentive to us. The guests around us were checked up upon and given the appropriate attention and then some, with us often being skipped and unable to get his attention, even when the tables a few feet away were served and he made his rounds working his charm. In contrast there was a lady who, though lacking that in your face charm, was much more deserving of a tip. She was the one who made sure my water was filled, got extra condiments, cleaned up plates, and generally looked around to make sure all the tables were taken care of. And despite her awkwardness I highly prefer her genuine self, seeing as how the male's fakeness only benefitted older wealthier couples and all-female groups.
That about settles it, doesn't it? It's like a hip version of BJ's with less butter.