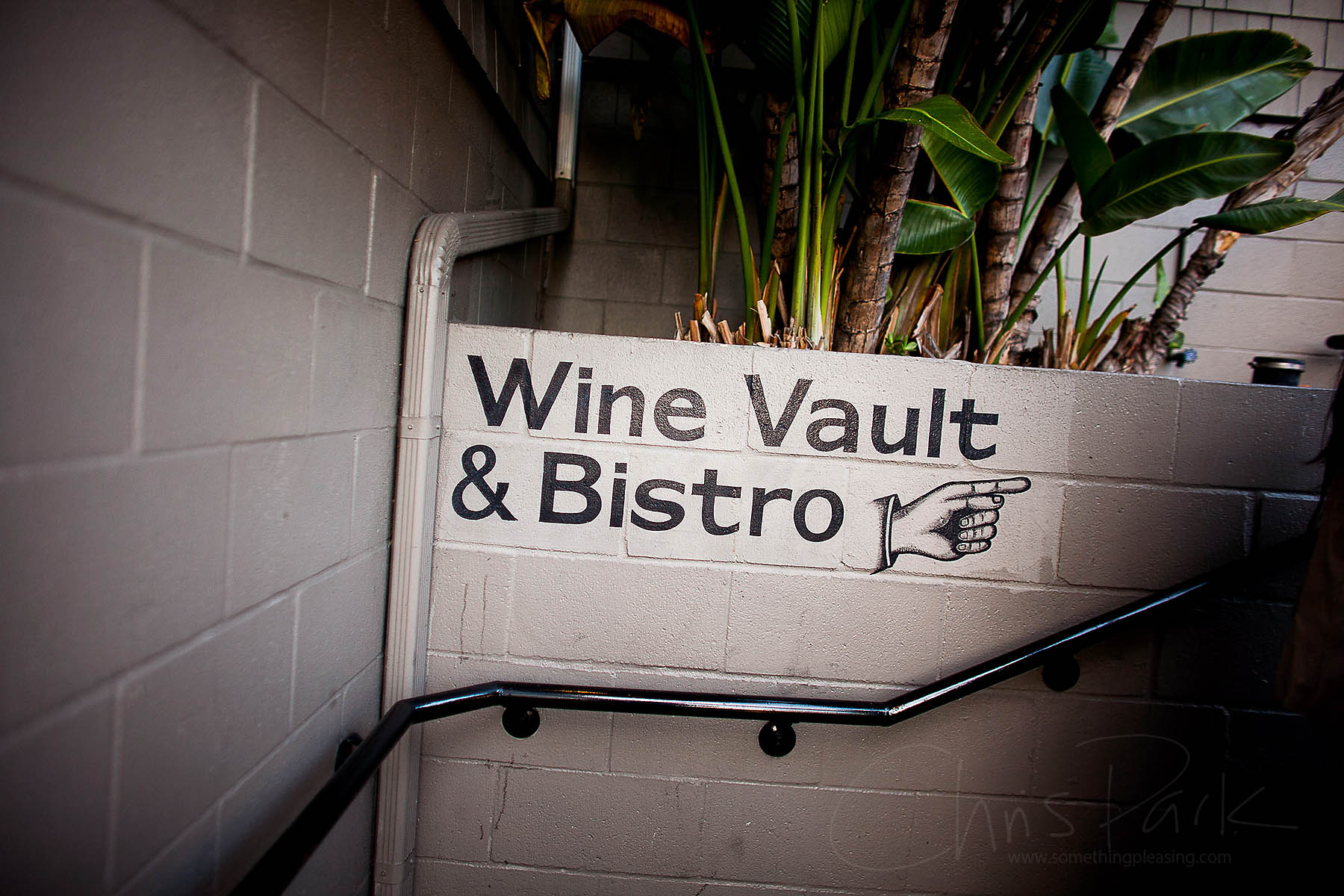 If you've ever meandered this neighborhood you'll something special about parking; Wine Vault does offer a valet service and we parked up the hill a million miles away after rounding many blocks for at least half an hour. But otherwise Wine Vault offers a unique opportunity: a sub-$40 five course dinner, wine pairings per course optional (though all or none). It's an excellent opportunity for foodies on a budget and those exploring wines alike. To note, its menus change virtually every day and the menus are fixed, meaning that there simply is nothing to choose - you just show up and eat what you're given.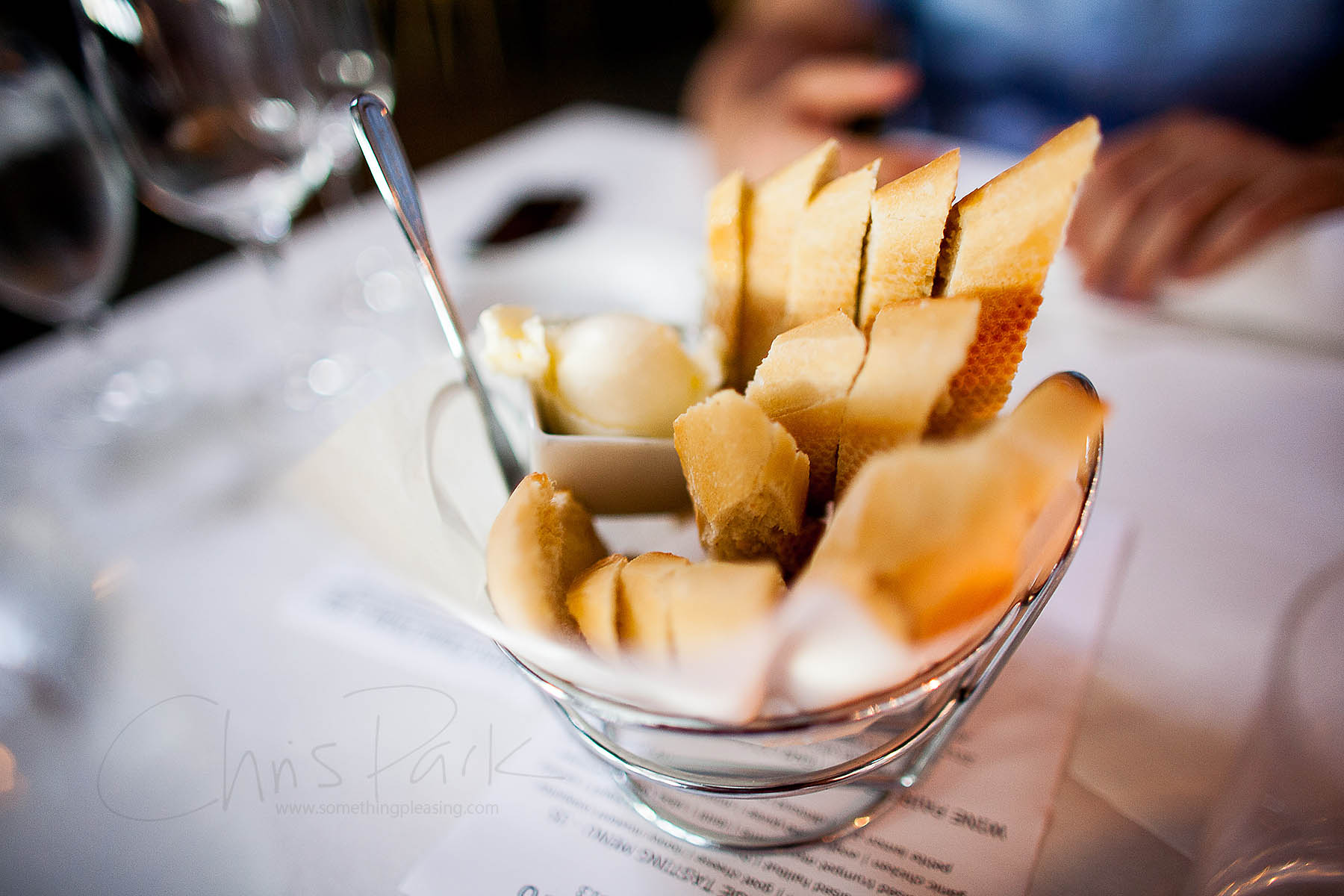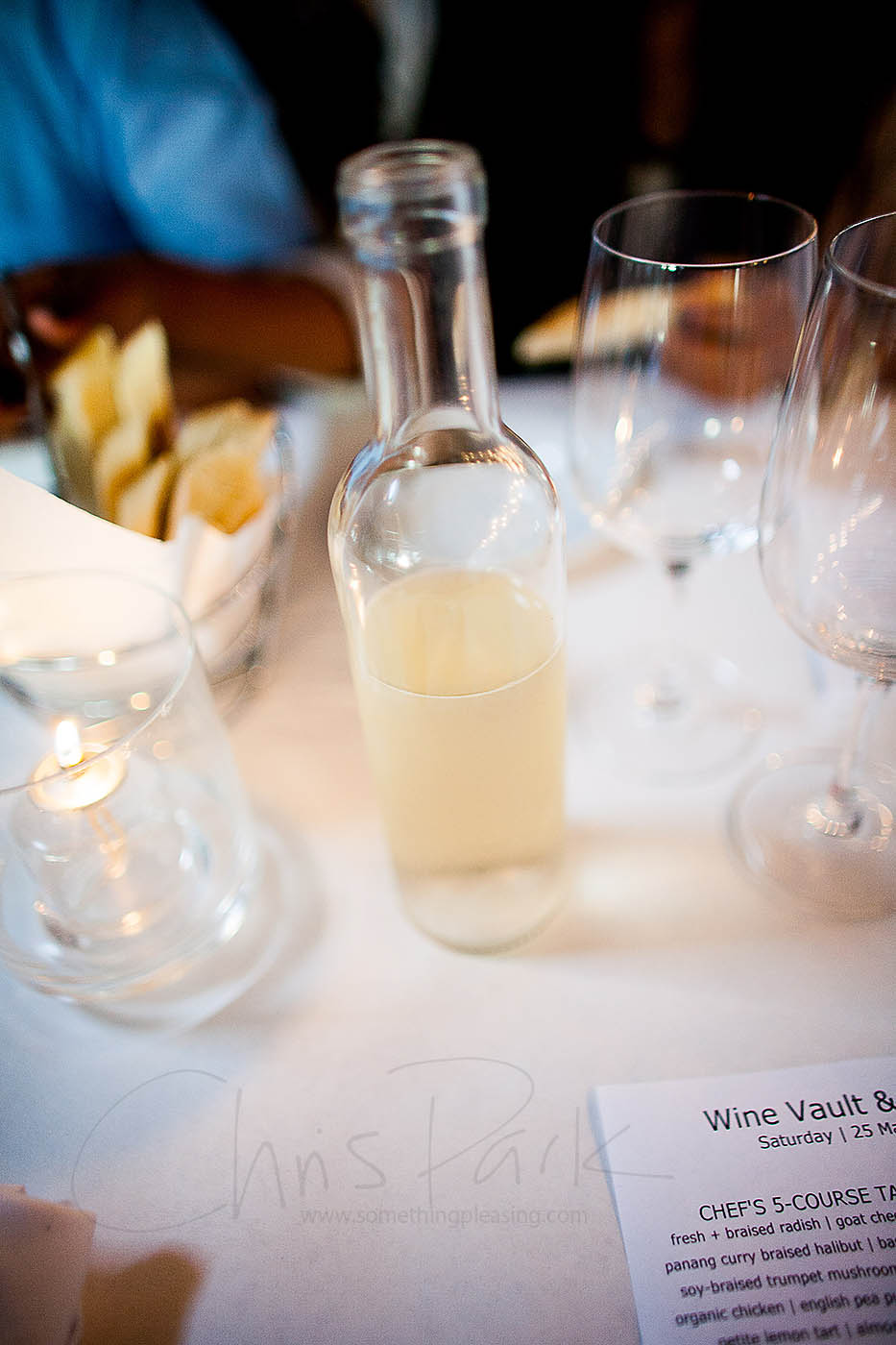 Saturday, 25 May 2013
Chef's 5-Course Tasting Menu ~$35 | Wine Pairing Flight ~$20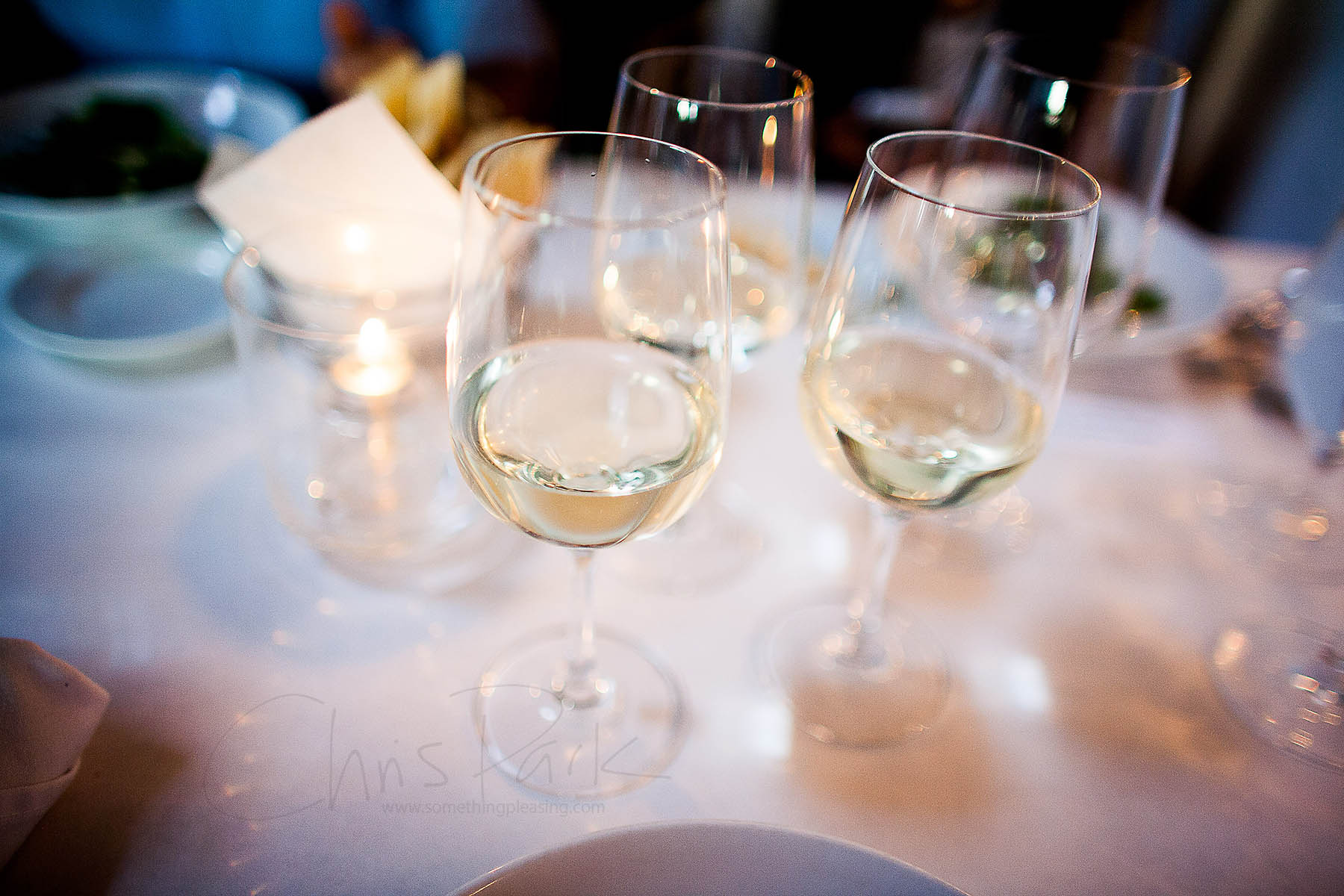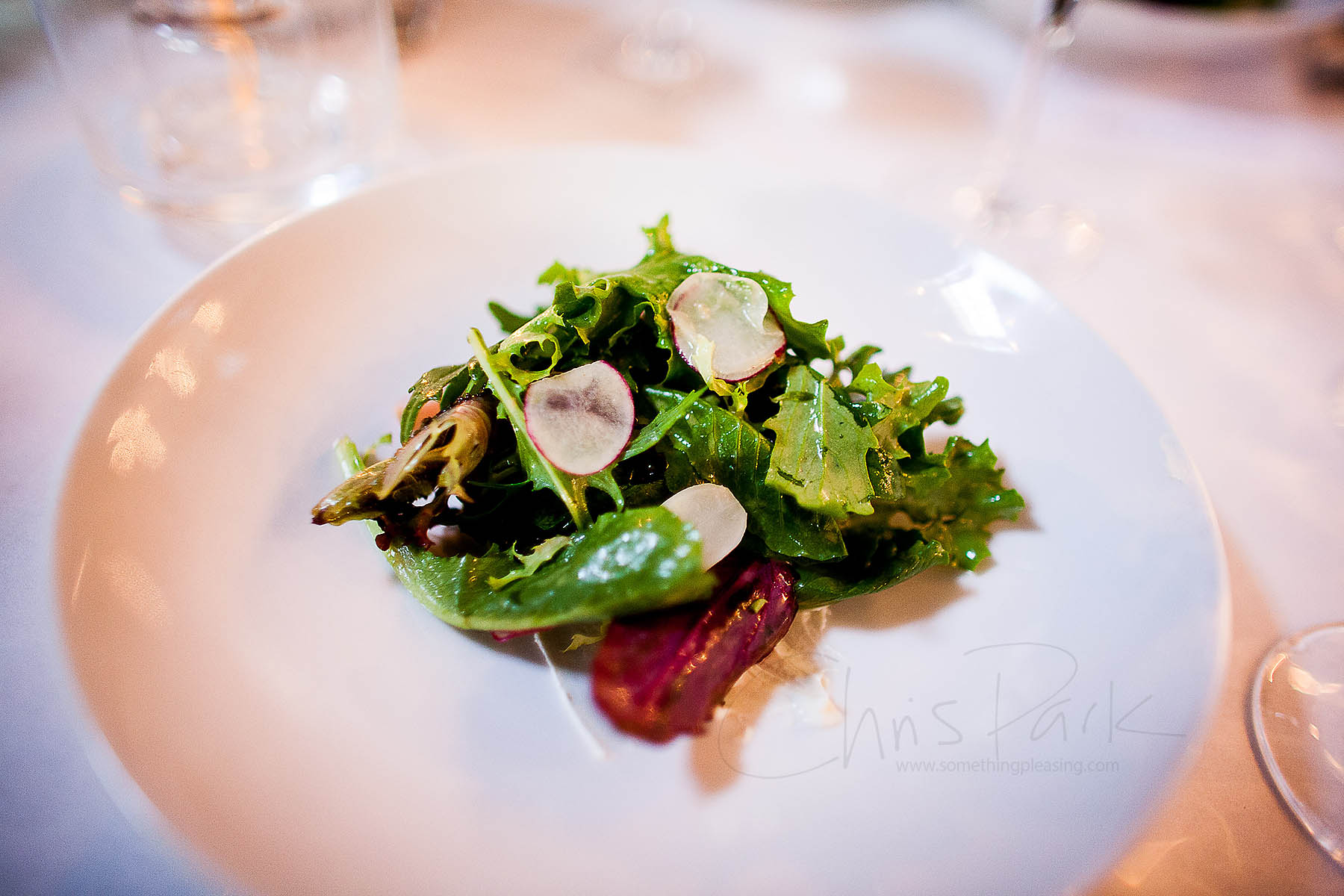 Fresh + Braised Baby Radish Combination | Goat Cheese | Honey Mustard Vinaigrette
2011 Bokisch Garnacha Blanca (3 oz. pour)
Salads are a curious thing in our age, though that's something I won't dive into right now. This one was almost an amuse bouche, whetting the appetite of diners, fresh and springy, and able to allow even non-salad lovers to be content with it though its not particularly amazing in any particular fashion. Perhaps more whetting was its pairing - light, bright, perfect; it allowed us to imagine how well the meal would soon come to collaborate.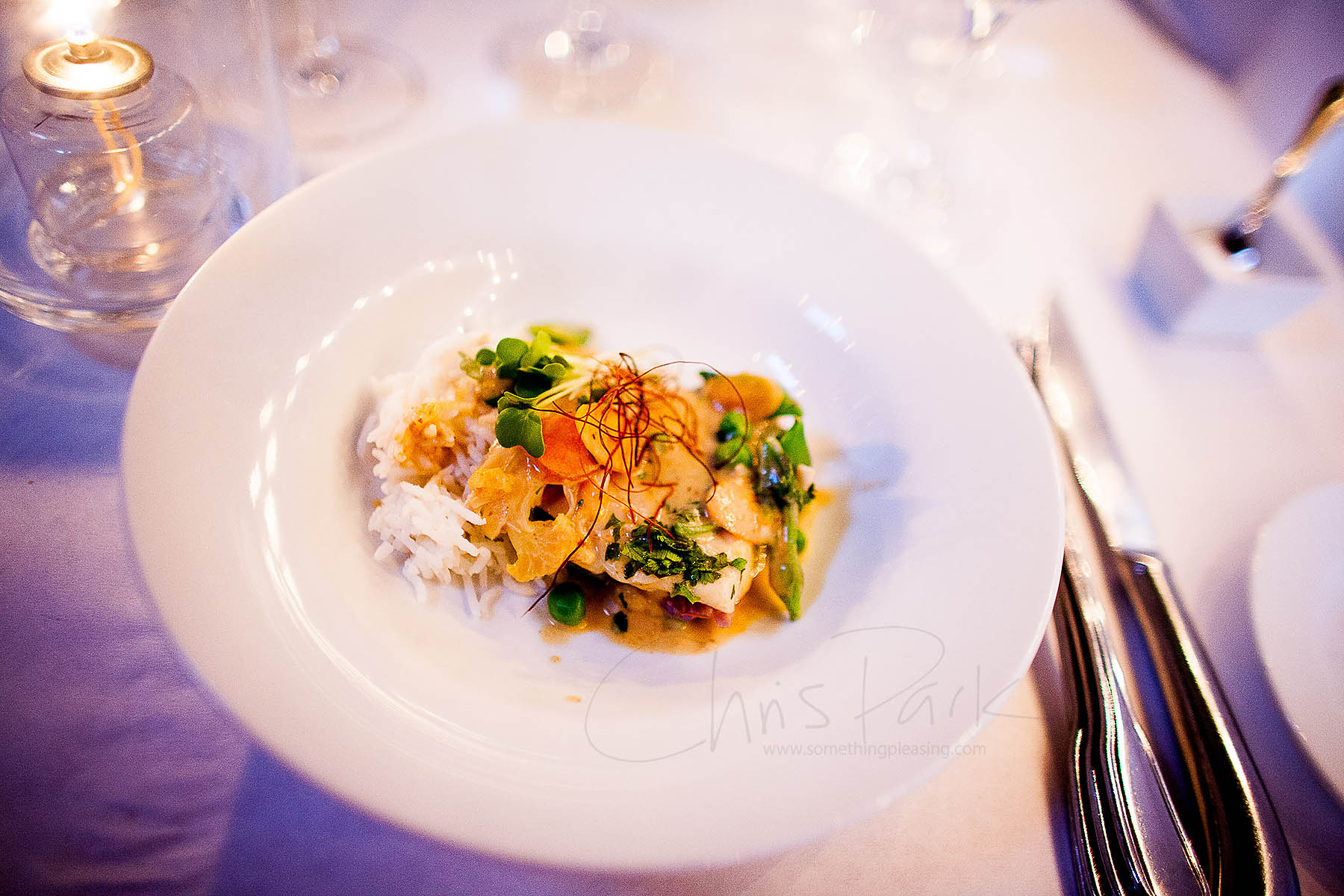 Panang Curry Braised Halibut | Basmati Rice | Lemon Yogurt | Sprouts
2011 Cass Viognier (3 oz. pour)
Though it made a likeable dish overall, fridged Thai leftovers generally do too. The curry was nice but the rice came a tad either undercooked or old; the wine pairing was strong, sweet, and flavorful. The saffron, though pretty looking, is fake (which is completely expected).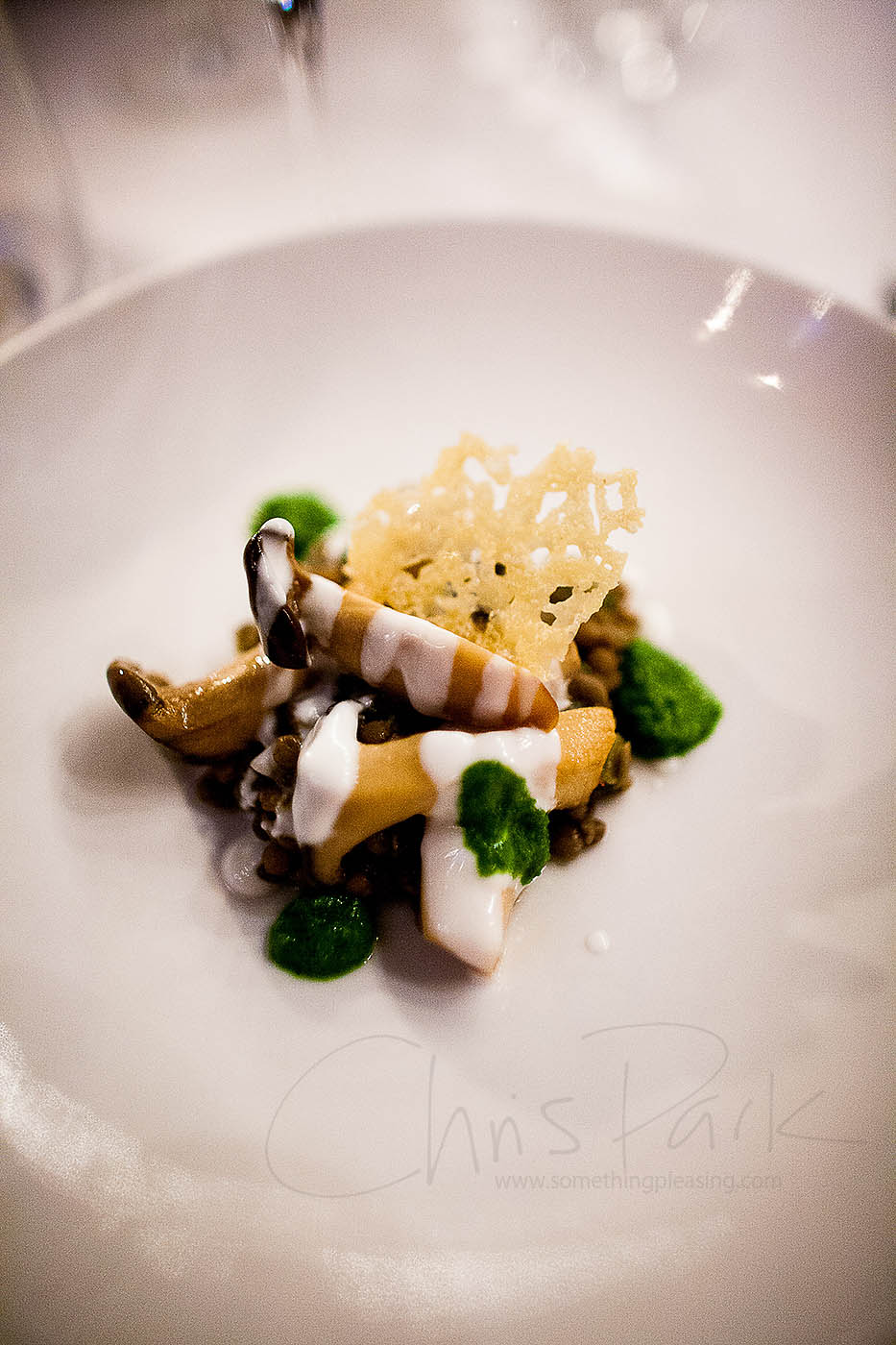 Soy-Braised King Trumpet Mushrooms | Lentil Ragout | Salsa Verde | Parmesan
2011 Siduri "Sonatera Vineyard" Pinot Noir (3 oz. pour)
Interesting. A lime-y salsa, very fragrant mushrooms, and a strange lentil portioning, lentils being something I typically don't enjoy anyway. There's a hint of something else too, perhaps watercress?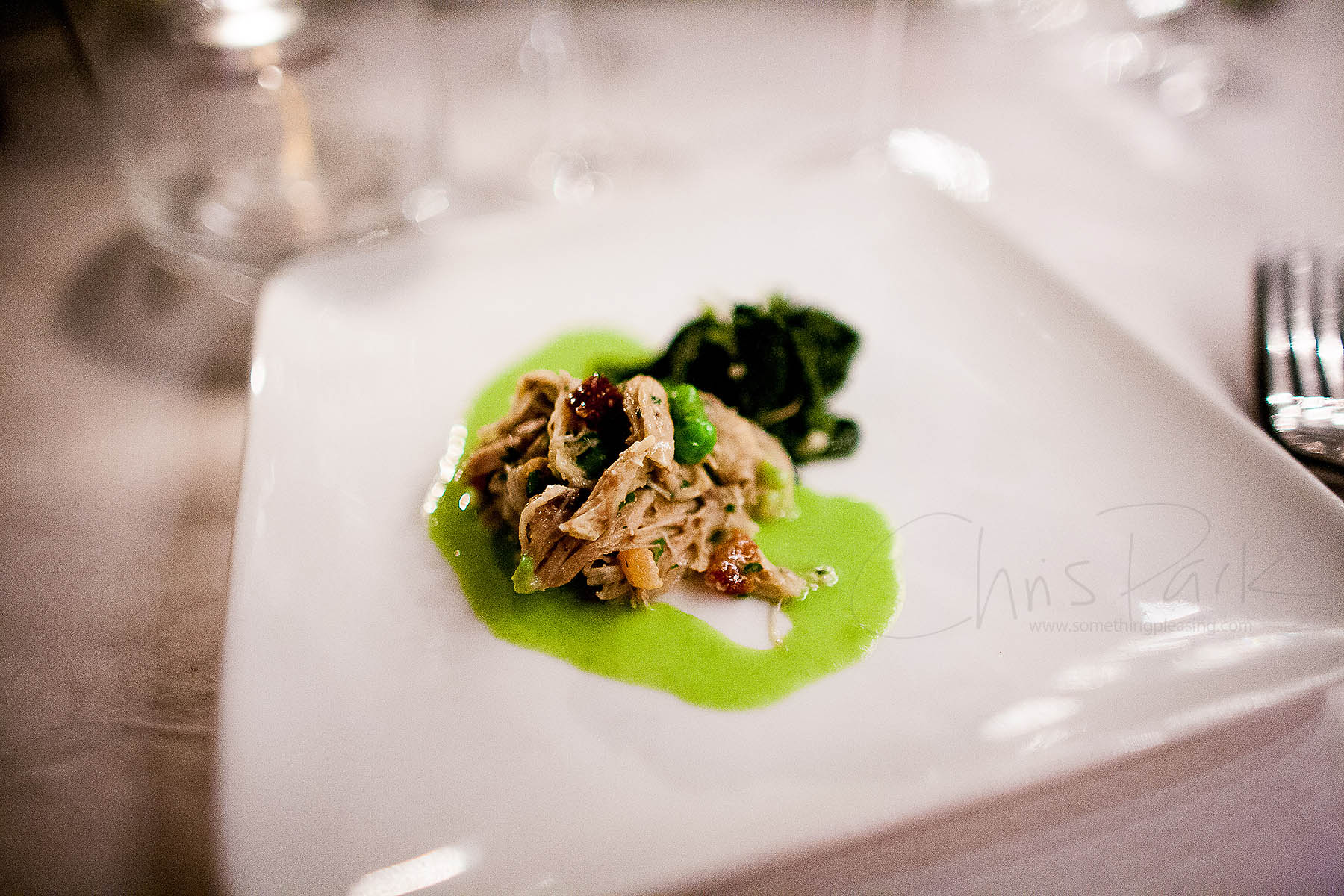 Sous-Vide Organic Chicken Breast | Green Garlic + English Pea Puree | Smoked Bacon | Braised Spinach
2010 Luca "Double Select" Syrah (3 oz. pour)
I found the braised spinach enjoyable and the pea puree not - it wasn't too flavorful.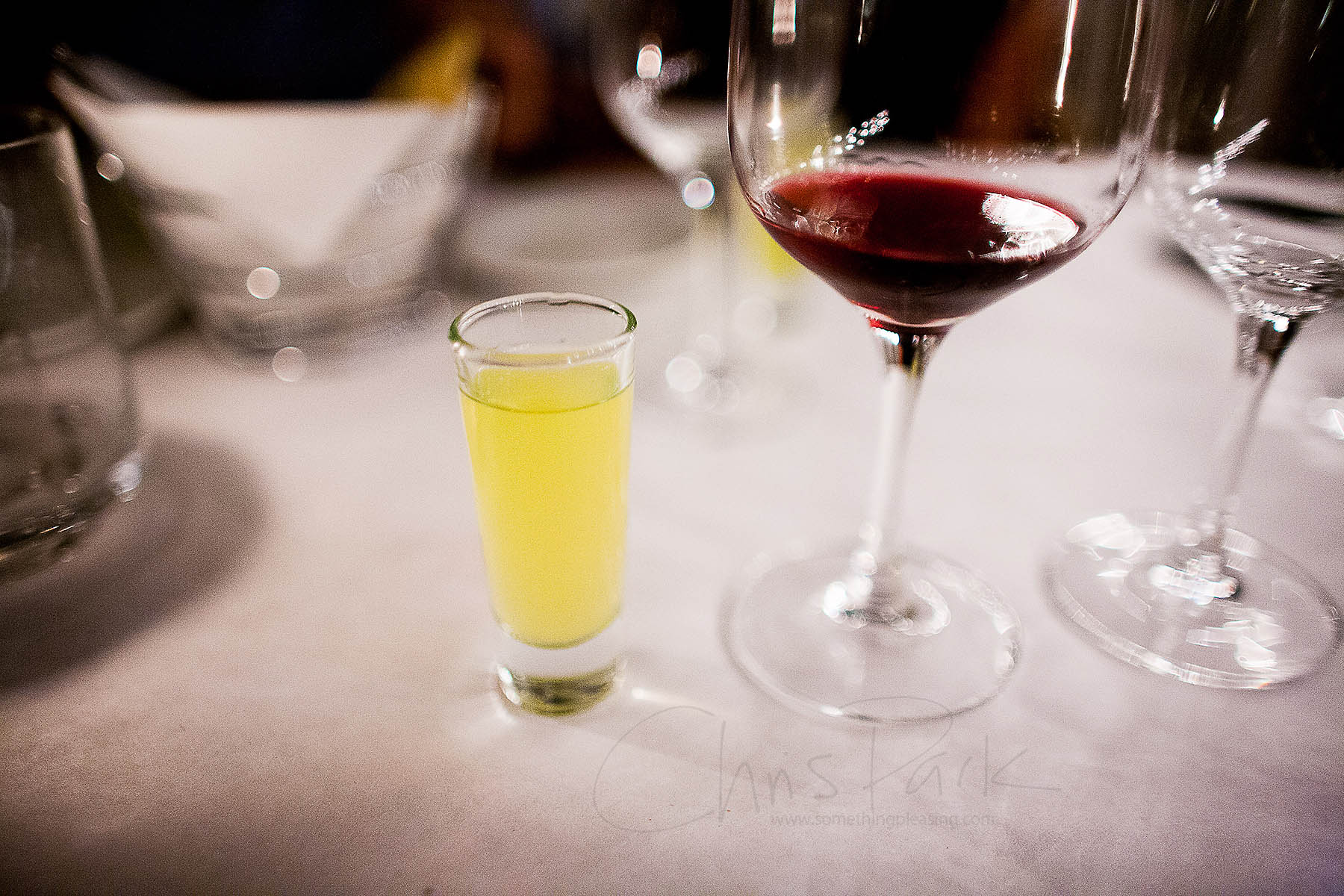 Gioia Luisa Lemoncello (1 oz. pour)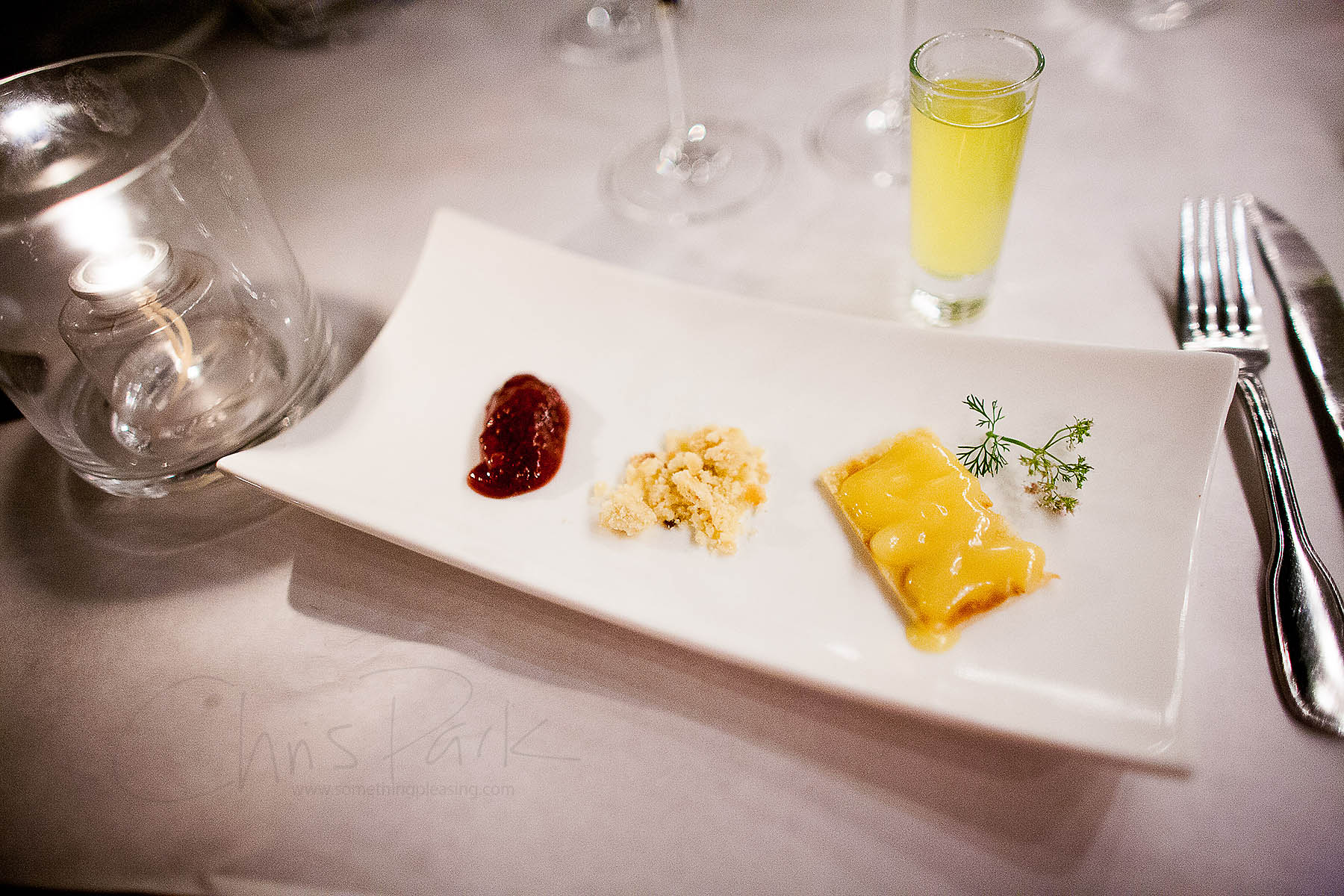 Petite Lemon Tart | Almond Crumble | Strawberry Preserves
I'm not entirely sure if this was meant to be a dessert or a dessert-appetizer. Though decent, it didn't feel...well, I think you can see it for yourself. As for the pairing, though I'm no expert on wines, I think it may have been some type of a mixed drink, and a tad strange at that, though I might see why they selected it for the course.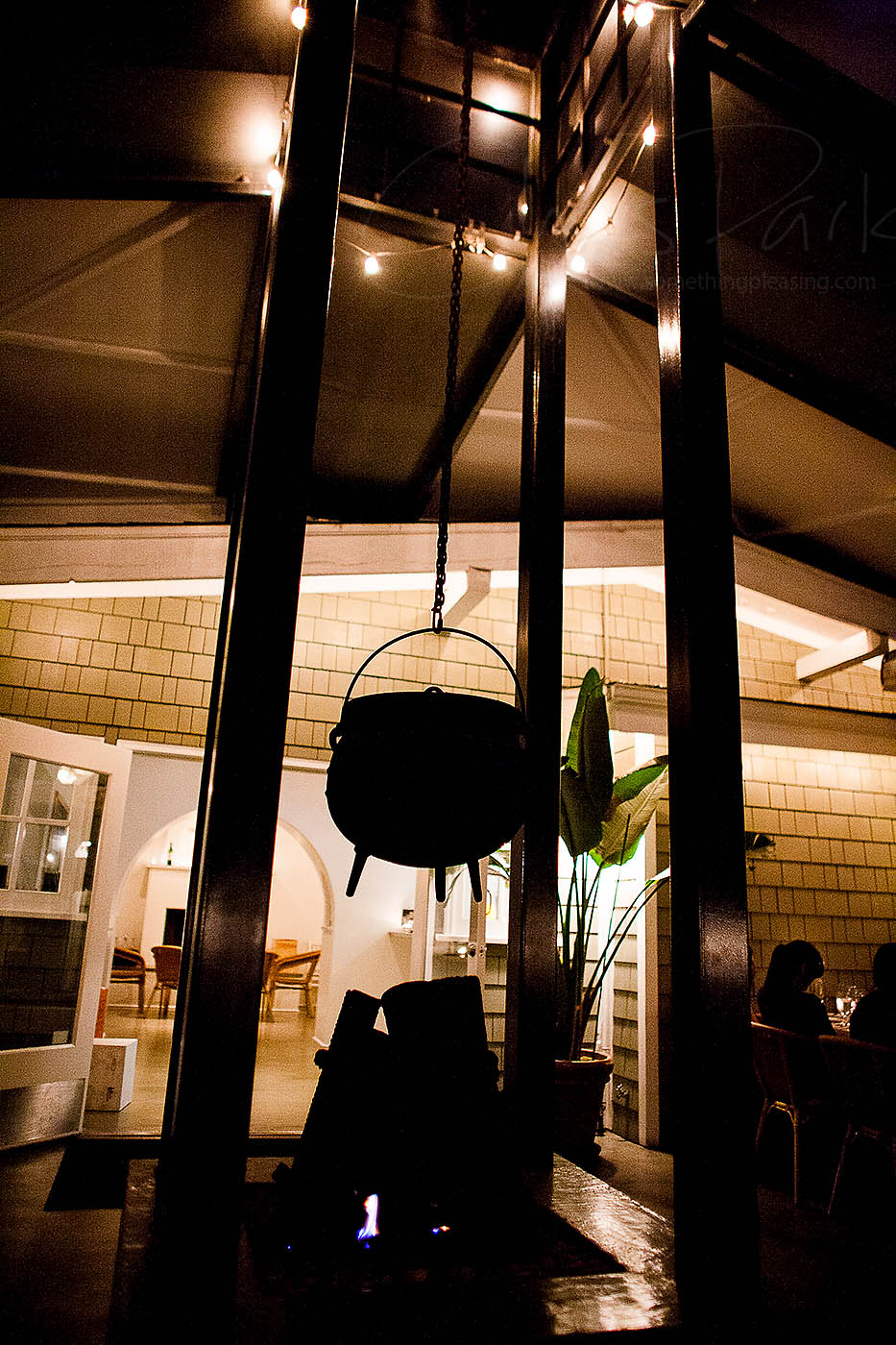 Despite the negative connotations on most of the course descriptions, the restaurant is fun and the food good, though obviously by no stretch amazing. It's not particularly the freshest or most exotic ingredients, but the preparation is admirable and somewhat fun to look at. There really isn't another restaurant like this offering wine pairings per course at this price range, nor are there many 5 course dinners in this price range period; in case I have yet to mention it, in addition to being cost effective, the pairings really were fairly spot on.
It's not the most filling dinner, meaning those with weaker tolerances might very well find themselves tipsy at the end of the meal without extra food to compensate, the entire thing being of course pre-set - hardly a problem a $5 burrito next door can't solve. Flavorful, fun, and not too exotic though nothing ordinary, the unique to San Diego Wine Vault makes the concept of wine pairings and a constantly rotating zero-choice menu exciting foodie play of a lottery.