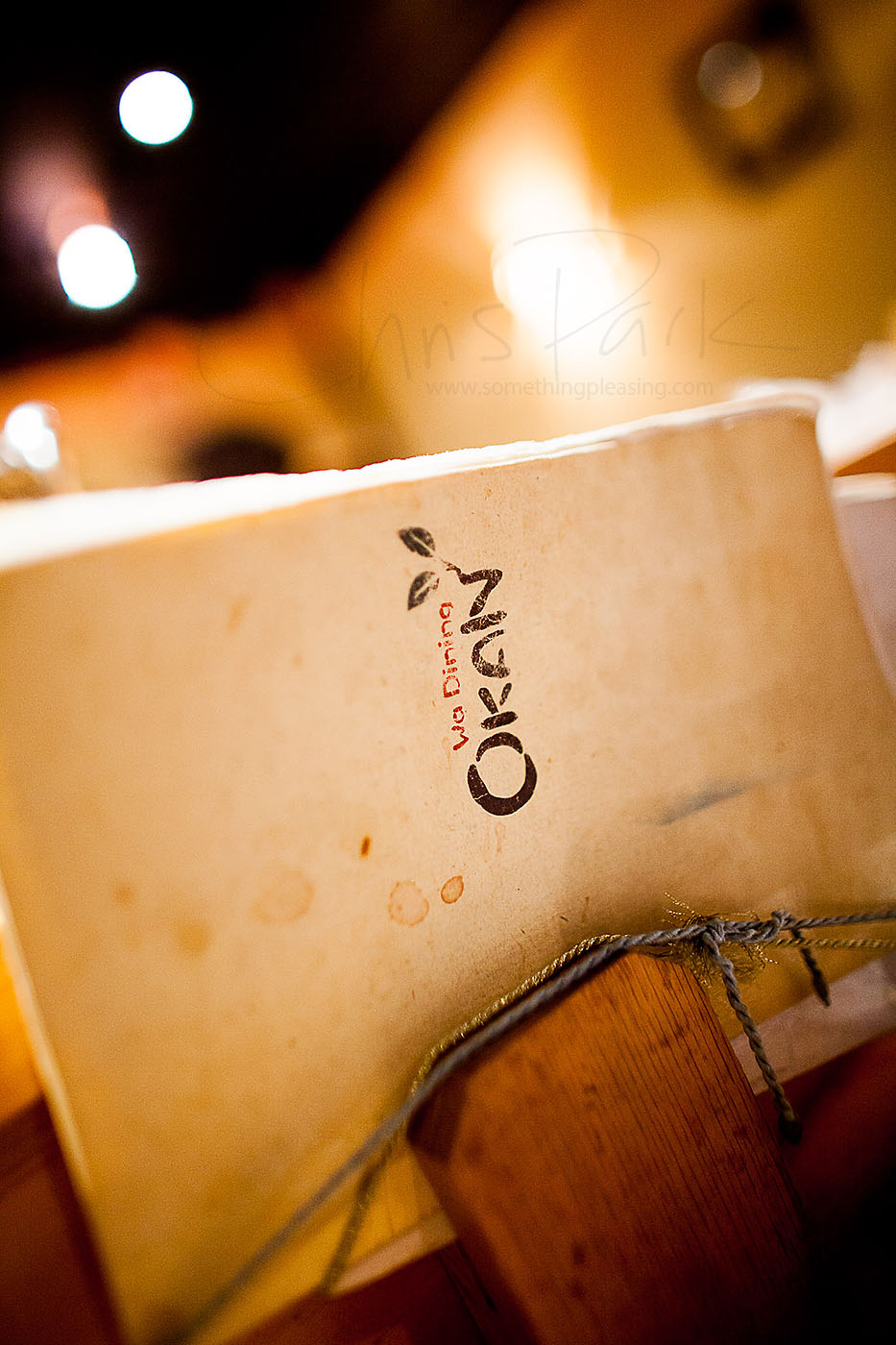 I made a late 8:20pm reservation and showed up late too, a nice 8:34, and yes I called to let them know. The reception was a bit cold or off - perhaps they were just about to give up our spot (or already had, since we got seated at the bar). All who walked in without one had an 30 minute estimated wait time in the rather small restaurant.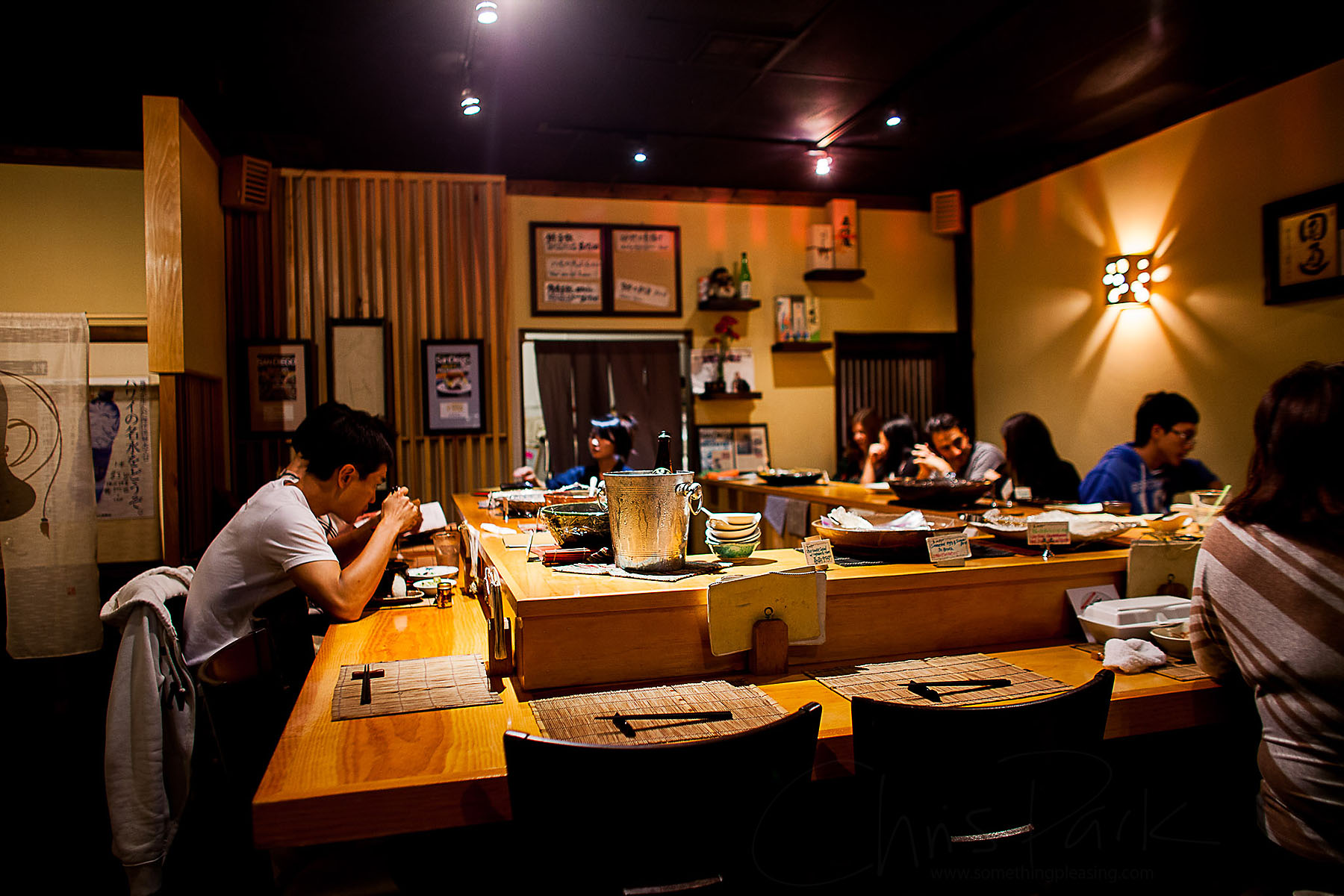 It is super cute though, transformative in a way and almost not belonging in the plaza it sits in. Black ceiling tile, a wooden door frame and bar, tables and cabinets and everything else blocking out the cheap older metals of the walls and windows. We largely ordered off Yelp's most mentioned items, which really I've come to realize lately is very hit or miss.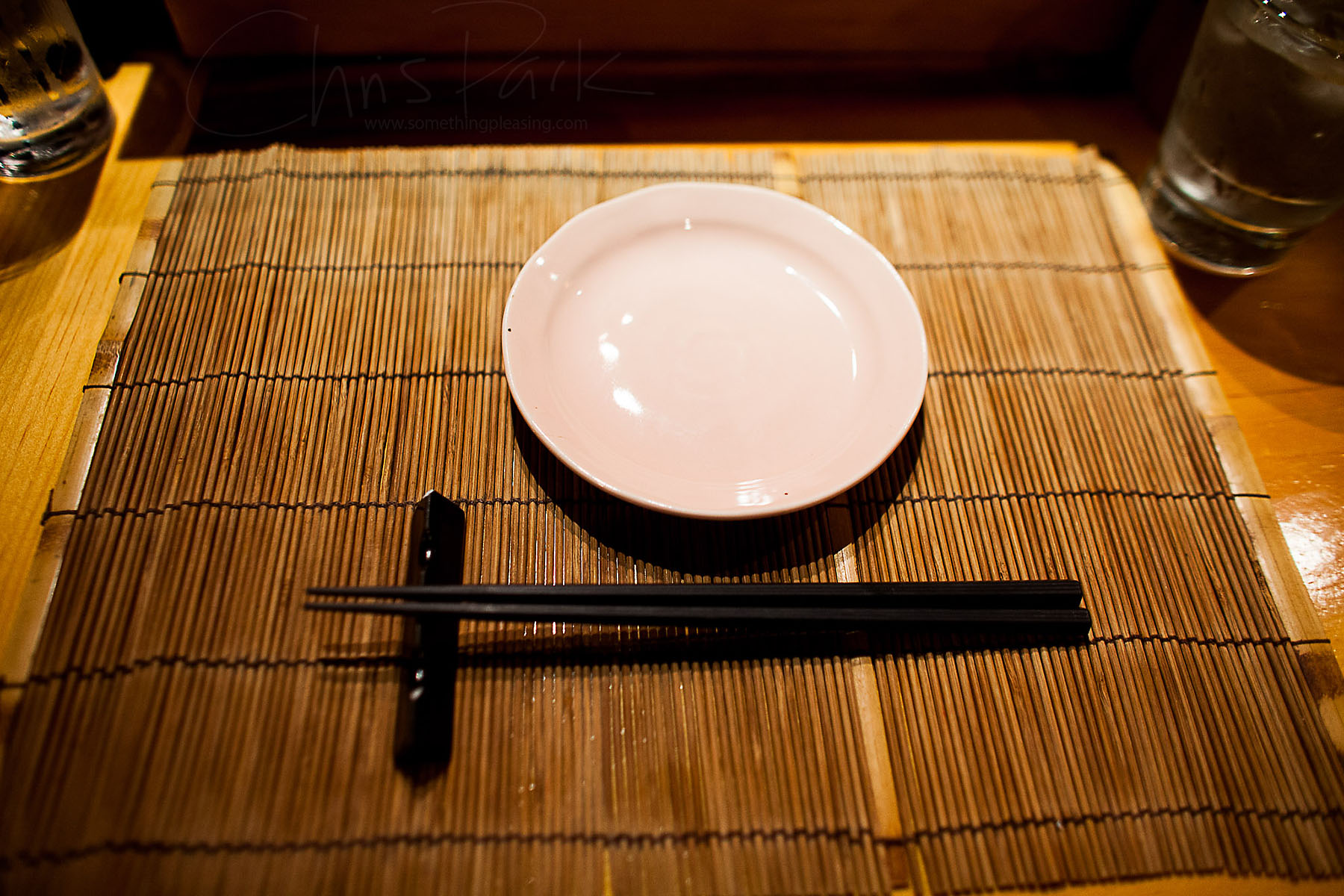 Boiled Asparagus Mixed w/ Miso Vinegar and Sesame $3.75
We ordered a tapas - the asparagus, which never really came out. By the end of the meal we just asked for it to be cancelled. Cool story bro.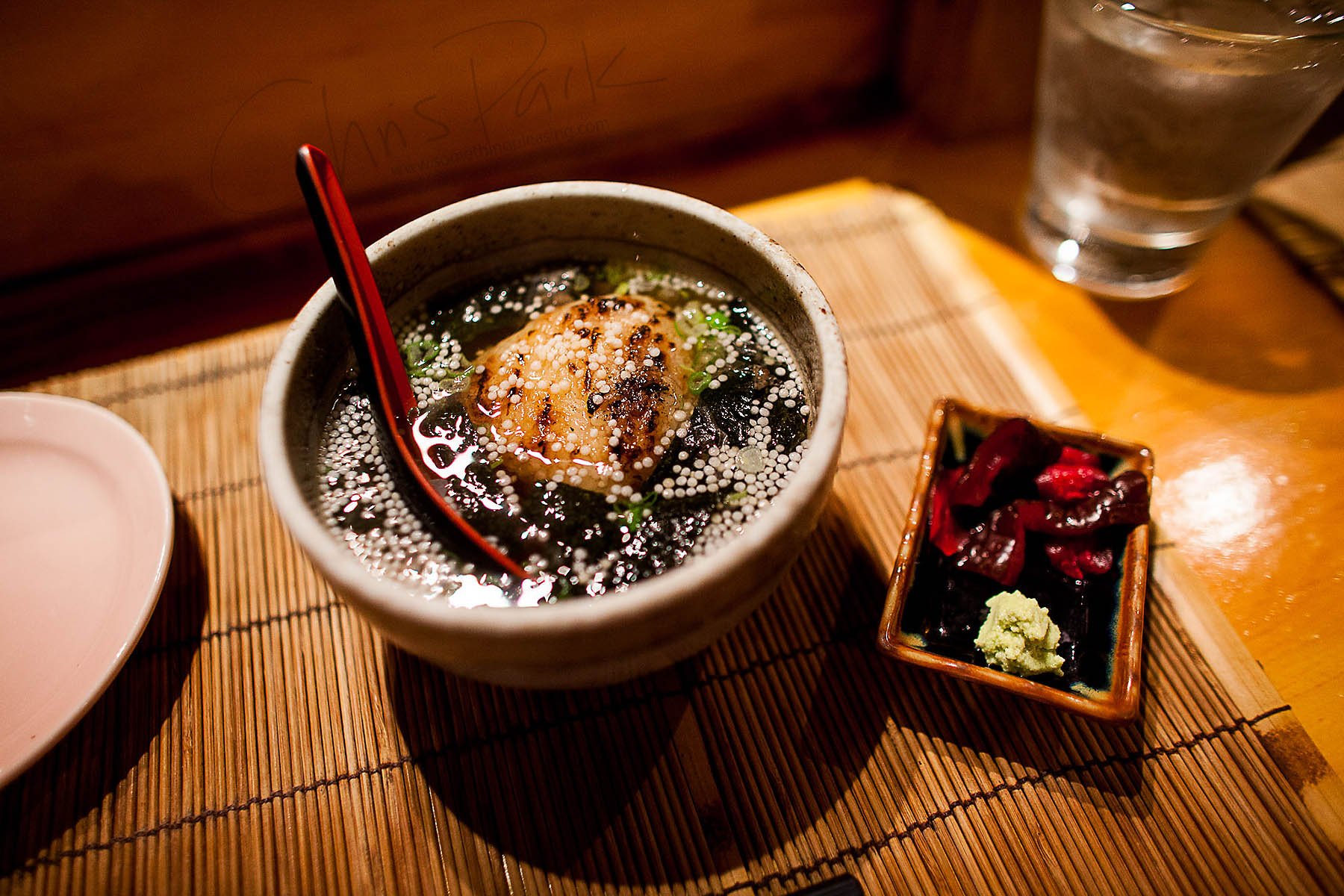 Rice Ball in Broth (Salmon) $6.00
This bowl came out very brothy - like a soup, warm and soothing. But considering this is supposed to be a closing dish, it makes an interesting...starter. We ordered the majority of our courses all at the same time, so the progression was a fair, unexpected journey.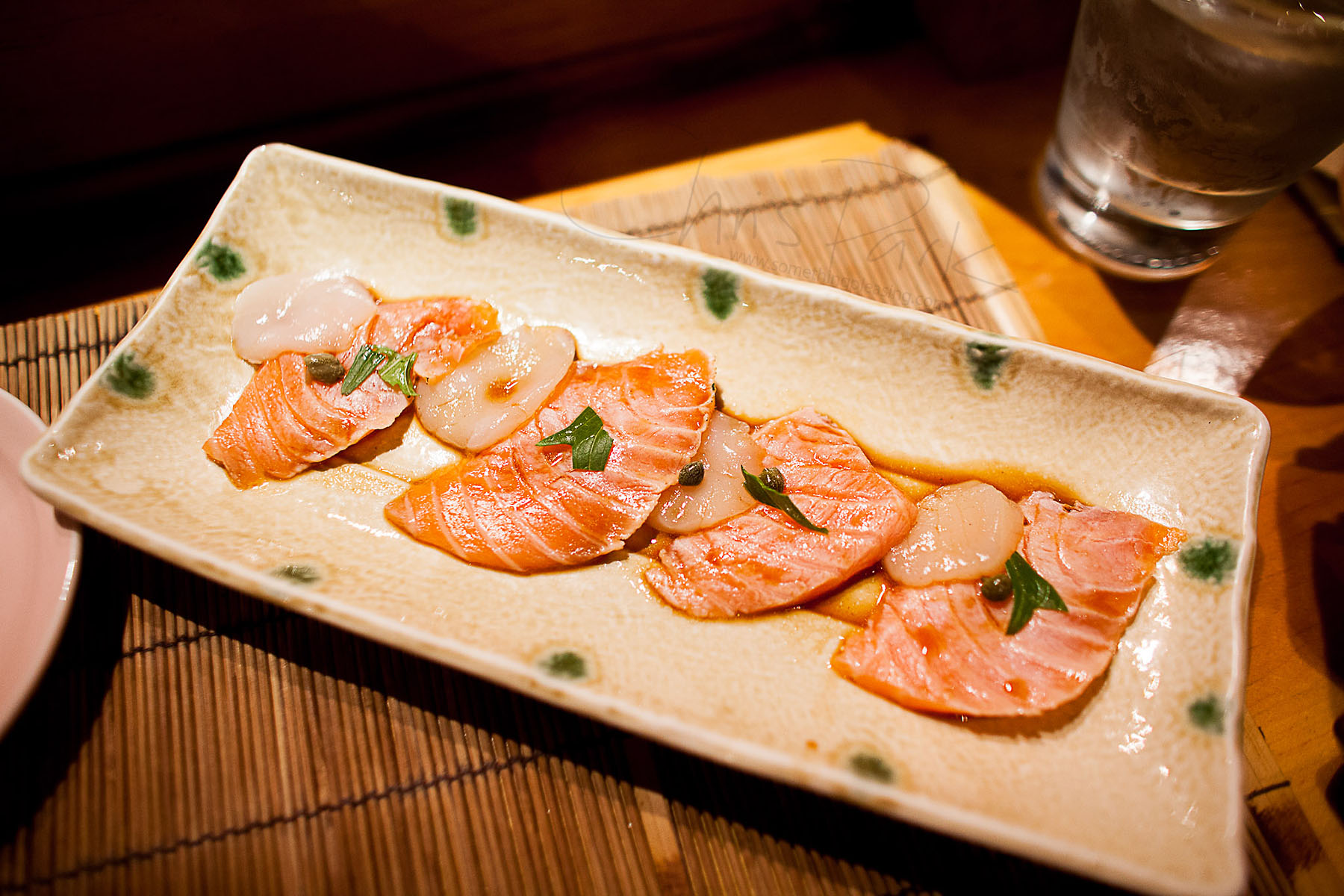 Salmon and Scallop Carpaccio $8.50
Interesting. The scallops were a tad thick for a carpaccio and a bit on the sweet side too, though just in the smallest of ways; the salmon was slightly seared, the little bead on top
something pickled. Again, course progression was a bit off, sashimi a strange feeling and transition between soup and steak - a desolation of Michellin.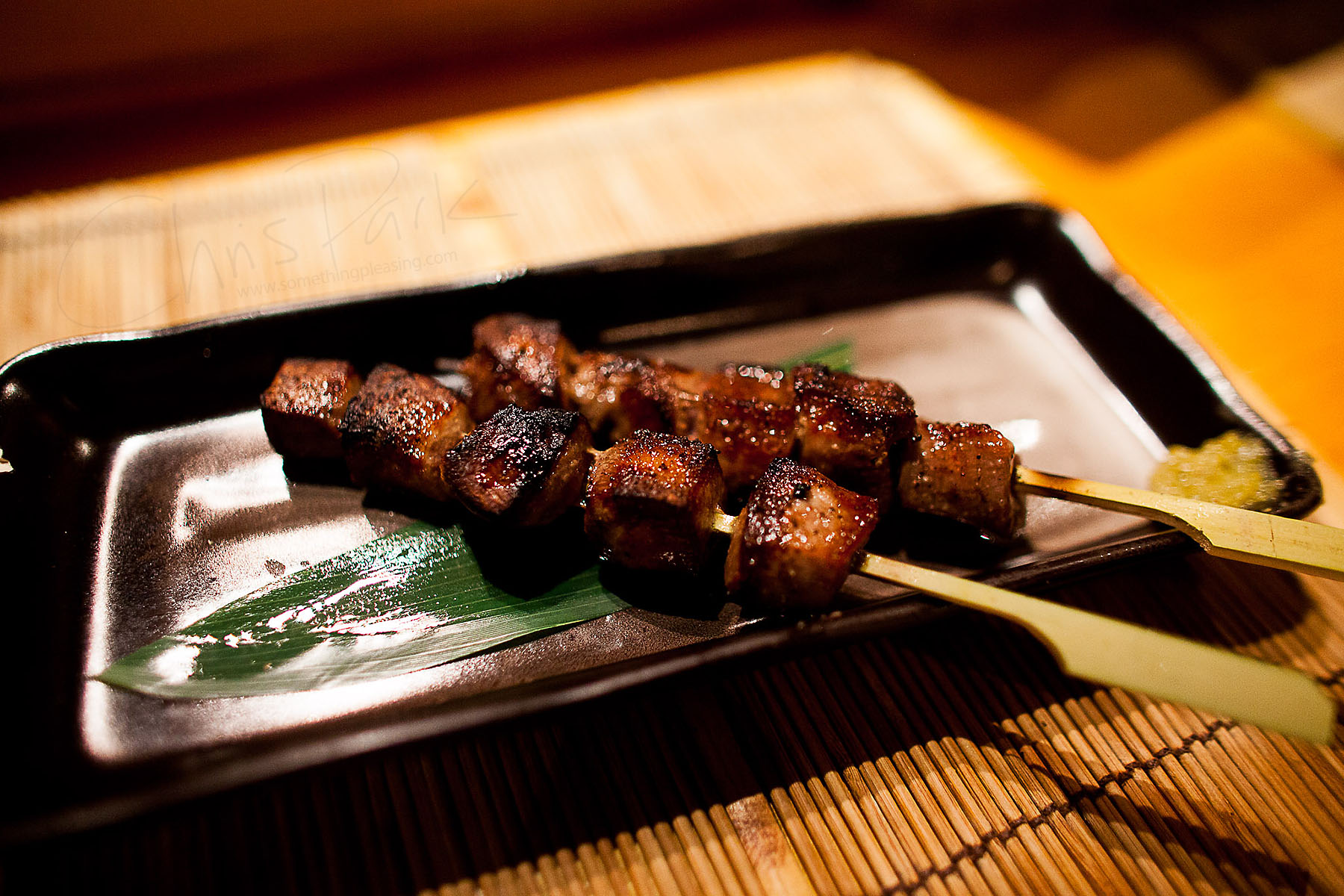 Beef Tongue Steak (2 Skewers) $7.00
It's a bit odd that the two skewers arrive differently cooked, one (the right) notably more rare than the other. But it is nonethless tasty, a decent spice and lime salt sauce (just a guess) to accompany, a good flavoring but easily overpowering the taste of the meat should you indulge, forcing you to choose to go there and back again.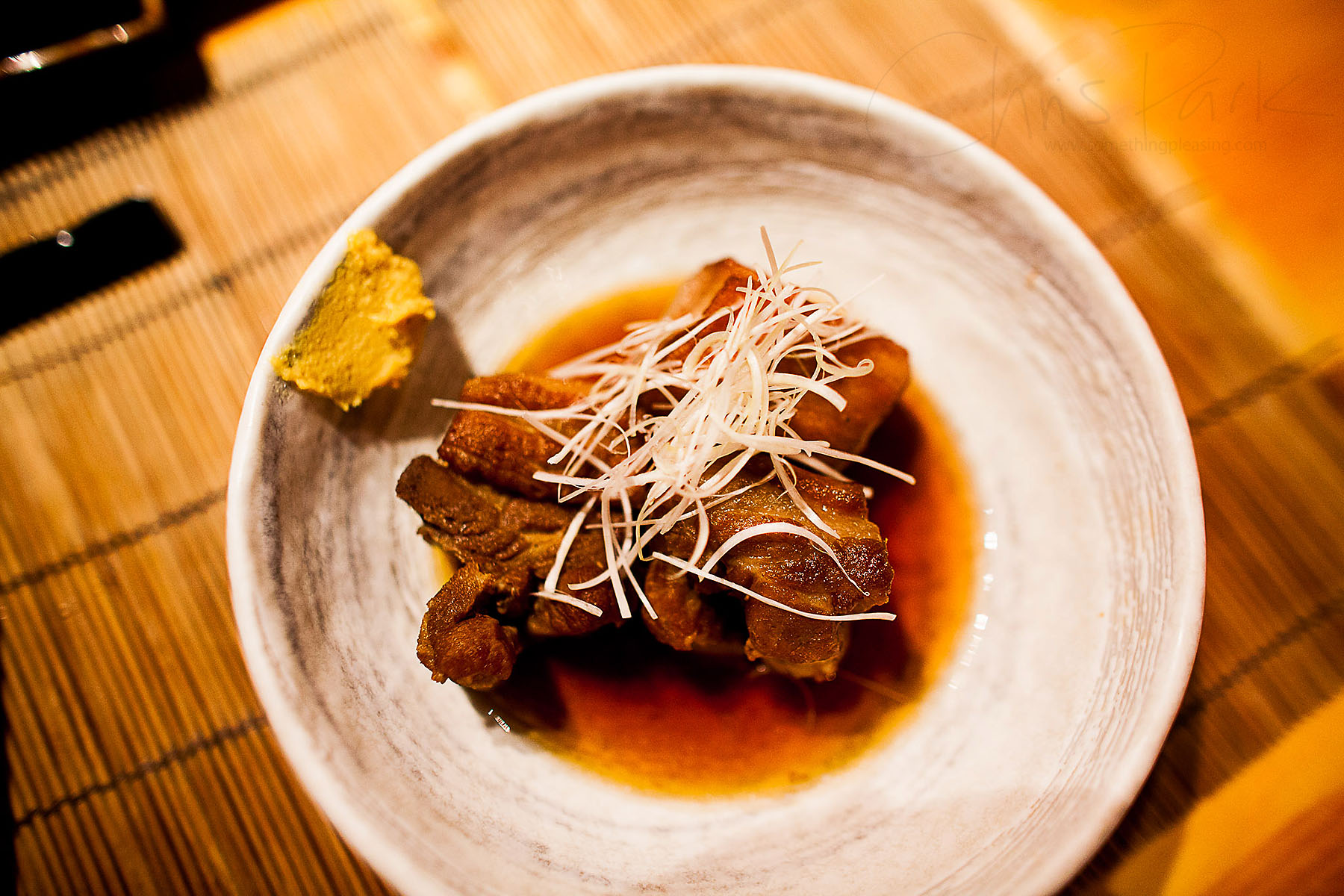 Braised Pork Nagasaki style $8.50
Braised in perhaps the best way possible: cutable by mere chopstick! It was yummy but inconsistent, some pieces meatier and others fat-bloated to the point of cutting in a jagged and jiggly way, the blob then just floating admirably in your mouth. The yellow sauce is mustard related and easily appreciable, a fellowship in the mouth.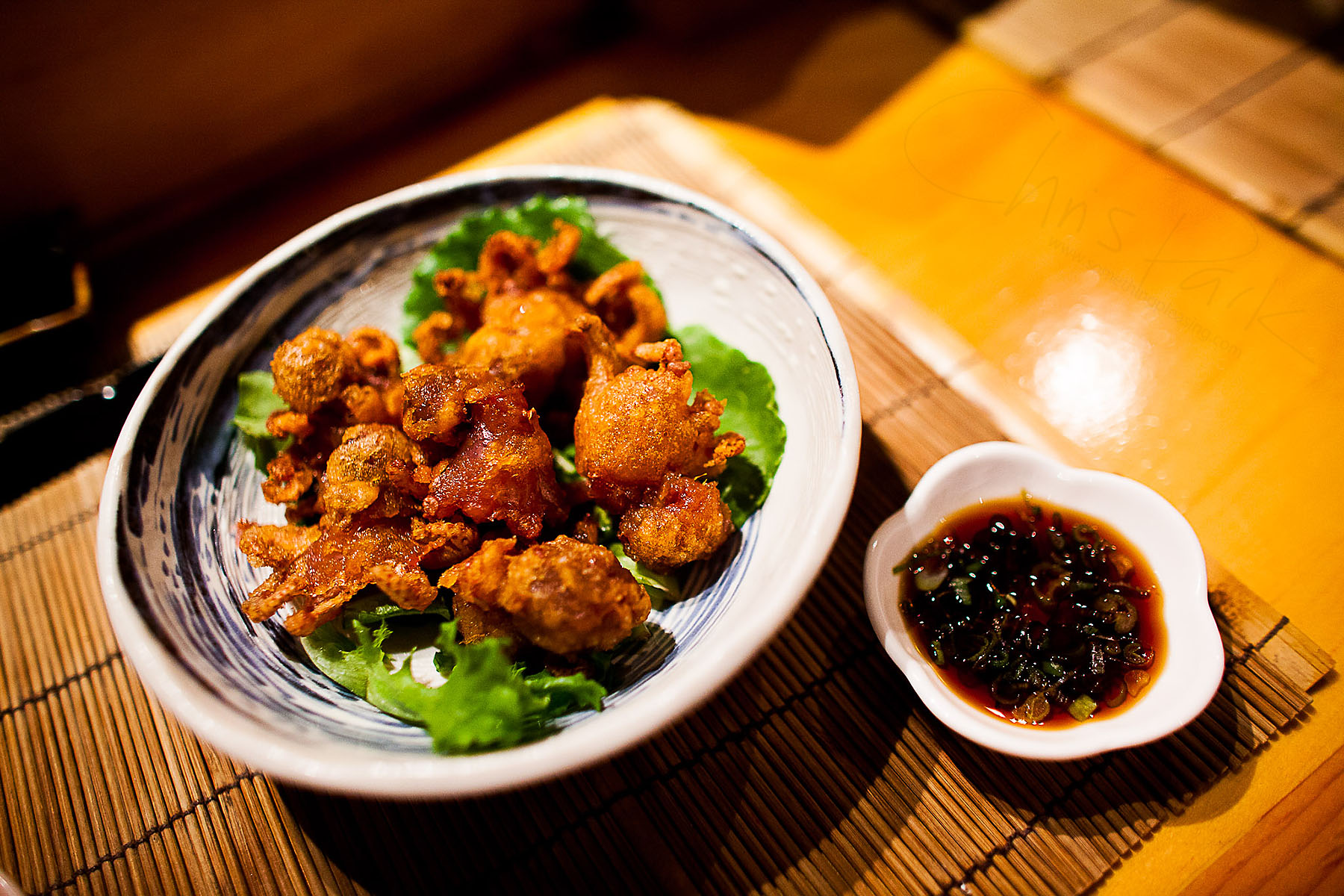 Seasoned Deep Fried Baby Octopus $5.75
Ordered mainly because the pictures in the menu are awesome - basically a whole octopus! The morsels are babies, tasty, and carrying a slight (but only just) texture of chewiness, the indicator of a particularly small lack of supreme freshness. It's a delicate item to cook, some ponzu sauce perhaps added, fried and tasty. The greens on the dish were all happily consumed as well, the contrasting textures like two towers.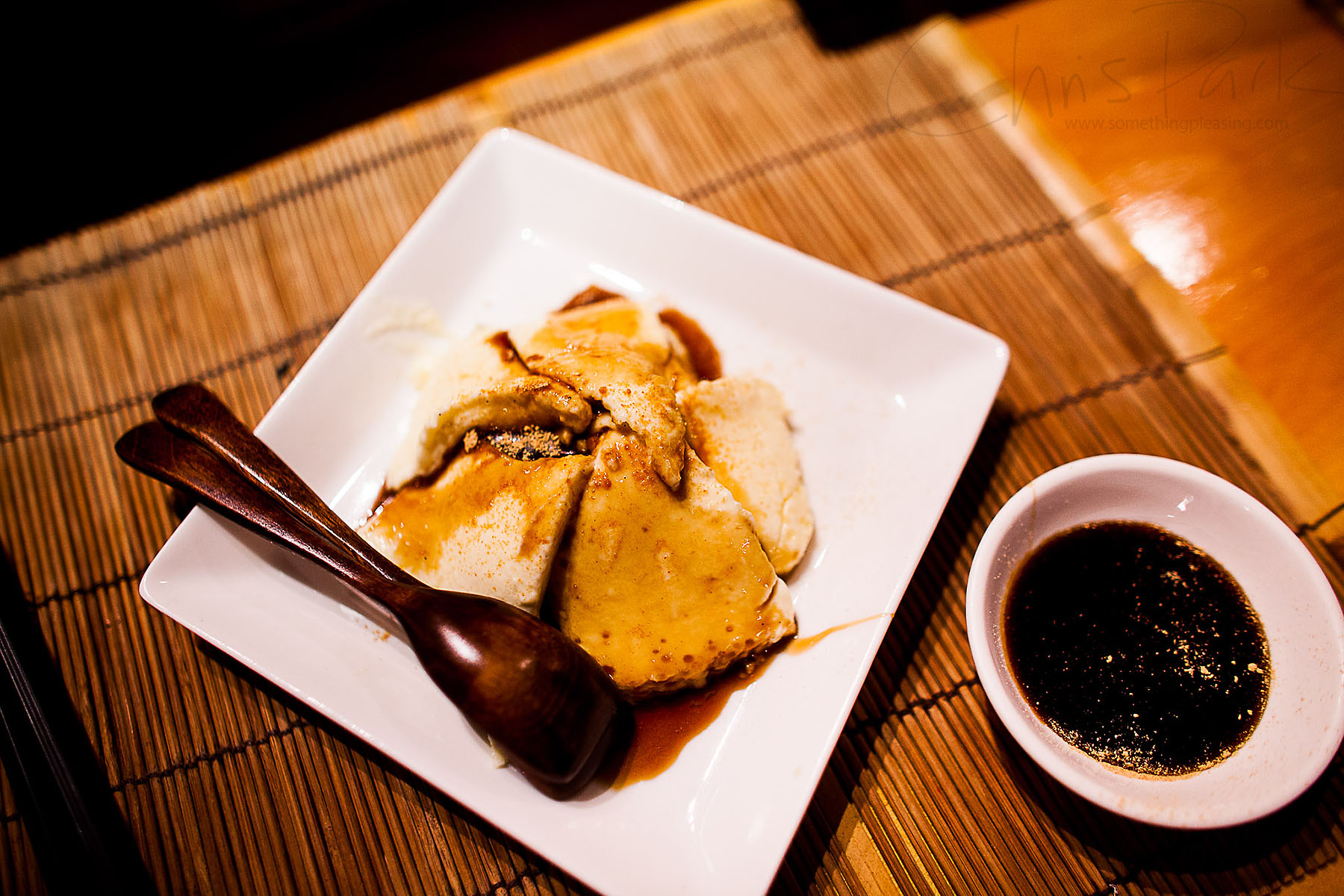 Pudding with Black Honey $4.00
To my displeasure, the black honey was...honey-like. Hah, my fault? But to its credit, it was a bit sweeter and darker, allowing me to somewhat appreciate it all. The pudding fell apart nicely, tasted good, and the dessert overall well-made. It's nice to be served dessert last, a return of order, even if I forced it.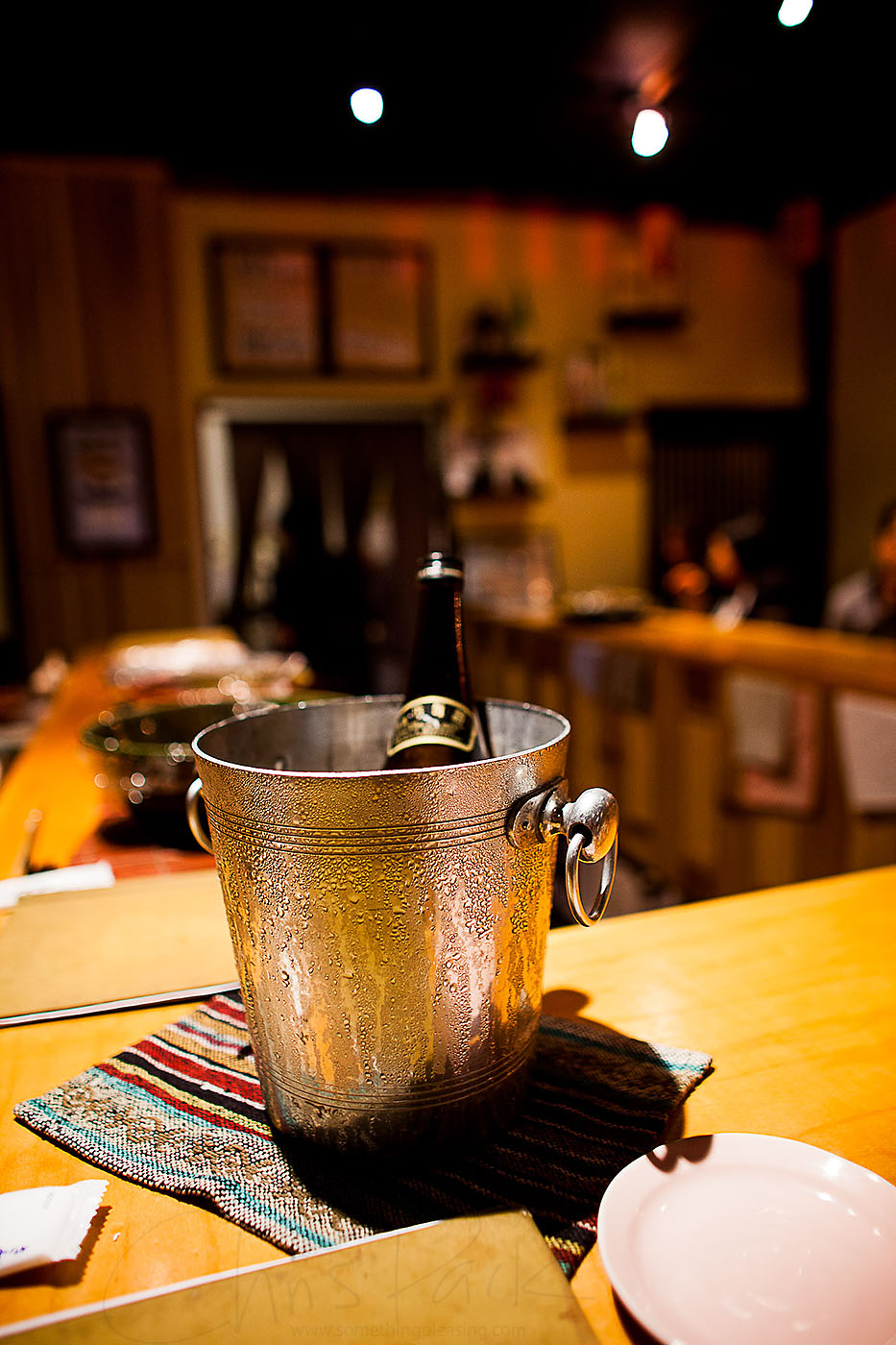 Summing it all up, I'd say that the meal was decent. The ingredients aren't all the best, and the cooking though imperfect is relatively tasty; if they could fix up their service and perhaps add a dash of culinary sense, this could be quite the pleasant Japanese authentic. I'm a kid at heart who at home could start dinner with ice cream and be all too more merry, but if the appetizers continue to come out at the end and the closers as a starter, I can't exactly recommend this to everyone.