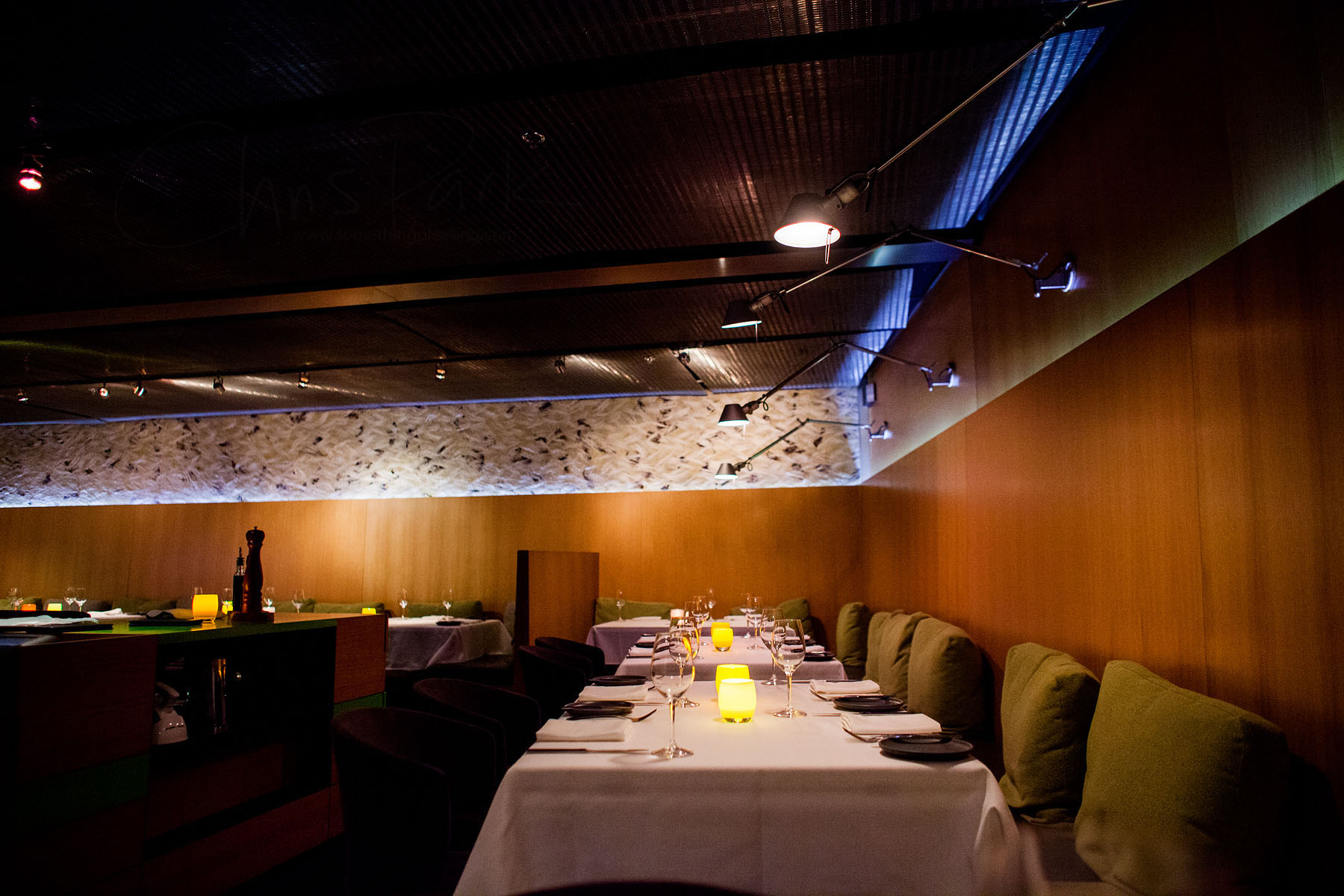 Seating tonight was a lucky one: right next to the window. Unfortunately, it matters less during winter dinnertimes as the sun has long since set and all you see from this section out the window is darkness. I can attest though that during the summers, dinner here would be rather marvelous - the kind of Southern California dinner you see in the movies.
One oddity is the bathroom situation: the women's is on the same floor, but the men's a flight up. Otherwise, you're set to enjoy the casual luxury downtown La Jolla has to offer.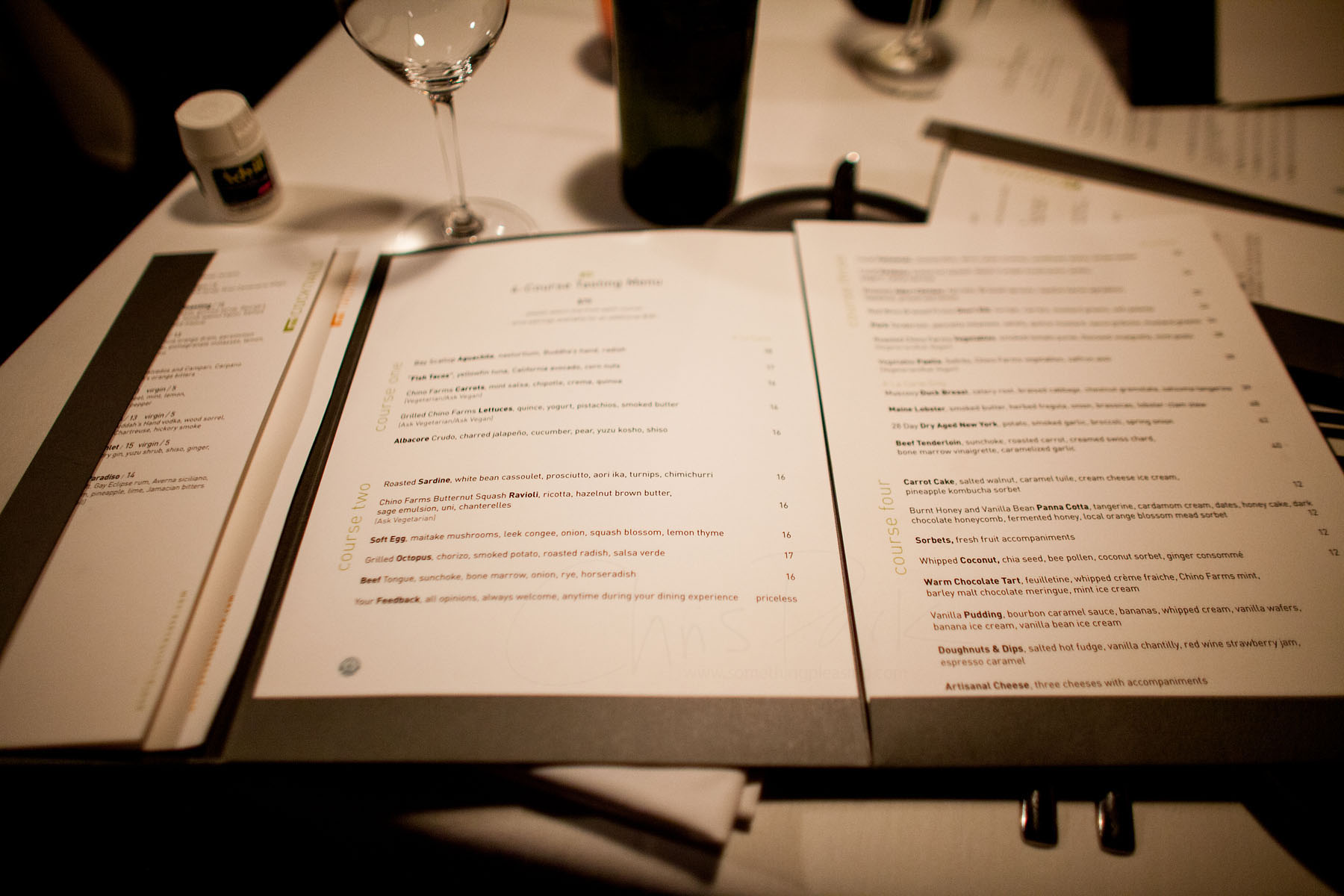 Presentation of the menus. Options range from a four course tasting to a la carte, and I believe a longer 8-course meal priced at $130. We elected the four-course with a la carte additions; the menu, too, was interesting and a pleasure to look through.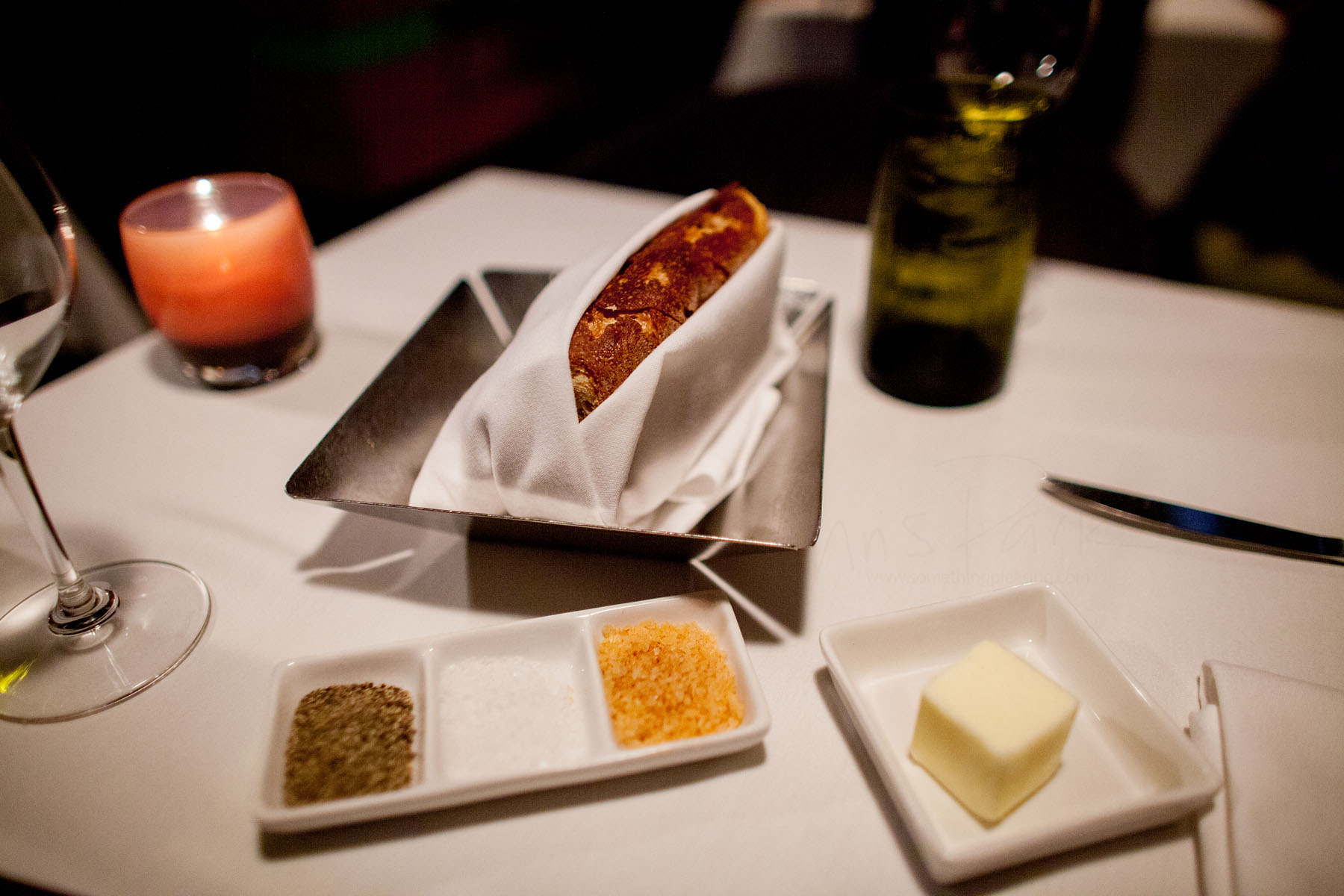 Bread, accompanied by pepper, sea salt, spiced sea salt. The assortment was good, though the spiced sea salt was actually a bit overpowering; my favorite was actually the pepper. Decent bread, too.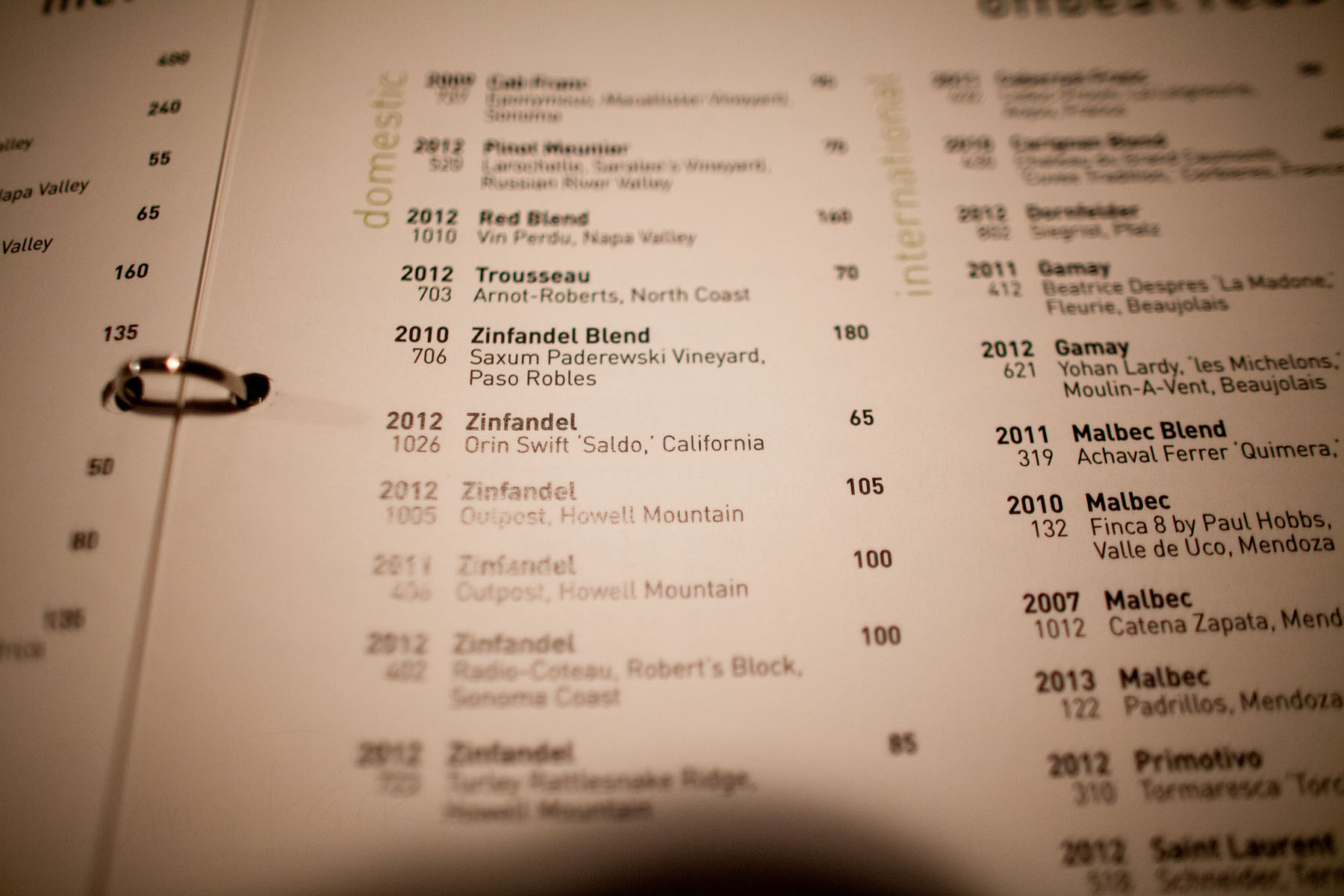 Zinfandel: Orin Swift 'Saldo', California, 2012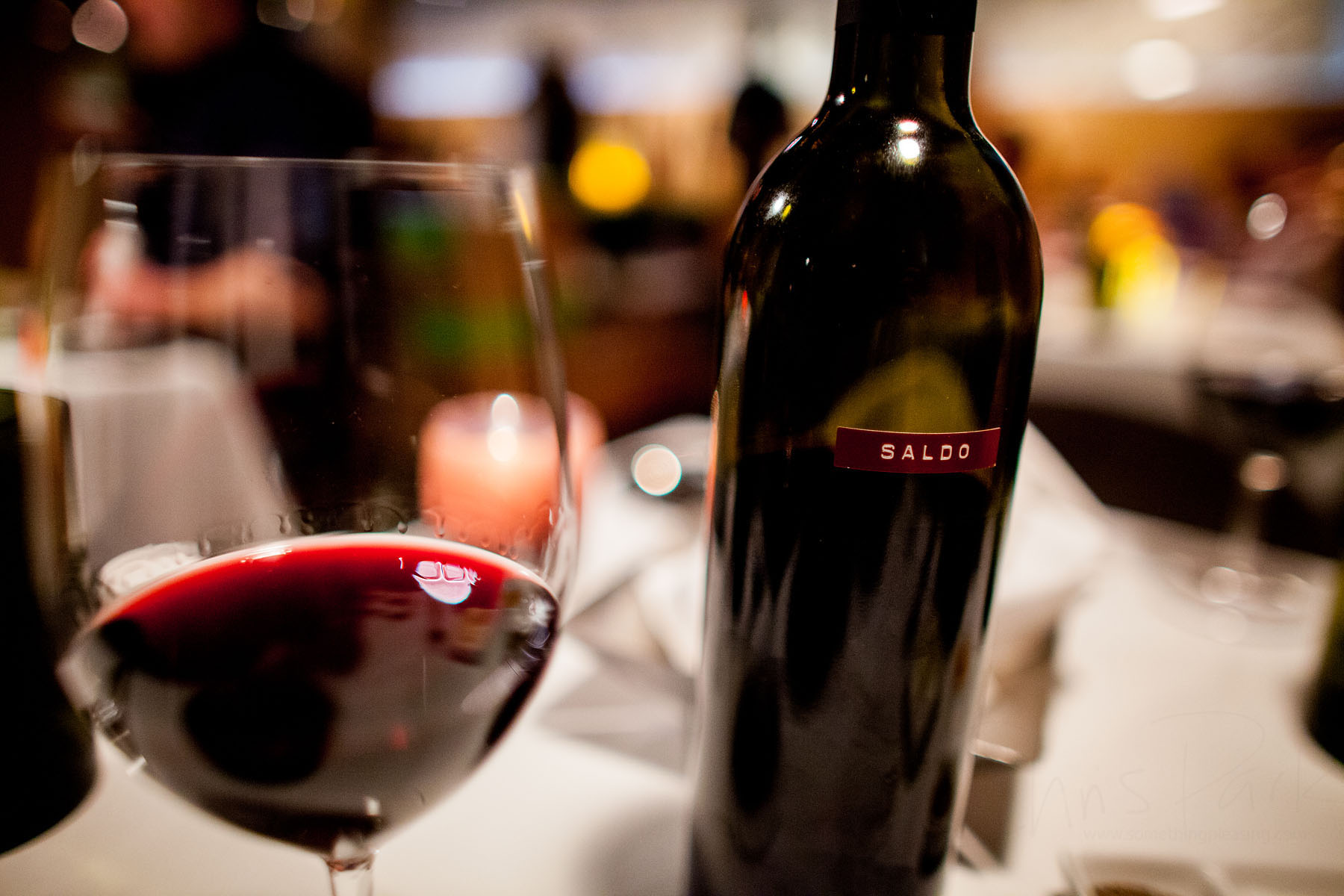 Saldo. It's an excellent wine bottled in a relatively nondescript glass, something that may not as a result sell too well in the public marketplace. It's delicious on first taste, opens up as you drink it, and very warm to the heart and body. Fruity, bodied, and not bitter at all, it made a fine accompaniment to the meal and something I would happily buy for home, if only I could find it.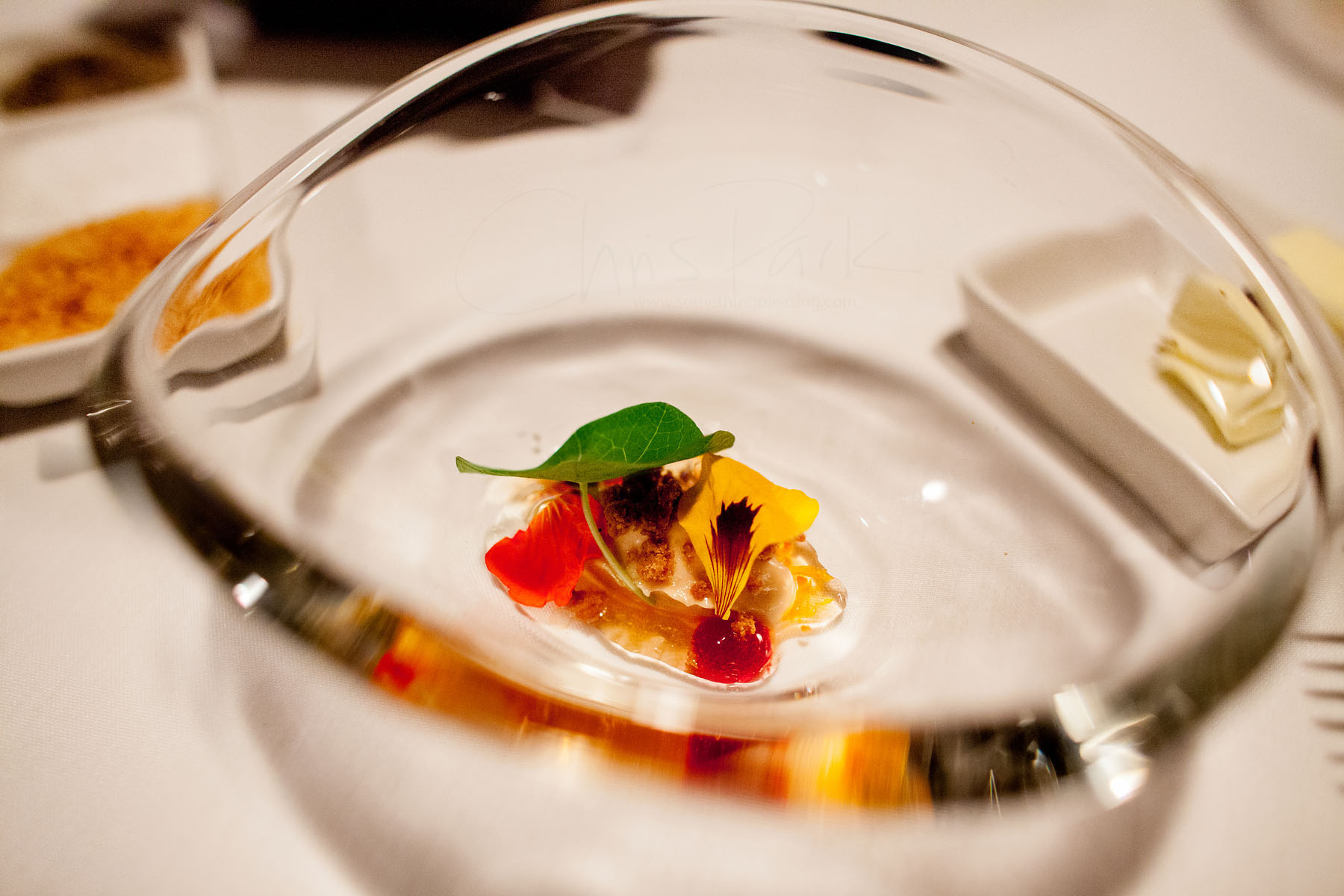 Amuse Bouche
It's difficult to remember what composed this dish, something that came so early and quickly in the meal. Foie gras mousse, hibiscus shell, honey on the bottom? That may be what I can recall pronounced tableside from memory. Nonetheless, it was creamy, floral, and a beautiful presentation to whet the appetites for the evening. I love eating flowers (though they never taste how they look or smell), and to someone who really dislikes honey in general, it wasn't bad at all.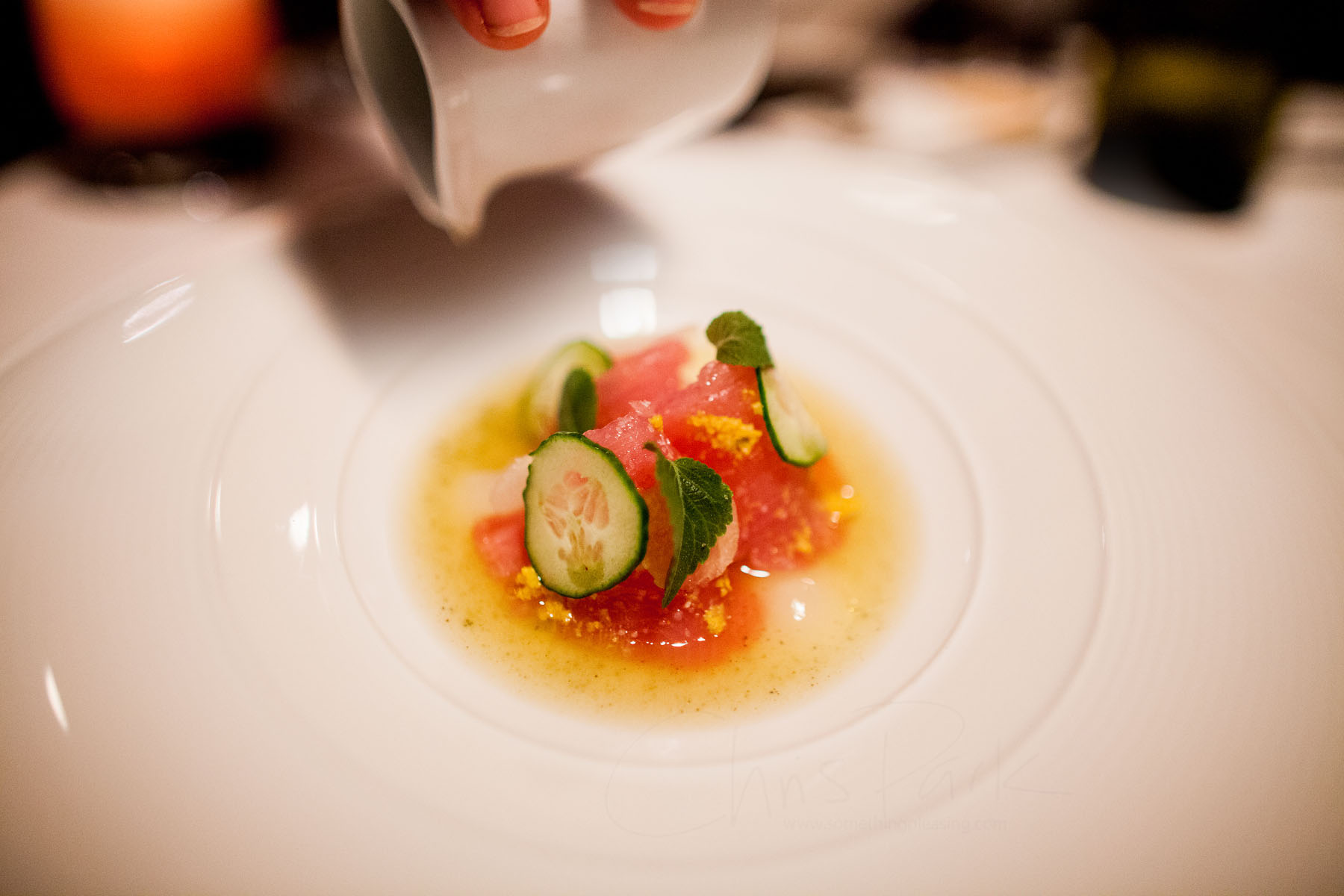 Albacore Crudo
charred jalapeño, cucumber, pear, yuzu kosho, shiso 16
Albacore, and the quality of freshness that allows it to simply melt in your mouth. The dashi sauce is poured in tableside, adding a bit of flavoring to everything, though not at all overpowering to the fish. While the quality of the fish was expectedly very good, the combination of ingredients really made this dish a delight; on a side note I wouldn't drink the dashi alone, which I would normally with age dashi tofu. The spicy jalapeno is controlled in temperature, meaning that though it might not impress a Korean dish, it works very well in this particular combination. The shiso is ace.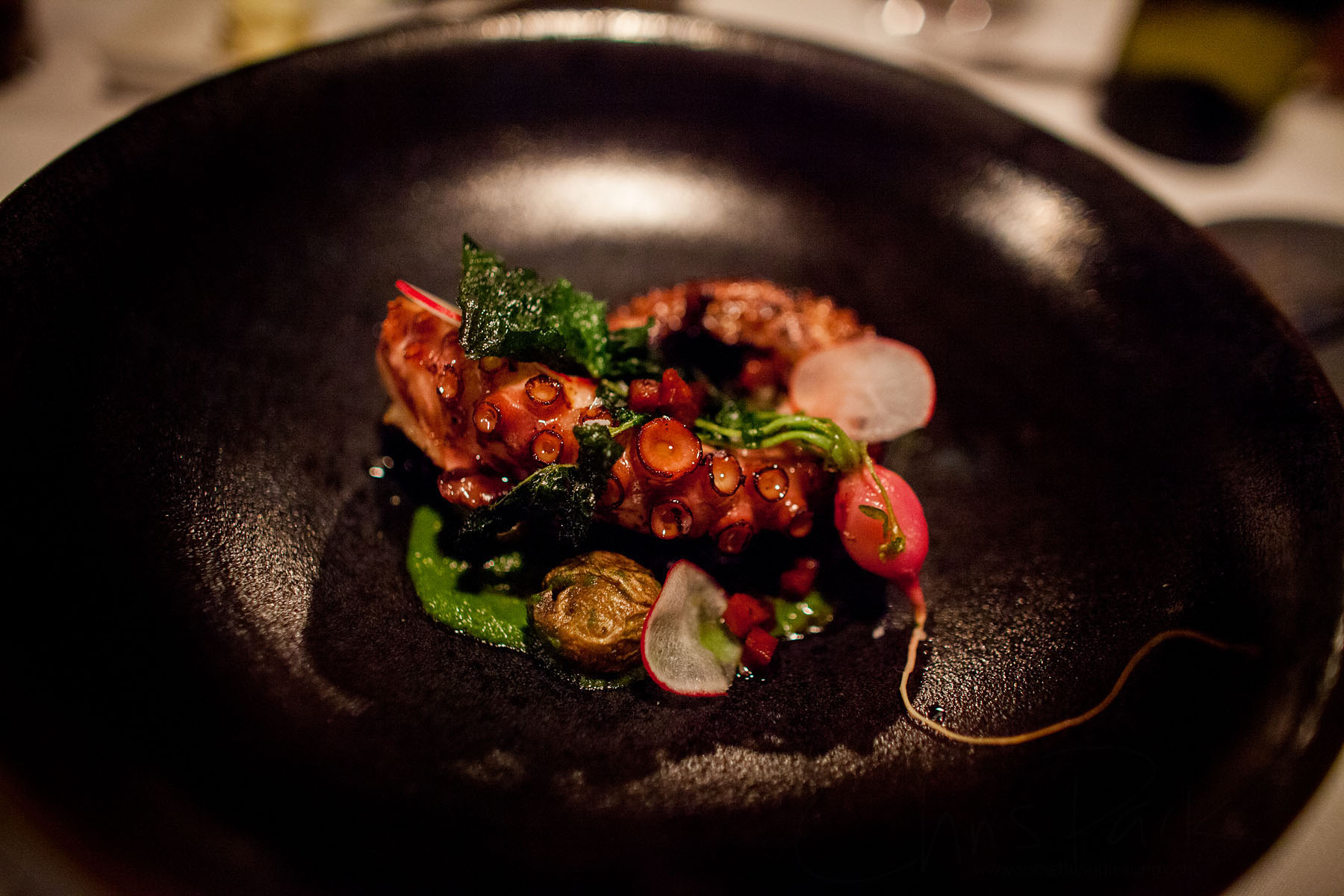 Grilled Octopus
chorizo, smoked potato, roasted radish, salsa verde 17
To someone who's never had a truly fresh octopus, it's difficult to describe how it can come out: not in the least rubbery or chewy. Though I don't believe the octopus this time reaches the same level of purity my last visit had, it's still an always unbelievable and satisfying texture when done right, grilling apparently a large part of the secret. I did really like the presentation this time as it gave a lot more to cut through and have fun with; the rooted veggie and kale topping were great to the eye in both color and texture, and I just loved how everything came together. The baby potatoes were a tad starchy though not in a bad way at all, almost like a cousin potato, available in a number of enjoyable interior colorings (regular and purple).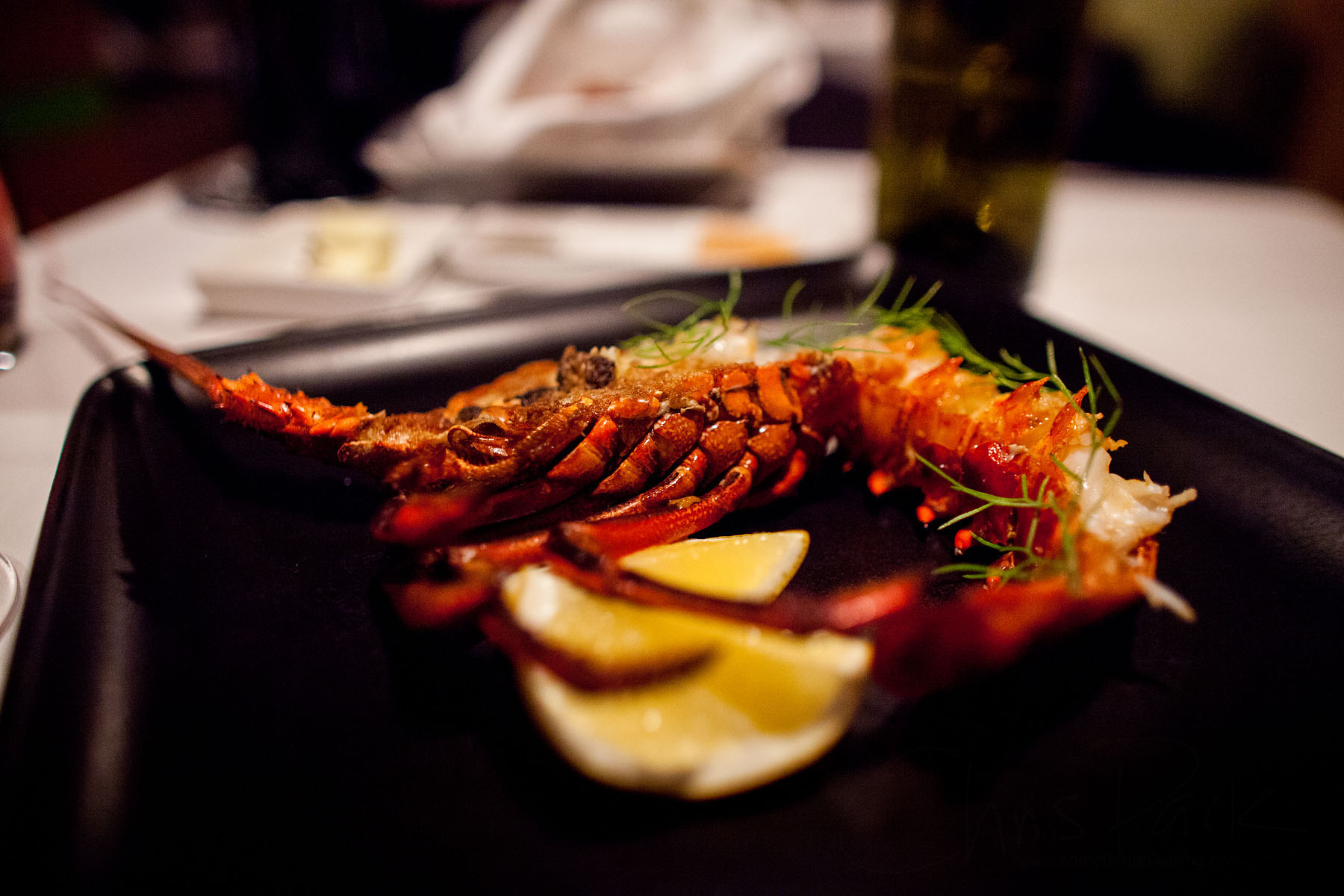 Grilled Half Lobster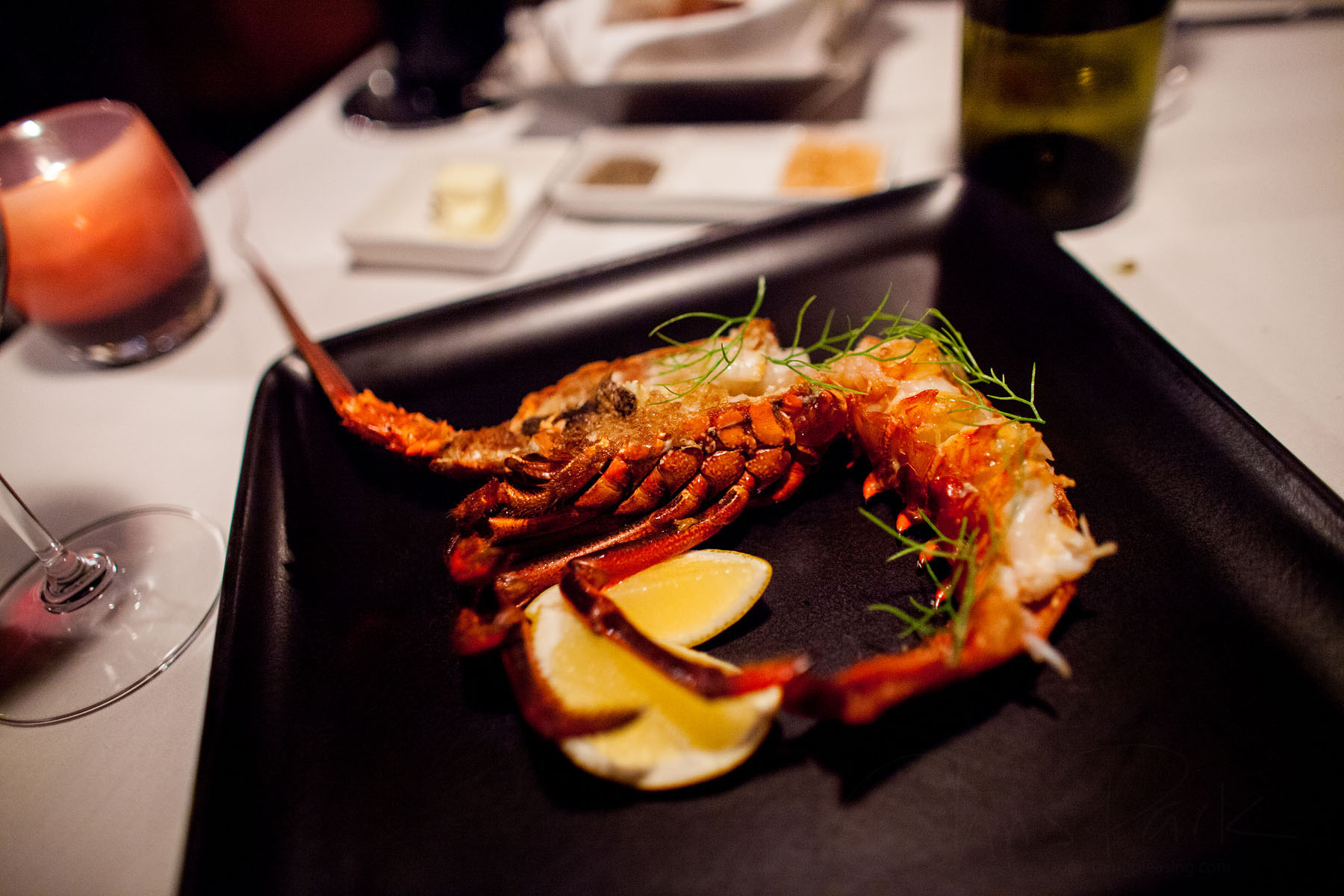 This dish came out a bit of a surprise, meaning I don't have the menu description to wow you with. But here's what I do remember: a lobster, live the same day and caught in the bay, cut in half and grilled, prepared with fennel butter (or fennel and butter?). It's a presentation I've never seen before but really quite extraordinary, and remarkably simple to eat: the edible pieces just came on out. Inaccessible were the inside components - the legs, the little claws and such; I'm quite okay with that. In taste, the lobster was fresh, clean, with the slight grill and butter; the fennel and lemon really helped it glow.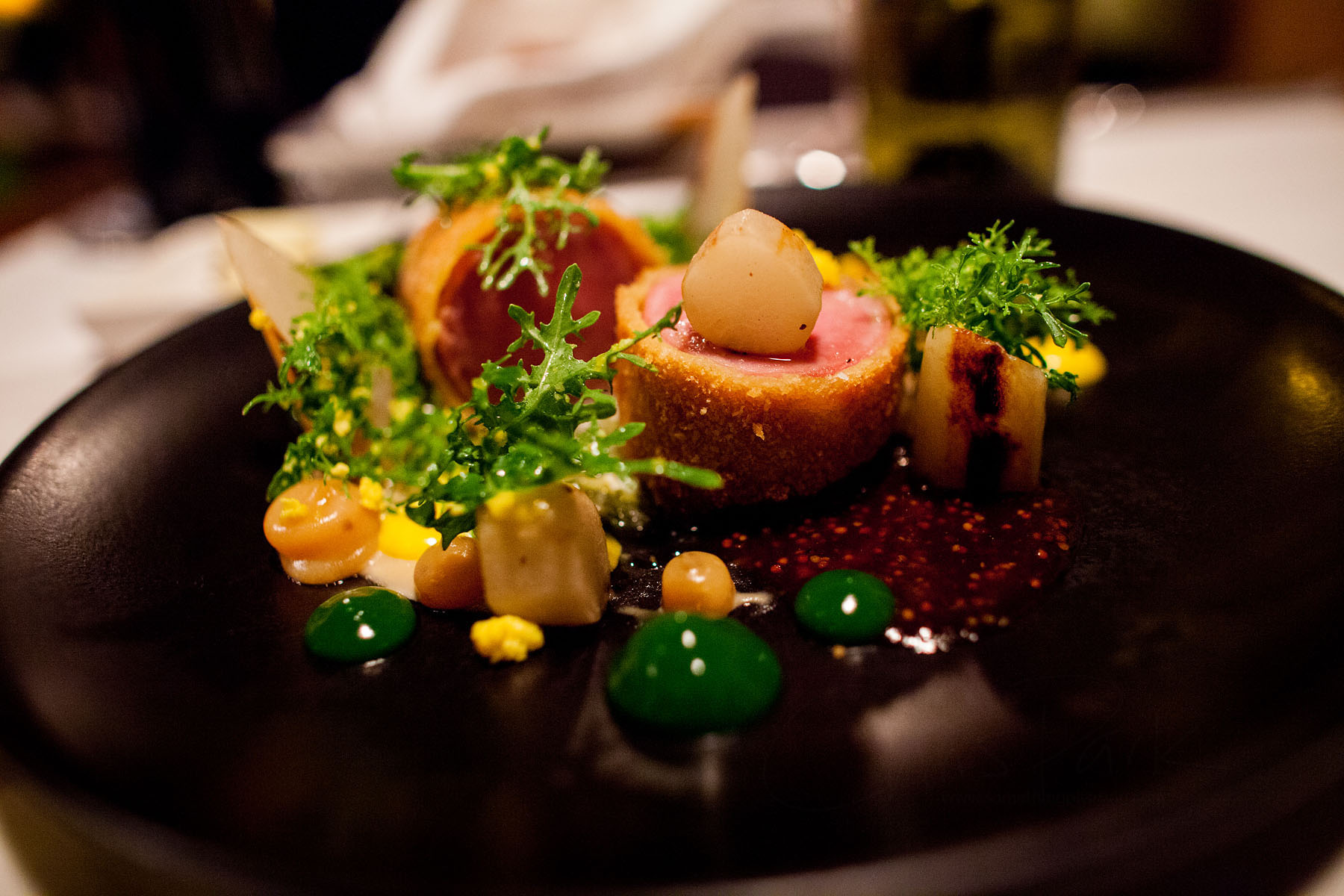 Pork Tenderloin
pancetta milanese, salsify, quince mustard, sauce gribiche, mustard greens 36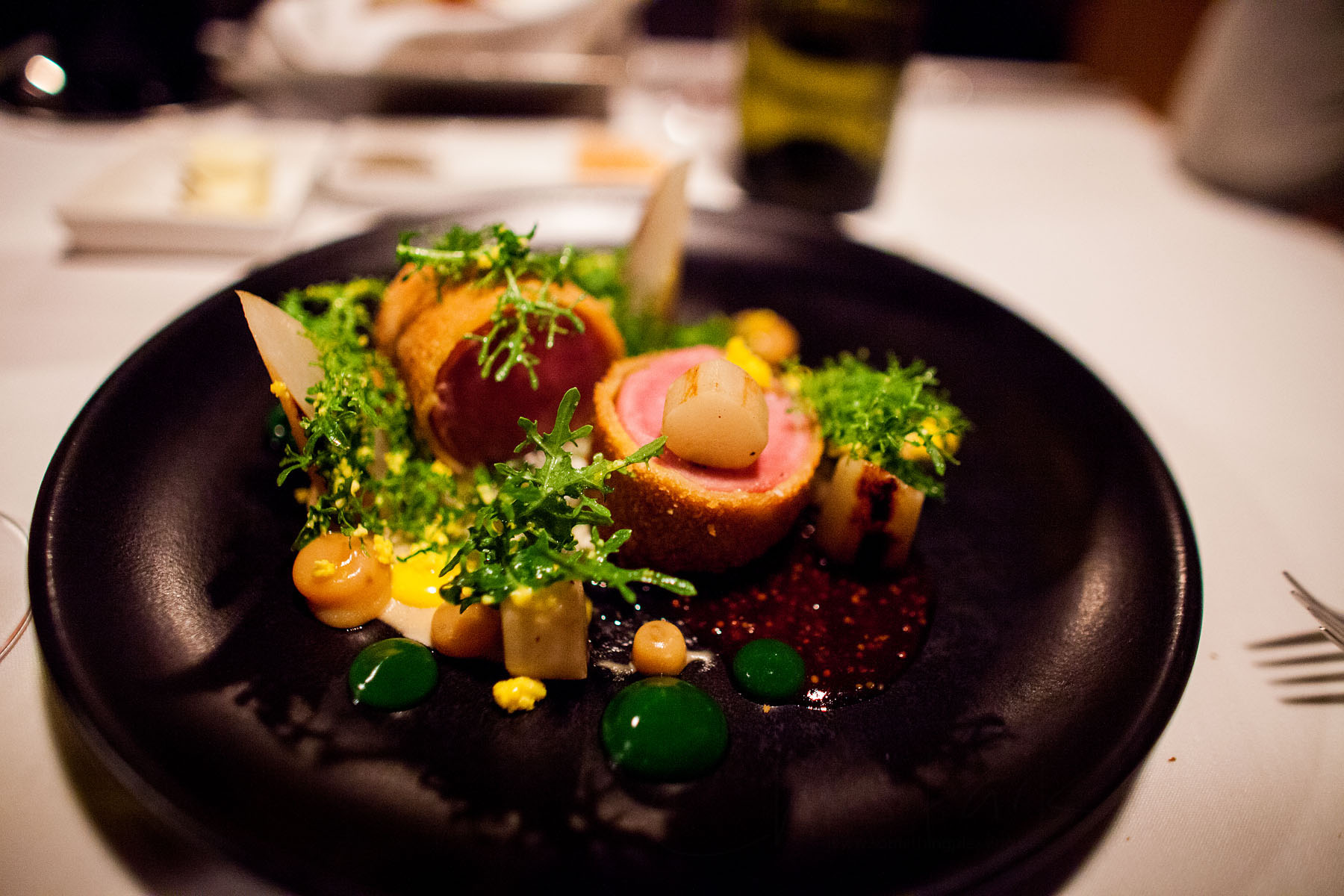 Panko breaded and flash fried, cut into medallions. Sauce gribiche is beneath it, composed of fine herbs, terragon, and basil chopped fine, grated with egg whites. Egg yolk composes the yellow dollops and quince mustard the other yellows, parsely puree the greens, and a roasted salsify rounding it all out. To me the pork tastes honestly a bit like ham, though my companion certainly enjoyed it. The presentation is fun and light hearted, colorful in a way that could almost be Seuss-ian, with an ingredient mixture to match. Not my favorite dish but by no means a loser, it was cooked well and presented nicely. There is something about it though: it some ways, it really reminds me of childhood.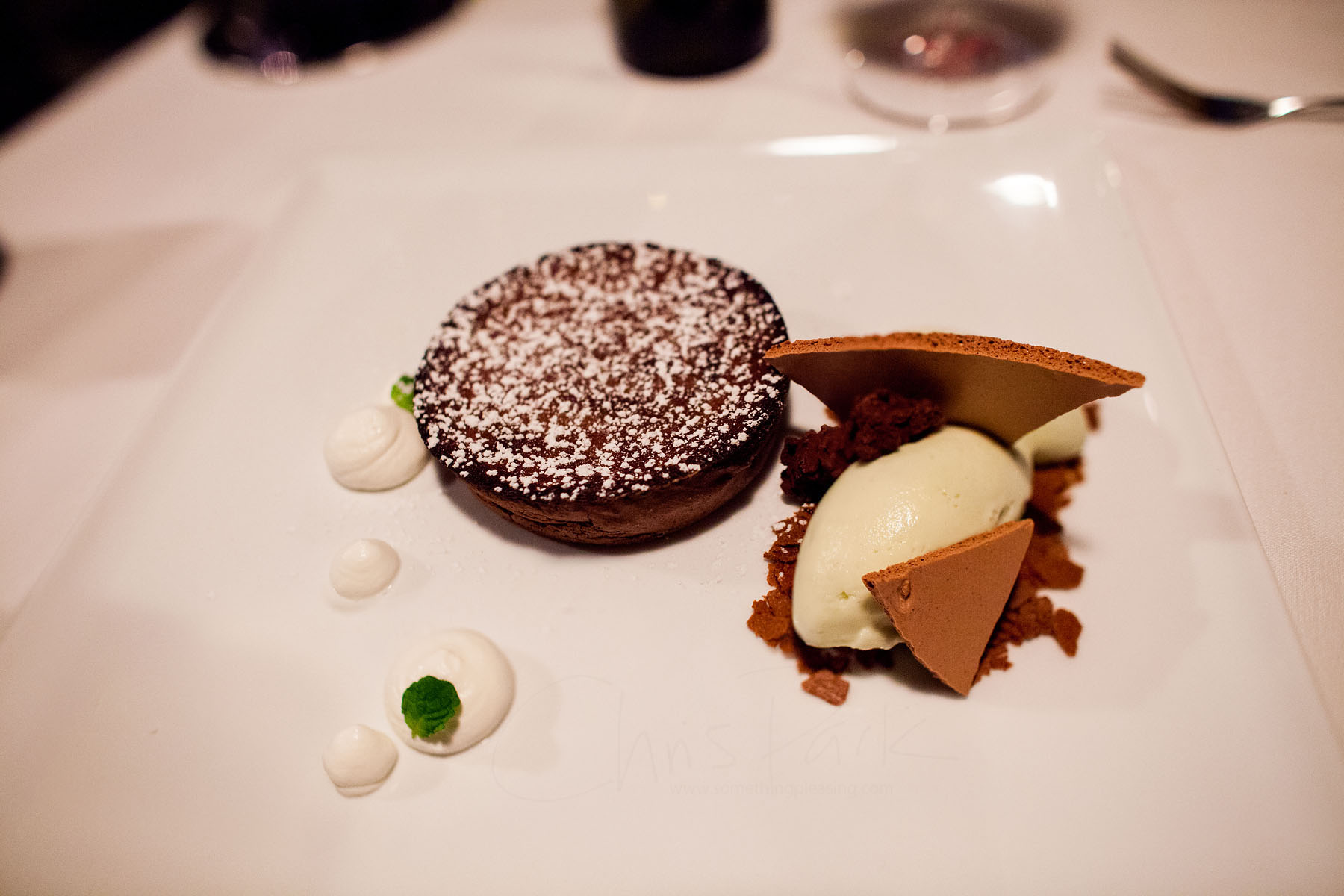 Warm Chocolate Tart
feuilletine, whipped crème fraiche, Chino Farms mint,
barley malt chocolate meringue, mint ice cream 12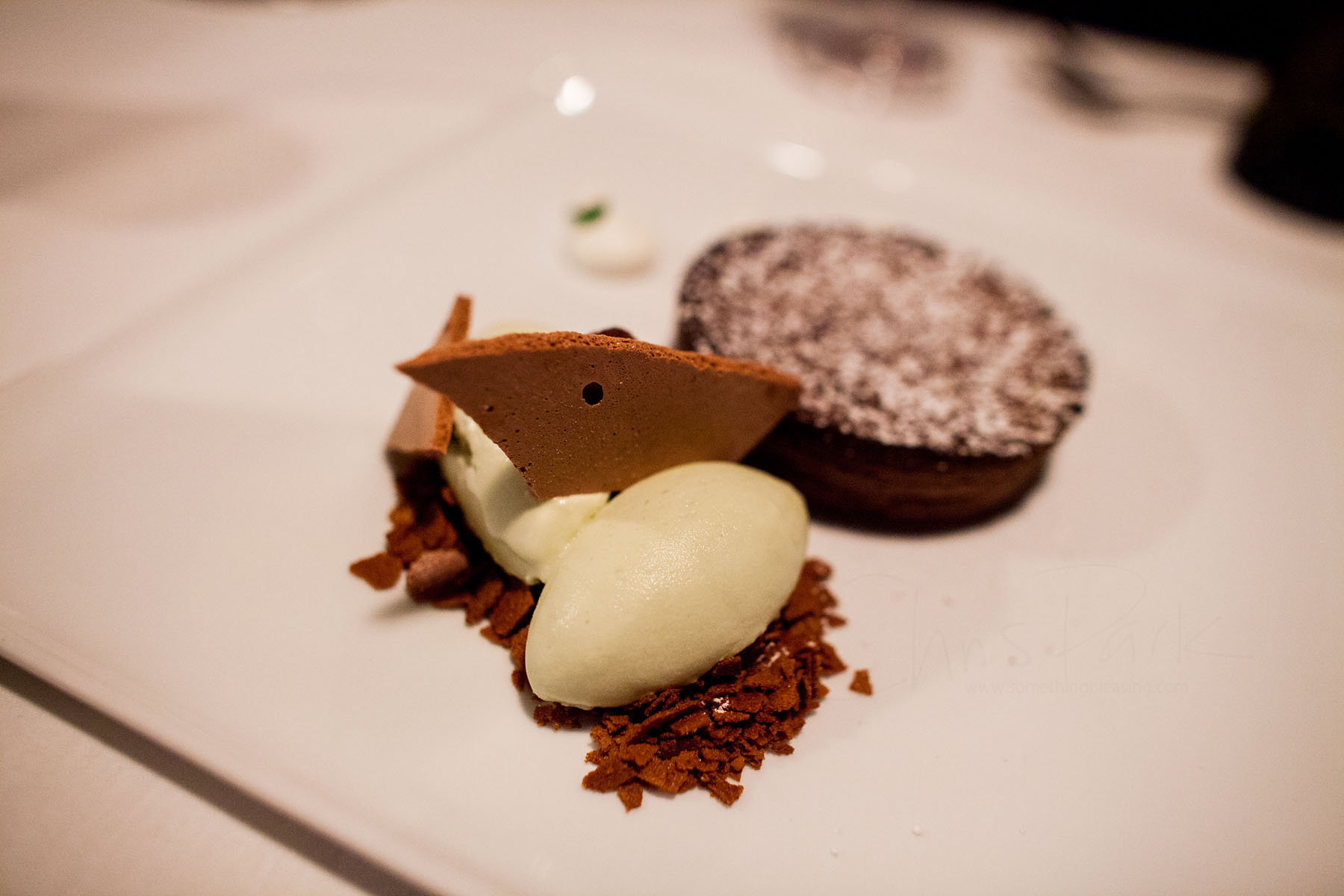 A surprisingly good dessert and a bit of a classic, we have here an ice cream, a chocolate, and a liquid center, at least in essence. Fresh and relatively local mints (a bit outside Los Angeles) are used rather than a cloying creme de menthe, and beneath is feuilletine, made from rice and chocolate coated. Dehydrated barley malt meringue is used as a garnish on top, and rather deliciously I might add; overall, all good flavors, all good textures, and a delicious molten brownie accompaniment.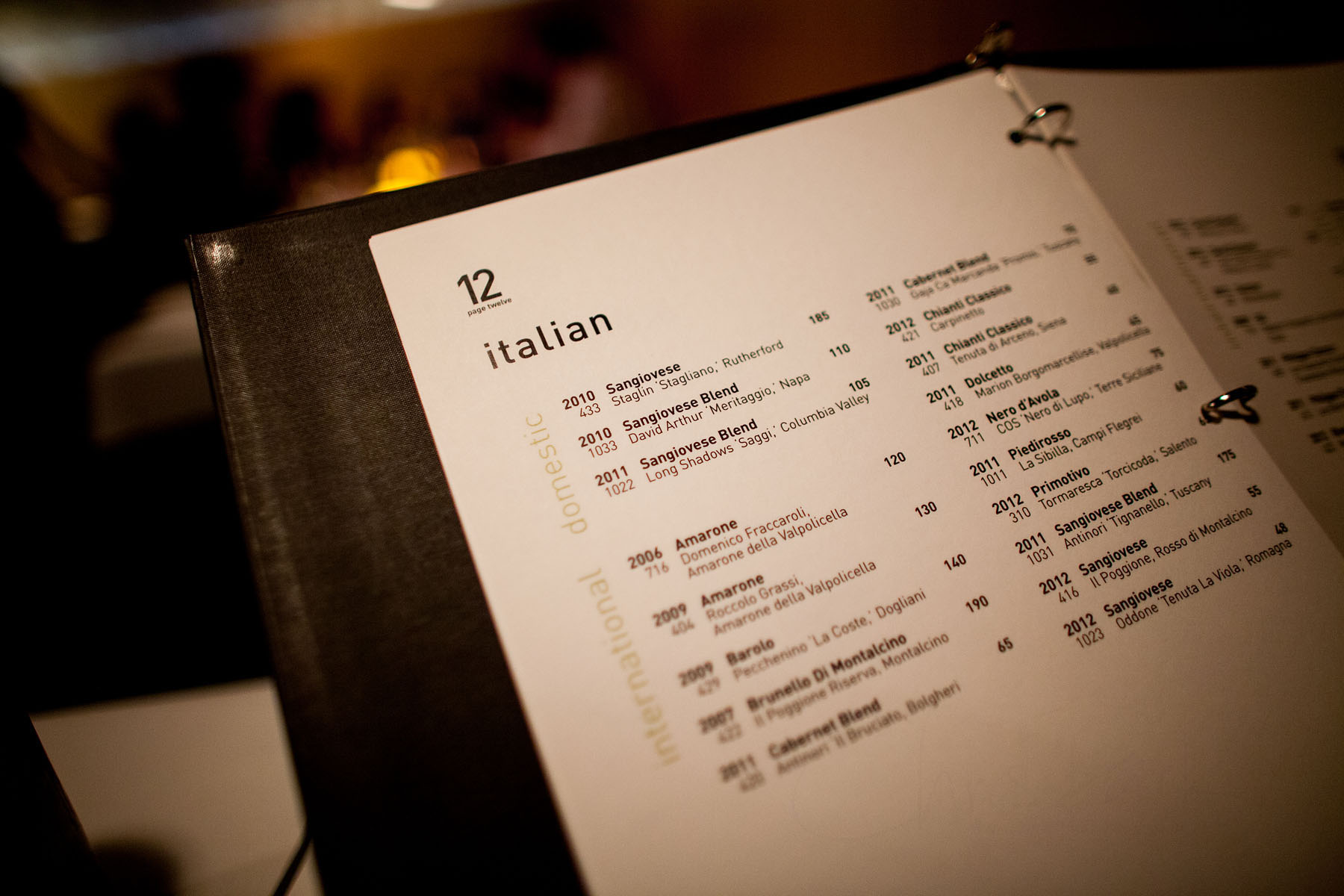 Chestnuts Roasting / 15
Bulleit rye whiskey, gomme syrup, George's
autumn bitters, house walnut liquor, flamed
orange, atomized mezcal
Though no fault of the server at all, it was between this and Lagavulin, and this is certainly no Lagavulin. Regrettably I did not take a picture, though I can say that it tastes fairly like what I expected - a farmier, almost homier version of an old-fashioned. One advantage this cocktail does have over the Lagavulin though? I won't be able to make this one at home anytime soon, despite the homier taste.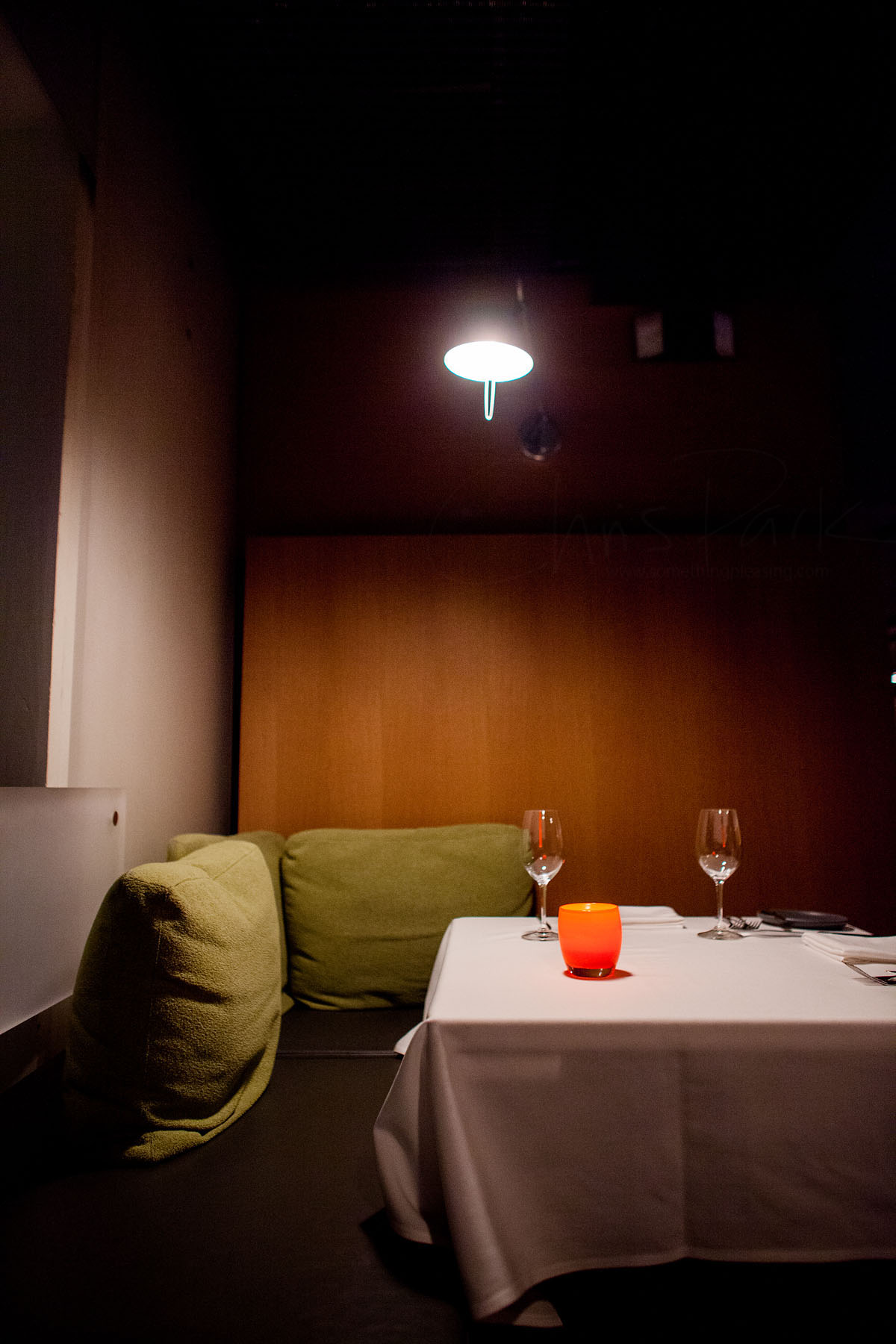 Overall, the night was excellent - service was wonderful, a casual conversation with the servers the same combination of factors comprising downtown La Jolla and appropriate for a restaurant of this nature. Appreciated touches were applied such as the steam ironing each tablecloth, and the accommodations did prove pleasant: the seating was comfortable, somewhat colorful yet muted, and the tables themselves cushioned. The cutlery and glassware was appropriately changed based on course selection, and more bread was offered at the beginning of the meal, though we declined, electing to fill ourselves on the later foods.
What as in particular very nice was the knowledge of our server. He was able to freely converse on not only the menu items, as expected, but the peatiness of various scotches, and a runthrough of the wine menu, helping us to make an appropriate decision regarding the evening's imbibements.
And on a final and rather offbeat note, my companion had taken up ceramics recently and remarked on the quality of the dishware. The finish was mostly matte but with slight gloss, an unpopular decision in the world of amateur pottery but far more appropriate to the restaurant and atmosphere here. In my honest opinion, I've never liked much the glaze used by most ceramics students, finding them too shiny to be subtle, so here George's proved excellent.
Conclusion? My second trip to George's California Modern reshaped my opinion of the restaurant, and is a worthwhile step up from the Ocean Terrace visit that I enjoyed (minus the tourists). The food all came out great and well prepared, the service was on point, and overall, we felt the evening pass on with a joy, reluctant only that it came to an end. The clientele will still largely be on the side of older white people - WASPs, as my very white friend explained to me recently; yet I did not feel that much out of place. I recommend.