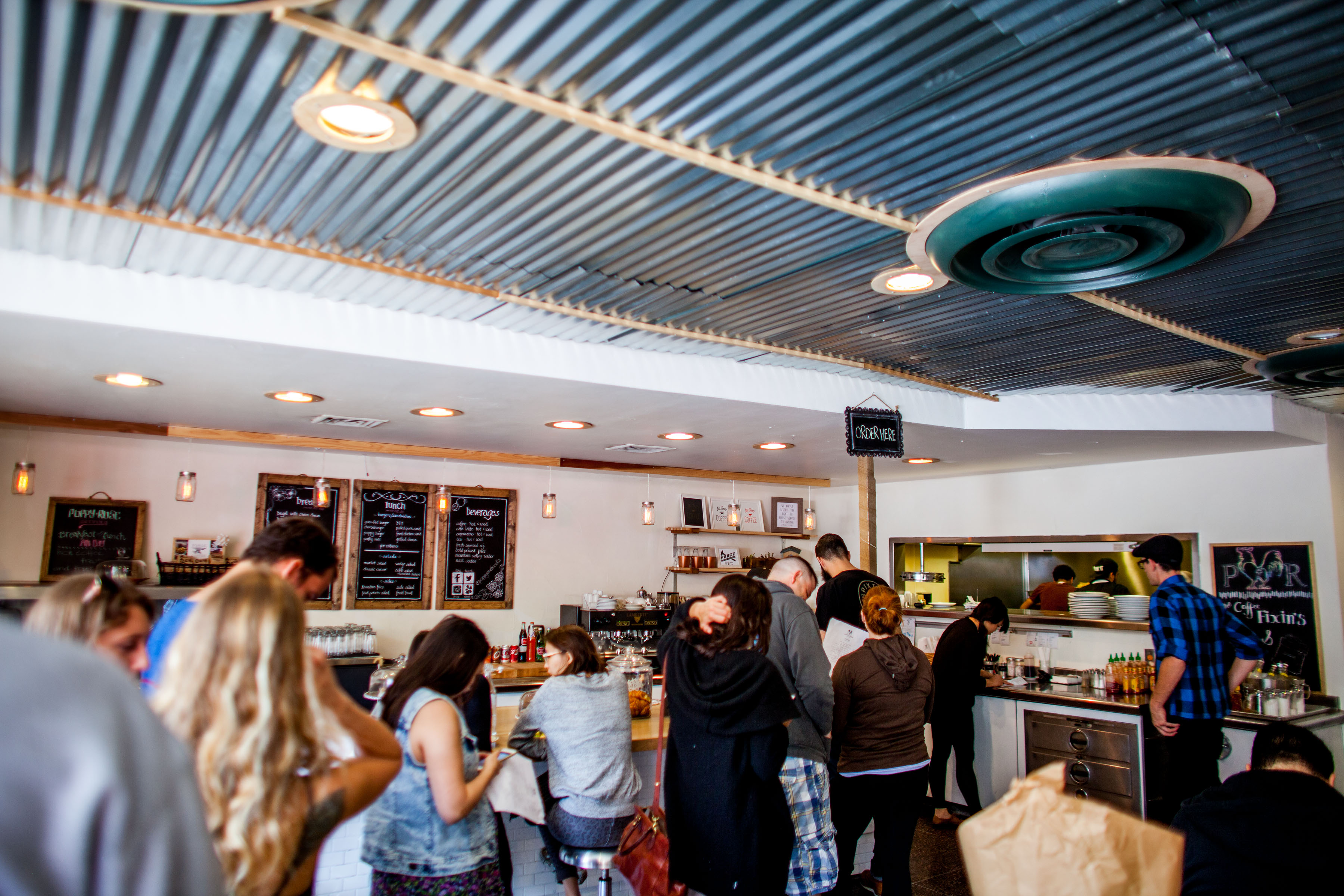 A cute little place, Poppy and Rose is located in basically the greatness of Los Angeles's Skid Row neighborhood, though during the daytime it's a bit more hospitable, if just as smelly. Parking is as ever a bit of a hassle, but the LA Flower Mart garage works, leading you right into the...you guessed it! The flower mart. For what it's worth, parking at the flower mart is validated temporarily with a purchase of $15 or more. Otherwise, bring cash, as this neighborhood in general is pretty cash-only heavy.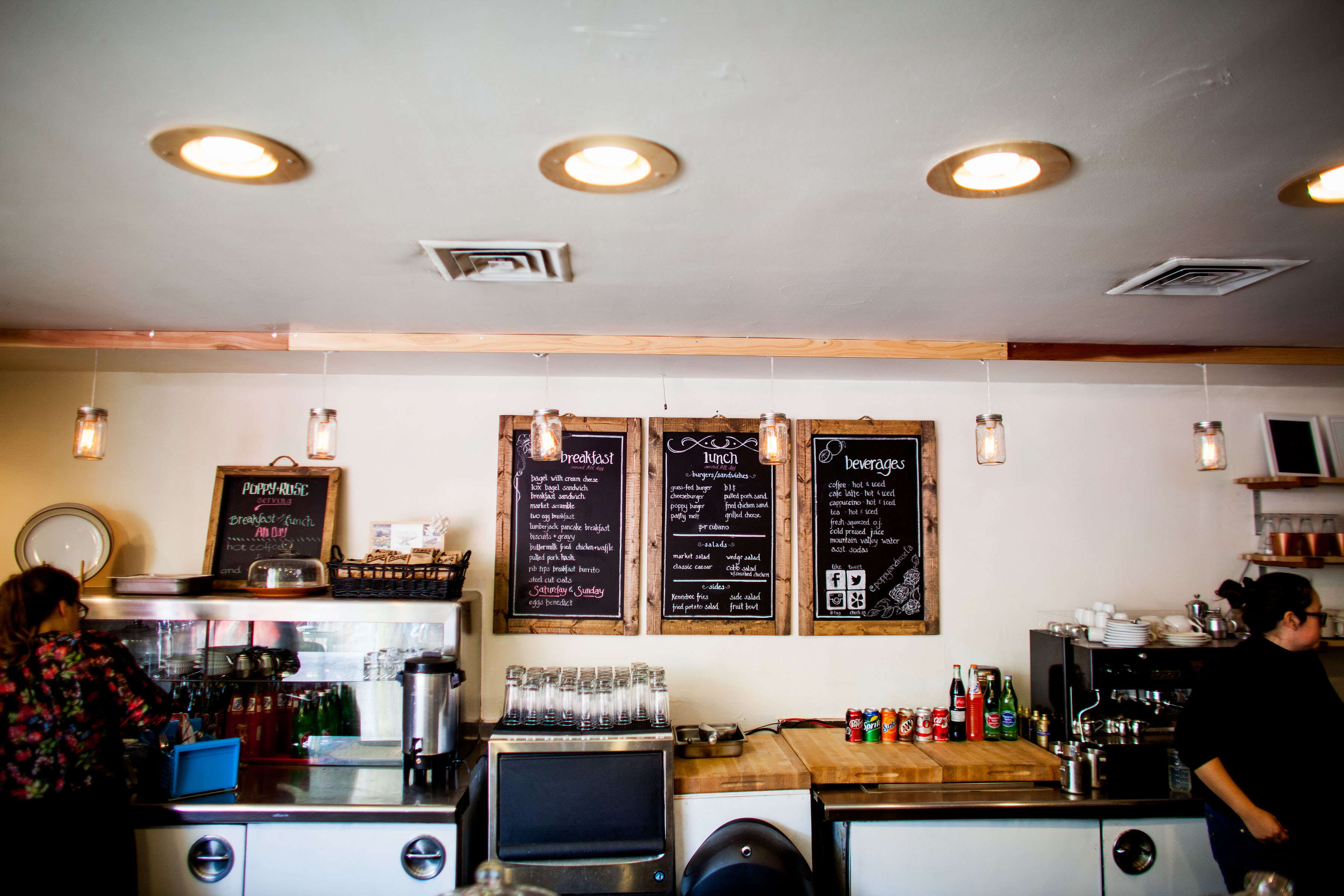 The restaurant itself comes a bit gentrified, perhaps expected for a place that looks and sounds like this in a neighborhood as such. Oh well, that's what's cool in Los Angeles now, right? Prices reflect such, as do the menu descriptions. What the f*** are Kennebec fries? Read on and find out how special those are...
Forge Coffee
I actually don't drink coffee, preferring instead things that aren't drugs, so my memory's a bit hazy on this one issue. But if I do recall correctly, the Forge coffee here is free, so more power to you imbibers of liquid scourge. My companion of the day enjoyed the drink, but she's also a fan of Starbucks, so I expect the discerning third-wavers to naysay that opinion immediately. I still think it's a nice touch.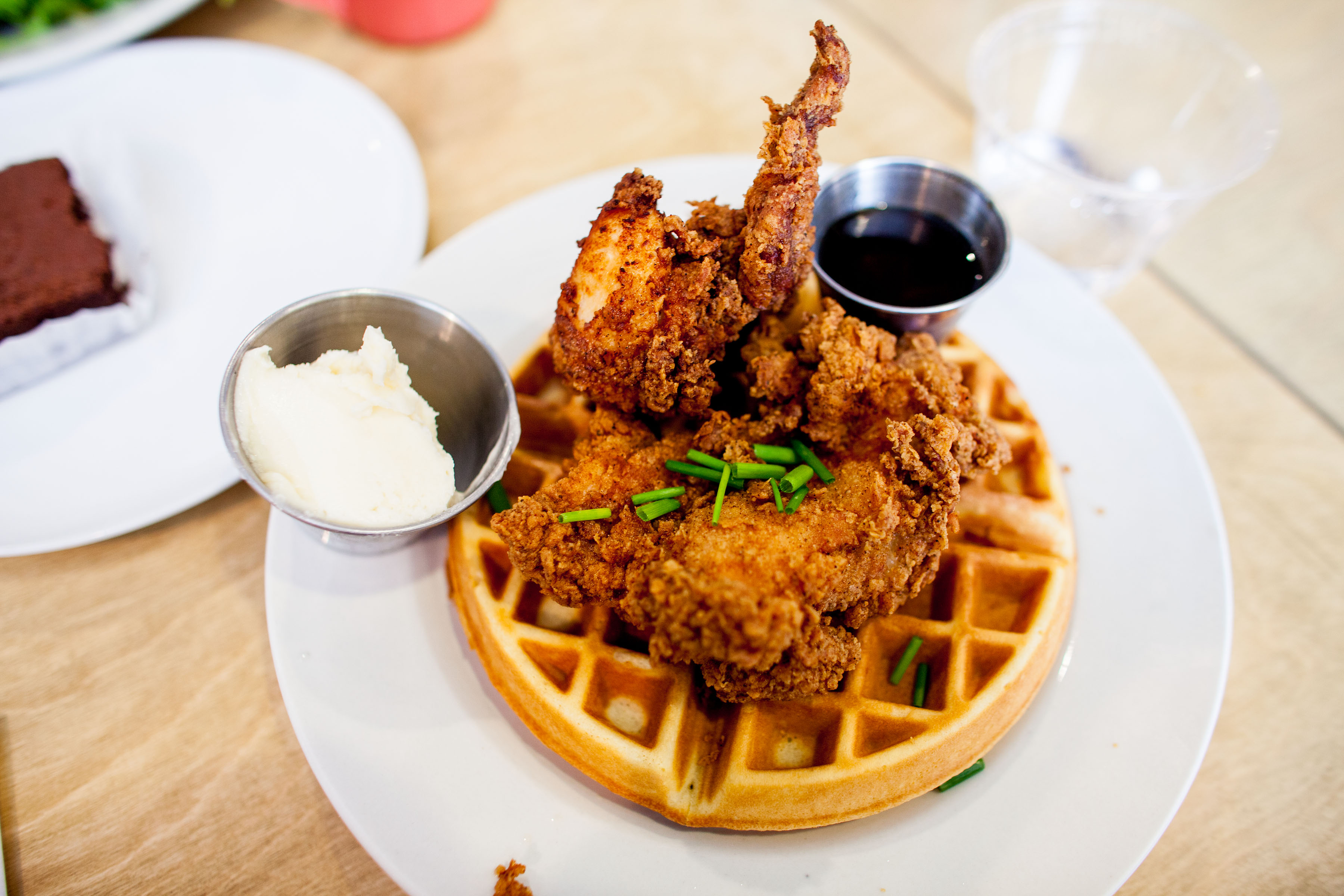 buttermilk fried chicken+waffle
This dish was decent, and a bit better than what I've had before in the realm of chicken & waffle. This one hasn't quite converted me though, and I still don't think the combination is something I actually believe belong together in principle. The ingredients don't clash nearly as much as they did in Black Hogg though, and the chicken was fried nicely, pleasantly moist rather than stringy. The waffles proved better than Ihop, a high honor from the five year olds out there, I'm told.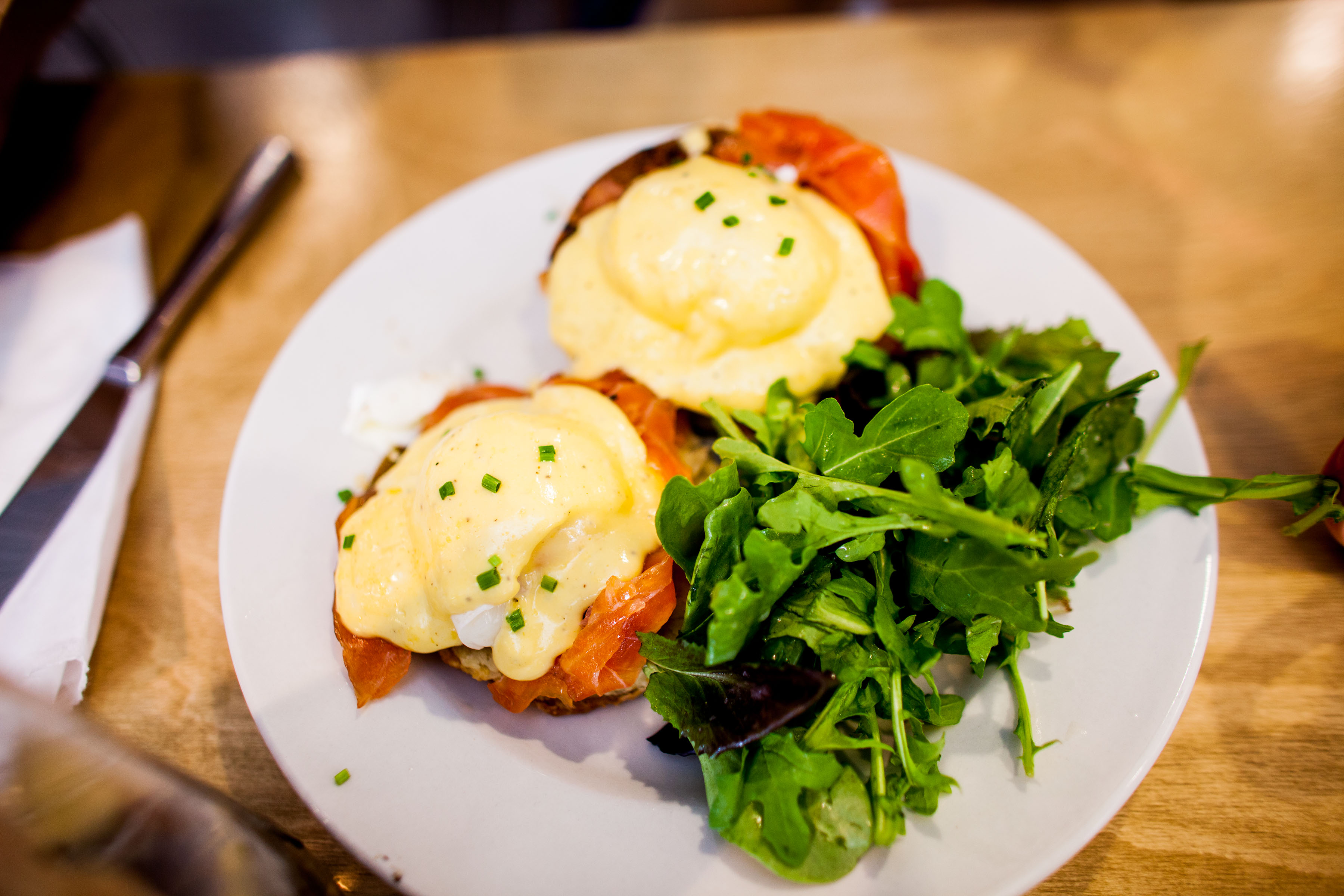 eggs benedict
This formed a much better companion to brunch, a restaurant typical and for a good reason. The taste was absolutely winning, and the poached egg, hollandaise, and salmon combined delightfully. The plating obviously leaves a lot to be desired, not just in plate itself but the salad and benedicts too. Even so, I can wholeheartedly recommend this one, and it does the job.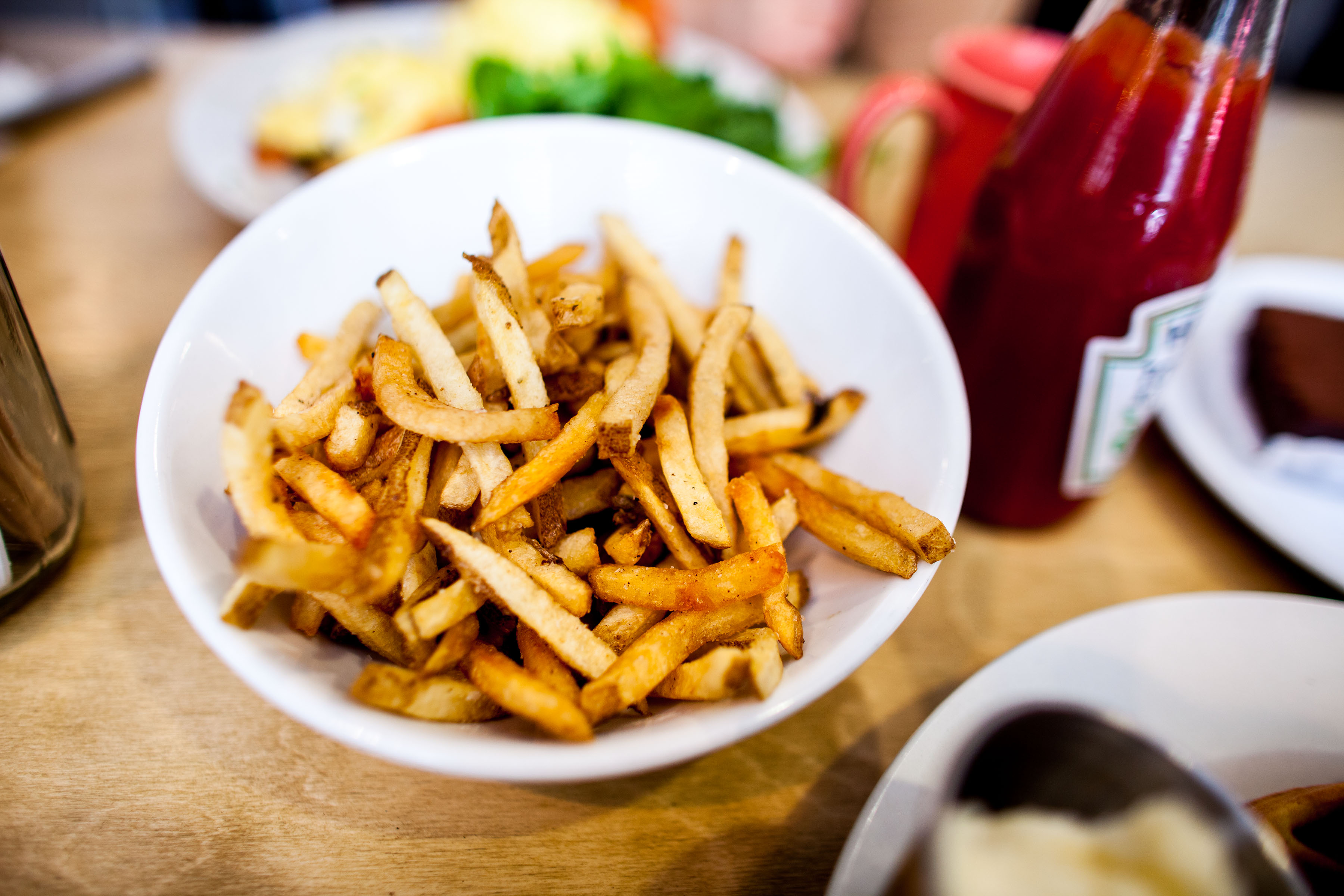 Kennebec fries
We got these because we're complete and total suckers, meaning that the name sold it to us. A quick Google search informed us that Kennebec is actually just about the single most common species of potato ever, at least in the United States, meaning not a single thing at all is unique to this dish, nor outstanding as a side. Quite honestly, they were disappointingly normal french fries that took a little extra effort to finish, partially due to the quantity of food ordered for the table and partially because they just weren't that great. I wouldn't bother.
brownie
Delicious, as even though we were full by the time the pillaging of this one commenced, it was fully pillaged. For those wondering, that succulent is from the adjacent flower market, courtesy of my very good friend.
Conclusion? This is a cute place, very cute, in fact, and a nice brunch in general. Seating is a bit awkward here, as it's a bit of a free for all, first come first serve. That also means service can be a bit off, and I don't there's individualized water pitchers either. It's shared, a bit like camp back in your school days, except now you don't talk to the people who might defile your drinking water. But hey, it's freaking Skid Row, the streets smell like a sewer anyway! For the area, it's not at all a bad place to come.