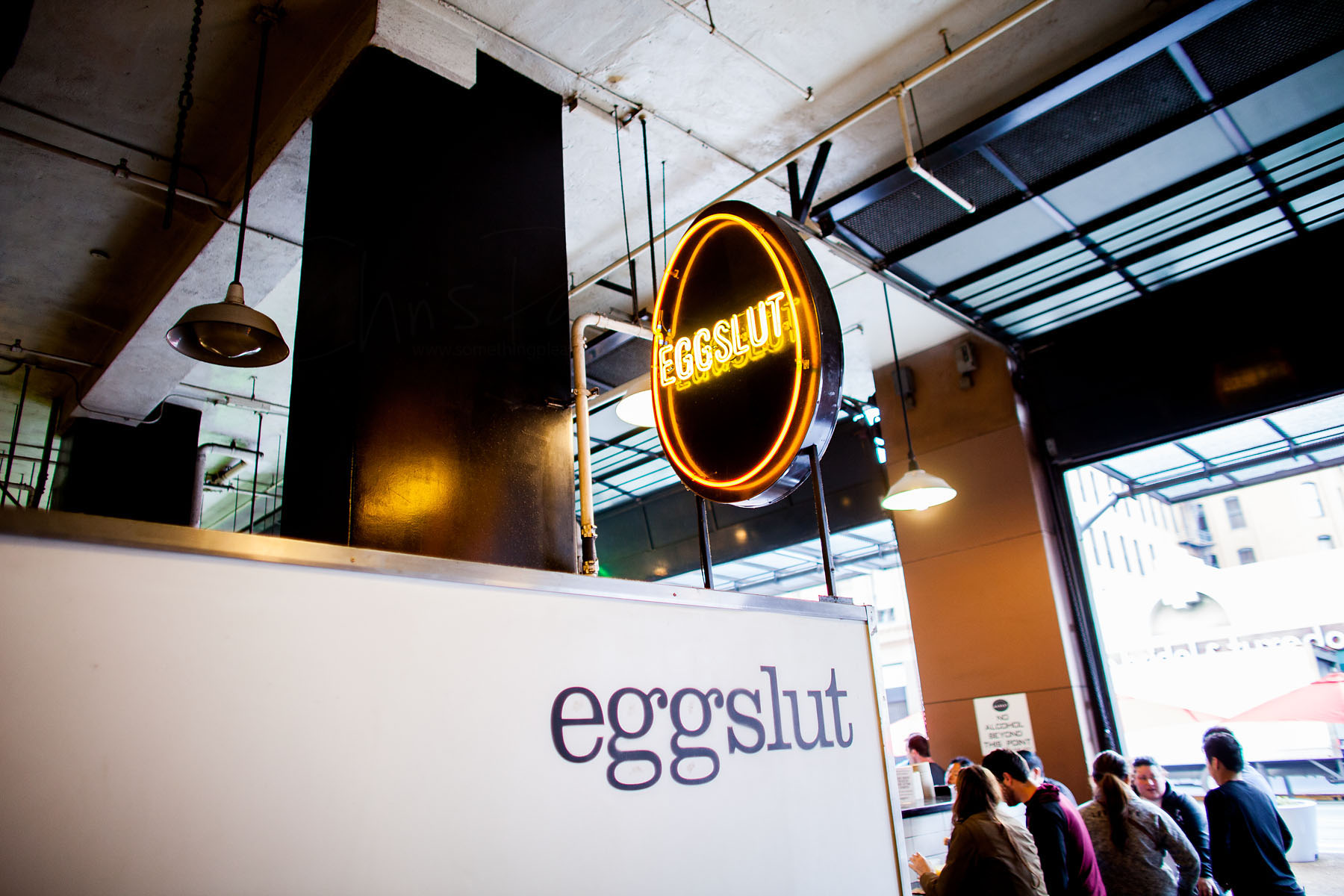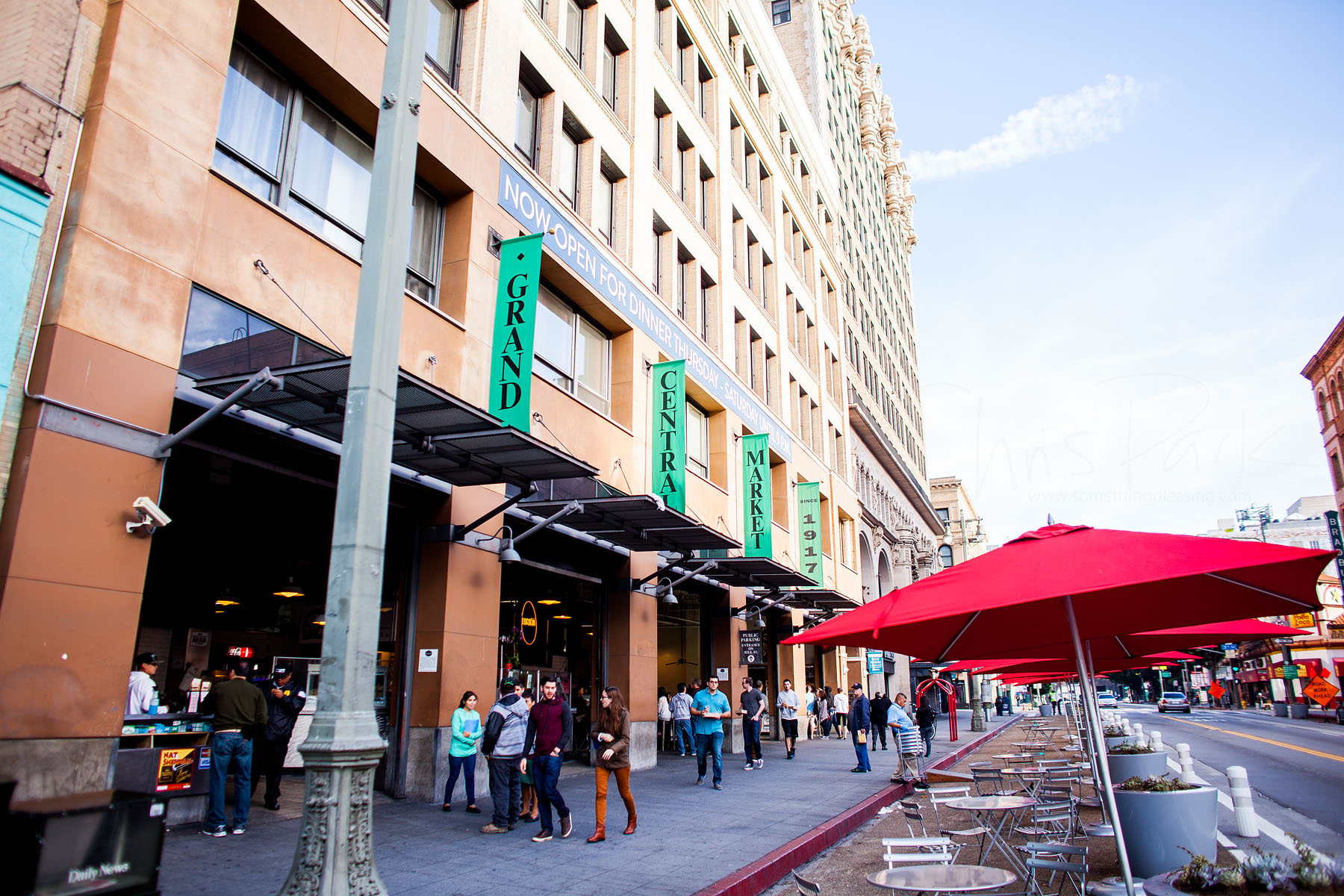 Eggslut is located in Grand Central Market, an area with the all-too familiar parking predicament expected anywhere downtown. Many interesting and somewhat pricey shops line the marketplace, reminiscent of something more foreign than domestic in layout and feel. Eggslut's location is streetside, facing the sun for those morning escapades, tables placed outside for should the weather fare well and the bar be filled.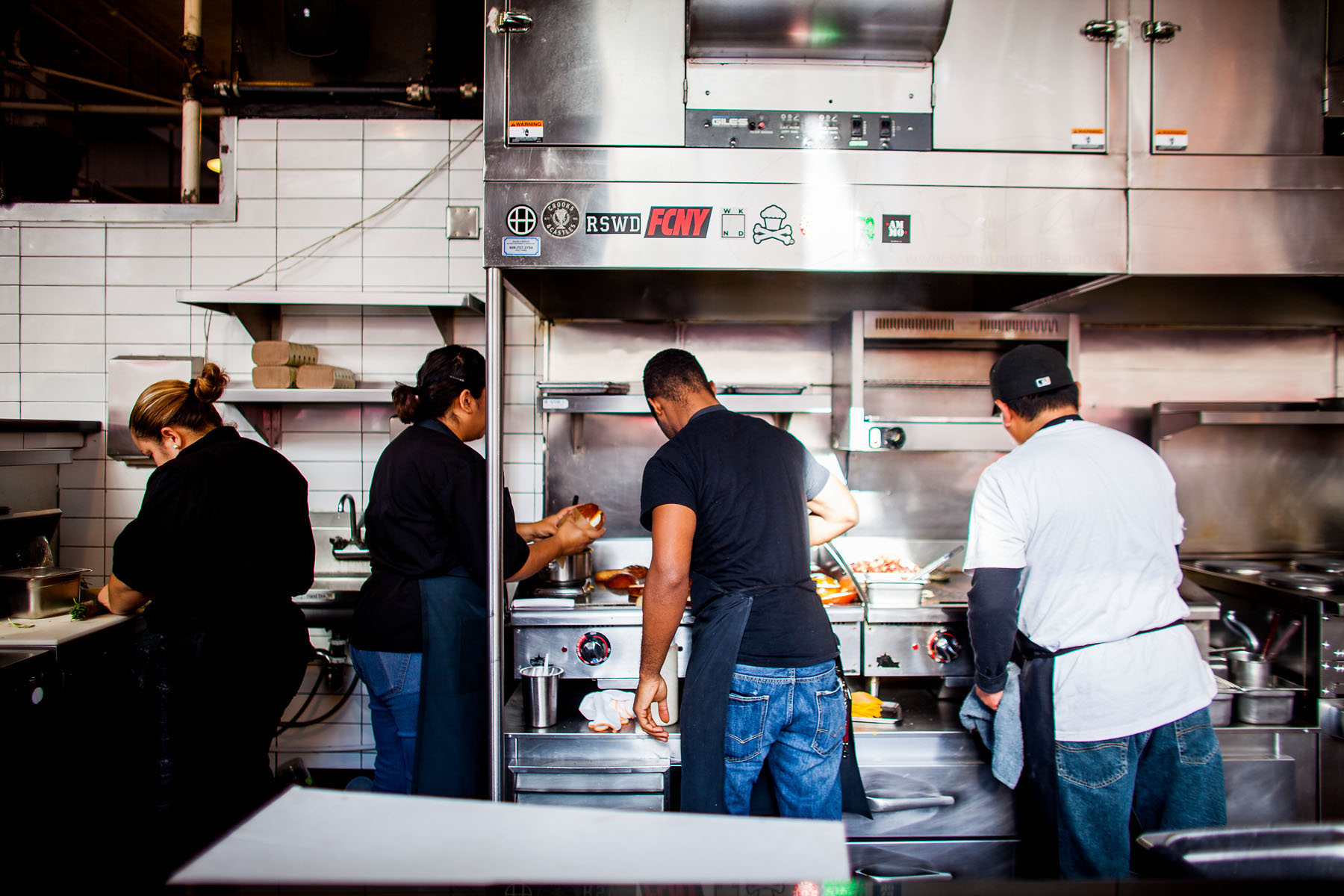 The lines are typically long here, though winding down from their peak months ago, perhaps. I believe Eggslut may have actually started as a food truck, meaning their success translated well into retail presence, unlike some recent memories. Eating into the stomach and mind is the deliciousness Eggslut's kitchen produces, swamping in smell all nearby areas with in Grand Central a hunger and desire. It seems a fair number of people order to-go. Onto the food!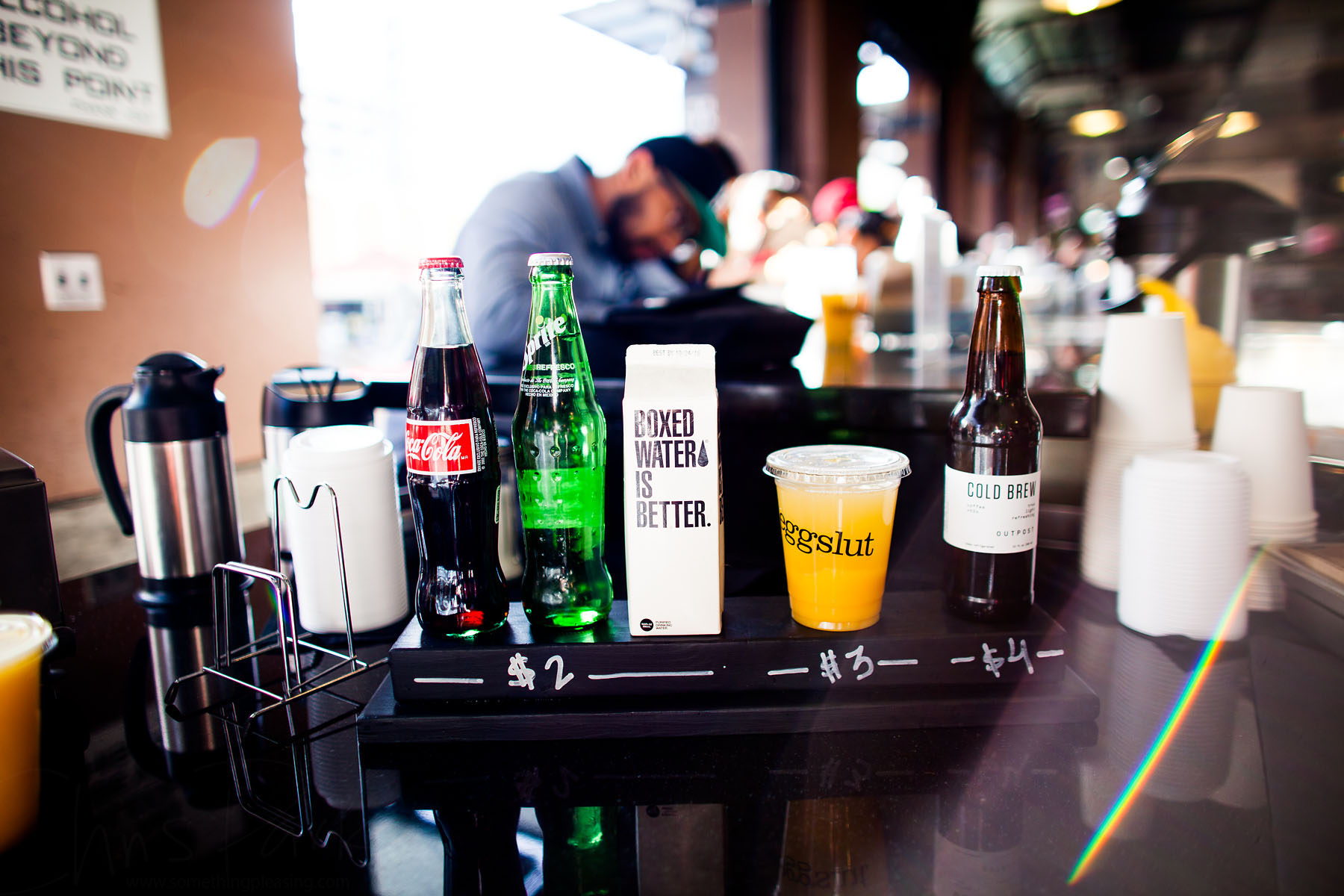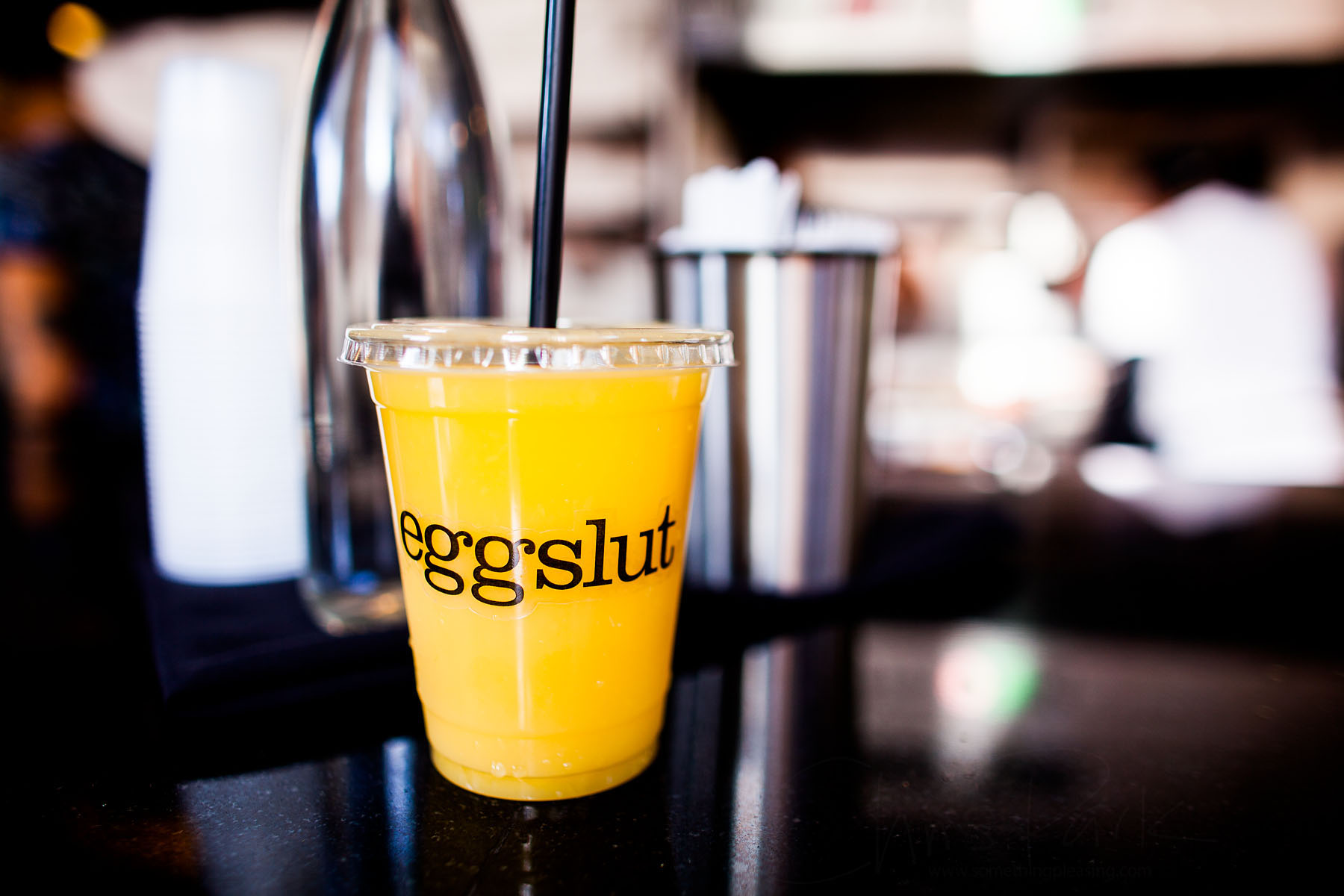 Freshly Squeezed Orange Juice
$3.00
Served up by the Press Brothers next door, Eggslut's (I mean...) orange juice offering is nice, clean, fresh. I recommend it over the boxed water, sodas, beer, or water offerings. Just do it.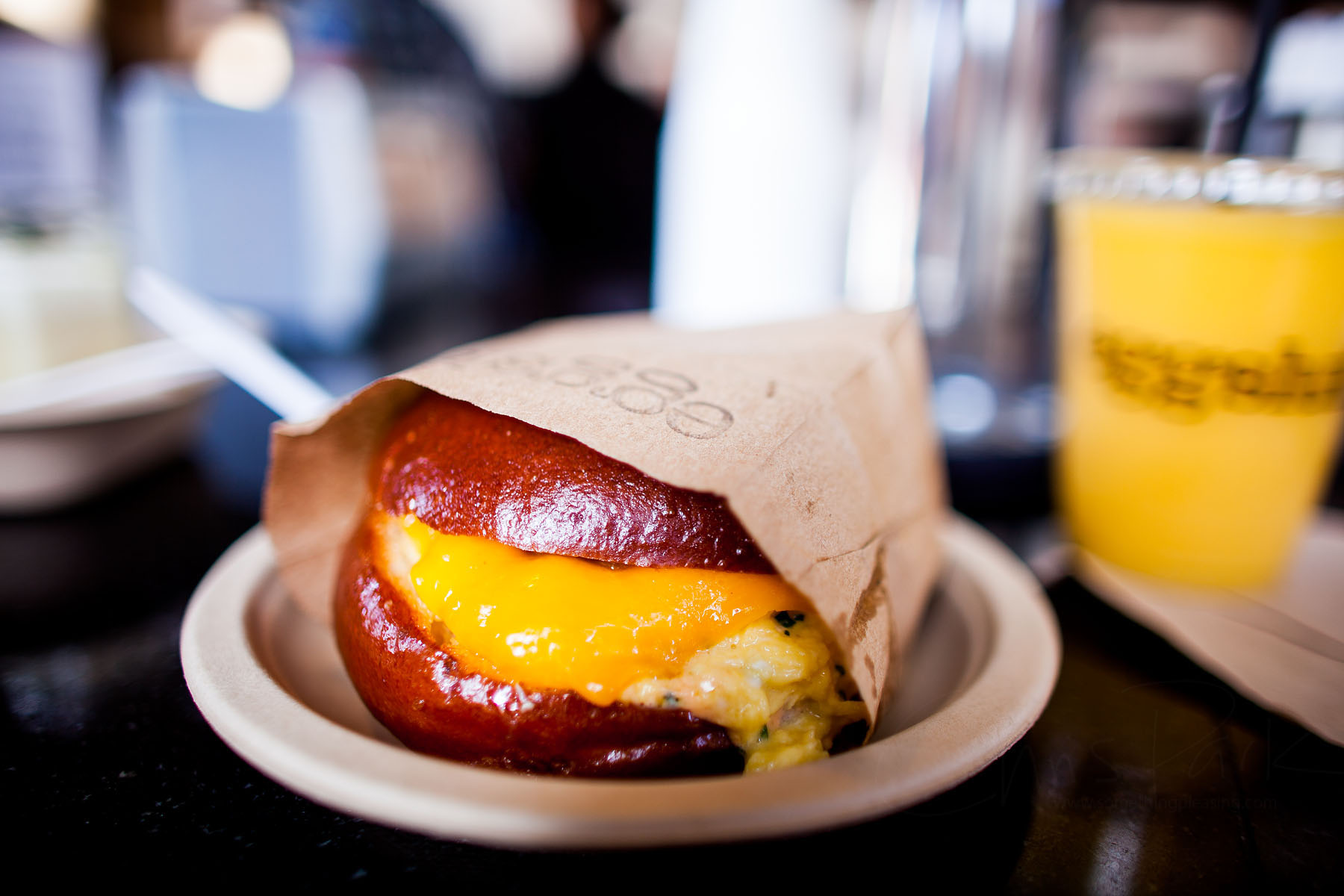 FAIRFAX
soft scrambled eggs, chives, cheddar cheese, caramelized onions and sriracha mayo in a warm brioche bun
$7.00
Easily the winner of the shop, and quite possibly the best thing I've ever tasted for breakfast, we have something that could keep me coming back again and again. Sriracha mayo is listed both on the menu and Yelp and you think nothing of it. I'm Asian, after all, and have had that combination a number of times in fushion and experimentals. But
oh my god, look at that face, you could be, my next mistake
- that mayo is simply delicious, delicate, and unholy amounts of satisfying. Soft scrambled eggs melt in your mouth, cooked up with some microgreens, and that brioche bun is heavenly. I seriously can't find a fault with this sandwich other than I had to split it (and everything else for the day). Oh. My. Noms. It's also a mess to eat.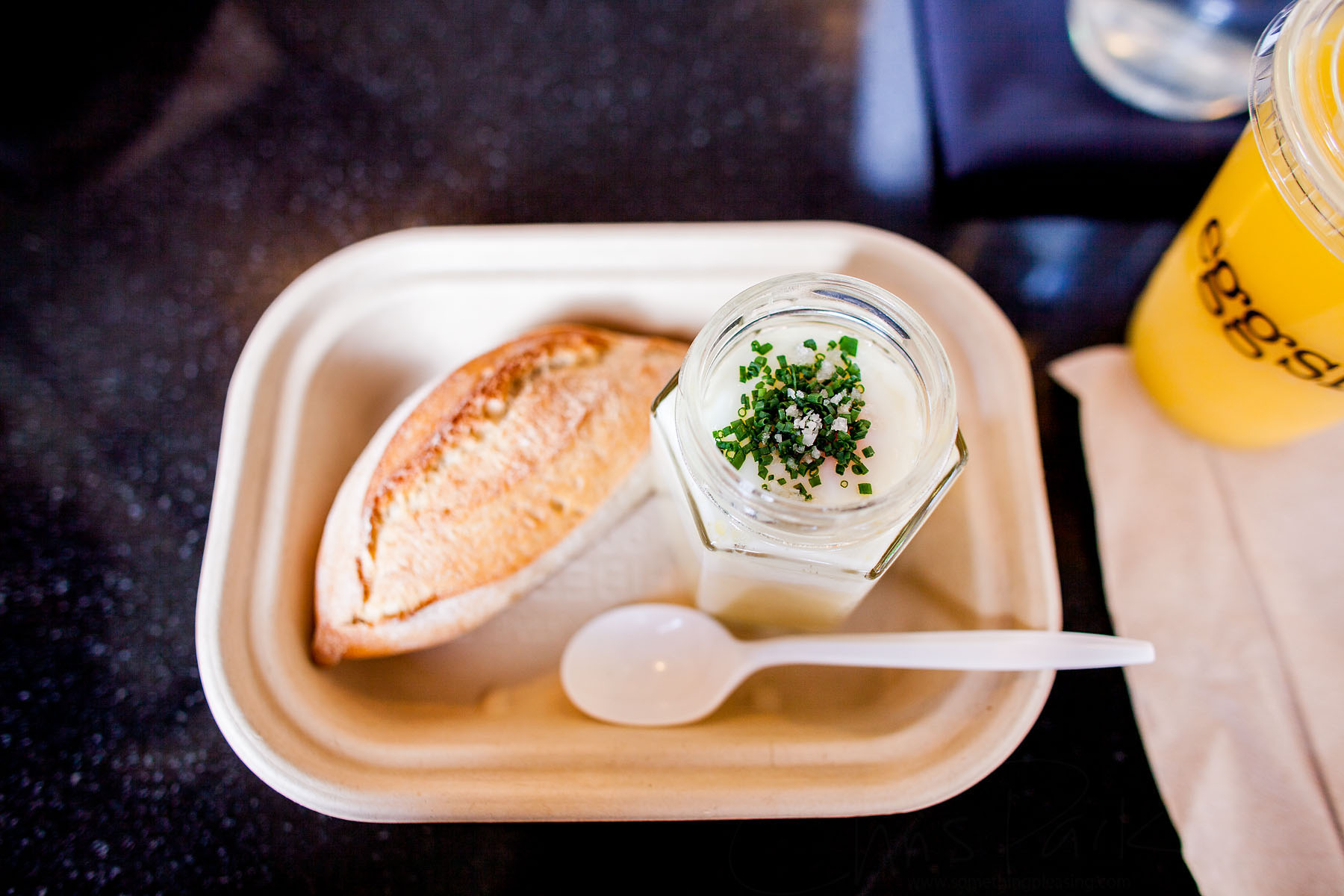 SLUT
a coddled egg on top of a smooth potato purée, poached in a glass jar and served with a demi baguette
$9.00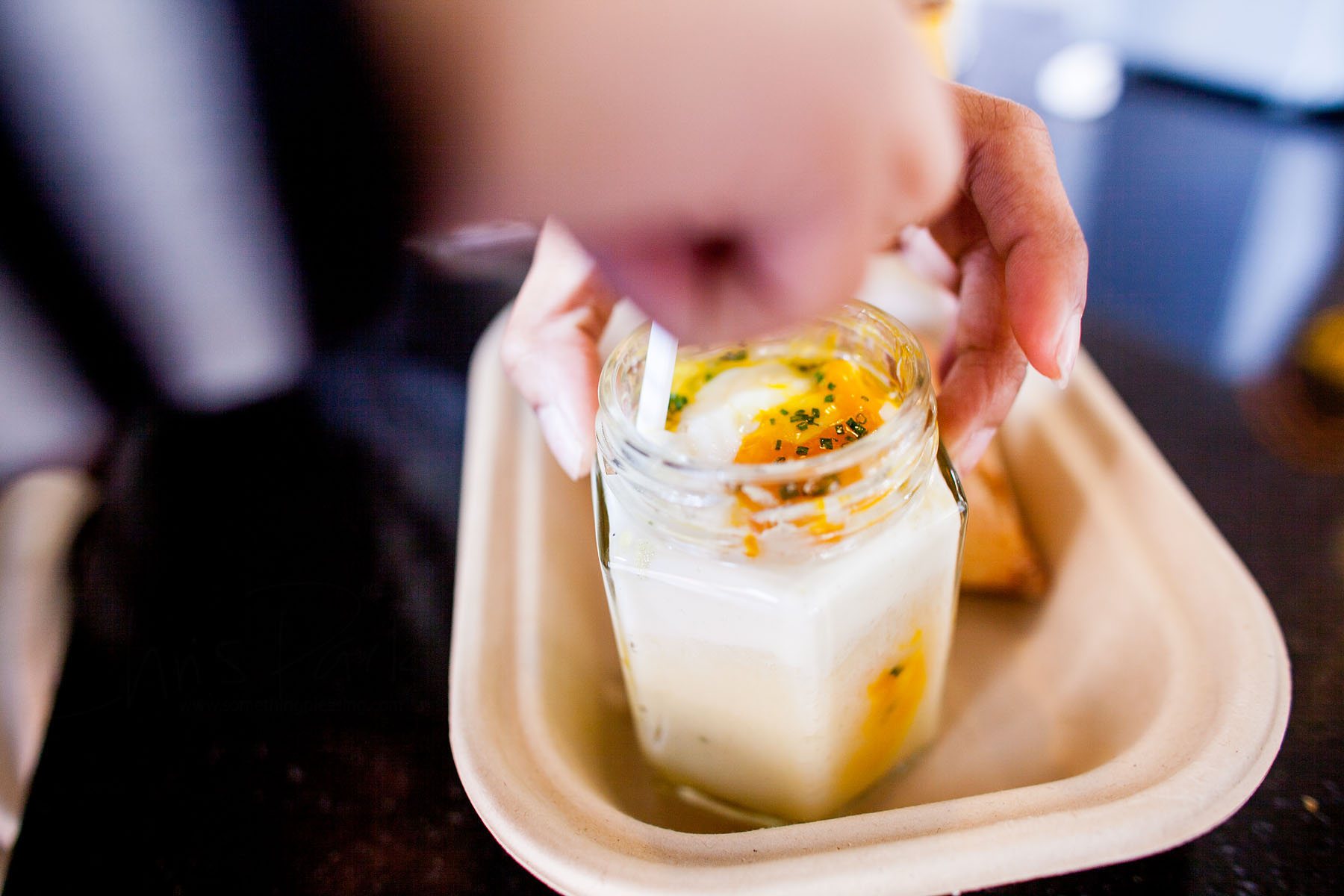 Pretty? Very. The baguette is a bit hard though, and not much to satisfy your imagination, but that little jar of magic does stir up thoughts. A dozen or so glass jars are basically cooked up sous-vide at the same time, or in a boiling plastic container, individual lids keeping on the pressure. You receive something relatively clean looking nearly a white and beige throughout, but stir it up and the yolk pops, the potatoes swirl, and you get a striking new look to your breakfast. My opinion though - it's a bit pricey for the amount of food you get, offset perhaps by the cooking method; I would opt for the arugula salad substituted free of charge over the baguette on this one, as the potato does get a bit heavy and overwhelming, something the hardened bread doesn't help, but greens may. I don't regret getting this once and sharing it, but come again and the Fairfax has a significant lead.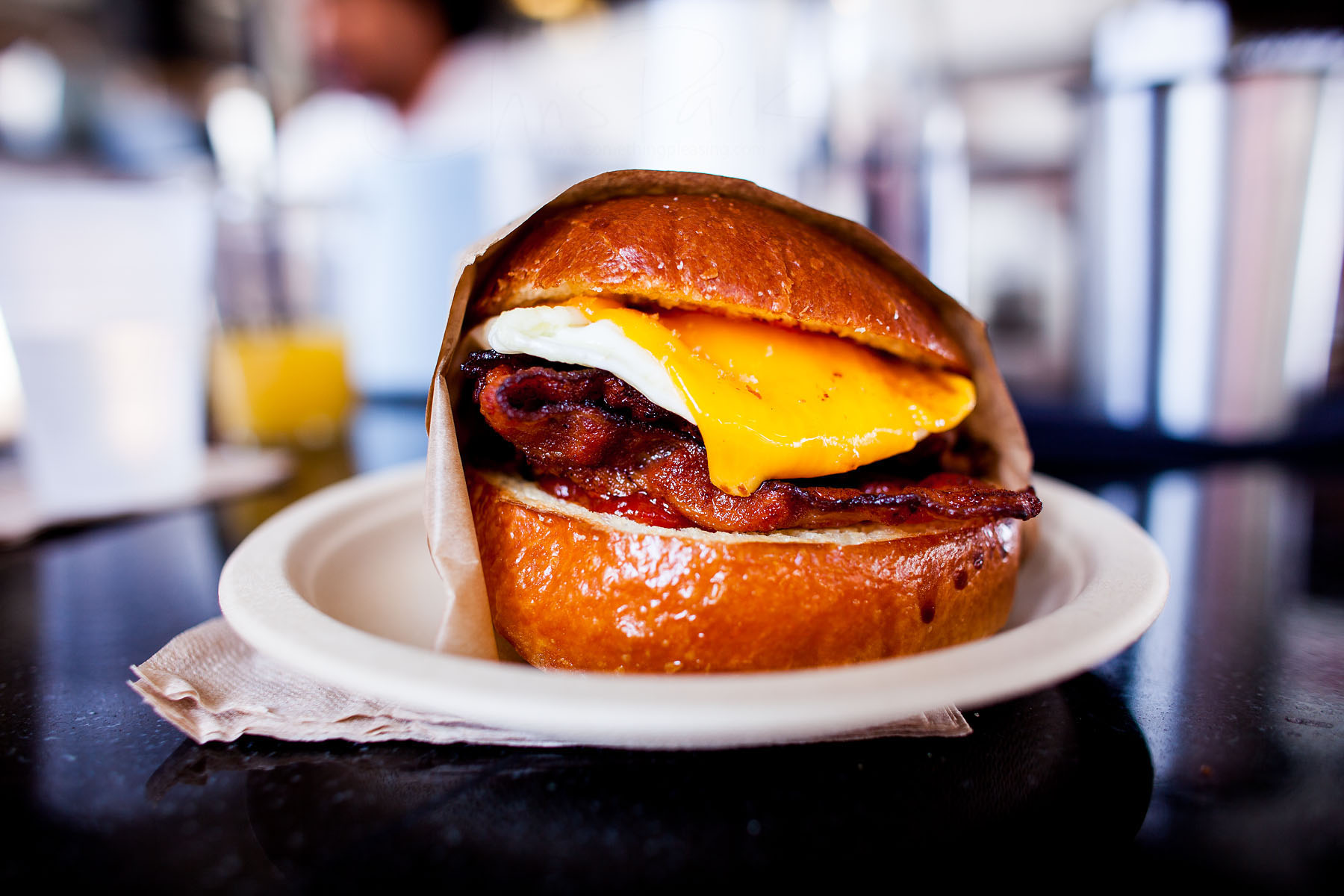 BACON, EGG & CHEESE
hardwood smoked bacon, over medium egg, cheddar cheese and chipotle ketchup in a warm brioche bun
$6.00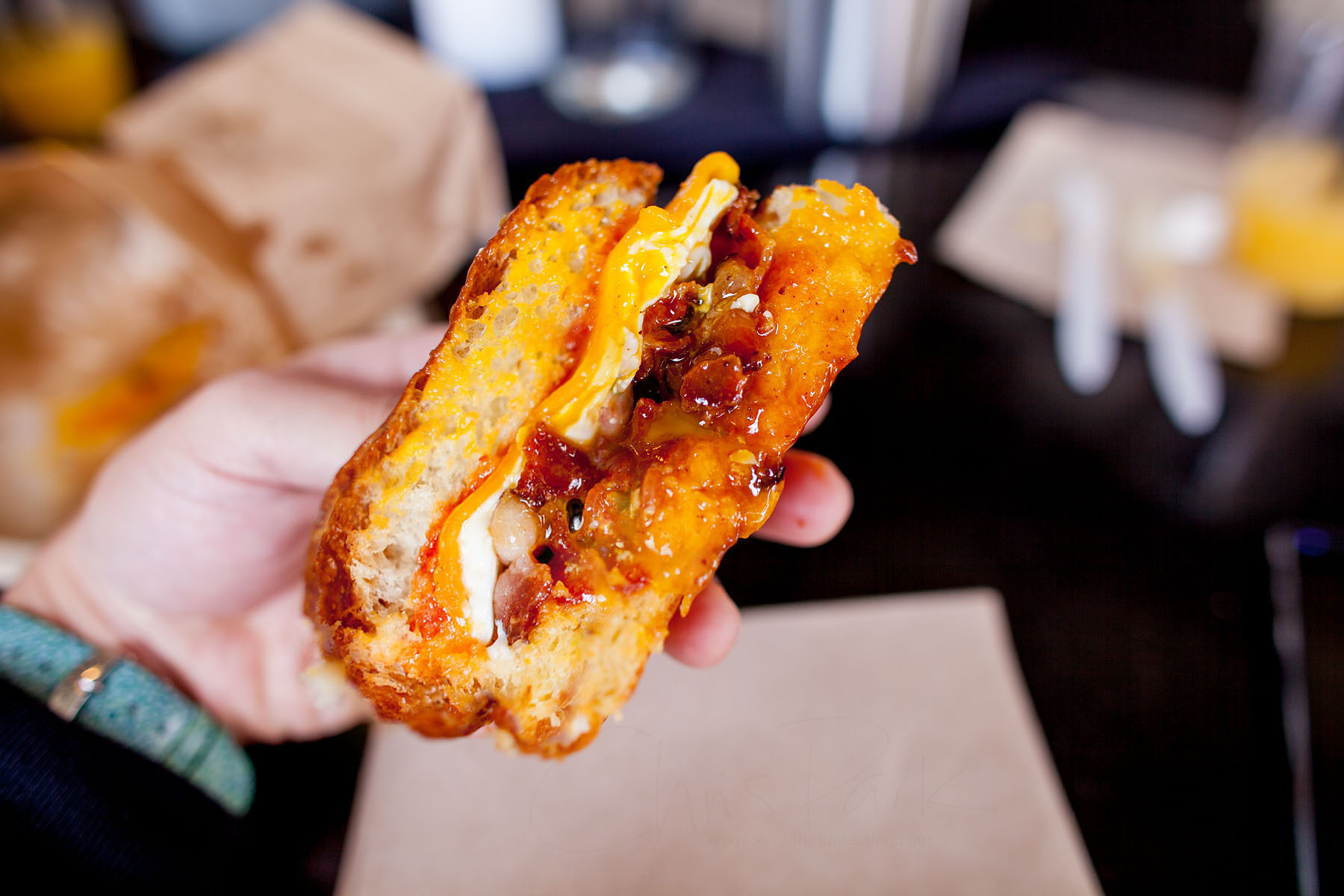 This one was a popular one the grill, and after eating the small portions of the slut, decided to tack this one on to the meal. A fat piece of bacon is griddled up, an over medium egg obviously good and adding a delightful effect to the broiche bread. But it's not not nearly the satisfaction and strength the soft scrambled eggs the Fairfax mustered: chipotle ketchup was a bit heavily overwhelming in proportion and flavor, and overall, though it would have satisfied me at perhaps any restaurant before, once you taste the Fairfax, a new standard is set - why compromise? This doesn't compete, no matter how much bacon you add.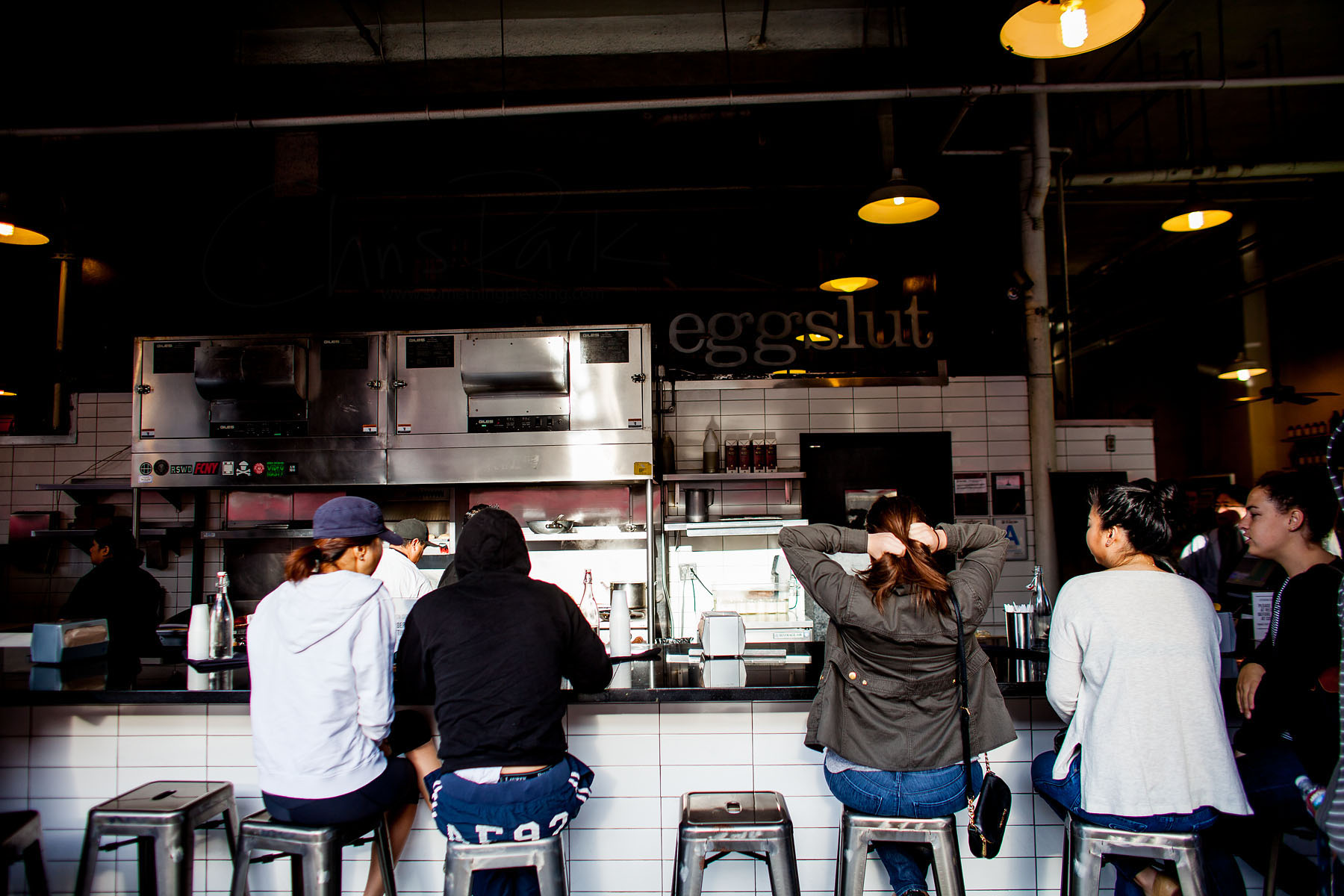 Conclusion? I love Eggslut, and I'm getting the Fairfax every time I come back. The Slut is worth an order on your first visit as well, you. And you get to call your friends sluts, as if you didn't already everyday.