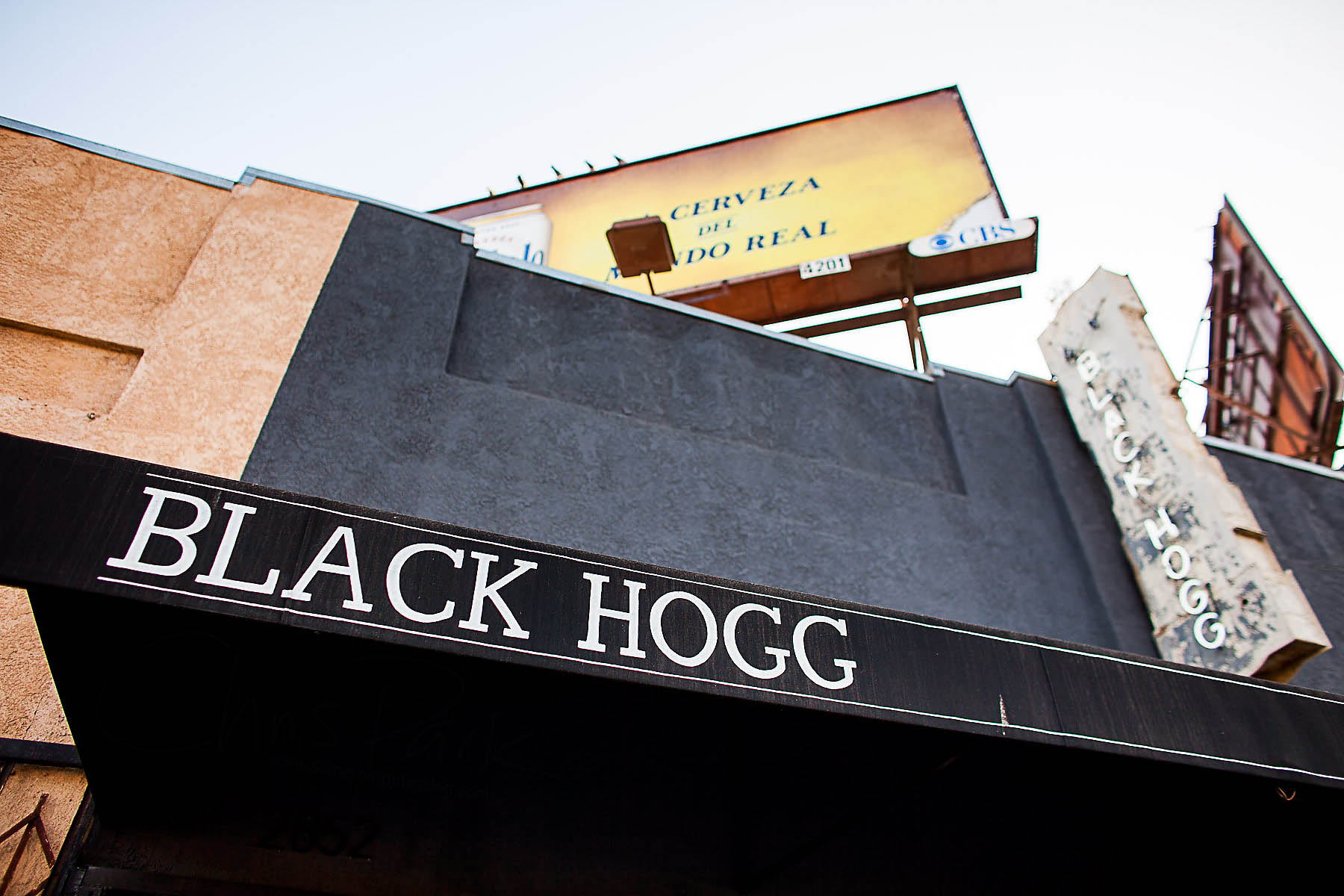 Black Hogg is a restaurant I've been meaning to try for some time now, hearing rave reviews, and knowing the chef, who I've yet to meet, attends my church. It's located in the Silverlake area, meaning parking and traffic are slightly tricky, but that's Los Angeles for you. And make a reservation: it's not the craziest, but it is small, and I wouldn't want to wait through that.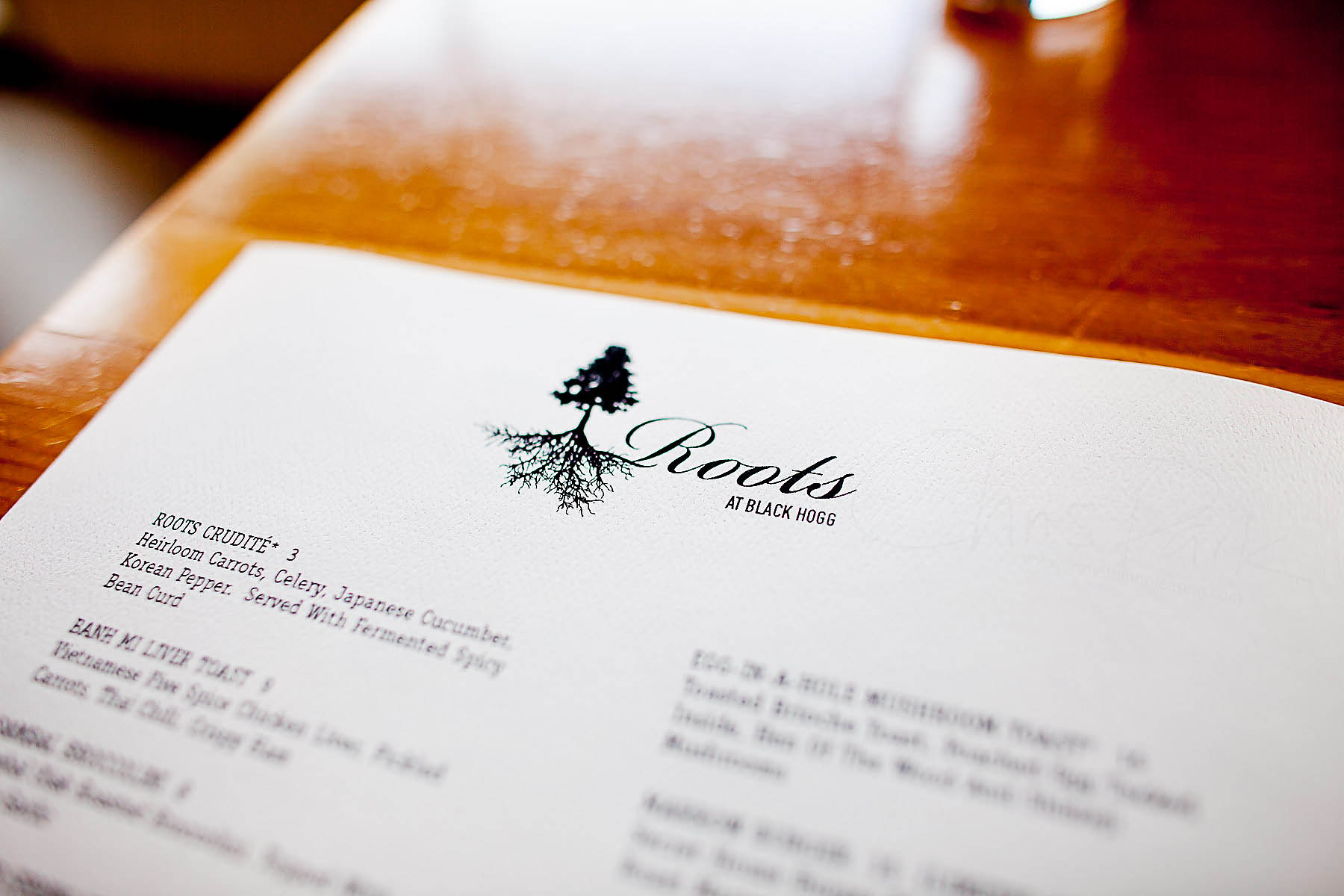 Walking in presents you with a strangely tranquil environment considering the street just outside - calming wood accents and a cozy restaurant, intimate in tables, though not crowded nor too noisy. You have a sense of peace that waves over you, and I found it fairly hospitable.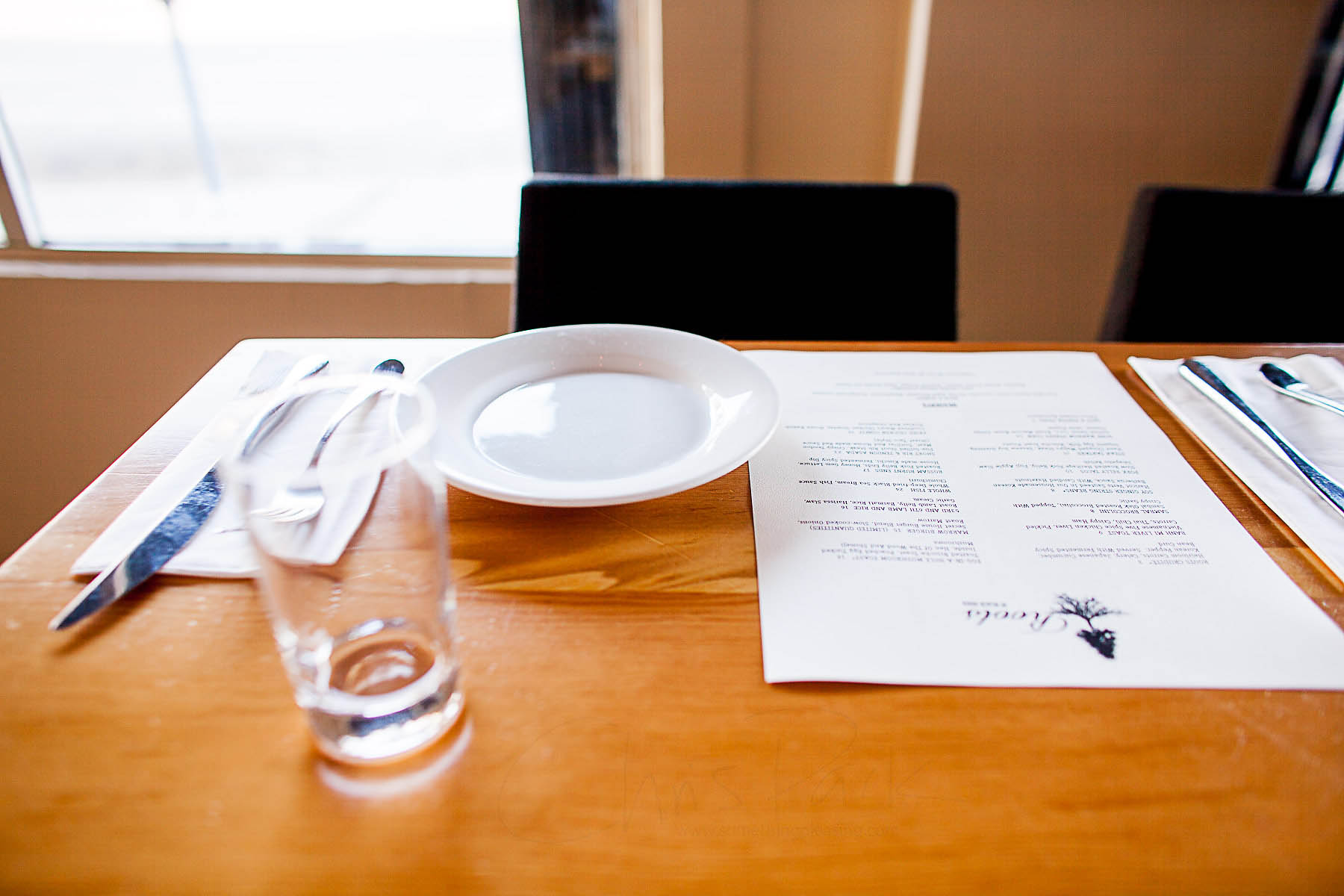 Lacking is a full bar, but wine walls the back, and its derivative aperitif cocktails do the trick in some ways - quite tasty, by the way. I texted a few friends asking for recommendations off the menu, but then discovered shortly that the restaurant had just undergone a redesign, to open two days before my visit. Awesome!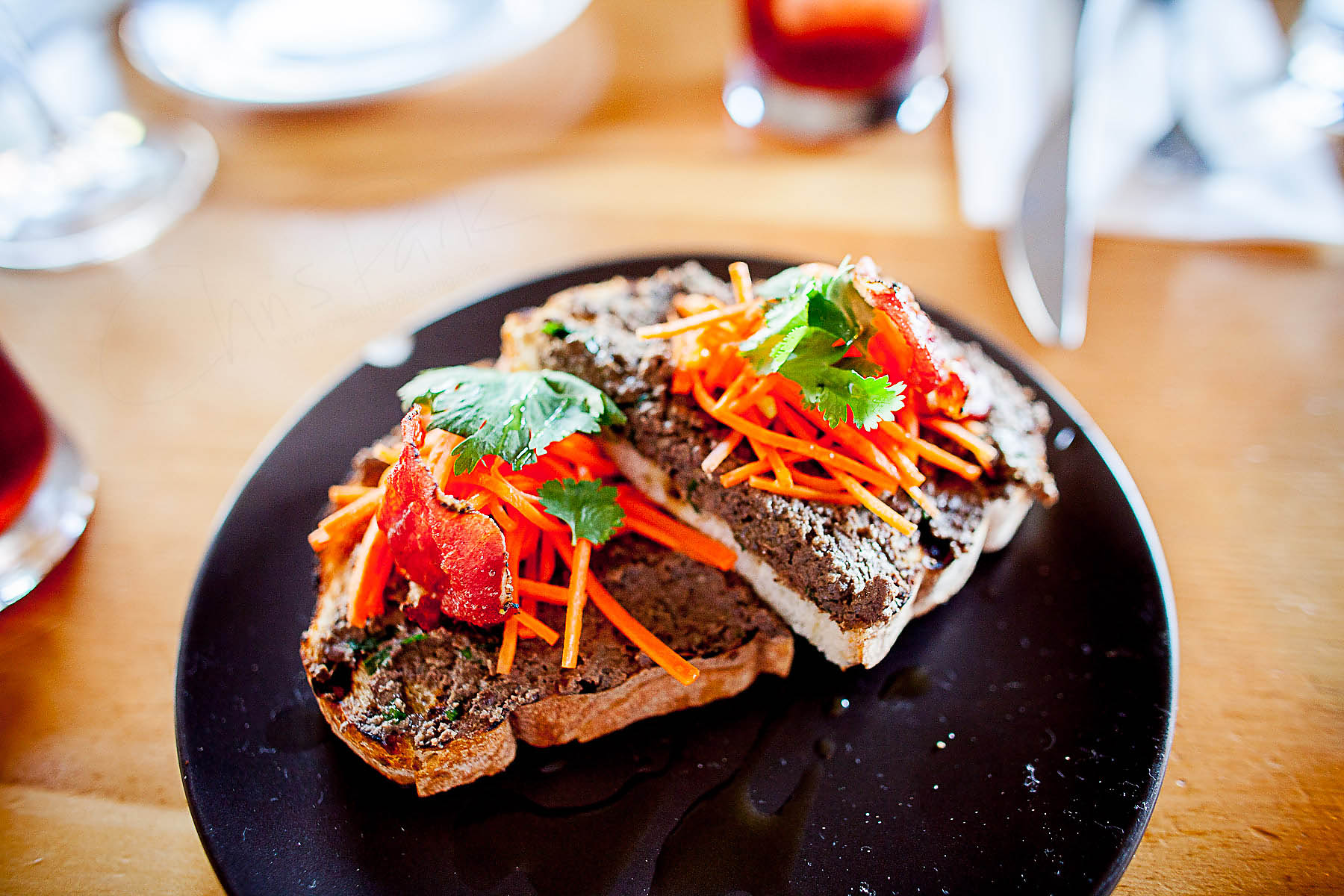 Vietnamese Five Spice Chicken Liver, Pickled Carrots, Thai Chili, Crispy Ham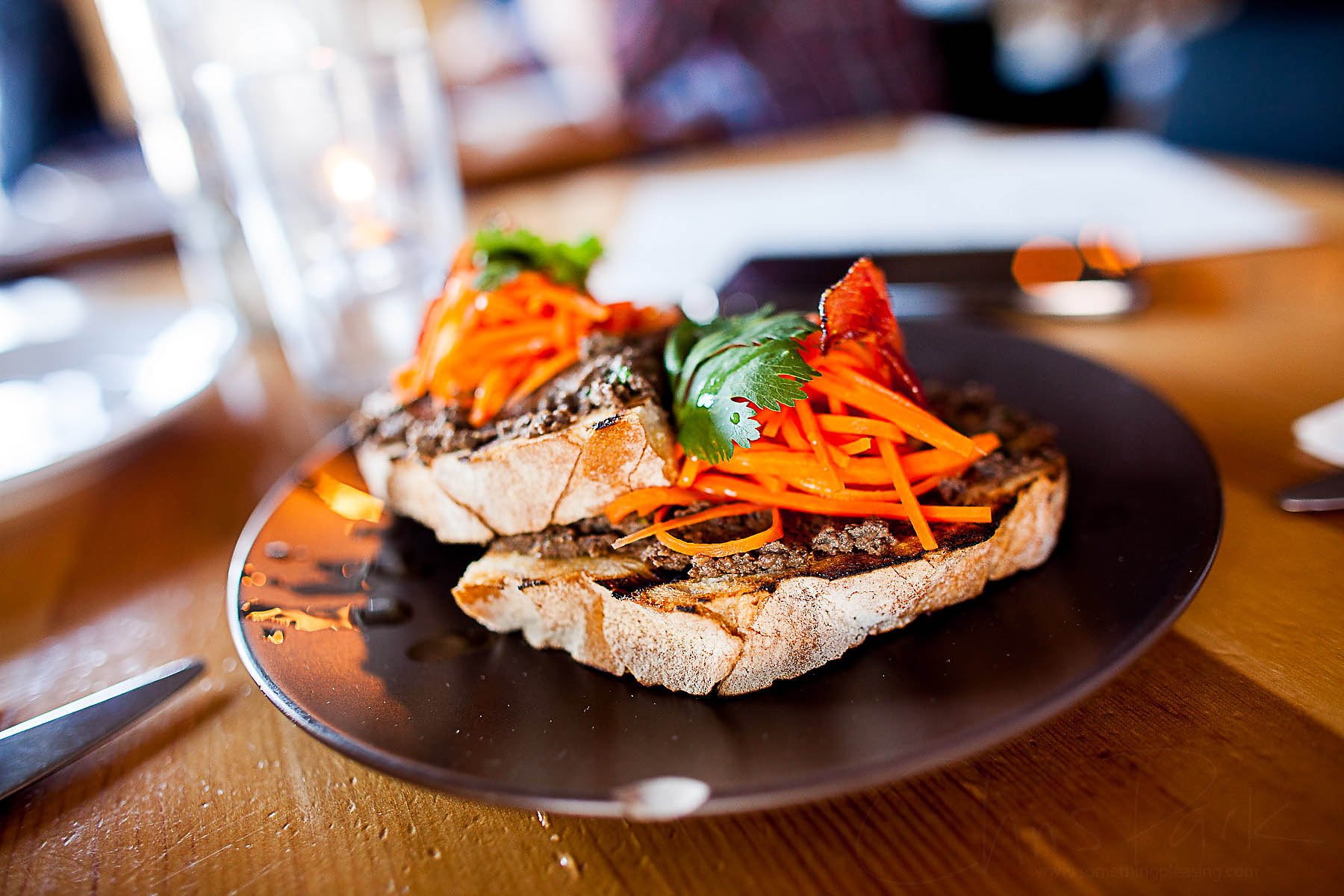 First course out, the liver toast. It had a very nice flavoring and was thoroughly enjoyed, sans bacon - I'm not a fan. Sure, it's not really bacon, it's "crispy" ham, but...still. The liver was tasty, the tiniest bit of spice to your resident Korean, and a tad crumb-y too, though that falls in the relative nature of toast. The pickled carrots added a nice coolness befitting of a mild appetizer, meaning that for the purposes of the course, I was satisfied.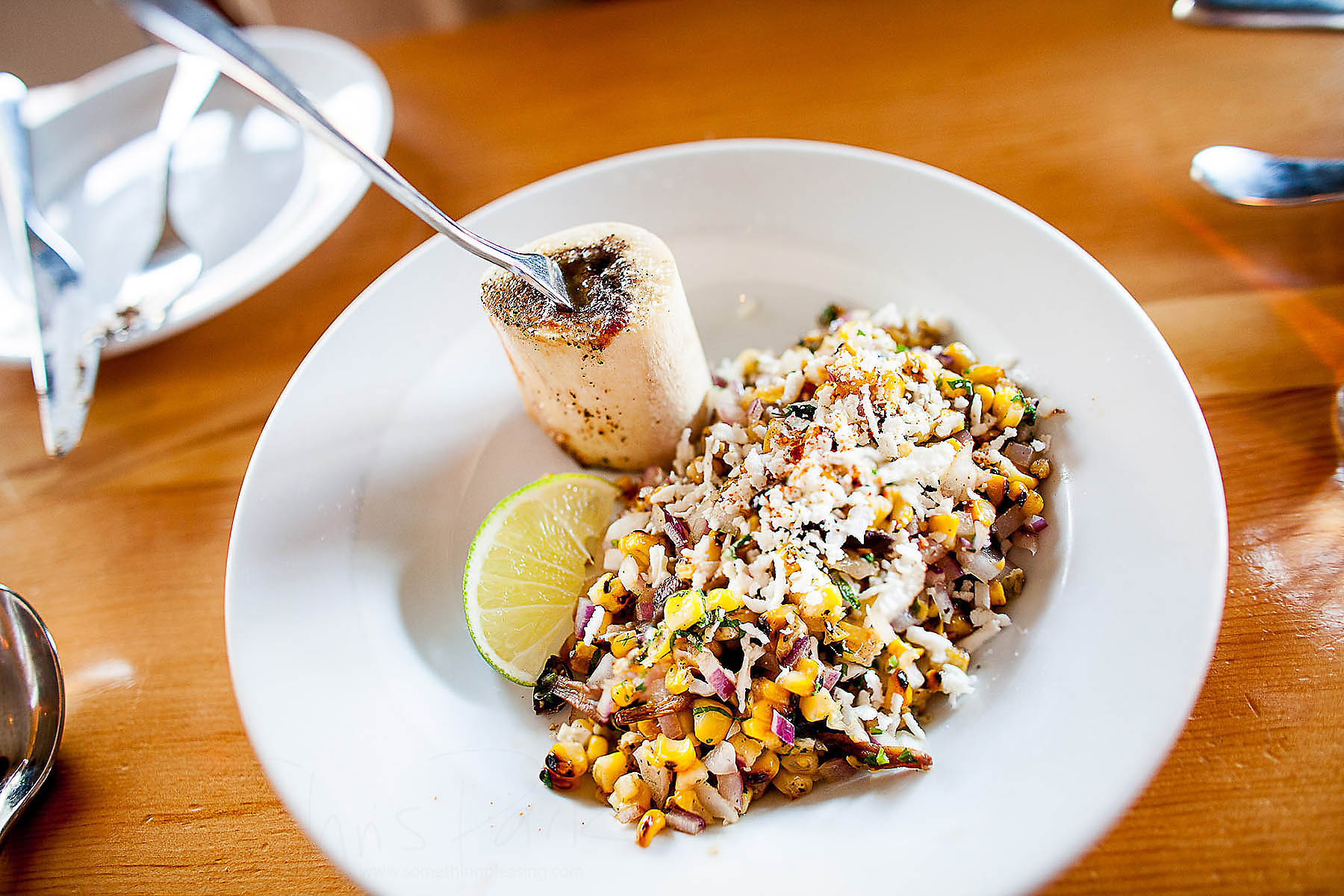 BONE MARROW STREET CORN 14
Grilled Street Corn, Roast Marrow Bone, Cotija Cheese, Chili Piquin
I expected something along the lines of corn on a cob, but this was so much better - less messy and much easier to eat. The corn, cheese, chili, and bone marrow are all presented to be mixed together to your pleasure, and the flavors really surprise in how well they blende, maintaining separate yet pleasant tones while combining for harmony. Bone marrow as an additive surely made for a much more expensive plate, but it was worthwhile and different from just about anything else out there.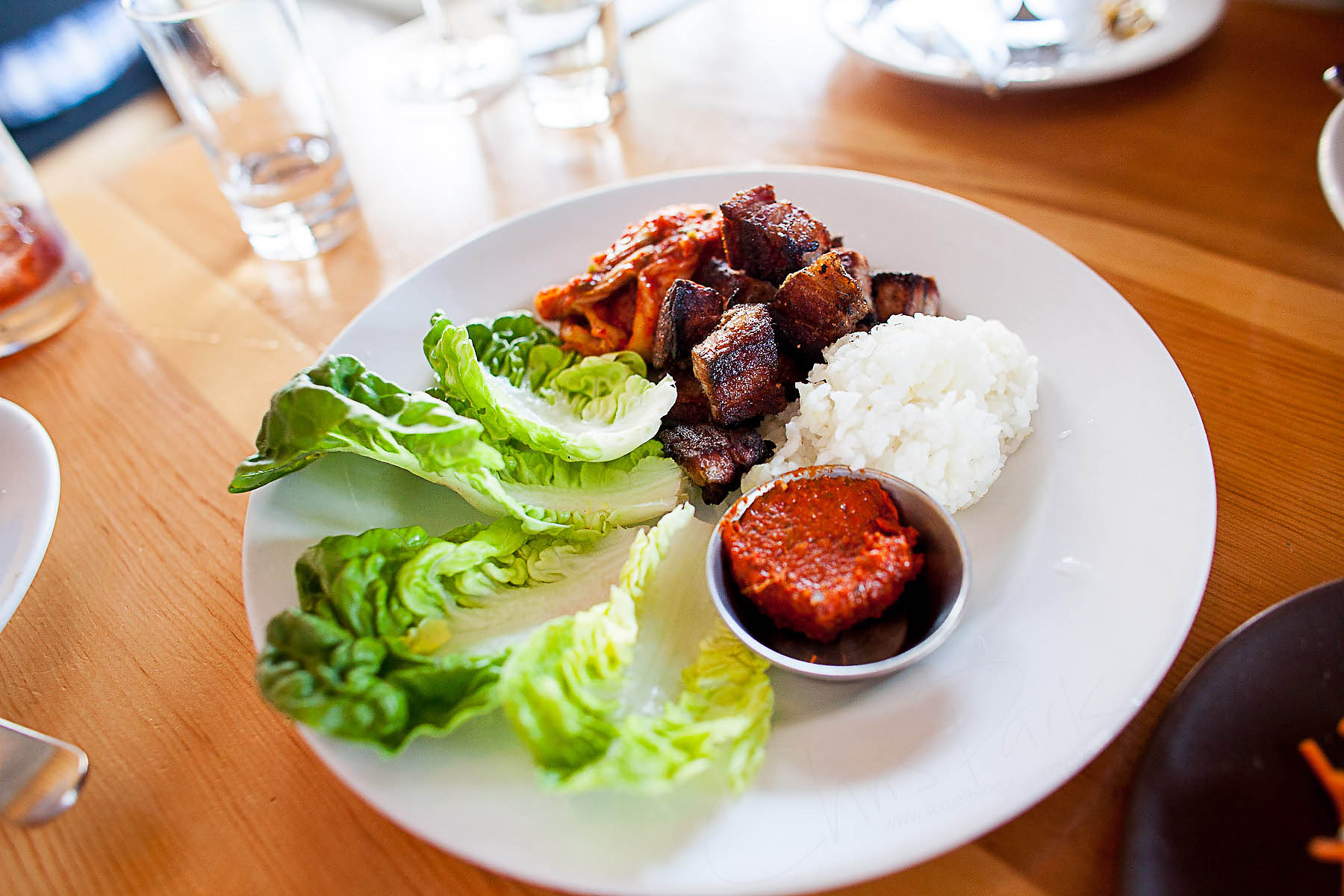 Roasted Pork Belly Ends, Honey Gem Lettuce, House-made Kimchi, Fermented Spicy Dip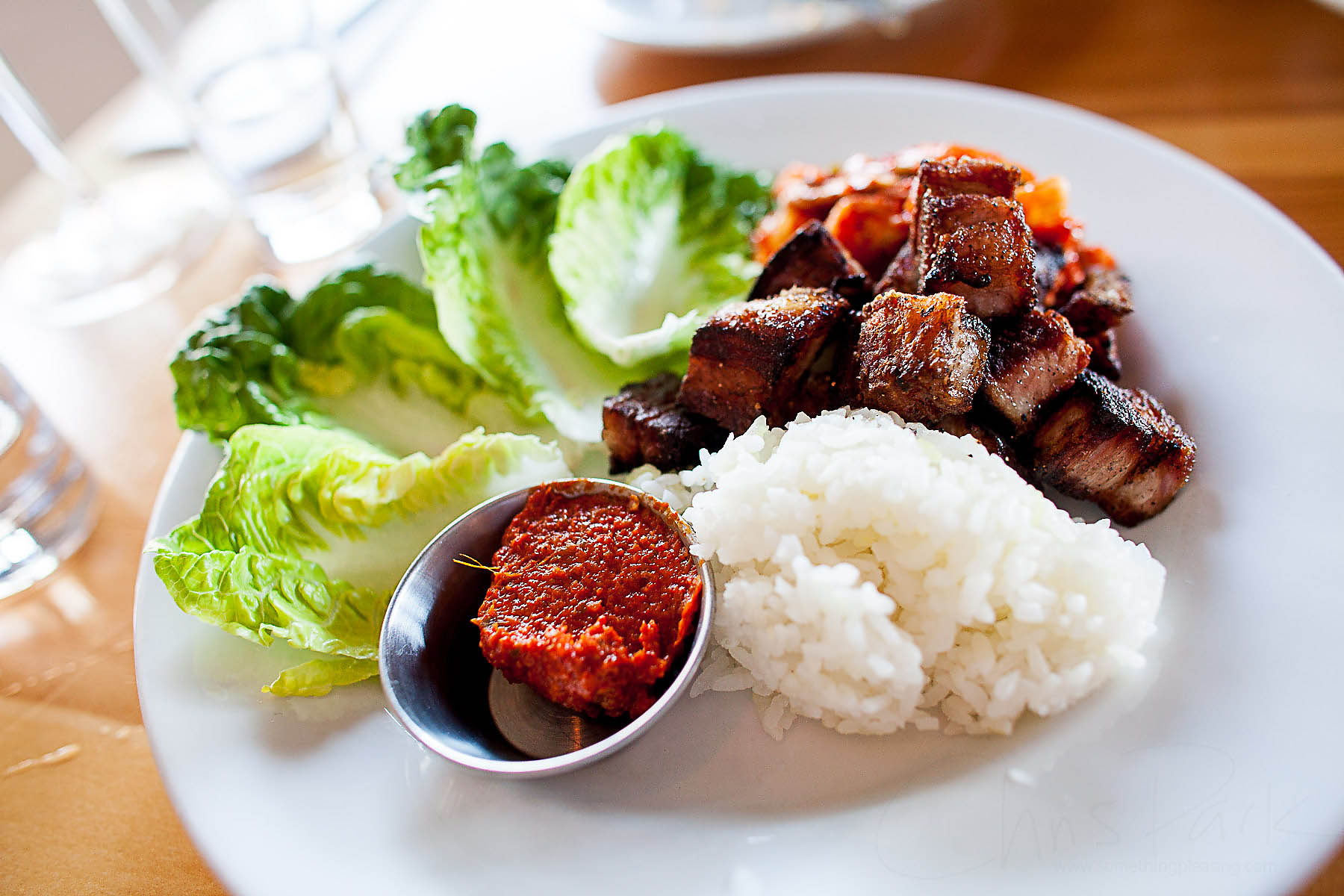 Ohhh my goodness. Please order this dish if you come. The pork belly cubes, which I shall now forever call this dish thanks to a James Cho, are seriously wow. The rest of the dish is just okay - lettuce presented a few light red spots indicating age, the fermented spicy dip, familiar to all Koreans, was pretty standard. Kimchi was okay, perhaps a tad sweet, but nothing notable. But the pork. Ah, yes!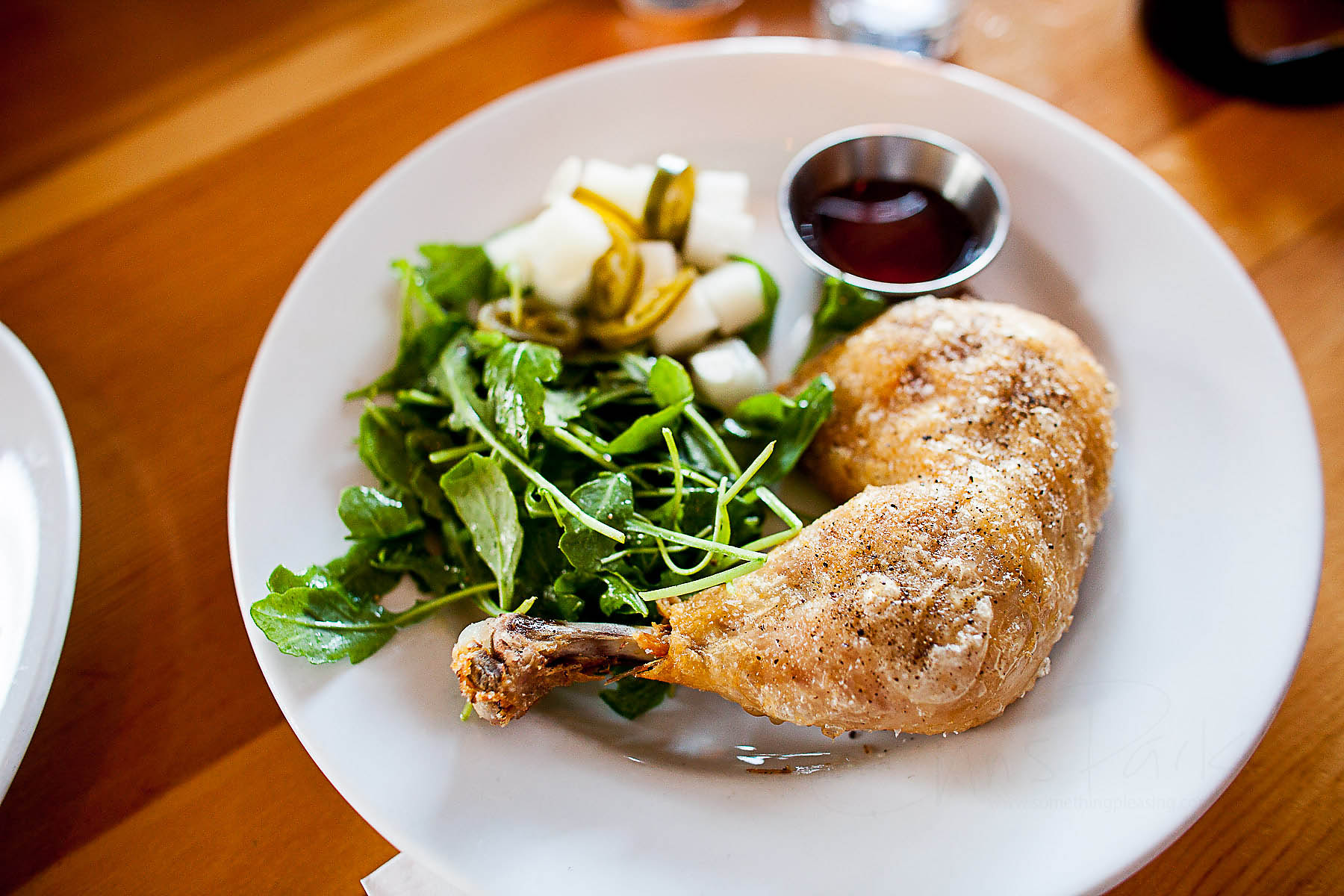 Confitted Mary's Chicken Quarter, House Radish Pickles And Jalapenos
If you have to appoint a weakest dish of the meal, let the young one order it. I'm not sure why she likes fried chicken so much, but hey, it was still decent overall - just a slight letdown after the previous.
The skin in particular was cooked very tastefully, and the chicken consisted mostly of dark meat, allowing for a richer, wetter flavor. The jalapenos were a bit on the spicy side, but they were also light and fresh, a bit more pure in spice than others you'd typically enjoy.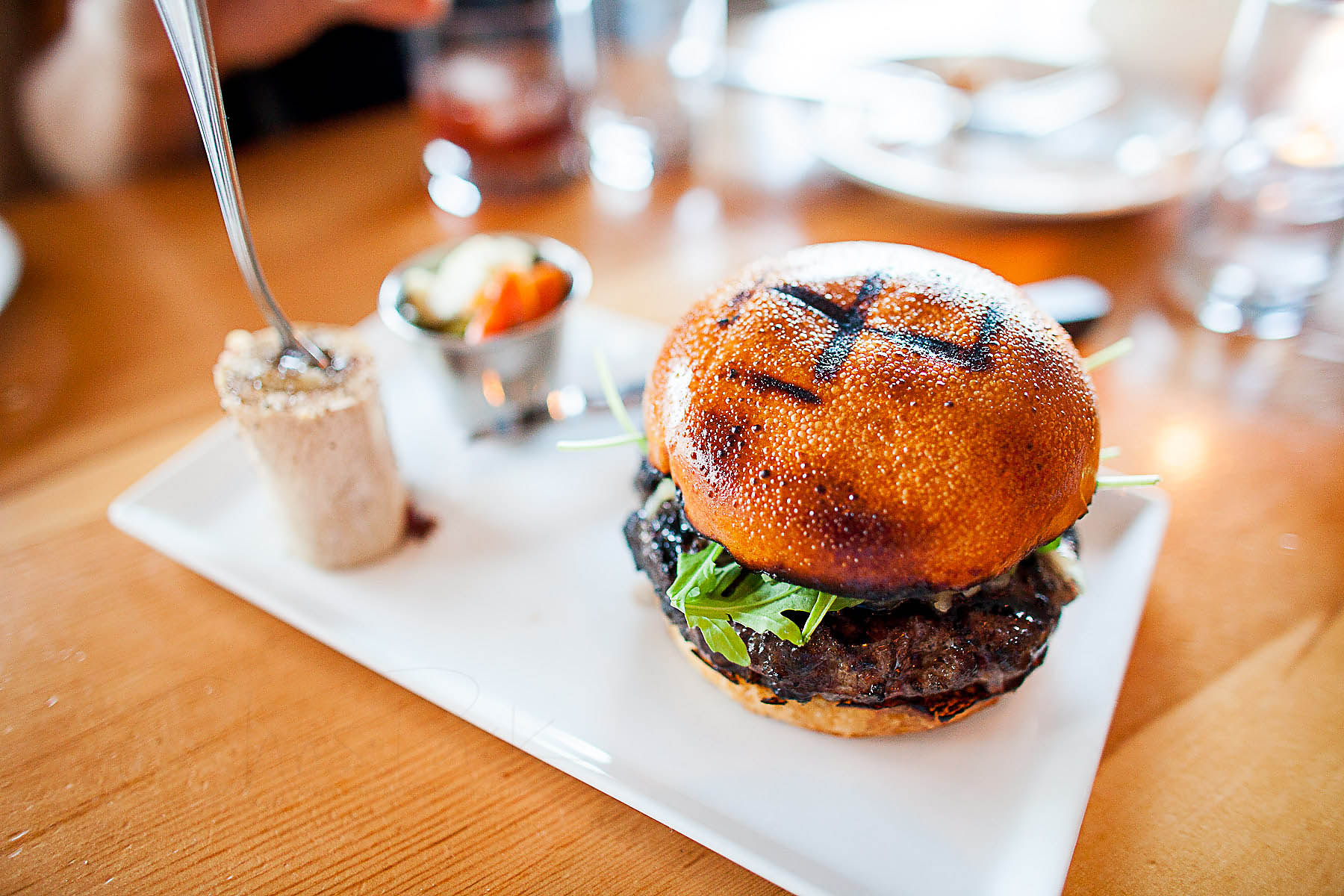 MARROW BURGER 15 (LIMITED QUANTITIES)
Secret House Burger Blend, Slow-cooked Onions, Roast Marrow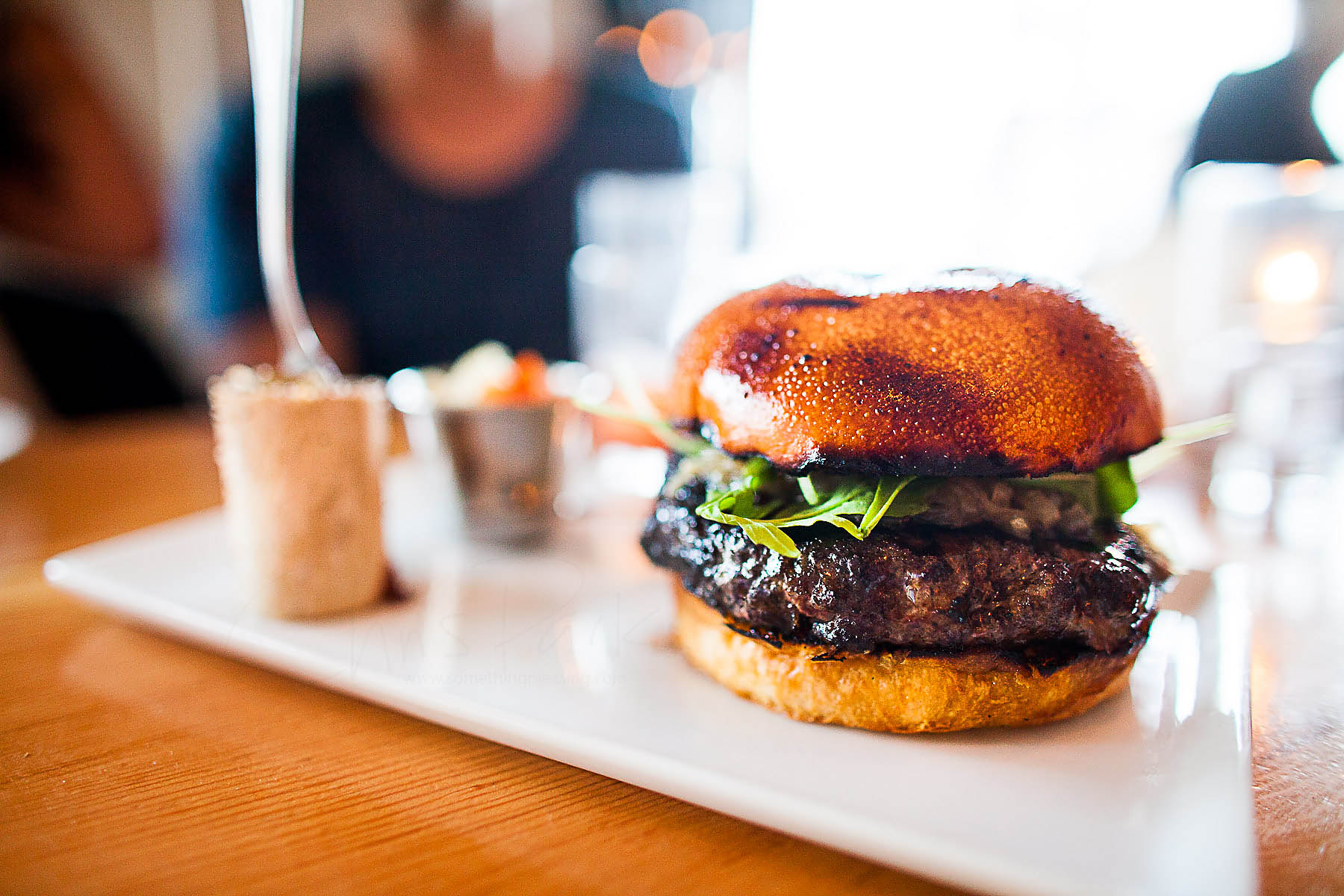 When you read a description indicating bone marrow burger, you don't expect a chunk of bone marrow to arrive on the side - nice. Here, you're presented with what you pay for. Typically the bone marrow substitutes butter in the cooking process or something instead of serving as a spread, and you have to take the whole bone marrow concept on faith. Luxury ingredients in cooking are typically stringently portion controlled or even lied about, added to jack up a menu price and title while adding little to the flavor - I'm looking at you saffron and truffle, and especially Kobe. But not at Black Hogg.
The burger's blend was interesting and tasty, likely a beef and pork combination, but definitely lacking in anything exotic or gamey. It was soft, tasty, flavorful, and a tad salty - especially so on the edges. What made it particularly strong was that the flavor, though very strong, was just so, allowing it not to go over the top; the burnt ends were a start in kicking off the palette, and the mixture of pickled vegetables (carrots, cauliflower, jalapenos) were thankful. I don't think I've ever had pickled cauliflower before.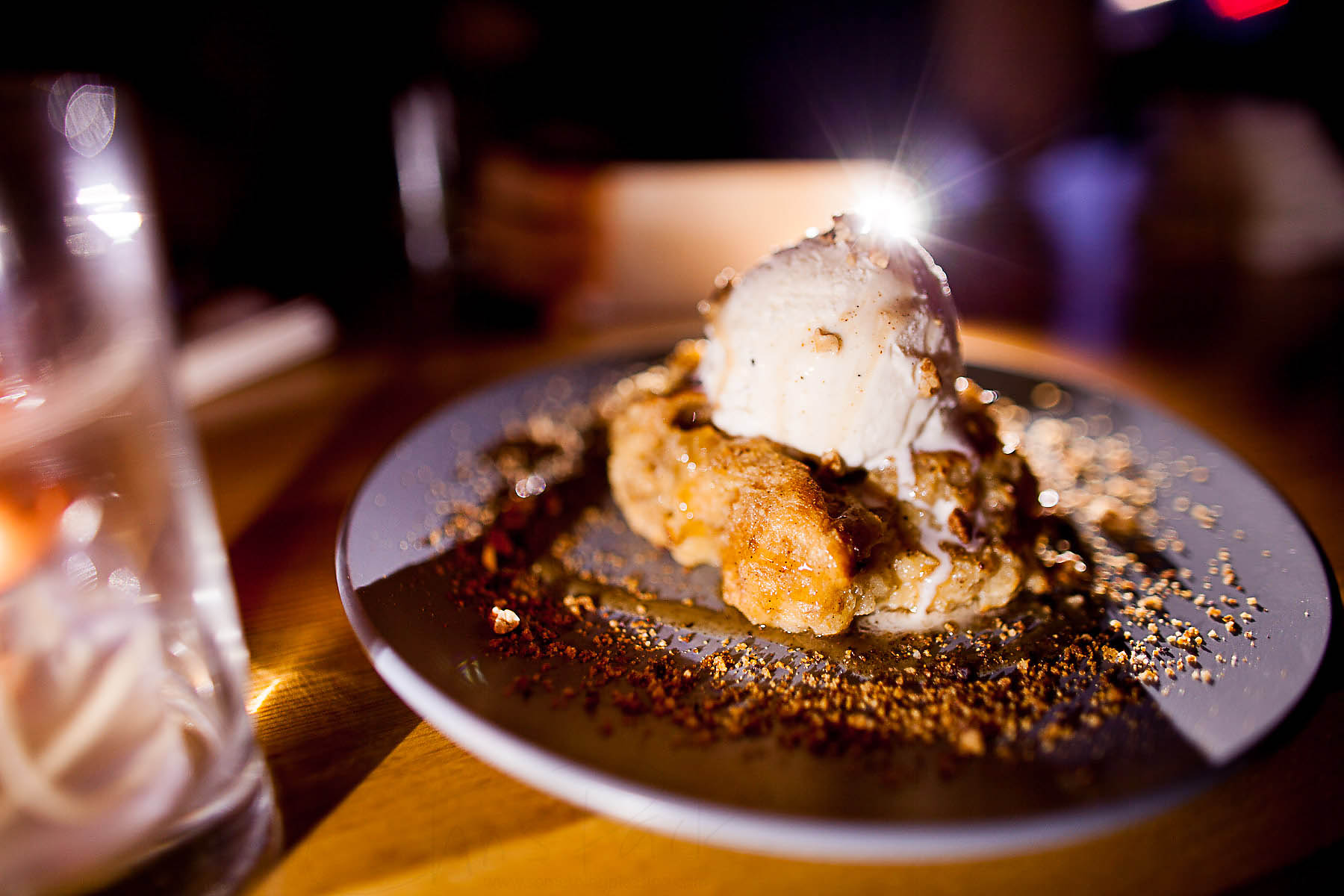 FIVE LECHES BREAD PUDDING
Brioche, Brown Butter Apples, Toasted Pecans, Salty Vanilla Ice Cream
To my open-eyed surprise, this came out not as I had imagined, though I suppose I can only blame not reading the menu for that. I'm not a particular fan of bread pudding, and five milks to it sounds a bit heavier than I'd add to an already typically thick dish. Which this was thankfully not.
I'm a sucker for fruit + pastry + ice cream combination desserts, combining hot and cold, citrus and cinnamon, and delicate richness. It was a lot lighter than expected, and not as sticky too. The apples were often enough but sparse enough to be a treat, and the ice cream - delicious. It's just a solid combination overall, a nice finish to a meal that doesn't overwhelm the stomach, and a representation of sorts of Black Hogg's philosophy to food.
In Los Angeles, it can seem a bit scary in how fast the crowd moves from trend to trend. Equally appalling is the prices on some of said trends - on the Westside, you can expect to pay disgusting amounts of money for relatively unappetizing food. I have no idea why.
Black Hogg would be the stiking contrast to such restaurants: located in the SilverLake area, the restaurant is relatively quiet looking from the street, doesn't have lines of people waiting for a table, and actually offers great pricing. I wouldn't call it quiet, but it certainly isn't loud enough to stifle a nice conversation, and it lacks a full bar - something trendy restaurants tend to take advantage of with their overpriced and watered down "craft" cocktails, void of any alcohol whatsoever.
The menu is small enough that the majority of it is plausibly very good; for regulars though, and especially among foodies, it might be a bit tiringly small. Then again, foodies rarely frequent the same restaurant, and regulars tend to order the same thing again and again, so that may not be a problem at all. As it is Korean owned and chefed, expect things to be pickled and salted here and there, but fear not - it's quite good, and the pickles always placed on the side.